I was chatting the other day with a local yarn store owner and we were both laughing (or crying? …or was it laugh-crying?) about just how much the pandemic has thrown business-as-usual right out the window and replaced it myriad challenges that, like an iceberg hidden mostly beneath the water, are almost invisible to all but our most eagle-eyed of customers.  It's not so much the current coronavirus situation in our local areas that impacts us as it is all the various coronavirus restrictions at every point along the journey our supplies take to get to us: a shutdown or even temporary closure anywhere along that line throws everything into a sudden halt, even when the local economy is doing well and opening up.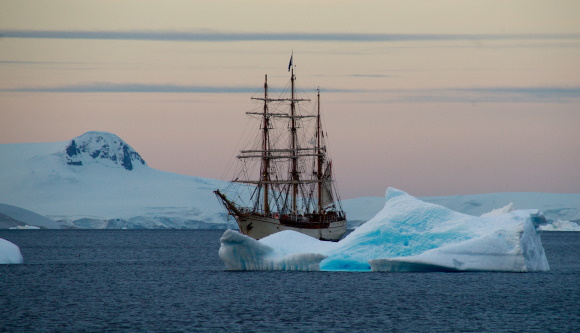 Photo by Torsten Dederichs
She was telling me about how hard it is for her to get some of her best-selling yarns, how they'll be there one day and then suddenly gone as she tries to place her order the next day, and I was telling her how delays on even the most mundane of supplies can send our whole system into a tailspin.  We once had a whole club shipment completely ready to go, with hundreds of skeins of yarn dyed and tagged, dyer's notes written and gifts ready to pack… and the whole thing was halted for two weeks because the post office kept promising but couldn't deliver our shipping boxes to us.  Our shipping boxes!
And we both agreed that, if nothing else, this pandemic has taught us a lot about ourselves, our employees, and our customers: about just how resourceful we can be when surprises happen, about how nothing in any business is as valuable as a good team who makes small miracles happen (and they do!), and how wonderful it is to have customers who know and trust that we are going to come through for them (maybe a bit late!) no matter what.
A Change to Our Spring Limited Edition Colourways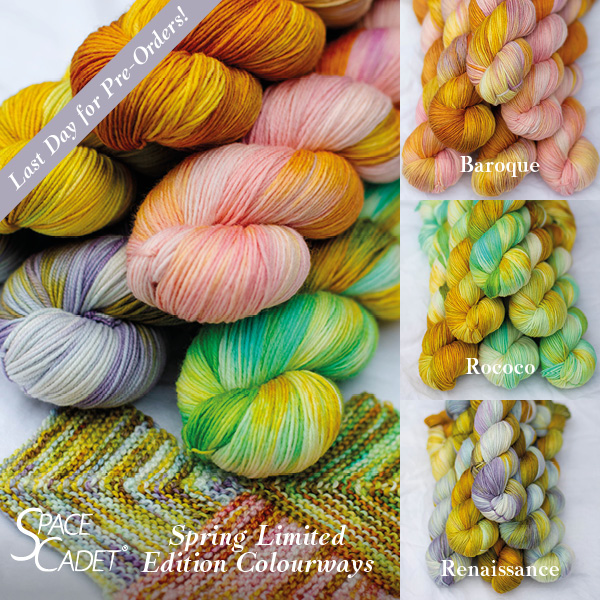 And here's a great example of the way the pandemic has thrown us curve balls: two weeks ago, we announced our Spring Limited Edition colourways on three yarns – Celeste, Oriana, and Lyra – and they've sold so well that we've had to ask the mill for more Oriana only to find… they've hit one of those random pandemic bottlenecks and can't spin any more of it at the moment!  So, we've turned on a dime too and, after marking the Oriana as Sold Out, we've opened up orders to our lovely, spoingy Vega instead.  And that's actually such an exciting development, because now these gorgeous colourways are available on full range of yarns from the lightest fingering (Celeste), through a sweater-perfect sport/dk (Lyra), right through to a smooshy worsted (Vega).
Today is the Last Day for Pre-Orders!

If you've already placed your order, don't worry – your skeins are reserved and will go in the dyepots this weekend.  And if you haven't, today is your last chance* to get your order included in the Spring Collections First Dyeing Day this weekend!  Just click here and make sure we have your order by midnight tonight, and we'll get it in the dyepots!
*all orders received after midnight tonight (eastern) will go into our regular dyeing queue
---

Club Shipment Update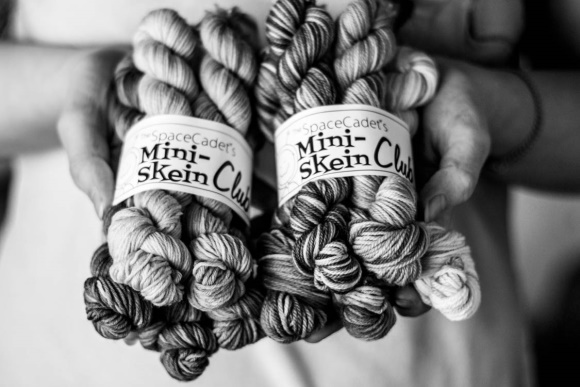 I want to thank the members of our Mini-Skein Club and our Gradient Explorers for their kind understanding as we ran late with their parcels this month.  The reason for the delay is actually something truly good: several of our small team had the opportunity to get their coronavirus vaccine shots this month.  If practicality had been the priority, we would have perhaps staggered our shots across several months so that members of the SpaceCadet crew weren't experiencing vaccine reactions and symptoms all at the same time.  But there was no way I could (or would!) ask any of my team to delay their vaccinations and so we all just did our very best, even as several folks had to take things slow to recover.
The good news is that all the yarns for both clubs are ready to go out and I'll be packing them later today, so keep an eye on your mailbox!  And in the meantime, if you're ever looking for a status update on any of our club shipments, I've created a handy Club Shipment Update page that you can check anytime.
The Yarn Alliance Opens Today!
I've always felt that our club members get our very best dyeing, because we know they've come on a colour journey with us and so we truly put our all into the colourways we create for them.  And it's time to start that colour exploration afresh in a new season the Yarn Alliance, our premiere yarn club, focused on fingering weight yarns.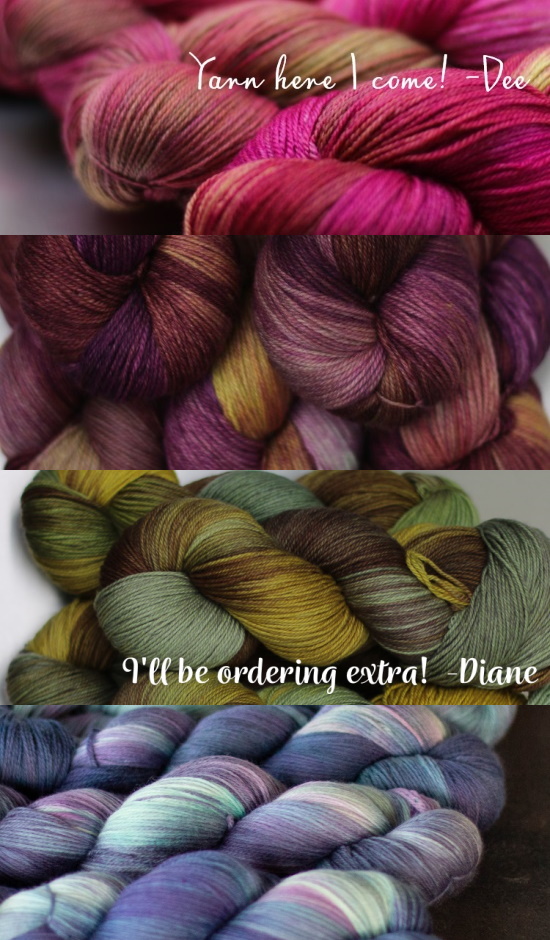 So, what do you get when you join?
…beautiful yarns, colourways you might never have dared try but suddenly realise you love, and some seriously fabulous gifts!
As a member of the InterStellar Yarn Alliance, you'll receive a fabulous parcel delivered to their door every other month, containing:
SpaceCadet  yarn (light to medium weight) in an exclusive Yarn Alliance colourway (guaranteed not to be offered on the SpaceCadet website for at least 6 months)
A great Yarn Alliance gift tucked into every parcel!
The SpaceCadet's Log exploring the inspiration for each colourway.
The InterStellar Yarn Alliance newsletter with periodic special offers exclusively for members.
A 15% off coupon every six months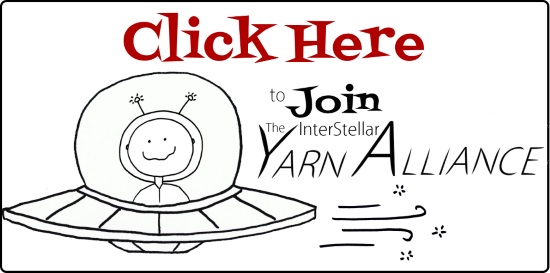 ---

Corallinus Socks by Carolyn Lisle
on Rav here, off Rav here
This time of year, it's lovely to cast on something quick and satisfying, and these socks fit that bill perfectly.  I love the elongated Vs that create interest by showing off the colour changes in a variegated yarn. Designed in SpaceCadet Lucina, they're inspired by fungus. Wait what?!? No, it's true, and Caroline's description is both interesting and (at least to me) educational.  But however you feel about, um, fungus-inspired footwear, there's no denying these socks are lovely.
Diluvian by Hunter Hammersen
on Rav here, off Rav here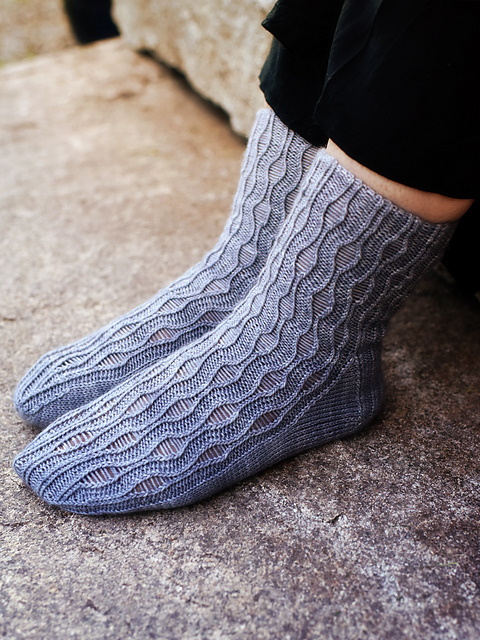 Speaking of socks for spring knitting, this is a pattern worth revisting.  Designed in SpaceCadet Astrid and published all the way back in 2010 (when SpaceCadet had only just begun!), I think the design hasn't aged a day. And as the weather warms, they're a perfect combination of airy stitchwork and seaside-inspired texture to transition to warmer weather. Oh, and here's a nifty twist: they're completely reversable!
Rocky Beach Top by Andrea Weber
on Rav here, off Rav here
And here's one last pattern that's made for this time of year: an easy spring top with bold colour-blocking and lots of textural interest.  Designed with minimal shaping to for intermediate beginners who want to go from afghans to garments, it's exactly the kind of meditative crocheting that's perfect for relaxing on a sunny spring afternoon.
Images ©Carolyn Lisle, Hunter Hammersen, and Andrea Weber. Used with permission.
---
Ok, I have a ton of packing to do today, so I'd better get that started. I'm so excited to get these yarns to their forever homes!  And I hope you've got exciting yarn plans for today (maybe a spring cast-on?).  So until next time, all my best!