It snowed in Pittsburgh this week..!  Not a just a few flakes making their last stand, but a real, proper snow fall, that covered the trees and stuck on the ground …and reminded us all not to take Spring for granted.  Opening the door to frigid temperatures and the suddenly-silent songbirds, I had to laugh because, only two days earlier, I had been photographing our new Spring Limited Edition Collection, in the warm dappled lighted filtering through my apple tree covered in delicate blossoms!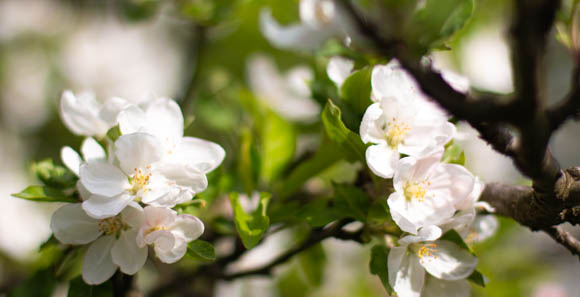 The snow hung about for half-a-day and then it went nearly as suddenly as it arrived.  The warmer temperatures will be returning this weekend and then, I suspect, we will make a true start to Spring, with the birds back in full song, the sun warming each day, and, if I'm lucky, some of those glorious blossoms still adorning my apple tree.
Our New Spring Limited Editions
You can see the influence of Spring in this collection as soon as you lay eyes on it!  We've taken delightfully fresh vernal hues and gilded them with the rich, warm golds of the returning sun.  Each one is beautiful on its own and, altogether, they create a stunning palette to celebrate Spring.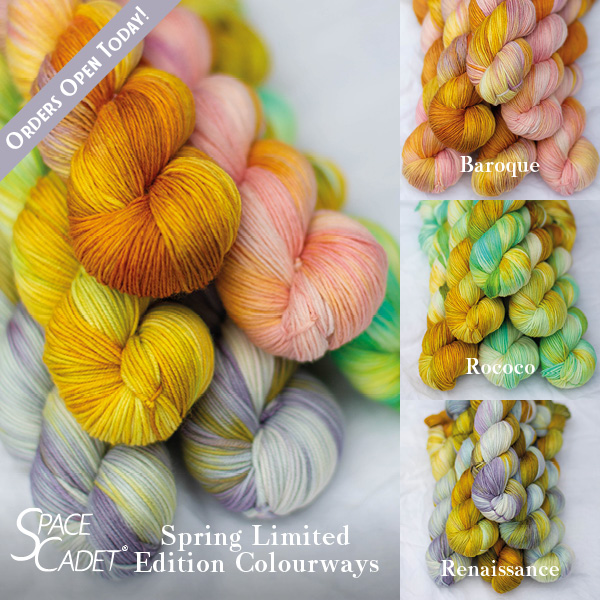 These gorgeous colourways are available for pre-order now, and we'll be holding their First Dyeing Day on May 7.  So if you'd like to get these colours fresh out of the those first dyebaths, click here and place your order now!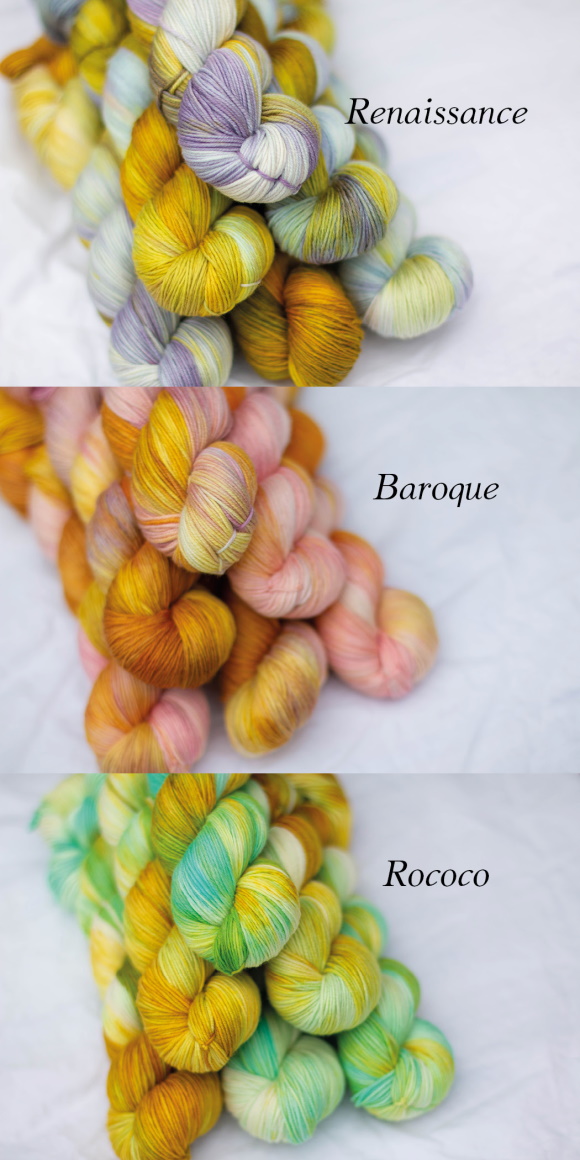 ---

This little shearable toy sheep gave me allll the feels!  Besides being adorable, the details are perfect: the zipper pull is a set of shearing clippers and there's a removable ear-tag.  Currently available only on the company's Japanese-language website, I've heard through the grapevine that an English-language site will be coming online soon.  Because I think we all need one of these, right?!?
When my assistant Sara shared a news story saying that Prince Phillip might possibly be buried in a wool coffin, I was reminded of the 1667 law designed to prop up the English wool industry that required everyone in England to be buried in a wool shroud.  This article about it is an interesting read in its own right, but I nearly fell off my chair when I saw the picture of the church in the tiny Somerset village of Cucklington, taken only a couple of miles from where I lived and which is even pointed, if only one could zoom in enough, directly at my old office across the fields in the distance!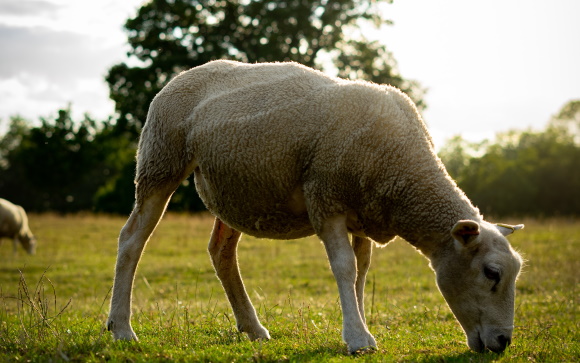 Photo by Will Wright
From one end of the country to the other, sheep are earning their keep — by acting as living lawn mowers.  In Carson City, NV, a flock of sheep are being employed to reduce the risk of wildfires by eating their way through 2000 acres of cheatgrass.  And on Governor's Island, NY, a flock of five sheep are proving a cost-effective way to remove invasive species.  Pretty cool, but you and I already knew sheep were awesome.
If you don't love swatching, I get it, I really do.  I always want to jump straight into my projects too!  But I found this post really eye-opening: it's proof positive that the same needles, the same yarn weight, and the same stitch pattern can still give wildly differing gauges.  There's no substitution for swatching!
---

I want to show you something…  Over on Ravelry, the (very casual) D'aeki Wrap KAL is going on and I am so excited to see everyone's progress!
But I think I am most blown away by Andrea Giannotti's wrap, below.  Not just because she's make incredible progress but mostly because Andrea really went with the idea of colour exploration.  Instead using her Minis in the colour-order that we dyed them, she laid out her whole stash of Mini-Skein Club Minis and created her own colour-flow, mixing and matching Minis from different bundles in 2015 to 2018.
And I think the result is simply incredible!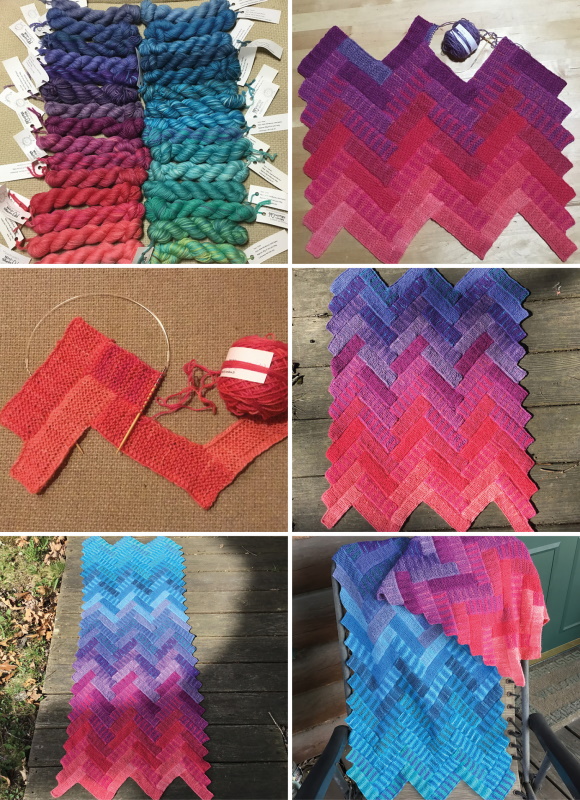 With many thanks to Andrea for letting me share her pictures, and for putting together such a beautiful D'aeki.  If you're feeling inspired by Andrea's amazing work, you can join in by casting on your own D'aeki Wrap!  Click here for the pattern (non-Rav link) and here for the KAL (Rav link).
---
Ok, my teacup is empty so it's probably time I got back to work.  Today, I'll be prepping for some upcoming shows (maybe virtual… maybe real…?  Time will tell!).  In the meantime, I hope you've got something lovely planned for today and definitely a couple of breaks for fibery pursuits.  And, until next time, all my best!