The other week, as I packed up the SpaceCadet trunk show and sent it off to a lovely yarn shop in Southern California*, I realised how exciting that simple act felt.
*(it's The Altered Stitch in Valley Village — go see them if you're local!)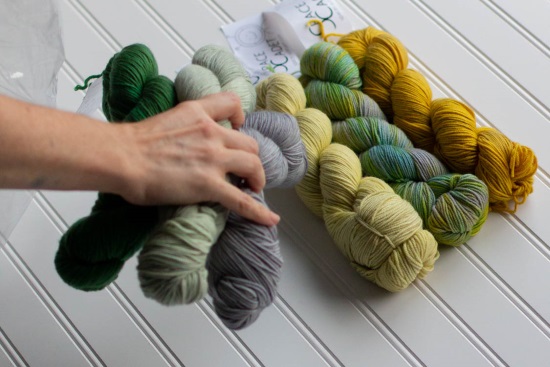 In a way, it was strange to feel so excited — all I was doing was packing yarn and sweaters and shawls into a huge box, something I've done a million times before, but it's something I haven't done much in the past year.  When the pandemic hit, the orders from local yarn shops just stopped and, as much as that made me worry about SpaceCadet, it made me worry about the whole industry too.  Local yarn stores are where so many of us learned to knit and crochet, where we go when we need project guidance, where we find community… To see the activity from our yarn store partners dry up like that was really frightening.
But now, things are starting to feel different.  Yarn shops are opening up again…  and getting in touch!  In fact, I sent a wonderful collection of yarns to a store just the other day, and our trunk show is booked up solid for the next few months.  Even better, we're doing a virtual trade show later this month and I'm thrilled to be able to show off our colourways to new shops who maybe wouldn't have been able to travel to a live show.  Things feel good!  And I'm so grateful.
But one thing I'm aware of is that this is a really strange time of transition.  I've always felt that each of us went into the pandemic from the place of our own experience, meaning that the reality of the very same situation was incredibly different based on each person's own background and medical history.  And I think coming out of it is just the same: each one of us has to approach the transition at our own pace based on our different needs.  I'm thinking about that not just for myself, but for my team as we work out our schedules and our customers as we think about upcoming shows.  It's important to me to take that into consideration, to be patient, and to give everyone the space they need as we make this transition.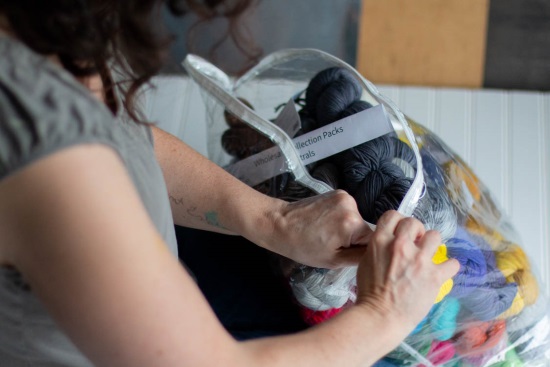 Most of all, I think the pandemic has taught us a lot about how many things that seemed normal actually weren't working for so many people.  Whether it's curbside shopping, flexible working, wearing masks when we're ill, or any of the other adjustments we found we were able to make, I am so hopeful that we can emerge going forward with the very best of what we learned, and not simply go back.
Oh, and with yarn too. Onwards!
---

Sometimes I talk about epic projects and by that I mean, maybe a really big wrap or a coat-cardigan but this project gives an entirely new meaning to the word epic.  It's a knitted model of Sandringham (a royal residence in Norfolk, England that I used to live very near to!) which spans a full 18 feet and took Margaret Seaman two years to create, knitting around 10-12 hours per day!  Truly a sight to behold, it's now on exhibition to raise money for three local hospitals.
I know you've seen those incredible scarves and blankets that track the temperature each day for a year, but have you seen this awesome chart tracking, in chronological order, the colours in every cardigan that Mr Rogers wore from 1969 to 2001?  It's lovely to look at but I am waiting for someone to cast it on as a striped scarf or blanket.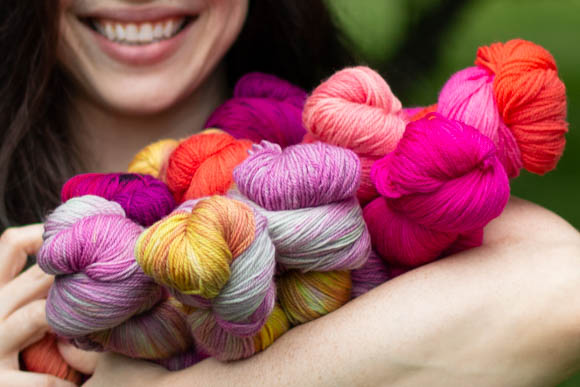 Hands up if you love washi tape (and don't feel bad if you don't know what it is… but trust me, it's addictive once you do).   If you've heard of bargello knitting or crochet, I think this article on how to adapt bargello to your washi tapes is fascinating.  It's got me digging through my washi stash and my Mini-Skeins to start two bargello projects simultaneously!
(This next bit of news is entirely for my assistant Jill) I don't know who needs to know this or how I didn't spot this earlier in the year, but along with her wonderful Harry Potter: Knitting Magic book, designer Tanis Gray has released Star Wars: Knitting the Galaxy, the official book of Star Wars inspired patterns that is sure to delight every fan of the franchise from little kids right up to… well, fully-grown SpaceCadet Crew husbands!  (And dear reader, what this news means is that our lovely Jill now may not get to knit anything for herself for a long, long time)
---

Did you receive an email from me this week that was… nothing?  Yeah, it's embarrassing but I made a tech goof-up and fooled the system into thinking it needed to send out an email template instead of an actual email.  Thank you so much to everyone who let me know — I appreciate you looking out for me!  (And besides being grateful, I'm secretly delighted to know that you do open my emails… even if it turns out I've got absolutely nothing to say in them! ::chuckle::)
How to Choose the Best Colourways for You
Here's something fun: do you ever worry that the colourways you fall in love with aren't actually a fit for who you are as a knitter or crocheter?  Have you ever fallen in love with a yarn and then been stumped by what to do with it?  I put together a super fun quiz* to let you know they colourways that will suit you best.  Plus you'll get great tips to making the most of what's already in your stash!
*that asks you a bunch of questions that have nothing to do with yarn and everything to do with your true aesthetic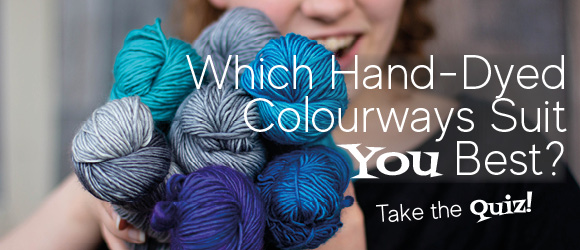 (I'd love to know what you think of it — if you take it, please do send me a quick note and let me know!)
Industry Untangled, June 13-17
As I mentioned earlier, SpaceCadet will be at Industry Untangled, a virtual tradeshow from June 13-17 and we'd love to meet your LYS there!  If you'd like that too, please do let them know about it (you can just forward them this newsletter!) so they can go here to find out how to attend.
---
Ok, I've got a busy day ahead of packing a ton of boxes.  When the weather is this nice, I like to do it on porch, so please keep your fingers crossed that the sunshine holds all day!  I hope you have a lovely day planned too, with good weather and some fiber-time scheduled in.  And, until next time, all my best!