The best moment of developing a new colourway is when we pull it out of the dyepot and it's exactly what we hoped for.  That feeling is — and I'm being totally honest here — it's downright thrilling!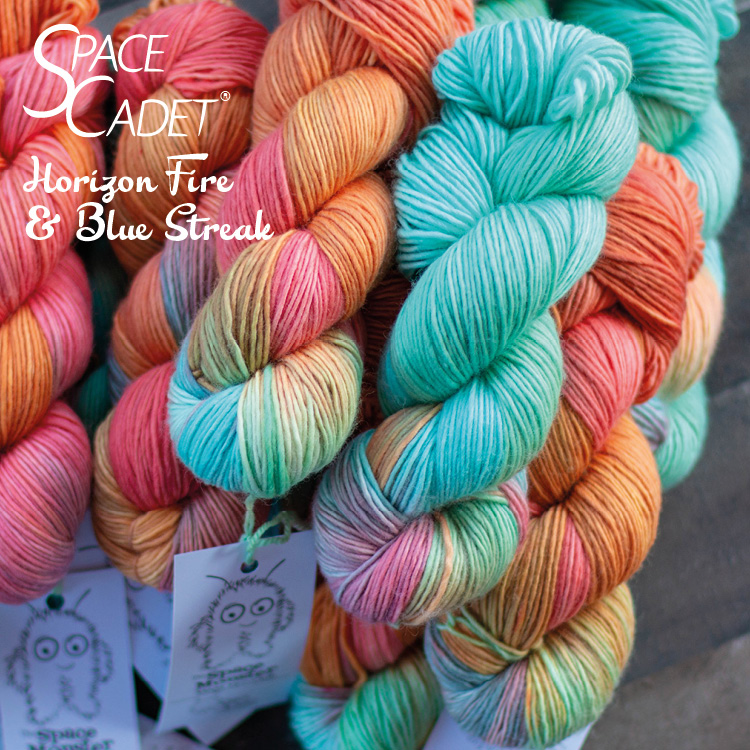 I mean, picture it: you have an idea in your head for a new colourway and, in your imagination, it's glorious…  so you calculate what you think the recipe will be to get those shades, and you mix them up using only the primary colours, which means the slightest change to the recipe — literally a few drops this way or that — could change everything…   and then you lower the yarn into a dyepot that's far too dark and intense to know if you've got the colour right, and wait while it slowly comes up to temperature.
And then…  and then you pull out the skein for the moment of truth and…
BOOM!  You nailed the colourway!  Honestly, it's the most heady feeling.
Followed immediately by the hardest part of developing a new colourway: choosing the name!  You may laugh at that…  I mean, how hard can it be to choose a name?  But when you've just gone through that whole process of calculating the recipe for that perfect colourway and held your breath to see if you got it right, there's suddenly such a sense of responsibility to get the name right too.  And not just mostly right, not just right-ish, but absolutely perfect, nailed-it-on-the-head, everyone-loves-this-name right.  Coming up with colourway names feels big.
(This, by the way, is why the minis in our Mini-Skein Club bundles have dyelot numbers but not names.  With ten new colourways every month, I honestly think we'd collapse under the pressure of trying to come up with names for them all!)
In fact, it feels so big that I rope in the whole SpaceCadet Crew to help.  We start messaging back and forth, throwing words out at random to see what sounds good.  Often, we've already got a vague idea of what we want the name to reference: the colour might have been inspired by the change in seasons, by something I saw on a walk, or even an interesting event such as the Mars landing.  But getting from that vague idea to the absolutely-perfect name involves a lot of random words…  a lot.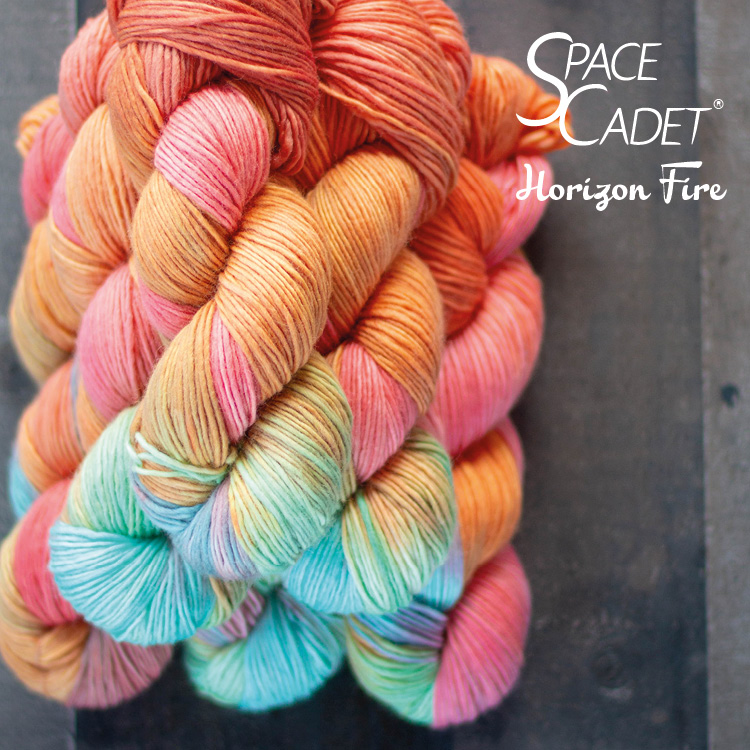 Take us trying to come up with a name for the latest SpaceMonster Club colourway…
Me: "The SpaceMonster colours this month are all sunsets hues so I'm looking for a sunset-word…  Ideas please?"
Me (a little while later): "…You guys, have we ever had a colourway called Afterglow…?"
Me (immediately afterward): "Oh, answered my own question. Yes, in 2016. Gah."
Cathy: "Eventide?"
Jade: "Could also be words to do with gold and summer solstice?"
Jade: "halcyon"
Jade: "golden hour?"
Jade: "splendor?"
Cathy: "Gloaming"
Sara: "Horizon"
Me: "Ooooh… horizon…"
Me: "the yarn looks like it's on fire…."
Me: "Ah! Got it! Horizon Fire! Sara wins!"
(Phew…  and that was relatively quick.  Sometimes this goes on for hours…!)
I know you already knew that we put a lot of work into every skein: lovingly hand-dyeing each one in colours that we mix from primaries, and then tagging and twisting each skein by hand too.  But I'll bet you never knew how much effort goes into naming each colourway too — truly, it's probably the hardest part of the whole process.  I bet you never look at the name on a SpaceCadet tag the same way again!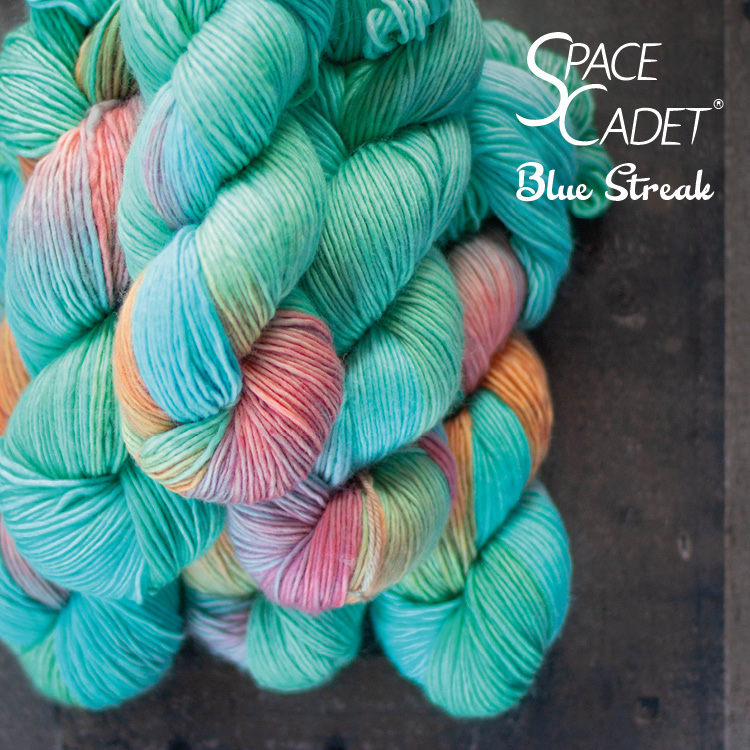 What's your favourite SpaceCadet colourway name? Or… the one that you're most curious about? Send me a quick email to let me know — and I might walk you through the story behind it!
---

If we think names for complex colourways are hard to come up with, the truth is that names for general colours are no less complicated.  Beyond the basics of ROY G BIV, there are millions of individual hues and, through history, humans have assigned specific, evocative names to thousands of them — think "caramel" vs "eggshell" vs "aubergine".  My assistant Sara shared this fun quiz from Merriam-Webster that lets you test your colour-name knowledge and gives the background of each one as you go along.  It's kind of tricky!  She got 12 out of 17 right — tell us how you do!
I often feel like the different fiber arts traditions are so separated but then I see something like this amazing outdoor cross-stitch art that my assistant Jade shared with me…  and it makes me look at yarn in a whole new way.  Suddenly I want to lay my whole stash out on the floor and choose colours to stitch into flowers and fish and butterflies.  So inspiring!
This is utterly mesmerizing!  Photographer Lior Patel used a drone to film from above a flock of over a thousand sheep during their migration from their winter to summer patures, and the result is nothing short of hypnotic.  My favourite bit?  They never, ever miss an opportunity to stop and eat. I feel you sheep, I feel you!
It's true that there are no knitting police (there are no knitting police!) but there are a lot of knitters and crocheters who get very passionate about terminology, even when it overlaps.  Confusion often ensues… and so do strong opinions!  I enjoyed reading the responses to this thread about how different knitters term and work the Centered Double Decrease.
---

Upcoming Shows
As things open up, everyone has careful calculations to make about how comfortable they feel about attending in-person events… including yarn shows.  As I weigh up our show schedule for the rest of the year, the most key factor is the safety of the SpaceCadet Crew and our customers, so I need your input about shows in these changing times.
Please click below to share your thoughts in a completely anonymous, 2-minute survey.  Your input will help me so much!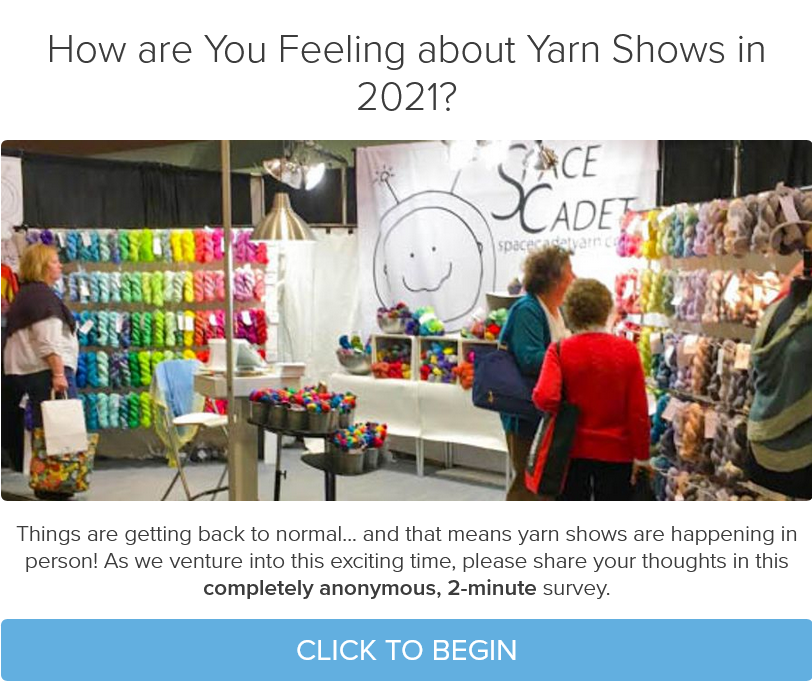 Our Summer Limited Editions: Opening Soon!
Balmy summer days are made for the beach… and are the inspiration for this collection of gorgeous Limited Edition colourways.  Dyed in an exploration of beachy blushes, they'll be opening for pre-orders soon, so watch your inbox.
Even better, they introduce our newest yarn, Callisto, a breathtaking fingering in 50% Alpaca, 25% Silk, and 25% Linen.  Seriously, you don't want to miss this!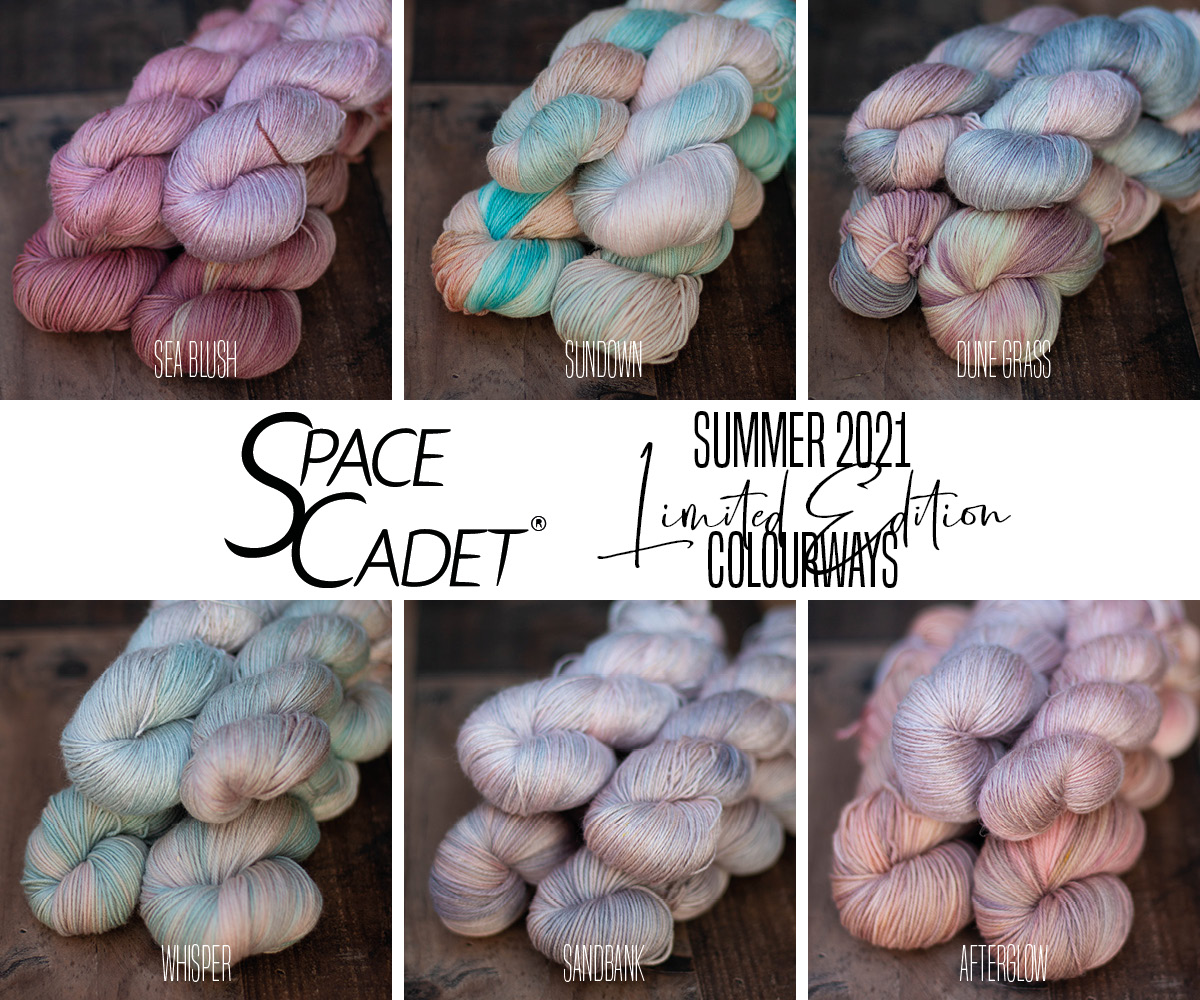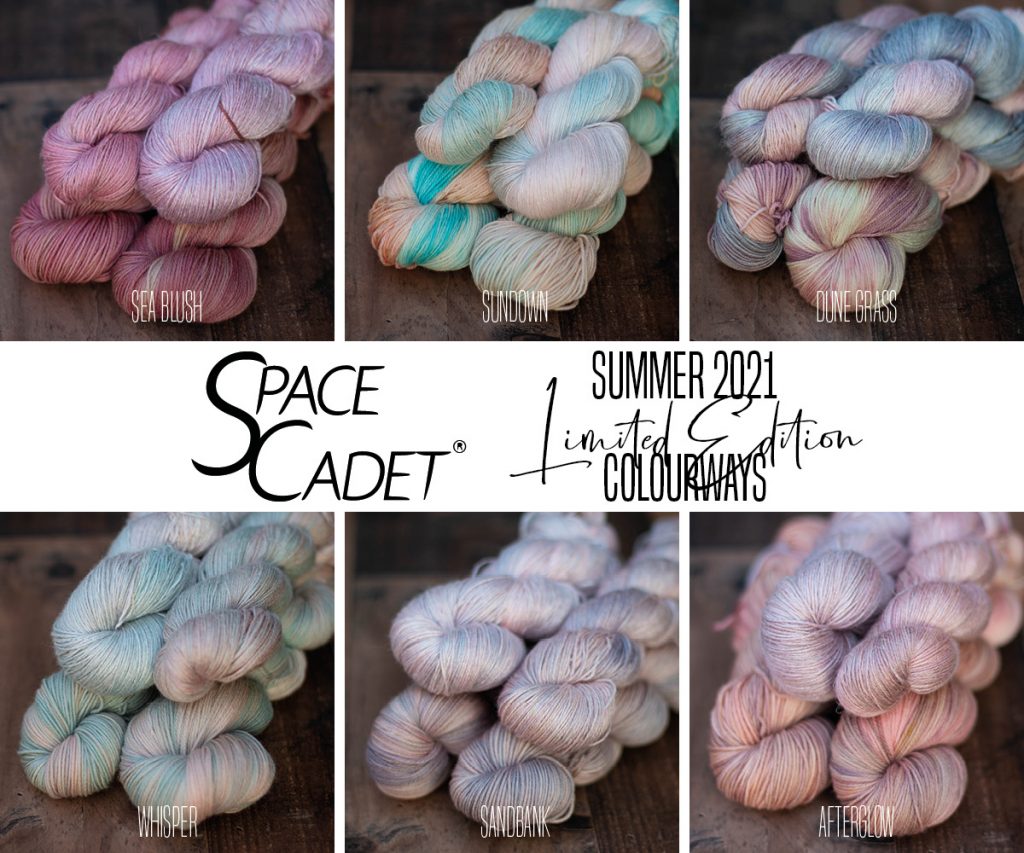 The pandemic continues to create delays at the mills so quantities will be limited.  If you'd like to get your order in first, click here and add your email to the early access list!
---
Ooh, one other quick thing before I go…  I'm looking for a little sympathy and I know you'll understand…  The other night I cast on a new project, joined in the round, and had waded through nearly five hundred stitches of seed stitch, swinging that working yarn back and forth and back and forth, and I was nearly through it and ready to start the speedy stockinette when I realised…  I'd twisted the cast on!!!!  Gahhhhhh!!!!  I frogged the whole thing and last night I cast on again and was super careful this time when I joined.  Only about 520 more seed stitches left to go…
Ok, I'd better get the day started.  Today I'm taking some lovely colourway photos, packing orders, and then…  doing some bookkeeping.  Not as exciting as dyeing, but it's got to be done.  I'll be sure to take a break and knit a few rows just to get my fiber fix.  I hope you've got a lovely, colourful day planned and, until next time, all my best!