Whenever we send parcels out to our club members, I have my heart in my throat just a little.
We always work really hard to develop the most beautiful colourways we can and I so very much want everyone to love the yarn they receive, to be wildly excited by the colours. But I never quite know if they will until the parcels go out…
A few weeks ago, I got an email from a member of our Mini-Skein Club who said she was disappointed because it didn't look like the colours in the bundles flowed from month to month the way they are supposed to (…and the way I promised they would!).
And I'll be honest, my heart sank a little.
But in truth, I totally understand why she said that. Totally! When the Mini-Skeins are twisted into their bundles, it really can be hard to see the colour flow.
So hard, in fact, that sometimes even we have trouble seeing the flow when the Minis are still in their bundles.
And so hard, in fact, that when I read that email, we suddenly panicked that maybe we'd done something wrong! Maybe we'd goofed and the Mini-Skeins didn't flow the way we'd planned…?
So my assistant Jade and I quickly broke open the bundles from the last three months and started laying them out.
And then, to our relief, the magic happened…
The colours flowed…
January's bundle started the year with some really gorgeous magentas that morphed into soft ballet pinks — the perfect, bright foil to the dark grey skies of deep winter, don't you agree?⁠
And then February's bundle was a little surprising, because you might expect clear pinks to move into something equally bright, maybe purples or corals. ⁠
⁠
But we try not to take the Mini-Skein Club gradient on a predictable path, so we mixed up some deep and rich caramels instead. I think the resulting colour flow almost glows! ⁠
⁠
(And when they're worked up together into a project, the juxtaposition of a bright clear hue against a deep muted shade will bring out the best in both of them.⁠)
And then it was only once the Mini-Skein Club gradient had dipped into that lovely caramel that we came out into the clear coral-peach you might have been expecting. ⁠
⁠
Honestly, I think it's these surprising detours that make the gradient so satisfying and club so fun!⁠
And finally, in March, we moved from those lovely rich caramels into the hues of honeydew melon, which you might not think of as a natural flow, but the result is beautiful.
⁠
What's more tricky? Taking that orange swiftly away from hot and spicy and moving to cool and refreshing. But those streaks of green give a little clue…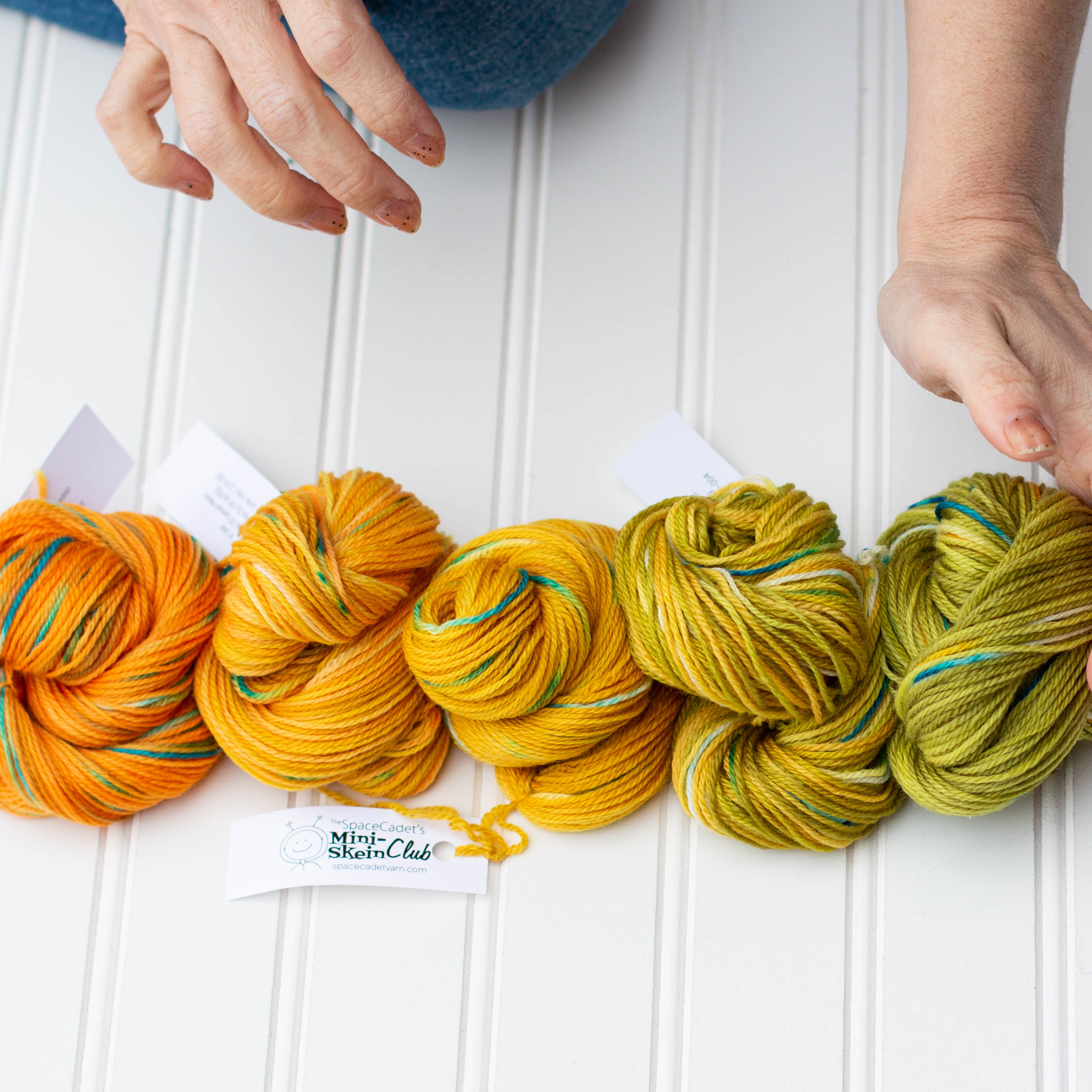 What a difference it makes to lay all those Mini-Skeins out! I know the gradient is a little bit hidden when they're twisted in their bundles but, once you see how the colours flow from month to month, aren't' they gorgeous?!?⁠
⁠
Even more exciting… where will we take the colour next?
There's so much colour there to explore! But this little adventure just goes to prove, you'll only see the gradient when you open up your Mini-Skein Club bundles and start playing with them!⁠

(And then we stretched out all the Mini-Skein Club yarns together and ohhhhhh, aren't they glorious?!?⁠ Honestly, I think they almost looks like a landscape painting of a fiery sunset over gentle, grassy hillsides…)