Whoo-hoo! I'm so glad you're aboard!

I send out emails every week-ish and pack them with fantastic pattern ideas, tips and tricks for everything fiber-related, one-of-a-kind offers, and great giveaways. In fact, you'll be getting a email in the next hour or so that will show you how to find an absolutely treasure trove of inspiring project ideas on our Pinterest boards — be sure to look for it!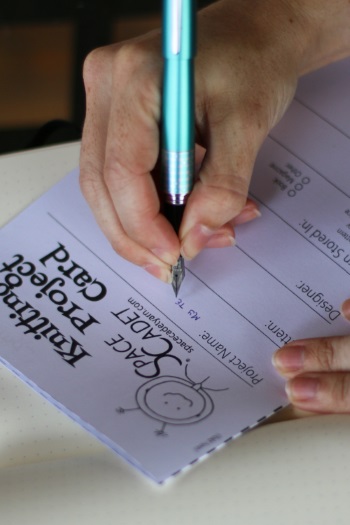 Plus, I've created some awesome free resources for you to enjoy! Go to the links below to get them:

Click here

for the SpaceCadet's Quick Guide to Reading your Hand-Dyed Yarn's Colour Repeats
Click here to download our awesome Printable Project Cards
Click here to get the SpaceCadet's Collection of Fabulous Hacks & Tips for Knitting and Crochet from Awesome Indie Designers
Click here for our fabulous (and a little snarky) Printable Project Gift Tags
---
Get to Know Us!
I love to hear from our community and, now that you're part of it, I'd be delighted to get to know you too! Tell me who you are, your favourite colours (that's really great for us to know!) and what kind of projects you like to make (shawls? sweaters? whole blankets? mini-skein projects?). Come on over and introduce yourself the SpaceCadet® group on Ravelry (we've got a fantastic group of people who'd love to meet you!) or click to connect with us on Twitter or Facebook.

And now…
We're going to start off with a bang, so don't forget to look for that email — it will arrive soon with some great resources to get you started. And, in the meantime, we're so excited to have you on board!
Stephanie,and the SpaceCadet® Crew