Back before the holidays, you may remember that I wrote a series of blog posts sharing some ideas and tips to improve your project photography (if you haven't read them yet, check them out here, here, and here).  Then the holidays hit and…  well, here we are in February and I've still got one last juicy post to share with you.  And this one is loads of fun because it's all about shiny new tools that you can start using right now.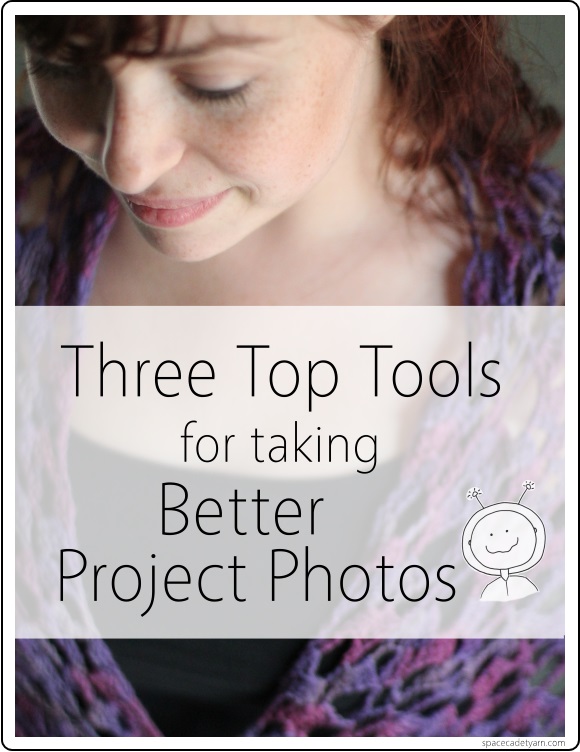 Tool #1: Take the Best Selfie Project Shots with CamMe
Just like the previous photography posts, let's start with one of my pet peeves:  there you are in the photo you just posted on Ravelry to show off your fabulous new hand-knit sweater — it's gorgeous, every stitch is perfect, you are so proud — and right there just behind your smiling face and fabulous sweater is…  your toilet.  Or your unmade bed.  Maybe even with a pair of dirty socks in the corner.  Ohhhh noooo…
Because, of course, to get a good shot of your sweater, you have to take the picture in a mirror, and most people's mirrors are in either their bathrooms or bedrooms, so that background is pretty unavoidable.  I've seen countless images like this on Ravelry and, while I totally understand, it just never makes that finished object look as good as it should.
But there's an app for that and it solves the problem so well (and is so much fun!) that you're going to be stunned you haven't been using it all along.  With CamMe, you set your iPhone at a distance and then hold up a hand to tell it that you want it to take a selfie.  When it sees your hand signal, it gives you a three second countdown and snaps a picture — setting you free to take finished object selfies anywhere!  Try it next to a sunny window in your house, or outside in the dappled shade of a tree.  Get adventurous and set it up on a shelf in the library while you leaf through a book, or prop it up in a shop window and snap yourself walking down the sidewalk in your lovely new sweater.
Sounds kind of amazing, right?  It is!  Here, check out their awesome little video showing exactly how it works: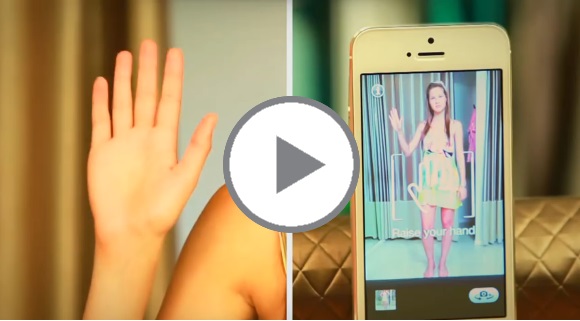 If you can't see the embedded video, just click here
Best of all?  It's
FREE!
(Also, while I think this app is perfect for the knitting and crochet community — exactly what we need to show off our projects ourselves — I don't think the folks at CamMe have realised that at all.  It's is available only for iPhones, but if a bunch of us contacted the company to tell them we need it for other phones too, we might be able to wake them up to a whole community of customers they never even knew were there.  Click here to send them a quick message.)
Tool #2: Make your Images Gorgeous with Snapseed
When it comes to quick, on-the-go photo editing, I really don't think you can beat Snapseed.  I know other apps have filters and editing options, but Snapseed's controls go deeper than anything I've seen in its price range.   The cropping is more advanced, the colour correction is more precise and, together with all the other tools in its arsenal, I am able to take the most hastily-snapped phone images and turn them into something really spectacular.  I often even use it before I upload a photo to Instagram — it's just too powerful to ignore.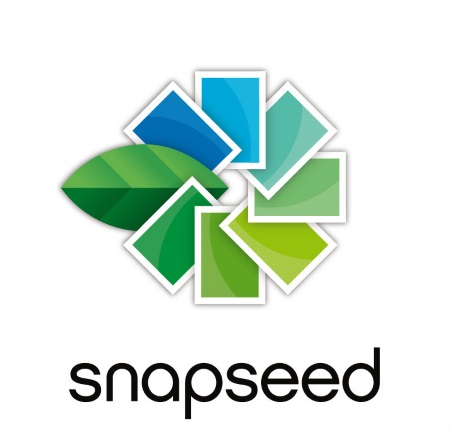 Use Snapseed to crop your project photos right in to the most important details.  Adust the Saturation and Ambiance to get the colour just right (look under "Tune Image") .  Or change the Structure and Sharpening options (under "Details") to really bring out your stitchwork.   You'll be blown away by how stunning your project photos become!
Oh, and what is its price range?  Well, that'd be…  free.  Plus, it's available for both iPhone and Android.  Brilliant!
Tool #3: Learn from a Pro

I think the one thing I did that improved my photography the most was to take Caro Sheridan's fantastic class on Craftsy, "Shoot It!".  Caro is a professional photographer (you've seen her work allll over Ravelry, snapping for some of the biggest designers out there), knitter, sewist, and the co-author of Knitting It Old School, a collection of designs inspired by the 40s, 50s, 60, and 70s.
And why is Shoot It! fantastic?  Because it's a photography class that is designed entirely around photographing knit and crocheted finished objects.  Seriously.  There's no taking photos of food, or jewelry, or kids, or pets…  This class is all about the fiber arts and only about the fiber arts.  What could be more perfect?!?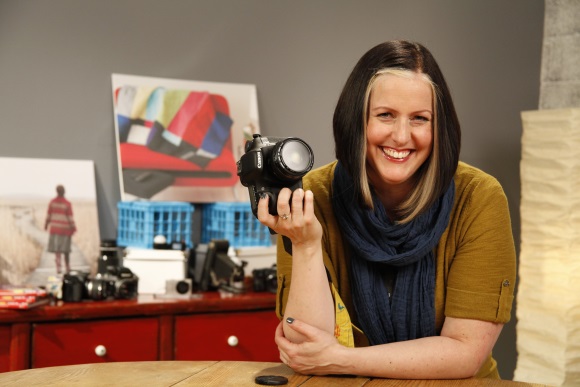 Caro walks you through everything you need to know to make your projects look stunning on Ravelry: how to frame your photos, how capture project details, how to work with a model.  She covers the best backgrounds, great tips for editing, how to put your model (and yourself) at ease during a shoot …and, if my memory serves, she even dips into choosing the right underwear (it's important, people!).  Taking Shoot It! opened my eyes to a ton of easy fixes I could make to the way I took photos and I was amazed by how quickly my photography improved.
BONUS: Get Shoot It! for 50% Off!
Now, this is something just fantastic…  When I told Caro I was going to feature her Craftsy class on the blog, she graciously offered to give all of you 50% off the regular price of Shoot It!  Just click here to go to the class page, and you'll see the discount is automatically applied.  Isn't that just terrific of her?!?  So go on, take her up on the offer — your finished objects will thank you!