A couple of weeks ago, I shared with you the Knitting Rule of Thirds, a quick technique that's great for visualising how a yarn's colours will work up in your knitting.  Understanding how to do it turns you into a little bit of a skein-reading ninja.  You can open up any yarn, quickly scan the colourway, and immediately get a solid idea of how the colour repeats are going to behave.  Go you!
So, now you've bought that skein and brought it home, and it's time to find a pattern and cast on.  Whoa, there!  Not so fast!  If you love this yarn — if you really, really love it and you want your project to look a-maz-ing — there's one more step that you'll want to take to make sure you're doing this beautiful colourway right…
Swatching — But Not for the Usual Reason!
Yeahhhh, I know.  You read the word "swatching" and groaned.  Nobody likes to swatch and we've all read those notices at the start of patterns that nag us to "take time to check gauge!"  But when it comes to hand-dyed and variegated yarns, swatching tells you a lot more than just your stitches per inch.   Let me walk you through four more reasons to swatch your hand-dyed yarn…
Reason 1:  To Check Your Personal Rule of Thirds
As I explained in my last post, the length of your yarn knitted up is generally around a third of the length of your yarn laid out straight.  This means that, as you look at your opened-up skein, you know that each colour repeat will actually be about  one third as long in the final knitted fabric.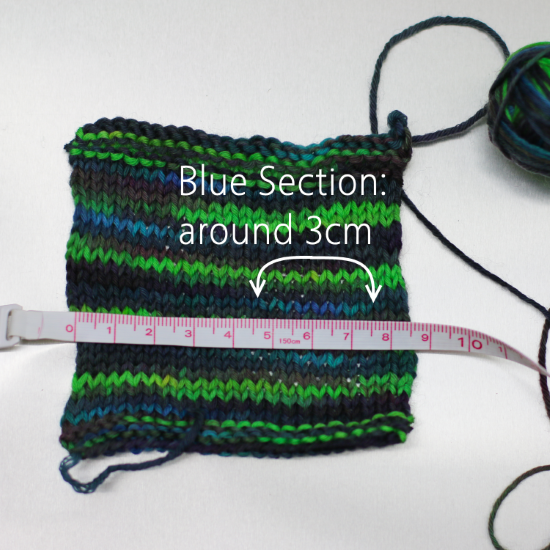 But, we all know that every knitter's gauge is different so, depending on the thickness of the yarn, the size of your needles, and whether you knit tightly or loosely, your "rule" might actually work out something other than thirds.  You may knit to a Rule of Fourths, or a Rule of Two-and-a-Halves …or something else entirely.
Knowing your personal rule will help you to better visualise how this colourway will work in your pattern.  You'll know whether that small section of purple will be a little streak or just a tiny pop.  And you'll know if the long sections of yellow are going to stretch out too far or look just right.
And if you want to avoid pooling (or you want to encourage it!), knowing your own Rule of Thirds for this particular yarn allows you do the calculations you need to get effect you want.
Reason 2:  To Check for Pseudo-Striping
Some variegated colourways are do something that I call "pseudo-striping".  Now, I'm not talking about self-striping yarn — that's a completely intentional effect achieved through a special dyeing technique.  Pseudo-striping happens when you have very long (and usually simple) colour repeats knitted into a very plain stitch (such as stockinette).  When those two things come together, the repeats can start to stack on top of one another in a way that creates long pools of colour that look a little like stripes.  Take a look at the shrug below to see what I mean.  In truth, these aren't really stripes (if you look, they actually change colour across the length of the row) but they give that impression nonetheless.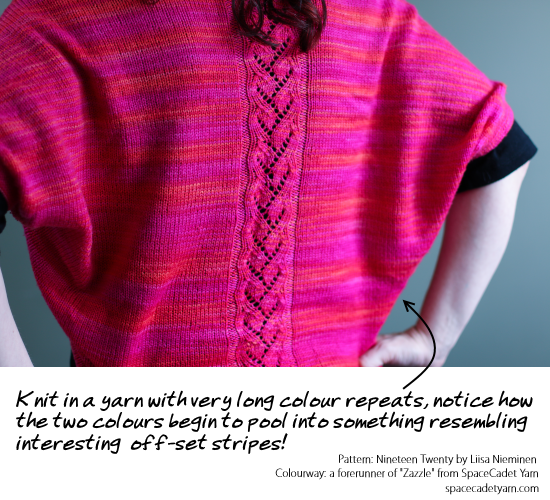 Now, I happen to love this effect but, if it's not what you're after, swatching gives you the chance to spot it and make changes before you commit to a pattern.
The easiest way to avoid pseudo-stripes is to go for stitchwork that break up the horizontal stretch of those colours.  Stitch patterns with slipped stitches, yarnovers, or cables (faux or real) will do work wonders (see how the striping seems to disappear in the center lace section of that shrug above?).  Even garter stitch can do the trick, because of the way it hides every other row.  And the only way to find out is to get your needles out and swatch!

Reason 3:  To Check for Clown Barf
"Clown Barf" is the knitted result of those yarns that have sooooo many different colours going on at once that it just doesn't work.  Usually (but not always) in rainbow colourways, they look simply amazing in the skein but somehow end up bitty and jumbled and just too-crazy once they're off the needles.  But the thing is, it can be hard to tell which skeins will turn into clown barf.  Sometimes the ones you think will, don't…  and the ones you think won't, do.
The answer is swatching.  Get that yarn on your needles and see how the colours are going to redistribute themselves.  You'll know pretty quickly if what you've got is clown barf.  And if it is, what do you do?  First, don't despair!  The solution is simple: choose a pattern with stripes, and alternate your crazy-coloured yarn with a semi-solid in a coordinating colouway.  The stripes will break up your variegated before the colours reach critical mass, allowing the semi-solid sections to turn each variegated stripe into a fabulous pop of colour — instead of an all-over assault on your senses.
Reason 4: To Check for Colourfastness
You know that when you knit a swatch in order to check your gauge, you have to wet and block it as you would the final finished object.  That's what ensures your gauge is really accurate for the garment you'll ultimately be wearing.
But wetting your swatch is also important because it gives you a heads up if your yarn isn't actually colourfast.  Now, most yarns are colourfast, be they commercially dyed or hand-dyed, but if you happen to get a rare one that isn't, that's not something you want to find out after you've spent 40+ hours knitting your masterpiece!
Sometimes folks are under the impression that hand-dyed yarns are more prone to colourfastness issues, but they are not.  Any good hand-dyed yarn from a reputable dyer will be just as colourfast as any commercially dyed yarn.  At SpaceCadet, we carefully soak and rinse every one of our skeins to check for dye run-off.  On the very rare occasion that any dye comes out, the yarn goes immediately back to dye room.  I'm not happy until the rinse water runs crystal clear.
But mistakes happen — for hand-dyers and commercial outfits alike.  A few years ago, a friend made a blanket in navy blue and white stripes out of a very well known commercial yarn (a brand so popular that you've probably used it yourself).  When she bound off and finally washed the finished blanket, the navy bled all over the white.   …And she was heart broken!
But she had a few skeins left over that she still wanted to use, and so she asked me if I could try to set the dye on them again.   When I set the skeins to soak in clear water, the navy started pouring out in billowing clouds of blue.  After a few moments, the  water was so dark I couldn't even see the yarn anymore.  In all honesty, I imagined there had be some sort of advanced-chemistry reason that the dye hadn't set — something too technical for me to understand — but I went through my regular process anyway and treated the yarn exactly as I treat my own skeins.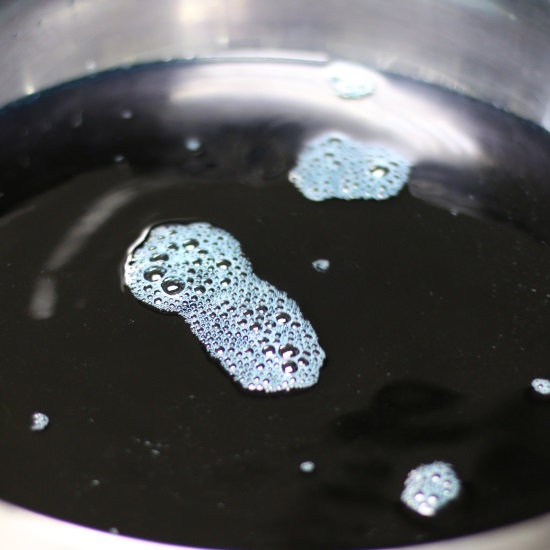 And when I rinsed it afterwards…    the water ran clear!  My friend knit the rest of her skeins safe in the knowledge that this project wouldn't be ruined.  And I learned that any yarn — from dye houses large or small — can end up with colourfastness issues if the yarn is not checked properly during rinsing.
But test-wetting your swatch will let you know if that's going to be a problem, long before you cast on your project — and save you from some serious heartache if it is.
So… Swatching Really IS Worth the Effort!
There you go — even though it's a pain and even though we all really want to cast on right now, when it comes to hand-dyed and variegated yarns, nothing beats swatching for really making the most of your colourway.  There's so much more to it than just getting gauge!
So, now it's your turn.  Have you tried swatching for all these different reasons?  Or are some of them new to you?  Did swatching improve your results with your hand-dyed yarn?  Or are you so devil-may-care that you just cast on and let the yarn do whatever it wants?  Come over to the SpaceCadet Ravelry group and share your experience!
---
The InterStellar Yarn Alliance is Open for Subscriptions!
Want to come with SpaceCadet on a colour adventure?  That's exactly what the Yarn Alliance is all about!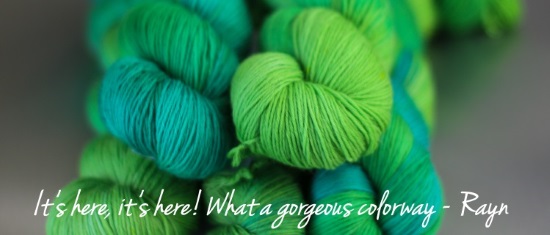 The InterStellar Yarn Alliance is your a chance to dive into amazing exclusive SpaceCadet colourways and share it with a fabulous community of folks who are just as excited as you are!
Subscriptions available from Sept 9-24 ONLY
Click here to grab your spot!
So, what do you get when you join?
…beautiful yarns, colourways you might never have dared try but suddenly realise you love, and some seriously fabulous gifts!
As a member of the InterStellar Yarn Alliance, you'll receive a fabulous parcel delivered to their door every other month, containing:
SpaceCadet ® yarn (light to medium weight) in an exclusive Yarn Alliance colourway (guaranteed not to be offered on the SpaceCadet® website for at least 6 months)
A great Yarn Alliance gift tucked into every parcel!
The SpaceCadet's Log exploring the inspiration for each colourway.
The InterStellar Yarn Alliance newsletter with periodic special offers exclusively for members.
A 15% off coupon every six months
And your entry to an awesome community of club members who share pattern ideas, cheer you on, and make our activities so much fun!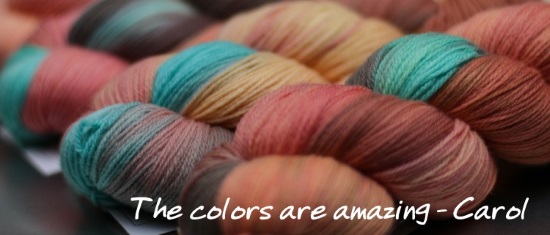 Plus Get a Coordinating Colourway!
Colours this gorgeous deserve companions, don't you think? So each month, you have the opportunity to get a second colourway that we design to coordinate beautifully with the first, so you can create an even more amazing project. Usually a semi-solid or a gently variegated, you can use it to create stripes, a contrasting panel, or to go where-ever your creativity takes you!
And Sweater Quantities!
One gorgeous skein just isn't enough? You also have an exclusive opportunity to order more skeins custom-dyed in the latest club colourway. You'll receive an email with all the details about a week after your parcel goes out — and then all you have to do is pick your project!
We'd love to have you aboard!  Click here now to get your spot in the Yarn Alliance!