If you've been following my series on understanding hand-dyed yarn, you know by now that the most important step is to open your skein up, and you know the basics of how to read your colour repeats, and you can twist your skein back up like a pro.  So far, so good!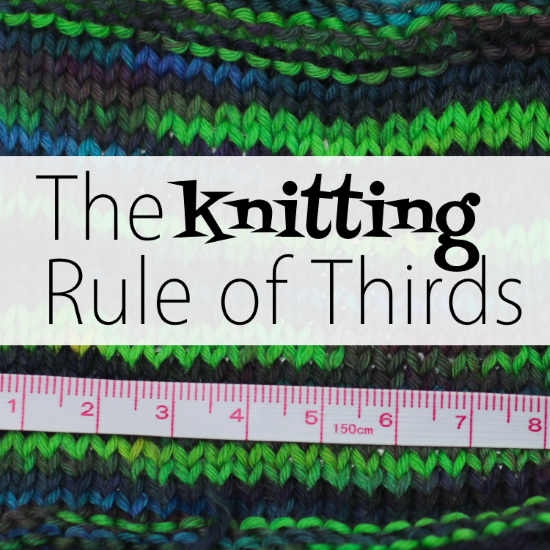 And today I'm going to share a second step in reading your colour repeats — one that gives you a really handy benchmark that you can use to very quickly visualise how those colours will work up in your knitting.  So if you're holding an open skein in our booth at a show (or maybe at your LYS, — just don't forget to check it's ok to open it), and you're looking for all the colours that might be hidden inside the twist, assessing whether the yarn has got mostly long repeats or short, there's one simple rule you want to keep in mind…
The Rule of Thirds
Actually, I totally made that rule up.  The real rule of thirds is a photography term, meaning that photographs are usually more dynamic if you place the subject slightly off-center, a third of the way in from one of the edges.  But the idea of thirds is a real thing when it comes to knitting as well and it's this:
The length of your yarn knitted up is generally around a third of the length of your yarn laid out straight.
To illustrate this, I grabbed a random leftover Mini-Skein that has some very distinct colour repeats and knitted up a quick swatch.  As I did so, I measured the colour repeats before they reached my needles, and then I measured them again in the knitting after I'd soaked and blocked the swatch.  Here, have a look at what happens with the bright blue section of the colourway:
This is Oriana, a fingering yarn, knit on 3mm needles (somewhere between a US 2-3).  Stretched out, the bright blue section of yarn is roughly around 9 centimeters long.  Knitted up into stockinette stitch, the same blue section measured around 3 centimeters.  The Rule of Thirds holds true!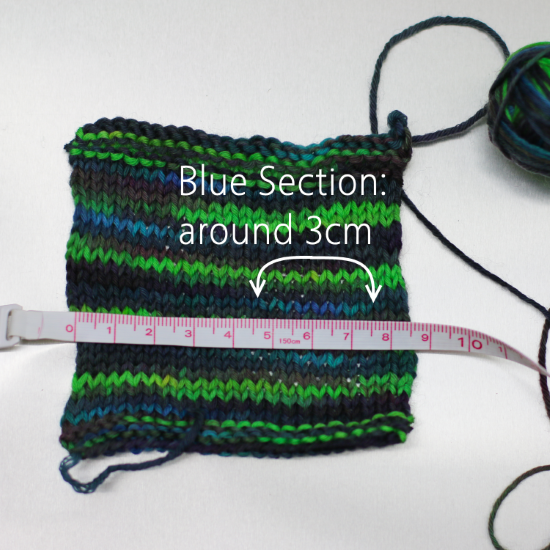 What does this mean for you, holding your open skein of yarn in a show booth or a shop?  It means you can very quickly look at the colour repeats and, by imagining them at a third of the length you see in the skein, have a basic-but-reliable idea of how they'll work up in your knitting!  And once you get in the habit, it becomes second-nature — at just a moment's glance you can pretty accurately "see" your colourway knitted up.  I find it super-helpful when I'm quickly sorting through skeins of hand-dyed to find one that will work with a pattern I have in mind.
Guidelines and Caveats and Disclaimers
Now, you need to know that, just like all simple rules, there's actually much more to it.  The knitted length of your yarn will of course depend on your particular gauge, the needles you choose, your stitch pattern, and lots of other variables.  The Rule of Thirds applies best when you:
choose a needle size that is traditionally recommended for the weight of your yarn — so smaller needles for lighter yarns and larger needles for heavier yarns (click here for the Craft Yarn Council's recommendations).
work in stockinette stitch — as soon as you introduce more complicated stitches, you alter the amount of yarn that's used and start to move away from simple thirds.
And while this rule is handy for knitting, it doesn't really apply to crochet at all (I'm sorry, crocheters!)
Establishing Your Own Rule
Ok, so what do you do if your gauge isn't "typical"?  Or you want to knit fingering on size 10 needles?  Or your stitch pattern has a bunch of slipped-stitch-cabled-yarnovers (go you!)?  Or you crochet?  Well, there's a few things you can do to adapt this rule to your situation.
The first is knit a gauge swatch in stockinette, measuring as you go just like I did, and see what your personal rule is for your own natural gauge.  Check and see if you naturally knit to the Rule of Thirds.  Or maybe you knit more to a Rule of Fourths… or Two-and-a-Halves…  or something else.  It doesn't really matter what your natural gauge is, so long as you know it and have it in mind when you open up a skein of hand-dyed and start looking at the colour repeats.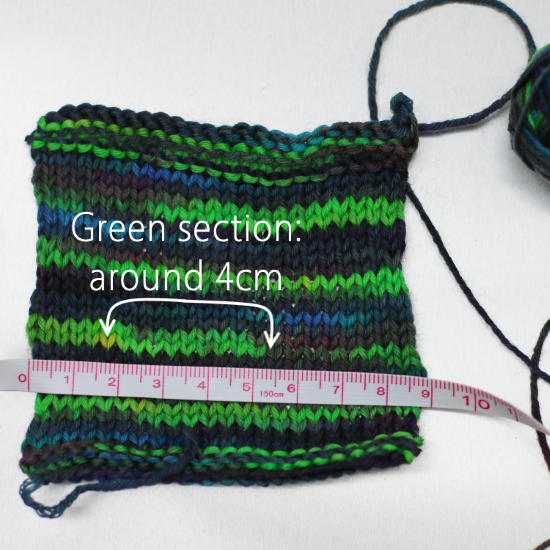 And that applies to crocheters as well — go grab a skein of distinctly variegated yarn and work up a swatch in whatever stitch you most often use.  Measure the colour repeats before they reach your hook, and then measure how far they go across your stitches once you've crocheted them into the swatch.  You can even test it over a couple of different stitches.  Once you have your measurements, you'll know what your personal rule is for reading your hand-dyed yarn.
Ok, but what if your pattern isn't in stockinette?  Well, that's a little trickier.  If you already own the yarn, then you just knit a swatch in the stitch pattern and see how it works with the yarn's variegation.  But if you're on the hunt for the right yarn and really want to know exactly what your Rule will be for that stitch pattern, then the best thing is to knit the pattern in a test yarn — measuring length as you go — and then use that knowledge to establish your Rule of Thirds/Fourths/Whatever so you can go out and read colour repeats to find the right yarn for your pattern.
Now It's Your Turn!
Now that you know about the Rule of Thirds, you can start applying it right away!  (Even if your personal rule is not quite thirds, it's still going to be fairly close).  So go into your stash of variegated hand-dyed yarns and start exploring.  Open up a few skeins and see if you can imagine how the colours will work together when they're a third of the length in the skein.  Grab some of your Mini-Skeins and cast on a few quick swatches to see the colours worked up.  Compare long repeats against short repeats.  And look for those tiny pops of colour (like the yellow in the images above) to see how they work up as well.
Once you have the Rule of Thirds in your head, reading your skeins takes on a whole new dimension.  I'd love to hear how it helps you understand those beautiful, seductive, and sometimes intimidating hand-dyed colourways!