I get excited about variegated yarn (which is great, right? I mean, considering what I do for a living and all…) but variegated yarn can be tricky.  Pick the wrong pattern and it might pool or flash.  Pick the wrong yarn and it might turn into a multicolour mess.
But… but… when you combine the right variegated yarn with a pattern that compliments its colour changes, the result can be magical.  The latest SpaceMonster colourway, "As Winter Goes", is dyed on SpaceCadet's smooshy bulky-weight Elara in a wonderful mix of custard yellow, rich rust, and a washed out violet — that is just beautiful in the skein and will look amazing in a stitch pattern that moves the colours around in interesting ways.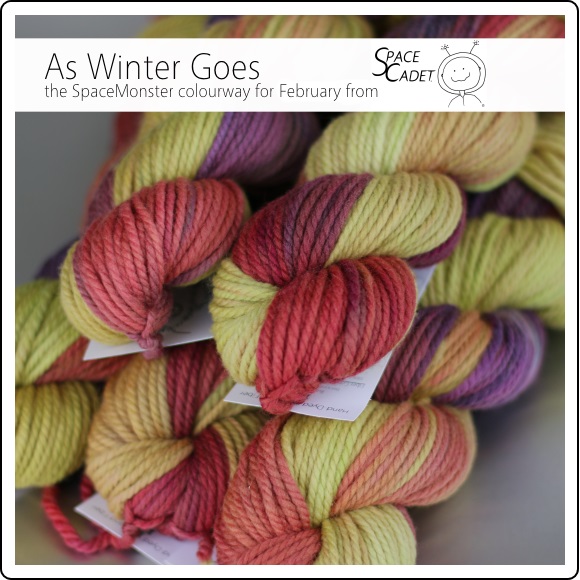 Wait, what do I mean by "interesting ways"?  My favourite stitches for colourways like this one use cables, slipped stitches, yarn overs, and the like to move the colours around — vertically as well as horizontally — within the fabric.  In fact, one of our SpaceMonster Club members did exactly that and her results are just gorgeous — click here to see!
But picking the right pattern to do that isn't always easy, so want a little help choosing projects that will look amazing with this yarn?  We've got you covered!  Here are our Pattern Picks for the February SpaceMonster colourway, "As Winter Goes"…
Pattern Picks for "As Winter Goes"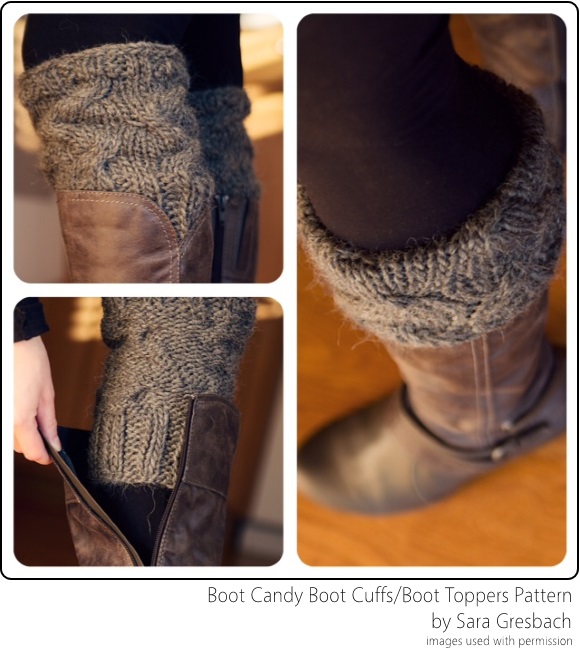 This past Christmas, I received a gorgeous pair of knee-high boots that I have worn pretty much every single day since the holidays.  And what does every great pair of boots deserve?  Some beautiful hand-knit boot toppers!
What I love about Sara Gresbach's design is the way she uses cables (without purling) to subtly move the stitches around on a stockinette background.  The effect is lovely in a solid yarn as pictured here, but would work wonderfully to blend the colours in a variegated yarn like "As Winter Goes".  Simple, quick, and just so cute — I might go cast on!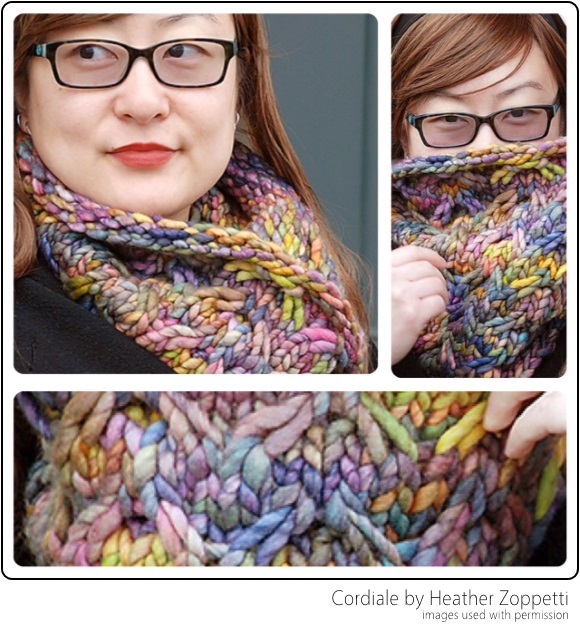 Here's another amazing example of a using simple stitch technique to manipulate colour.  Look carefully at Heather Zoppetti's stunning Cordiale and you can see the slip stitches working their magic against a stockinette background.  To me, it looks almost like the wings of birds flying across the fabric.
Worked in a variegated yarn like "As Winter Goes", those slip stitches would lift the changing colour up out of the horizontal line of its original row to break up any pooling or flashing, and create a wonderful, randomised effect.  All while keeping you toasty warm — can't beat that!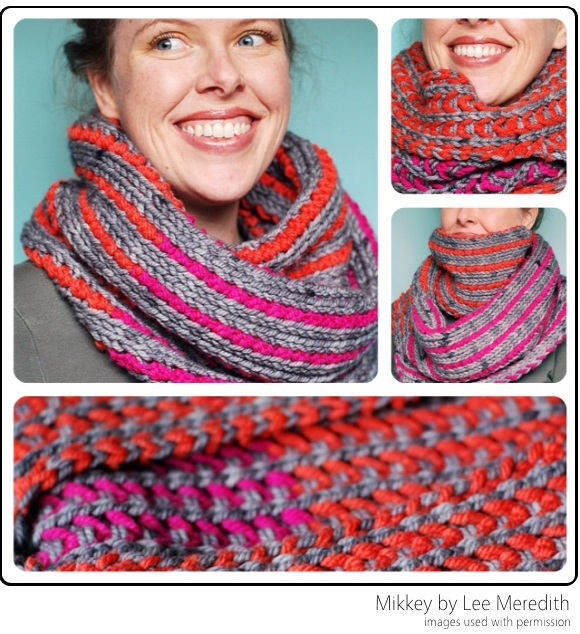 I love love love what Lee Meredith does with yarn — her approach to knitting is innovative and almost architectural.  And she never ever shies away from deliciously bold use of colour!
Lee designed Mikkey in three shades of SpaceCadet Elara —  Dark Skies (the gray), How Dare You! (the orange), and Tickled (the pink) — with a 2-color slip-stitch pattern which gives completely different looks on the two sides.  But I'd love to see it knit in the sublime colours of "As Winter Goes" paired with the soft gray of Dark Skies for a more natural effect.  Or  for something really eye-catching, contrast it against a beautiful purple like Plume.  Either way, it's a stunning pattern that will bring out the best in any smooshy, variegated yarn.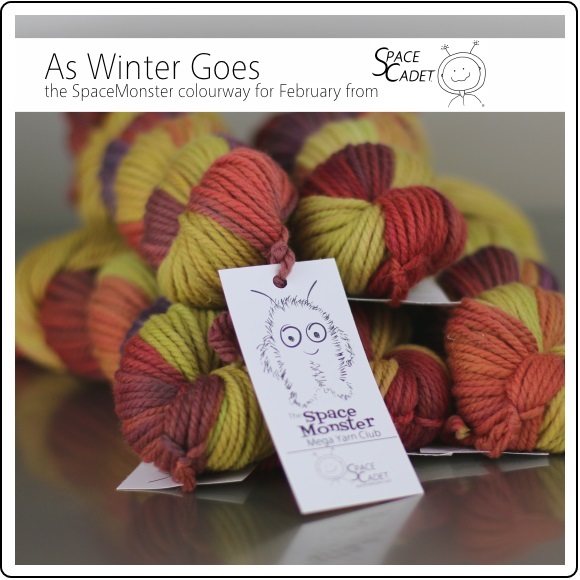 The SpaceMonster Mega Yarn Club will re-open for subscriptions in June.  If you want to be the first to know (and get early-bird registration), get on the SpaceMonster mailing list!