Tell me, do you get a little thrill when you discover a new acquaintance is a knitter or crocheter?  You both realise that you've got this wonderful shared understanding of what's Really Important in life, and you can ditch the small talk (or business talk) and turn instead to yarn, needles, and your latest projects.  It's a delicious moment, isn't it?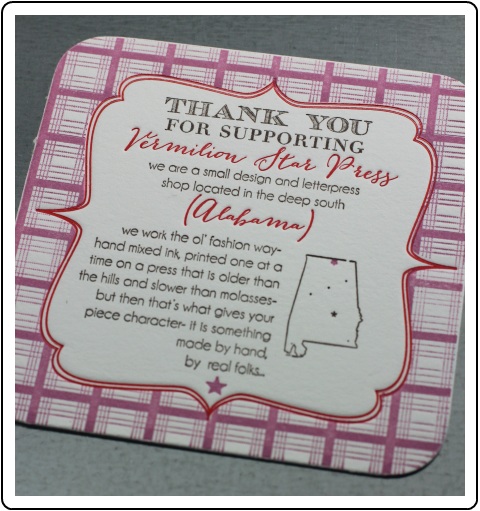 That's exactly what happened when I got hold of Vanessa at Vermilion Star Press to put together the gifts for the latest InterStellar Yarn Alliance parcels.  I'd admired her work for a long time, beautiful letterpress stationary and invitations, created on a 100 year old Chandler and Price letterpress (that's "slower than molasses" — check out her adorable thank you note in the photo above).  I had a vision of how she and I could work together to create something really special for the Alliance Members.  So I emailed and asked her what she thought…
"Shut the Front Door!  I am a dedicated addicted knitter!  Yes, let's do it!"
And there it was, that knitterly bond —  I knew right away that this was going to be a beautiful collaboration.  We chatted back and forth, came up with some adorable designs, and then Vanessa got to work…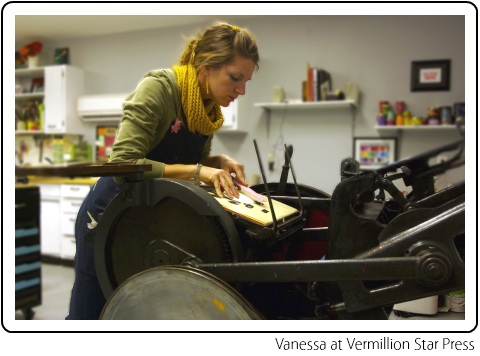 Now, before I show you her work, let me just quickly show you the yarn (and if you're in the Alliance and you haven't yet received your parcel, look away now!).  I'd had all kinds of ideas of what I might dye but, by the time we got back from Rhinebeck, my head was so filled with the gorgeous colours of fall that there was no way I could possibly dye anything else.  And so I created the shades of my Rhinebeck Reflections.

(Take a really close look at that label…  Can you spot the mistake?  Yeah, I didn't even realise I'd done that until just now.  Oops!)
When Vanessa's parcel of letterpressed goodies arrived, I was so excited!  I ripped open the box, took out a set, and ran my finger across the  indented letters.  There is something about being able to actually feel where the press pushed the words right into the paper that is just scrumptious.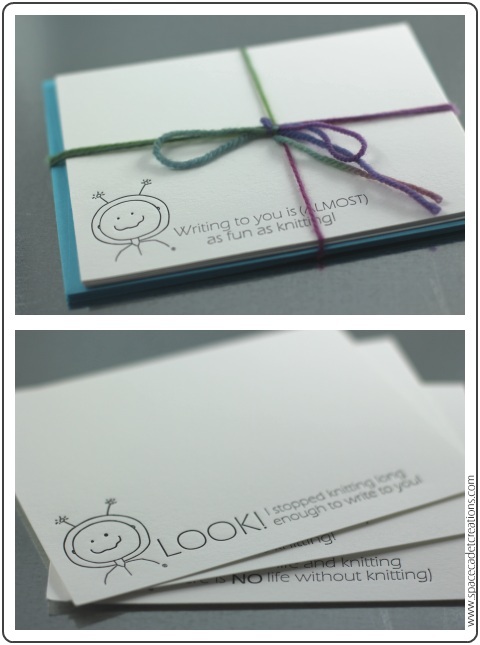 And they were made by a fellow knitter!  What's not to love?!?
---
Hey, what you up to this weekend?  If you're in the Pittsburgh area, don't forget that this Saturday is Indie Knit & Spin, a fabulous market of the region's best indie fiber artists.  Click here for all the details  …and come and see us!