Let me set a scene for you:  my assistant Amy and I were in the studio, both  looking at a near-empty wall of cubbyholes.  I stood with a look of dumbstruck horror on my face, and she sat on a box beside me, laughing uproariously.  She was laughing at me and, as much as she tried to surpress it, she just couldn't — because she was right.  I guess sometimes you just have to take your lumps.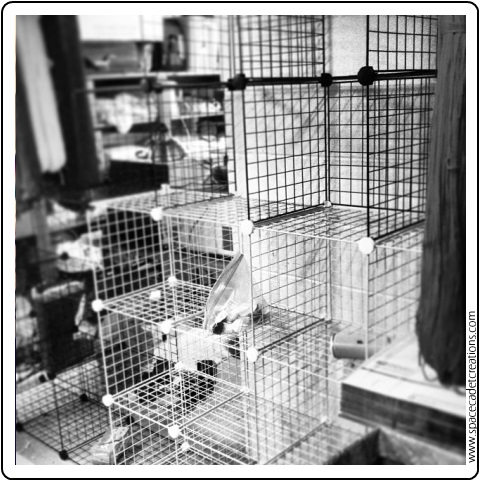 This has been an amazing year for SpaceCadet.  When I look back at the start of 2013, I never dreamed (well, I did dream, but never really believed) that the business would grow the way it has.  It's been incredibly exciting and, though sometimes it's felt like we were hanging on to a wild horse going at full gallop,  we've kept our customers at the forefront of our minds, risen to the challenges, and — I hope — grown stronger and better with every one.
And with that growth comes some really exciting developments.  Have you met Amy, Jade, and Jill?  There is no way I could run SpaceCadet as a one-woman show anymore and so I am grateful beyond words that I have been able to find three such fantastic assistants ( I know that sounds like platitudes, but it's totally not: I really cannot believe I've found three such awesome women, who are always ready to roll up their sleeves and do pretty much whatever needs to be done.  They blow me away).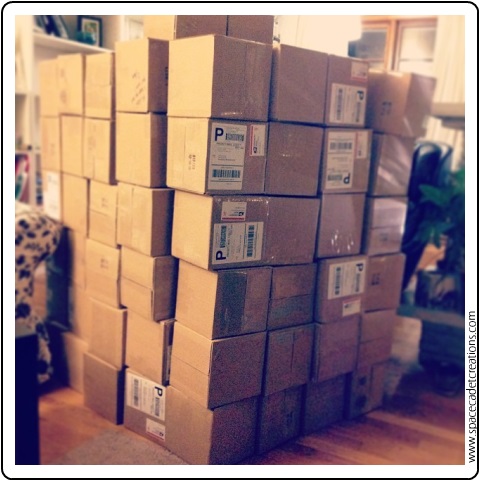 And now we are beginning to outgrow my home-studio ("…beginning?!?", I can hear Amy and Jade saying in unison) and are starting to look for larger premises to move into.  It's wildly exciting (all that room! we could dye so much more!) and also crazy scary at the same time (the plumbing work we'll have to do!  the electric work! the multi-year lease!).  And I know that the trendy thing to do is to start a crowdsourcing campaign to ask people for the money, but I'm kind of old fashioned in that way: I want the business to fund this move itself by making yarn that you guys love so much that we earn what we need to cover our expenses.  If we couldn't make enough money the old fashioned way, then doing it any other way just wouldn't feel right to me.
And that brings us back to Amy, sitting on a box and laughing at me.  Because if that's my plan — to make enough yarn to fund our potential move — then I had made a biiiig mistake, and it was staring us both in the face.  Earlier in the year, there was a formulation change in the some of the dyes I use, which meant I had to change my recipes.  And through the year, I found I really stuggled to make the new dye formulation fit my old colourways, and I just wasn't enjoying the dyeing process so much anymore.  Driven by that, I began developing new colourways — brighter, bolder, and far more satisfying to work with.  And, one day a few months ago, I went into the shop and pulled the plug on all the old colourways.  And by "into the shop", I mean I went on my computer and removed them from the online shop, so that all that was left were the new colourways that are making my heart sing.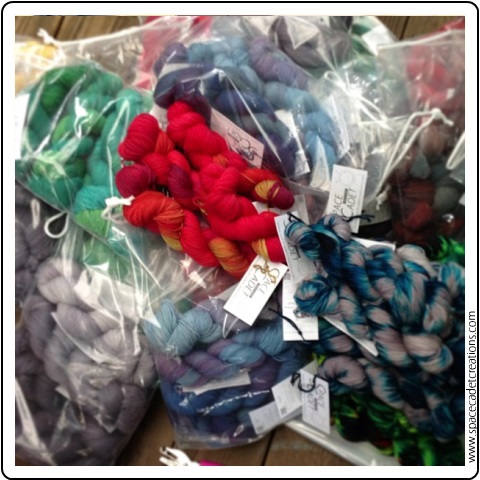 But here's the thing:  I did not go into the studio and physically separate all the new and old skeins on the shelves.  They were fine sharing the space a little longer, I thought, and I could go through them all later, when there was a little more time (…ahem …there is never a "little more time").  But with all these new developments in the business, my accountant needed a stocktake, which is why Amy and I were there in the studio the other day.  We were surrounded by that horrid mid-stocktake semi-organised chaos, when Amy began separating those skeins, moving the old shop stock to another shelf across the roomand leaving the new colourways in the cubby holes.
And that's when she began to laugh, because after about a half an hour, the shop shelves were bare.  B. A. R. E.  All this time, with the cubby holes looking chock-full every time I went into the studio, I had'nt noticed that the actual stock in the online shop was dwinding.  But as Amy began to separate the old colourways from the new, it became obvious…  undeniable..  kinda screaming out at us.  And so there I was, standing in front of the near-empty wall of cubby holes with a look of shocked horror on my face, and Amy sat chuckling away right next to me.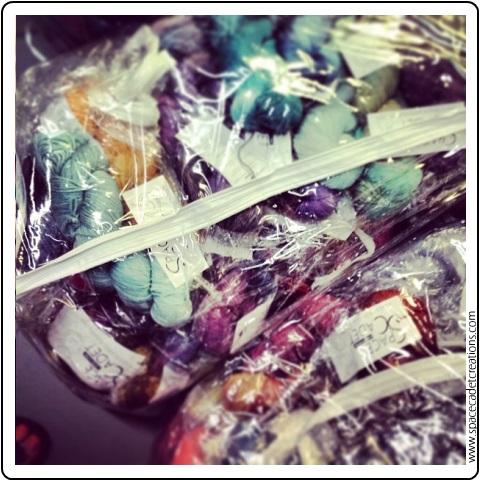 All those empty cubby holes made it plain as day that I'd taken my eye off the ball and let all of you — our lovely loyal customers — down by not having the stock you wanted in the shop.  I felt terrible — and a bit stupid.  Sometimes you've just got to take your lumps.
And then, after I'd taken mine, I began chuckling too.  Because that's really the only way to deal with anything:  learn your lessons …and then see the humour in it.   And when you've had a good proper laugh at yourself, do everything you need to do to put things right again.  I've spent the last few days dyeing like mad for the shop, and we've got tons more undyed yarn waiting to go in the pots.  My lovely, patient customers, you can look forward to fresh stock in the shop in the next few weeks!

There's some seriously good news from this little fiasco:  doing the stocktake has helped us unearth a ton of experimental and one-of-a-kind colourways, and we are the whole lot with us to Indie Knit & Spin this Saturday.  If you are in the Pittsburgh area, you don't want to miss this show!  Made up entirely of indie fiber artists and makers, it is the place to get your hand-made fiber fix.  Come and see us this weekend and nab yourself some of these fabulous one0-of-a-kind yarns!
Indie Knit & Spin
Saturday, Nov 16
11am – 5pm
Wilkins School Community Center in Regent Square
7604 Charleston Ave, Pittsburgh, PA 15218
Click here for a map!