This Sunday: Indie Knit & Spin Boutique
Whatcha up to this weekend?  For me, the spring yarn show season will be starting whilst there's still snow on the ground, with a lovely little show on Sunday called Indie Knit & Spin Boutique.
I'm so looking forward to it!  It's going to be a small, really intimate event — just five local fiber artists coming together to share with you the very best of their recent work.  I'll be bringing lots of yarns that have never been in the shop (and may never get in the shop either!).  Tons of one-of-a-kind and fun experimental colourways.
Come out and see us!
Indie Knit & Spin Boutique
Sunday February 10th, 2012, 12:00-5:00
At the Cosymakes Studio, 1406 South Negley, Pittsburgh PA
(Click here for a map!)
Vendors: SpaceCadet Creations, Cosymakes Studio,
Gwen Erin Natural Fibers, Fibernymph Dye Works, and Burgh Baby Gear
KnitCircus Interviews the SpaceCadet

I was absolutely tickled pink several weeks ago when Jaala Spiro asked if she could interview for KnitCircus.  I've known her for a few years now, and always enjoyed her work, so I said yes immediately — chatting with Jaala is always so much fun!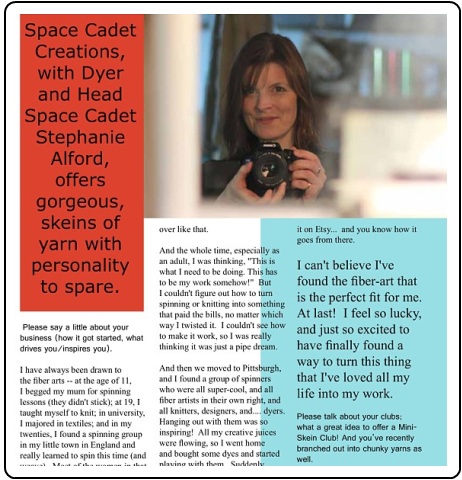 And I think you can tell we enjoyed doing the interview.  I got to talk about how I started dyeing, my upcoming projects, and how much fun I have dyeing for our customers.  If you didn't get a chance to see it, click here to read the whole thing.
The Love Actually KAL Casts On this Thursday
Valentine's Day is on its way and this year we're bypassing the chocolates and mushy cards and going straight for what really matters: casting on a fabulous new project in gorgeous yarns.  The Love Actually KAL starts on Feb 14 and I simply cannot believe the response — so many people have signed up!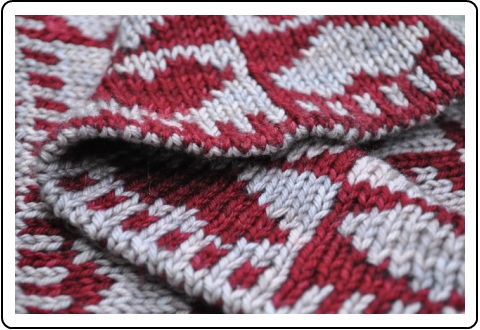 If you've not joined yet, there's still time.  And just a few of those fabulous Love Actually KAL Kits left in the shop!  Click here to read all the details about the KAL and click here to grab one of the last kits!