There has been so much going on here — so much! — that I feel I am about to burst!  And it's all just about ready…  a-a-almost there…   So today's shop update will be a mini-update so I can quickly get back and finish all this up and share it with you.  More on that update at the bottom.
But right now, let me tell you what I've been working on…
The Website
First, a new website!  I'm really excited about it because it's beautiful, everything I'd hoped for.  But the reason that's really cool for you is that it's going to allow me to a whole bunch of new things that I couldn't do before (one of them is my new club, which I'm going to tell you about in a second).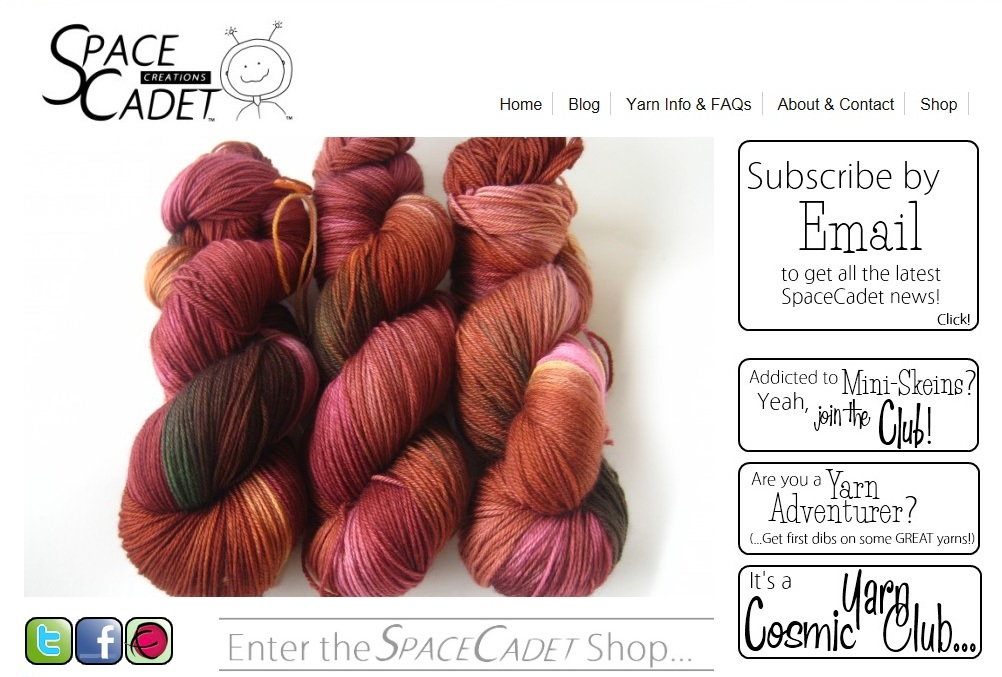 But there's a really important thing you need to know about this website change.  If you subscribe to my website via my mailing list, you don't need to do a thing.  But if you subscribe via WordPress, you'll need to change over to the mailing list — and that's super easy to do.  Just click here to join the mailing list.  See?  Easy and done!  (If you want to ensure you don't receive duplicate emails during the transition period, you might also change your WordPress settings, like this.)
Mini-Skein Club
Remember that Super Secret Thing I was telling you about?  Oh, I am so excited about this…!  And if you're addicted to hexipuffs, dreaming about the BeeKeeper's Quilt, falling head over heels for the Babette blanket, or any of the other wonderful mini-skein patterns that are cropping up everywhere these days, then you will be super excited too!  The SpaceCadet Mini-Skein Club is coming and it will not only be a regular supply of those addictive little skeins, but also give you the perfect opportunity to try out all those wonderful SpaceCadet yarns and colourways that you've never used before.  Think of it as a mouthwatering knitters' and crocheters' sample pack, delivering yarny goodness to your door every month…
I cannot wait to get the Mini-Skein Club started!  If you can't wait either, make sure you're on the mailing list to be the first to hear when it goes live!
The Ebook
The ebook is with the editor and is so close to being finished, I can taste it!  I know a lot of people aren't sure how to approach knitting or crocheting with hand-dyed yarn, so I'm hoping this ebook will help ease any nervousness.  It's  an introductory guide to hand-dyed yarn: how to use it, how to care for it, how to understand it so you can dive into hand-dyed without fear.  If that sounds just right for you, then get on that mailing list to be sure you hear when it's ready for download!
Oh, and this is really cool — the editor has been blogging the process of putting the ebook together.  Check it out! 
Shop Update
And finally, here's the shop mini-update I promised you, two yarns that I am just crazy about…
First is a colourway that I've called Inlet, because I see all the colours of shimmering and shallow water — blues, greens, grays — with the glint of something precious resting at the bottom.  I absolutely love this colourway!  The yarn is 70% superwash merino, 20% bamboo, and 10% nylon, so it has that lovely glossy sheen.
.
And another yarn in that same lovely bamboo base… This colourway is Contrary and I just love the intensity of those cool, cool blues…
.
So, lots of stuff going on. It's been crazy busy but soooo exciting! And if you're excited too, keep checking back to see if the website has changed. Once it has, the ball starts rolling on everything else too…