Ok, you know what I'm about to say and I am just sooooo excited it's here at last!  So many of you have been emailing me and sending me messages about it, that I can't wait to say…
The InterStellar Yarn Alliance is open for subscriptions!!!
The Yarn Alliance is the SpaceCadet's fantastic yarn club, and Spring subscriptions are available from March 8 to March 24 only.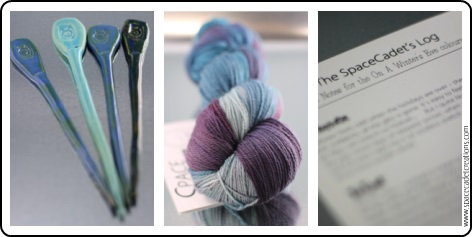 And why am I so excited?  Because, probably more than anything else I do in this job, I love creating the yarn and coming up with the gifts for this club.  This is my chance to really connect with you guys, to get to know you in the forum and through your projects.  And when I dye the exclusive club colourways and come up with those fabulous SpaceCadet gifts, I'm doing it all with real people — with you guys! — in my mind.
Members of the InterStellar Yarn Alliance receive fabulous parcels delivered to their door every other month, containing:
SpaceCadet® Creations yarn (fingering weight) in an exclusive Yarn Alliance colourway (guaranteed not to be offered on the SpaceCadet® website for at least 6 months)
A great Yarn Alliance gift tucked into every parcel!
The SpaceCadet's Log exploring the inspiration for each colourway.
The InterStellar Yarn Alliance newsletter with periodic special offers exclusively for members.
A 15% off coupon every six months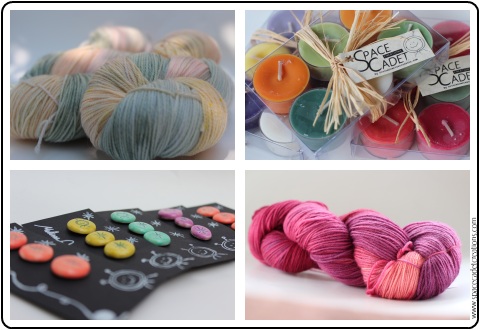 A 6 month subscription (3 parcels) is $135
and a 12 month subscription (6 parcels) is $249.
Ready to join the fun? Spring subscriptions close in two weeks and spaces are limited so grab yours quick!
Six month subscriptions include 3 parcels; twelve month subscriptions include 6 parcels. Parcels will be sent out in early January, March, May, July, September, and November. Subscription openings will be available in March and September. Shipping within the United States is included in the price; extra charges apply for shipping outside the US..
Normal subscription openings for the InterStellar Yarn Alliance are two weeks only in March and September of each year.
Got questions? We're happy to help! info(at)spacecadetcreations(dot)com