Soooo, did you catch my tweets from TNNA last week?  I wanted to share with you guys all the fun of the National Needlearts Association's annual summer tradeshow because it is absolutely the best knit-industry weekend of the year.  The. Best. Weekend.
First, because we get to see all the new patterns, products, and trends that will shape the industry in the coming year.  We were shopping for hand-made gifts for the Yarn Alliance and the SpaceMonster Club — and we found some amazing stuff!  And second, because everybody that you've been wanting to connect with all year is there — every fabulous designer, every big name podcaster, every fantastic dyer — all in one place, hanging out and chatting and knitting in one place.  Saturday night at the Hyatt's bar is like the dream team of knit nights!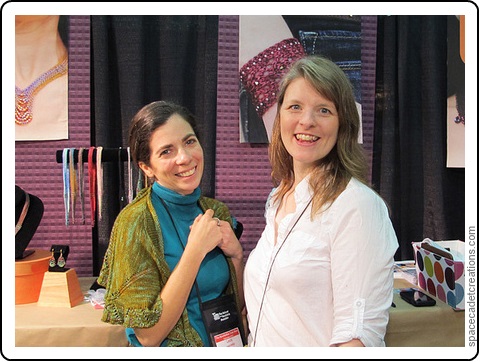 It's always great to see friends like Laura Nelkin, Rebecca Velasquez, Andi Smith (whose new book, Big Foot Knits, has just been released by CoopPress), and the lovely Stacey Trock (do you know, she and I ended up staying up until 3am talking business and generating new ideas!).  And so fabulous to finally meet up with long-time online friends like Ruth Garcia-Alcantud of Rock & Purl and Lindsey Stevens of Poetry in Yarn.  We ran into the YarnOver Truck girls, who'd just won the TNNA  Business Innovation award (and deservedly so!), Edie Eckman, Angela Tong, Meredith Tarasovich-Clark, and Caro Sheridan.  We had a blast!
But listen, I want to show you some of the cool new stuff we saw!  There were so many fantastic things to see that it was hard to choose, but here are two of my absolute favourites.
The Zoom Loom from Schacht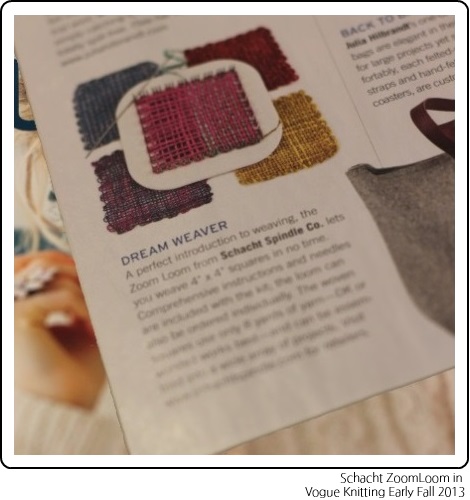 Oh my stars, this is soooooo addictive!  Weaving on this little loom is quick and easy and I just can't stop.  Have you seen my Instagrams and tweets lately?  I've been weaving Mini-Skeins into little woven squares non-stop ever since we got home!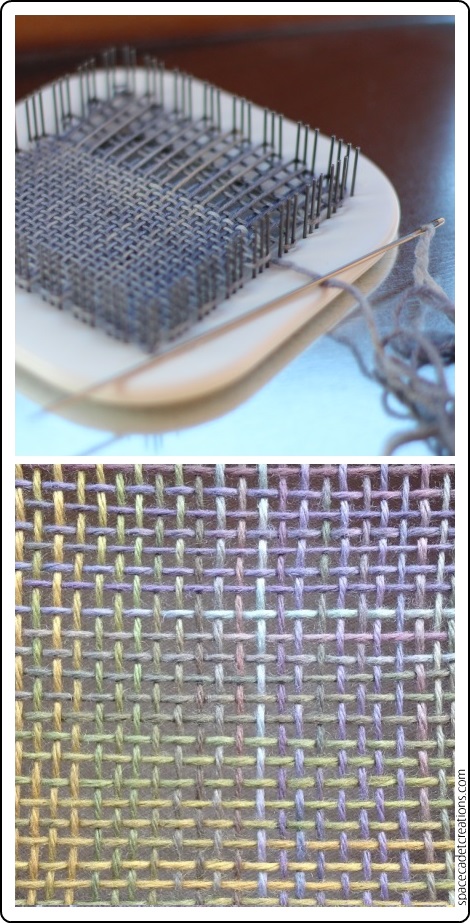 Don't you love them?  I'm thinking of a scarf…  a cowl…  a blanket…  or maybe an amazing jacket or cape.  Wouldn't it look incredible?
The Capsule from Go Knit
I'm so excited about these!  Everyone loves their Go Knit pouches and now the same folks have hit it out the park again with two super-sleek sleeves to hold those littlest notions that are so easy to lose track of (darning needles, anyone?).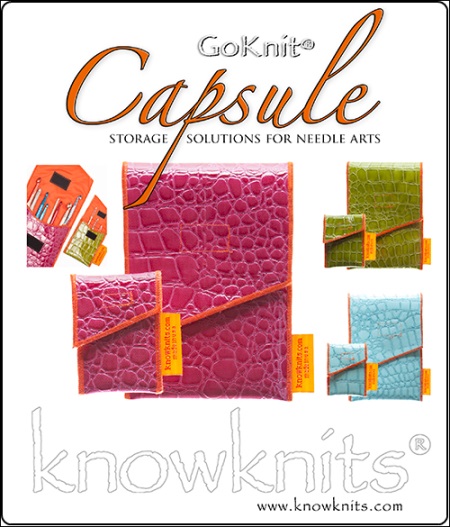 I love the crazy-bright colours,the faux crocodile fabric(!), and simple shape.  And I'm not the only one — they've been getting press all over the place.  Amy Singer of Knitty.com couldn't resist tweeting them up right there from the show floor!
So you can see why I had such a great weekend, can't you?  There are still tons of stuff I haven't shown you (keep your eyes open, club members!), and some really great collaborations with cool designers that I'm keeping mum about…   but, hey, don't you worry.  You know all that good stuff will be heading your way soon!