This time last month, Jade and I were at TNNA, the knitting industry's biggest tradeshow —  an amazing opportunity to see the very latest in fiber arts trends, and a chance to chat with old friends from around the country and make new connections.  It's the kind of event where everything is all go from the moment you wake up until late late late into the night (ask me how late….  go on, ask me*).  It's energising, exciting, idea-generating, and then in the end… deeply deeply exhausting.  But, just as we do every year, we came away from TNNA with pages and pages (and pages) of notes and new ideas, and some fun new things that I can't wait to reveal to you later in the year.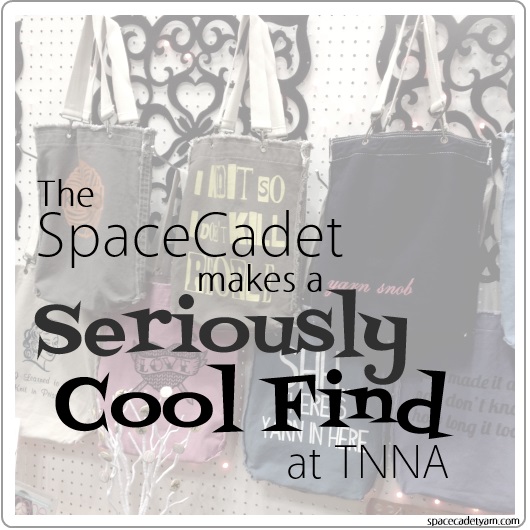 But in the mean time, I want to share with you one seriously hot new product that we spotted — something that had us both squealing with delight!  The TNNA show floor is split roughly in half, with most of the knitting-related stuff on one side and the needlepoint booths on the other, and most of our time is spent on the knitting side.  But as we ventured over toward the needlepoint side, tucked into a corner we found… Knerd.  And both Jade and I were immediately head-over-heels.
Do you know Knerd?
Renee Magee left her corporate job to join her husband's screen printing shop, and eventually used it to branch out into her own crafty niche.  She takes brilliant witty-knitty sayings like, "Does a Bear Knit in the Woods?" and "My Drinking Group has a Knitting Problem," and prints them onto fab t-shirts (cut for women!), cute stickers, and rad rough-finished project totes.  They are so. seriously. cool.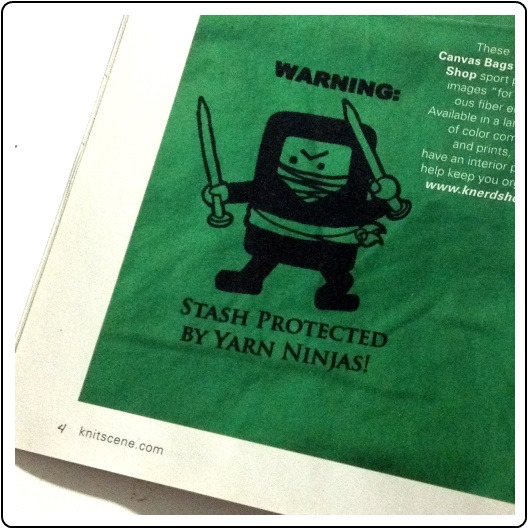 When we got home, I spotted Knerd's bags featured in the latest issues of Interweave's KnitScene and Yarn Market News (the industry trade magazine), so you know they're hot.  And if you want to grab one before anyone else in your knit group, get yourself over to Knerd and check them out.
**record scratch**
EXCEPT if you're a member of the SpaceMonsters Mega Yarn Club!!!!
If you're a SpaceMonster then you just sit tight, ok?  *wink*  All I'm gonna say is watch your postboxes because there's fun stuff on its way to you   …and beyond that, my lips are sealed!
Speaking of SpaceMonsters…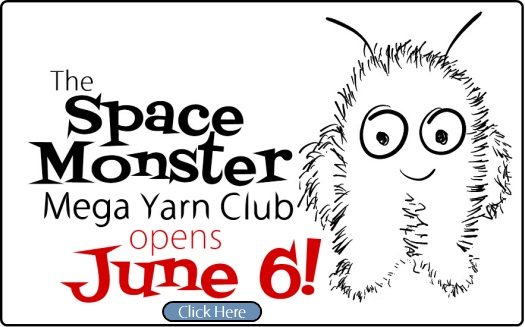 I'm super excited to announce that the SpaceMonster Mega-Yarn Club opens for new subscriptions on June 6th!
This club is all about bulkier yarns — so quick to work with and just such fun!  There are lots of extra benefits — exclusive colourways, extra skeins, and always a seriously fab gift — so don't forget to mark June 6 on your calendar.  We'd love to have you join us!
BUT LISTEN…  we always open the club up a day or two early for the folks on the SpaceMonsters mailing list!  Want to grab your spot early?  Click here and get your name on that list!
---
*So what time did we get in?  4am.   That's right… four in the morning.  And there's a story behind it — the kind of story that could only have happened at four am.  I'll tell you all about it in one of my upcoming blog posts…