I've said many times that I like to approach dyeing as an exploration of colour, and when I stand in front of the dyepots and start mixing colours, I sometimes have so many ideas that my hands can't keep up.  But when that yarn is all dyed and dried, that's when my creativity seems to disappear on me, because I think that choosing a name for new colourways is the hardest part of all.
Seriously, so hard.
So sometimes, I turn to you guys and the response is always amazing.  I ask on social media for help with names and the ideas come flooding in!  I don't always go with any one suggestion specifically, but they always push me onward and get my brain moving again.  And that is exactly what happened with both of these colourways.  I had an inkling of a name but couldn't quite get there…  and then I asked for help and your ideas were what got my mind into focus, and ultimately brought me to two colourway names that are particularly personal and meaningful to me.  Want to see what I chose?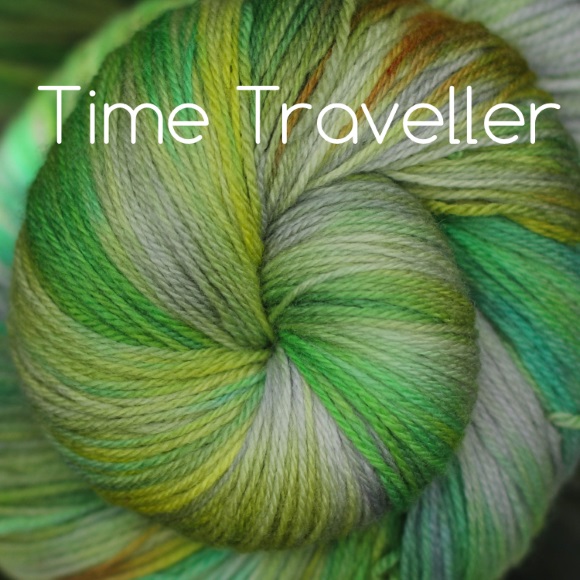 When I dyed this colourway — all muted greens and grays, highlighted with dusky golds — my mind kept turning to Salisbury Plain, the high chalk plateau that is home to countless prehistoric monuments, and which was only a stone's throw from my home in Dorset.  I used to go across it every week, slowing to look at Stonehenge in the morning light, in the setting sun, on cold winter's days, or warm summer evenings.  In the winter and that far north, the sun rises late and sets early, and I often drove past Stonehenge in the dark of night, searching for the silhouette of the stones in the moonlight.
And Salisbury Plain is the ever present backdrop, a quiet tapestry of gray skies and weathered grasses buffeted in the constant wind, of pale golds and wilted greens — the ancient home of stargazers for thousands of years.  And now also, a place for time-travellers, those who wander across the Plain in search of those same views, and those same stars, four thousand years on.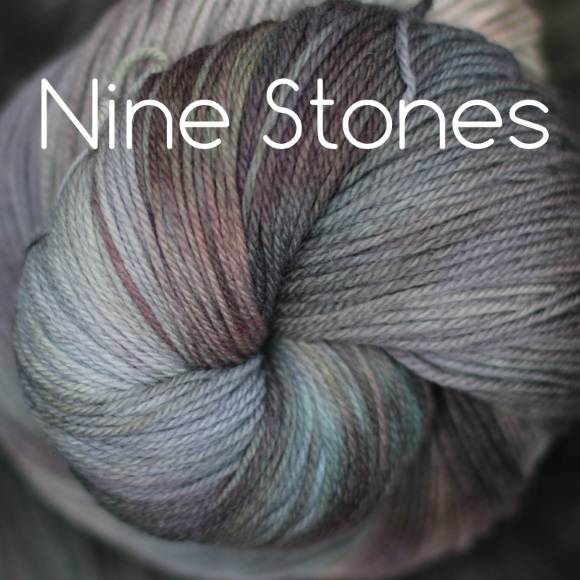 For this colourway, I knew I wanted to capture the magical multi-tonal quality of old stone — layers of soft gray, weathered brown, and a hint of palest blue that seem to have come together organically over many long years.   And it's named for one of my favourite stone circles, not far from where I lived in England and tucked down a country road with hardly any fanfare to alert a passer-by that the stones are there.
They may have once stood proud in the sun, but now the Nine Stones circle is tucked away amongst trees, moss-covered and eroded by rains across millennia, too shaded now to ever track the stars.  But standing amongst the stones, in the dappled sunlight and the heady smell of wildflowers, I find the circle feels quiet and intimate and… almost gentle in a way that Stonehenge never will.  But the heathered colours of the weathered surfaces of the stones tell a history just as ancient.
New Variegated Colourways
We've got eleven stunning new variegated colourways — including Time Traveller and Nine Stones — to share with you!  Want to see the others?  Just click here to go the colourways page and scroll down to the very bottom.