I was soooooo excited while we were packing the latest SpaceMonsters parcel that I thought I was going to burst!  I think this might be my most favourite SpaceMonsters colourway ever, and the gift…  oh, I love it so much and I'd be waiting for weeks to send it out to my club members.  I just couldn't wait to hear what they think of it!
First, the Colourway
Now, this is one that didn't go right the first time I dyed it, but isn't that how you get sometimes get the best results?!?  Inspired by a beautiful day in late May, it started as glorious swirls of blues and greens, highlighted with touches of gold, the colours flowing and blending gently across the yarn.  But once the yarn was hanging up to dry, I knew it wasn't right — I needed to rework it, to add more colour, more layers, more depth.  When I pulled it out of the dyepots the second time, I knew it was right!  It was far more interesting and nuanced  — everything I could have hoped it would be.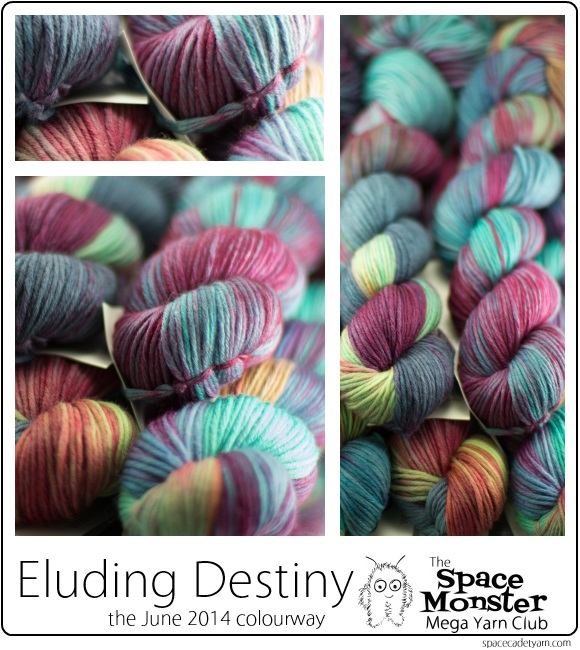 Then, the Gift
Do you remember a few weeks ago when I told you about the fabulous Knerd bags we found at TNNA?  The ones that had us squealing with excitement right there on the show floor?
Well, what I couldn't tell you at the time was that I'd already got Renee secretly working away creating the most awesome custom-printed project bags for the SpaceMonsters.  And why were they so awesome?  Well, besides having that fabulous rough-edged Knerd coolness, and besides having the adorable SpaceMonster printed on the bag, Renee did something extra special for us…
wait for it….  wait for it…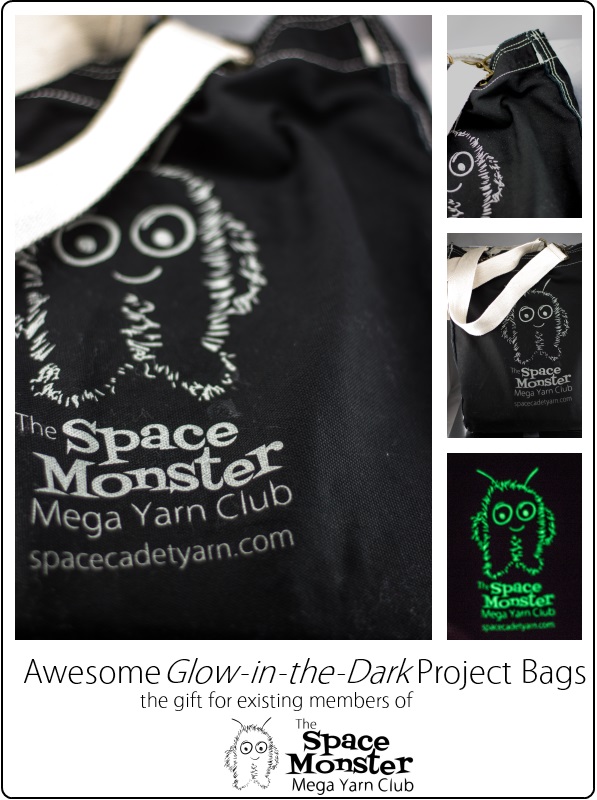 The SpaceMonster glows-in-the-dark!!!  I know, right?!?  So cool!  So fun! Now you can see why I was barely able to contain myself?
---
 SpaceMonster Subscriptions Close on Sunday
We have such a fab time in the SpaceMonster Mega Yarn Club.  I don't know what I love more — developing the gorgeous colourways, choosing the fab gifts, or seeing all the members' projects on Ravelry.  If you'd like to join us for the next session*, the SpaceMonsters Club is open for subscriptions until Sunday June 22 only, so click here to grab your spot now!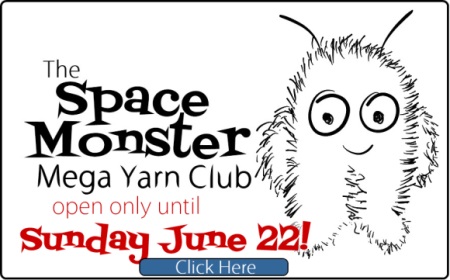 *the colourway and gift shown here are exclusively for members in the club during the Dec2013-June2014 session.  New joiners won't get these same items but don't worry, we've got equally fabulous stuff in store for you!