When my assistant Amy gave me my first Pawley Studios yarn bowl a few years ago, I fell head over heels.  I admit, I've always been a sucker for hand-thrown pottery, but Amanda Pawley's bowls are something really special.  Delightfully fat and round, with a hint of those gentle ridges that give evidence to the hand-throwing process, and finished with the most deliciously vibrant glazes, I find Pawley yarn bowls very very hard to resist.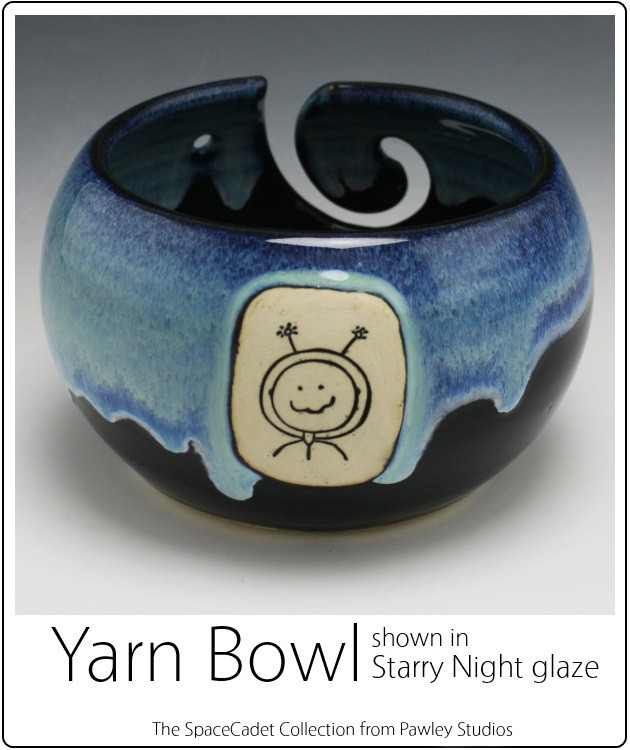 So I was hoping the custom yarn bowls that Amanda and I put together last year as a gift for the SpaceMonsters Club would be popular.  And were they ever!  Not only were the SpaceMonster members over the moon, but emails came pouring in from other customers asking how they could buy one.   Now those SpaceMonster bowls were exclusive to the club, but I am super-excited to announce that Amanda and I have been secretly planning little something for everyone else…
T
he SpaceCadet Collection from Pawley Studios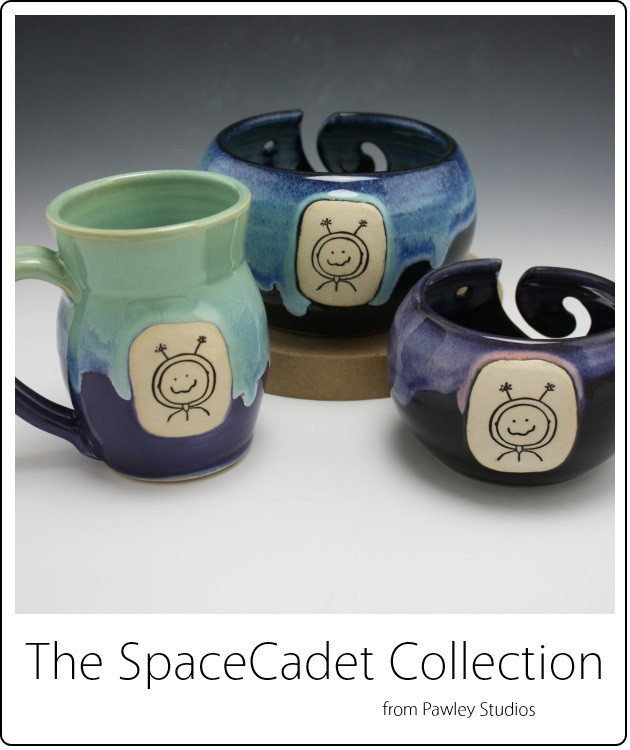 SQUEEEE!!!!!   How gorgeous are these?!?  Amanda has created a wonderful little collection, all featuring our cheeky little SpaceCadet's front and center.  The yarn bowls come in two sizes — regular and the adorable mini — and the mug is satisfyingly chunky and generous, and they are all available in three glazes: deep and dark Starry Night, vibrant Arizona Sunrise, and the delightful Sweet Pea glaze.
And I can't believe how much I love seeing the SpaceCadet's goofy face grinning away on them!  Click here to get yours.
Available to order from Aug 1 to Aug 18 and Amanda will make each bowl and mug by hand once the order period has closed.  (The listing in the shop says "dyed to order" because it's usually referring to yarn but, y'know, it really means "made to order").
Delivery of these beautiful hand-made items will be in late September to early October.
The Collection and Colours
The Regular Yarn Bowl

is shown is Starry Night and is 6″ wide and 4″ high

The Mini Yarn Bowl

is shown in Arizona Sunrise glaze and is 4″ wide and 2″ high (if you've seen the SpaceMonster yarn bowl, this is the same size)

The Mug is shown in Sweet Pea glaze and holds 12-14 oz

, and is microwave and dishwasher safe.
I've been looking forward to this for a long time and I am just so excited to share these gorgeous yarn bowls and mug with you at last.  Don't forget, we will close the listing on August 18, so if you love these as much as we do, click here to grab yours quick!