I love seeing what our Mini-Skein Club members make with each month's parcel — there have been some amazing projects (have you seen this?!?).  But I suspect there are a few members who love those adorable little skeins but then are at a bit of a loss as to what to make with them (is that you?).
We have a wonderful Mini-Skein Ideas board on Pinterest, of course, and it's chock full of inspiration.  Each one illustrates a really cool way of incorporating Mini-Skeins into a project but, as intoxicating as all those pictures are, you might not spot exactly what jumped out at us about that picture.  So, here, let's go step by step through the ideas (plus pattern suggestions!) that we love most for using SpaceCadet Mini-Skeins.
Mini-Skein Idea #1: Ombre or Gradient Fade
Ok, I know, this one's obvious and it's the one that everyone 's mind jumps to first, but for that very reason, we have to include it — it is the quintessential Mini-Skein technique.  Take your Mini-Skeins and arrange them in order by either colour intensity or rainbow order (or whatever makes visual sense to you) and then just work them into your project in that order.  You can choose a pattern specifically designed for multiple colours, or you can take a plain vanilla pattern and simply change colour at regular intervals.  Or, you can take a pattern that was designed for a single-skein gradient and work it in Minis!  The advantage?  With Mini-Skeins, you are totally in control of when the colour changes happen!
How about some pattern ideas?
A Straight-up Ombre Fade: Hawaiian Snowflakes by Mel Ski is a simple mitt design created for in SpaceCadet Lucina Mini-Skeins.  Quick and satisfying, they perfectly show off a beautiful ombre fade.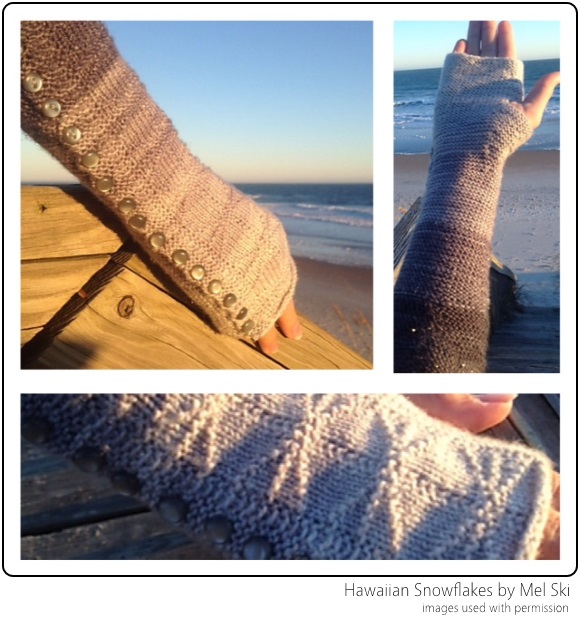 Combining a Gradient with a Solid: The Balinese Cardi by Elizabeth Green Musselman was created with a self striping gradient yarn cleverly combined with a semi-solid colourway for the main body, but you can create the same effect with two bundles of our Ombre & Gradient Mix Mini-Skeins.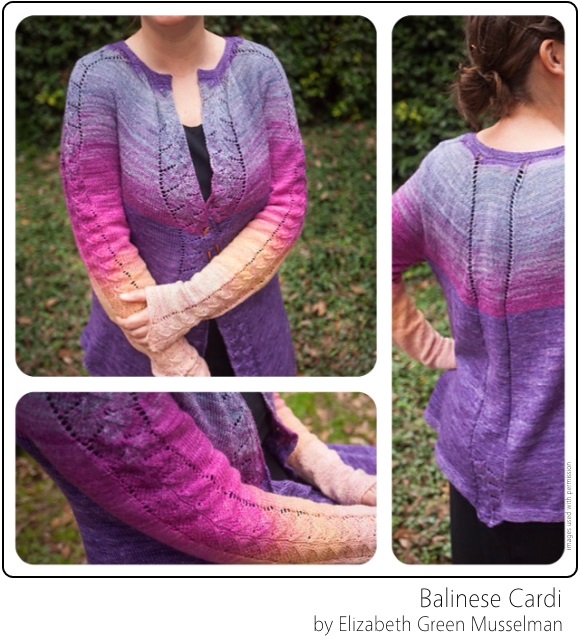 Adapting a Solid-Colour Pattern: So here we have an example of a pattern that was designed for a solid colourway, but looks stunning in a gradient fade using SpaceCadet Mini-Skeins: Eyeblink by Heidi Alander.  My assistant Jade knit this with one bundle of our Ombre & Gradient Mix Mini-Skeins combined with a coordinating semi-solid skein for a breathtaking summer shawl, showing just how stunning Mini-Skeins can be even in a pattern that wasn't originally designed for them.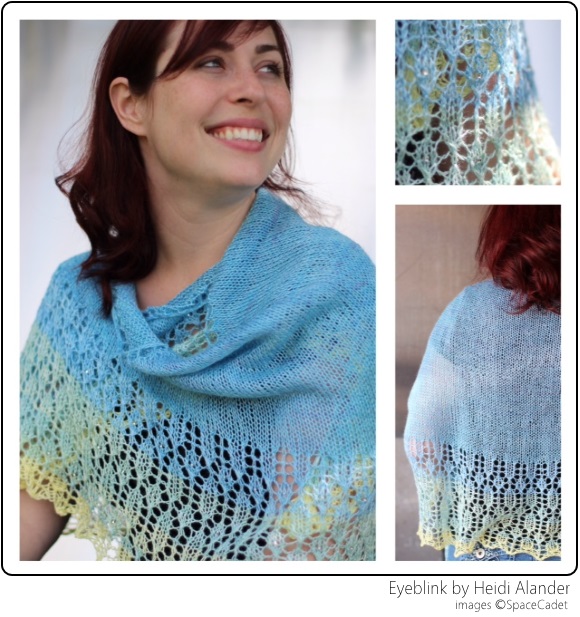 Mini-Skein Idea #2: Stripes Combined with Solids
This one is lovely, because there are so many options and so many ways to customise it.  Anytime you see a striped pattern on Ravelry or on our Pinterest boards — especially a two-colour striping pattern — imagine it instead done in a series of ever-changing Mini-Skeins contrasted against alternating stripes in a solid yarn.  And it can work beautifully whether the stripes are wide or skinny, and whether you chose to work it in crazy, contrasting shades or work gently through a gradient fade.
Stripes are such a treasure trove of possibilities that I could hardly narrow down the choices!  Check out alllll these great pattern ideas…
Using Simple, Straight-Forward Stripes: I love Justyna Lorkowska's Carly, because it's the perfect laid-back sweater.  But look at this pattern with fresh eyes and, instead of two colours, imagine the smaller stripes in alternating Mini-Skeins in a riot of different shades.  Personally, I don't think I'd even I'd worry about coordinating them — I'd just dive into my stash and go with whatever gorgeous colours I grabbed first!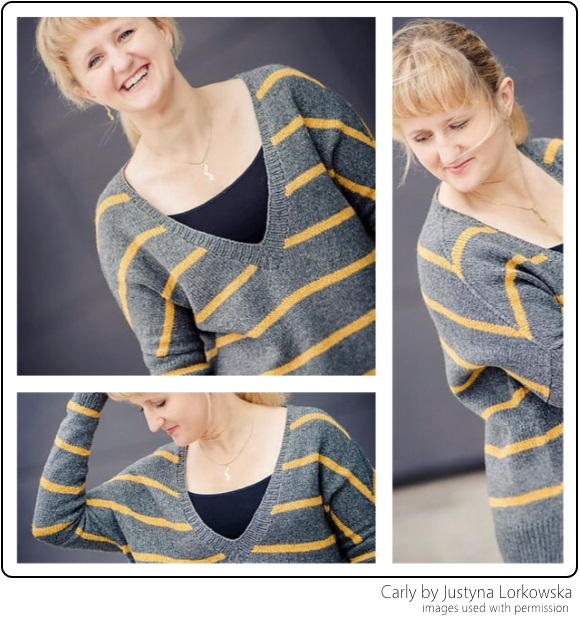 Going for Bold Stripes: Take a simple shape and use eye-catching, chunky stripes to make a bold statement — and Kate Jackson does it perfectly with her Madeline Shawl.  The knitting is easy but the impact is huge.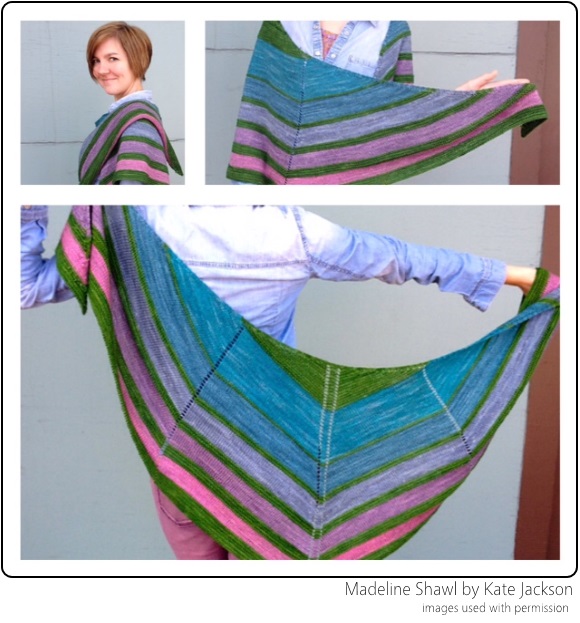 Stripes that Shake It Up:  You don't have to be straight-laced!  Pick a pattern that keeps things interesting with a cheeky  wiggle.  Nikki Jones's Cuba Street hat is a perfect choice, whether you keep it all in one colour family or pull in the whole rainbow!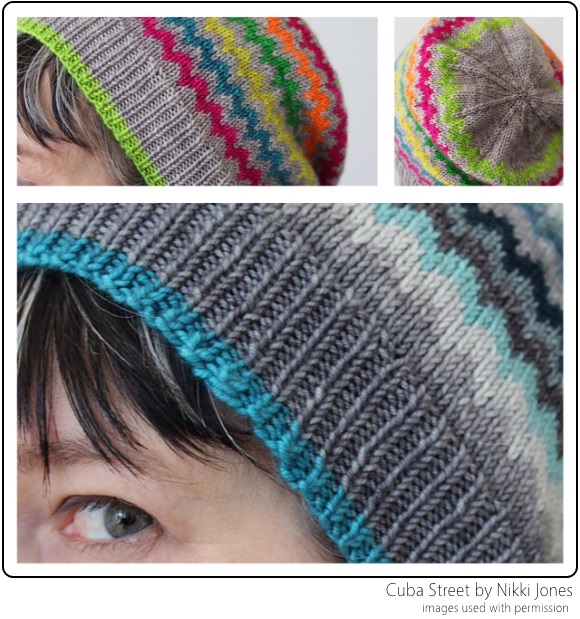 Versatile Stripes for More Choice:  When I look at Anna Stasiak's Simply Stripes shawl, I see a plethora of possibilities.  Knit it in two main colours as Anna has, and you can use a Mini-Skein to make that central stripe really pop.  Or use a set of gradient Mini-Skeins to gently move the one colour from dark to light (or vice versa) and watch how that contrast changes the intensity of the second solid skein.  Or just go wild and contrast a solid skein against a different Mini-Skein for every new stripe — a riot of colour!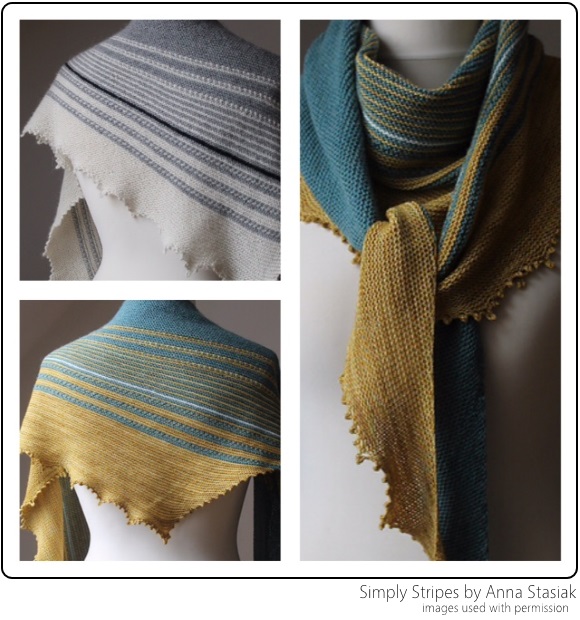 Try Stripes that Aren't Stripes: Justyna Lorkowska's Masgot shawl creates a sublime background in alternating 2-row stripes of garter stitch and then uses short rows to add in pools of colour — innovative stripes that aren't stripes but which give you no end of ways to incorporate a rainbow of your Mini-Skein colours.  Go for soft or go for bold — Masgot will be stunning either way.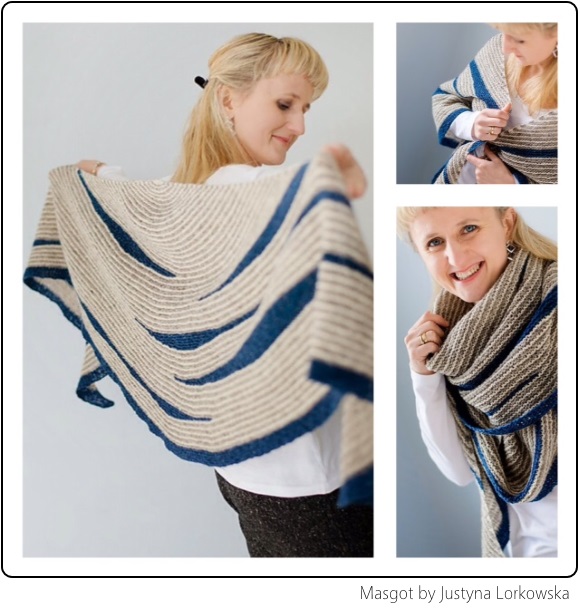 Ok, so there are two great ways to use your Mini-Skein stash, and I hope it helps you to look at the patterns on Ravelry and our Pinterest board with fresh eyes.  But there are lots more ways to work with Minis, so keep your eyes open for Part 2!