Ok, before we get into our regularly scheduled newsletter, indulge me for a minute.  I wanted to share a little something you might not know about me: my love for the Eurovision Song Contest. It's hands-down one of my most favourite events of the year — more than any yarn festival and more than even a few major holidays.  If you don't know what I'm talking about, Eurovision is an annual pop-song contest between the countries of Europe that is equal parts genuine earnestness and incredible cheesiness (perfect example: this year Romania mixed rap with yodeling — oh yes they did!) that it's watched each year by around 200 million people. For one Saturday night in May, the whole of Europe is dancing and partying (and drinking and tweeting) to the sounds of Eurovision — and it is a truly glorious thing!

Our family's tradition is to watch it all together, curled up on the couch with popcorn and our Eurovision bingo cards (created by Brenda Dayne of the much missed Cast On podcast).  The bingo categories include "Performer has huge hair," "Latex," "It sparkles. I want it," and "WTF?"  Seriously, we have so much fun.
Why am I tell you all this? Well, this past Saturday was 2017's Eurovision and, as well as having an absolute blast, I couldn't help but notice that practically every woman on the programme was wearing a one-shouldered garment.  Some were subtle and some were not, but asymmetrical one-shouldered outfits were so ubiquitous that I spotted this tweet:
Has there been a European sleeve tax I haven't heard about? None of the presenters can afford more than one. #Eurovision

— Nick Holland (@nick730) May 13, 2017
(I just have to say, the tweets during Eurovision are epic: half my fun is just scrolling twitter while the contest is on live — it's like being in a massive, continent -wide conversation)
So I'm wondering when we'll start seeing this trend in knitting and crochet patterns?  I mean, obviously, they're in the shops, but I wondered if this is a look that can be successfully translated into knitting?  I guess I'll keep my eye on Ravelry's Hot Right Now list and time will tell, but it's such a big trend that it will be interesting to see how it plays out.  (And you know it's inspired my Wednesday Morning Pop-Quiz…  scroll down to share your thoughts).
Ok, enough of that.  Grab your cup tea or coffee, curl up someplace comfortable, and let's do this week's fibery news!

Hands up anyone who learned first how to finger knit!  I can't tell you the number of people (kids, mostly, but sometimes adults) who see me knitting and say, "I can finger knit!"  I usually just smile politely because, to be honest, I've never seen the point in the miles and miles of i-cord that finger knitting produces …but then I spotted this round up of ideas and I may be rethinking that.  The headband is really striking but the necklace?  Wow…  gorgeous!  I'm sure I've got a skein of Capella around here somewhere I can make that with!
So everyone in your knit group knits their socks toe-up and you don't want to know how to start?  I love a good photo tutorial and this one makes it really easy.  (Speaking of, which do you prefer: photo tutorials or video tutorials? Personally, I tend to go for photo tutorials because, even though it can be easier to learn from a video, sometimes they just take so. darned. long. to get to the point.  Do you feel the same?)
Knitting and crocheting are good for you — we both know that — and this article breaks down exactly how knitting improves your life.  They missed a few (like, you end up with a bunch of fabulous FOs!) but it's worth printing this out and sticking it on the fridge in case there's anyone in your house who doesn't fully understand your addiction.

Greenhorn by Hunter Hammersen
What I love most about Hunter Hammersen's designs is the delicate details — and the teeny-tiny cables running up just the inside of these socks are a perfect example.  Plus they're knit in our yarn and Hunter said some really, really nice things about that…
These are made in Space Cadet's Oriana in the color Fizz.  As far as I can tell, it's the world's most perfect yarn for tiny cables.  The stitch definition is so sharp you'll stab yourself. 
And bonus: you can get 10% off the pattern between now and Friday.  Just put Greenhorn in your ravelry cart, click on the 'use a coupon code' button, and type in the code SHARP.  You'll see the change in price reflected right away.
Summer Move On by ChrisBerlin
As soon as the warm weather hits (and we're forecast for 90F today, so I guess it's hit!), I find myself going for clothes that are unstructured and flow-y — and Summer Move On fits the bill perfectly.  I love the relaxed shape, the cool eyelet pattern, and the way it drapes.  It's designed in DK, but I think I'd be inclinded to go for something lighter (maybe Thebe or Oriana?) and adjust my needles to get gauge.  Either way, it's one beautifully relaxed knit.
Measure Twice Cut Once by handmade by SMINÉ
Come to think of it, I must have a thing for eyelets because this pattern just jumped right out at me.  Now, I have to admit, I'm imagining it in our gradient Mini-Skeins, with the colour changing at each eyelet row.  Orrrrr…  how about alternating skeins halfway between the eyelet rows, so you get a gradual colour shift?  Whichever way you choose, the result will be gorgeous, light and oh so summery!
all photos © the respective designers, used with permission

As I mentioned at the beginning, I've been thinking about the trend for asymmetrical, one-shouldered looks.  In today's Pop Quiz, I ask:
Would you go for an asymmetrical, one-shouldered pattern?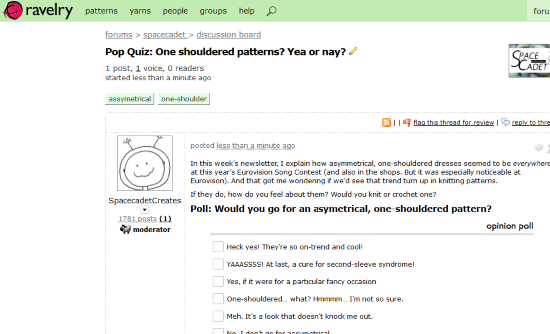 Click the link and share your thoughts. (Can't wait to read them!)
Ok, there's a lot of dyeing to do today so I'd better get down to the dyepots.  I hope you have a wonderful day with lots of yarny goodness planned into it (and beautiful weather too!).  Until next time, all my best!
---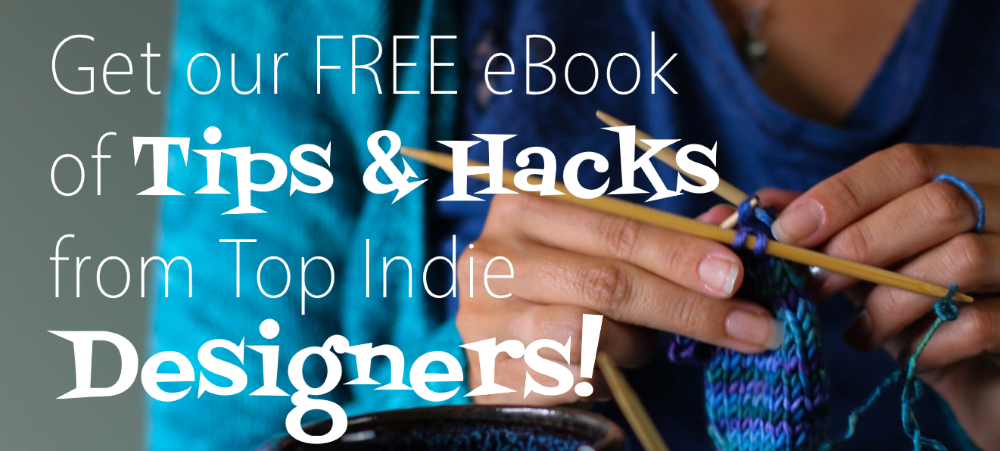 The Folks on our Mailing List get More!
If you found this post useful, you'll want to get on our mailing list. Each week(ish) we send out a newsletter packed with all the latest that's happening in the world of yarn, plus pattern picks, our pop-quiz, and more! And, when you join the list, you…
Get Our FREE eBook with Great Tips & Hacks from the Top Indie Designers!