"You're so creative!"  How many times have you heard that when someone sees what you've knit or crocheted?  The thing is, it's really true.  Whether you've just followed a pattern to the letter, or you've modified it a little, or you've designed something yourself from scratch, the fiber arts is that they push us all a little out of our comfort zones.  We all feel the urge to try a new technique, put together a bold colour combo, or work with an exotic new fiber, and we grow in our creativity when we do.
When we go to shows and I get the chance to help our customers choose yarns, there's one creative challenge I'm always encouraging them to try: combining different yarns together in one project.  I don't just mean different colours but different yarn bases — as long as the yarn weights work together, combining different bases can create stunning effects.  The members of our Mini-Skein Club know this: the yarns are always fingering weight but the parcels contain different bases, and we've designed them to work together.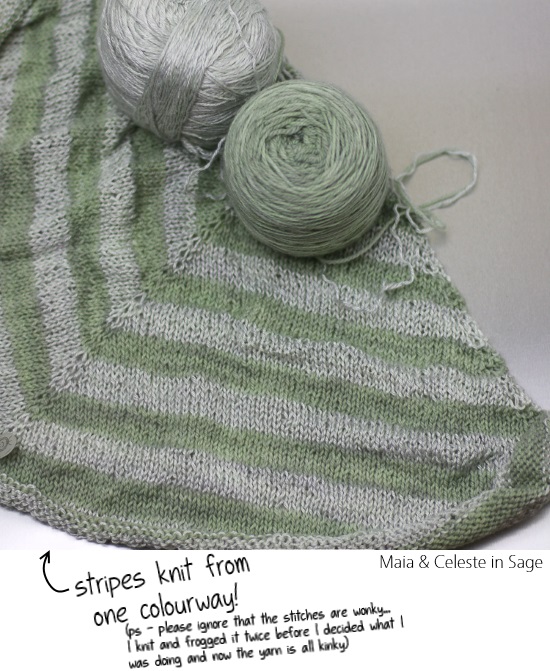 Combining Yarns Made Easy
Now, I get it — most patterns use just one type of yarn and so we're all trained to stick to one base for each project.  Branching out and combining two different yarn types can be a little intimidating so let me help you out with a combination that works beautifully and creates a stunning result: Maia and Celeste.
First, let's start with Celeste.  It's a light fingering — a full 490 yards of scrumptious merino per skein — that absolutely loves to be knit on larger needles (think US size 8s) to create a wonderfully light and floaty fabric.   And then there's Maia: it's nearly the same weight, just a little bit heavier at 400 yards per skein but, with 80% bamboo, it has a drape and lightness that are a beautiful match for Celeste, and you can easily use the two in the same project.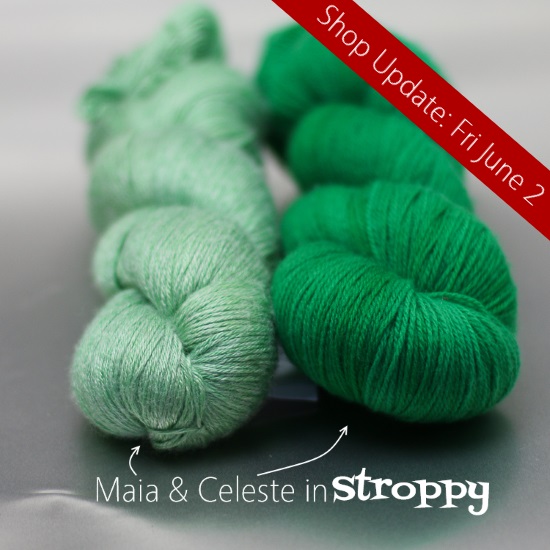 But here's where the magic comes in: visually, they're very different.  Celeste's 100% superwash merino takes on dye with a gorgeous intensity — the colours are rich, vibrant, and delicious — and, most importantly, with a matte effect.  Whereas Maia takes on those same colours incredibly lightly — much paler, softer, beautifully delicate — and it's bamboo content give it sheen that makes the yarn look almost iced.  Two yarns that play nicely with each other but give you vibrant colour vs soft…  matte vs sheen…  You can create distinct stripes even though you're working with yarns in the exact same colourway!  Are you beginning to see why I love this combination?
(See all these images here with two yarns in the same colourway?  That's an illustration of just how distinctly different fiber contents take on the dye.  Believe it or not, all of these yarns might actually have been dyed side-by-side in the same dyebath.  They really do take on colour that differently!)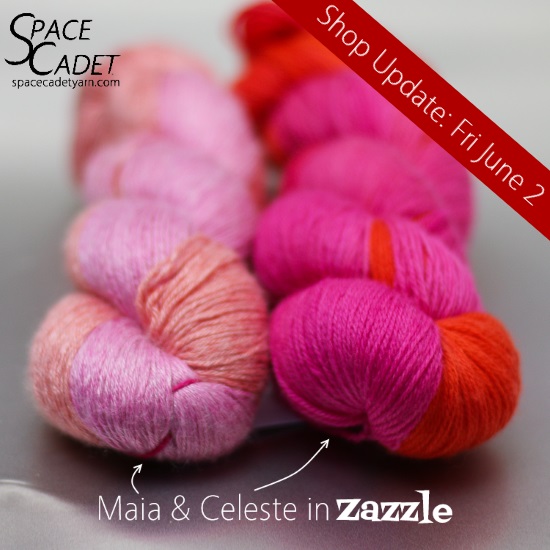 We're in This Together! (a KAL)

I've shown this combination off to so many folks at shows — and they go crazy for it — but I know that boldly combining yarns like this can be a little easier said than done…  unless you've got friends to do it with you!  So I was talking to the SpaceCadet team and we've decided the best way is for all of us to do it together in an awesome summer KAL.  Won't that be fun?
The idea is easy: you pick any fingering weight pattern that you want to knit, choose some Celeste and Maia from the shop or your stash, and we'll all cast on together.  Everyone doing a different pattern but all in this intriguing combination of Celeste and Maia and, together, we'll watch these two yarns do their magic!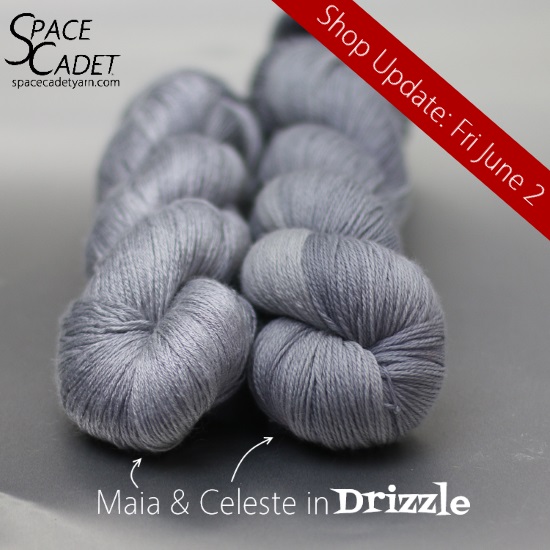 Shop Update for Celeste & Maia: Friday June 2
But as we started planning the KAL, we realised our stock of Maia and Celeste is running a little low, so we've been dyeing like crazy for a shop update next Friday, June 2 at noon (eastern).  And because we're so excited about this KAL, we're dyeing not one but two special Limited Edition colourways for the update.  They are wild with colour and I can't wait for you to see them!
But don't forget your stash!  If you've in the Mini-Skein Club, I know you've got some awesome Maia-Celeste combos you can put together and let the two gradients work together.  Or pick one yarn from your Minis and pair it with the other yarn in a semi-solid for contrast.  There are all sorts of combinations you can create!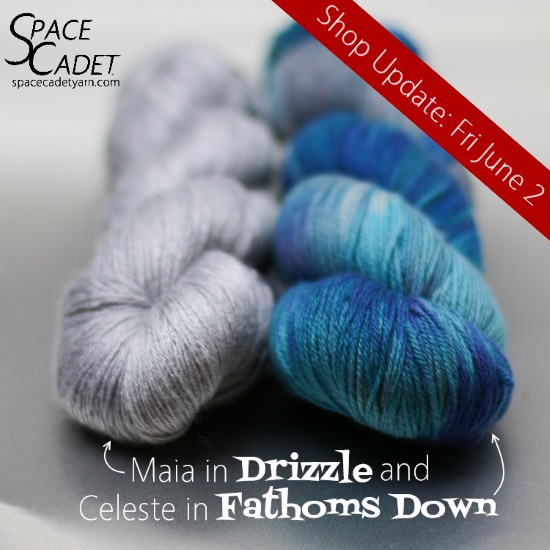 KAL Details
We're still working out the details, but here's what we've got in mind so far:
Shop Update for Celeste & Maia: Friday June 2 (or knit from stash)
Cast On Date: Friday June 23 (plenty of time to get your yarn, think through pattern ideas, and swatch!)
Finish Date: Sunday August 27 (lots of time for even big and adventurous projects!)
KAL name: we're still working on it and, so far, have come up with a bunch of really corny options.  Any suggestions?
Prizes and fun stuff: we've got great ideas in mind!  More on that soon…
I am so excited about this KAL and really hoping you'll join us — it's going to be awesome!  And if you're in, please come over to this thread on Ravelry and let's start sharing pattern ideas.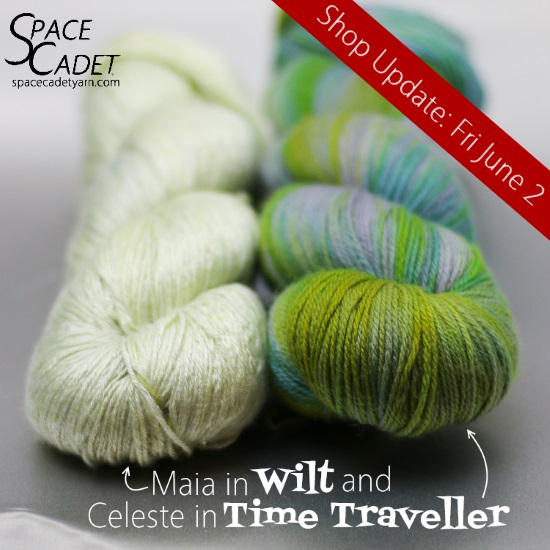 My Recommendations
To make this a great KAL, here are my best suggestions:
Any pattern will work if you're comfortable changing yarns on your own but it's probably best (and easiest) to choose a pattern with stripes.  Then, instead of changing colour for the stripes, you change the yarn.  Cool, huh?
Both of these yarns have wonderful drape, Maia's high bamboo content makes it perfect for shawls and summer sweaters.  But I'd suggest steering clear of things that need a lot of elasticity, such as socks.
Looking for some pattern ideas?  Check out our Ravelry thread for sharing ideas here.  But here are two patterns that jumped right out at me…
Sea Grass features bias construction, three-dimensional lace, and garter stitch stripes that create interesting texture and a wonderful chance to play with colour.  Working the pattern in the matte and sheen of Celeste and Maia will create an additional level of intrigue for a truly stunning project.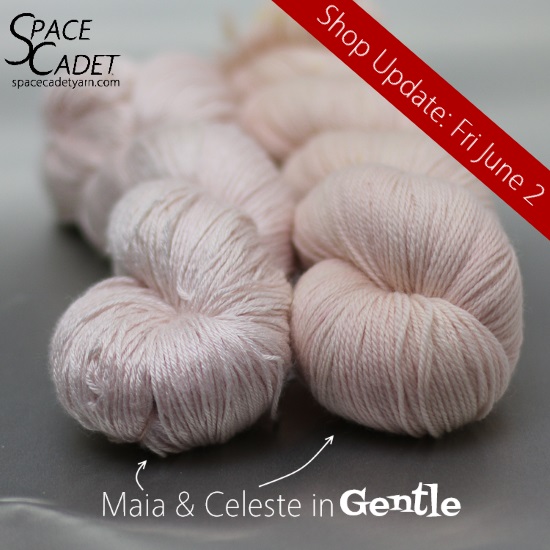 Hoping to see you in the KAL and can't wait to see what pattern you choose!