I just have to share this with you…
I got the most wonderful opportunity the other day: a text message from an acquaintance, someone I know from outside the world of knitting and crochet (there aren't many but there are a few), who has just learned to crochet and texted me to say that she absolutely loved crocheting her granny squares but was working with acrylic yarn that she found itchy and…  and…   she asked, did I know of an alternative?
::record scratching::
Do I know of an alternative to acrylic yarn?  Why yes… yes, I do!  And, can I tell you my glee at the prospect of introducing a newbie to the delights of natural fibers and quality yarn?  I mean, honestly, I think I fairly skipped into the stock room to pick out a few skeins for her try.  The weight she'd been using fell somewhere between Lyra and Vega, so I grabbed a skein each from our One-of-a-Kinds, and then a few random Mini-Skeins too, put them together in a gift bag and delivered them to her door.  Not because I want her buy SpaceCadet as such but just because it is such a delight to share the beauty of quality wool and the fun of hand-dyed yarn with someone who has never tried it before.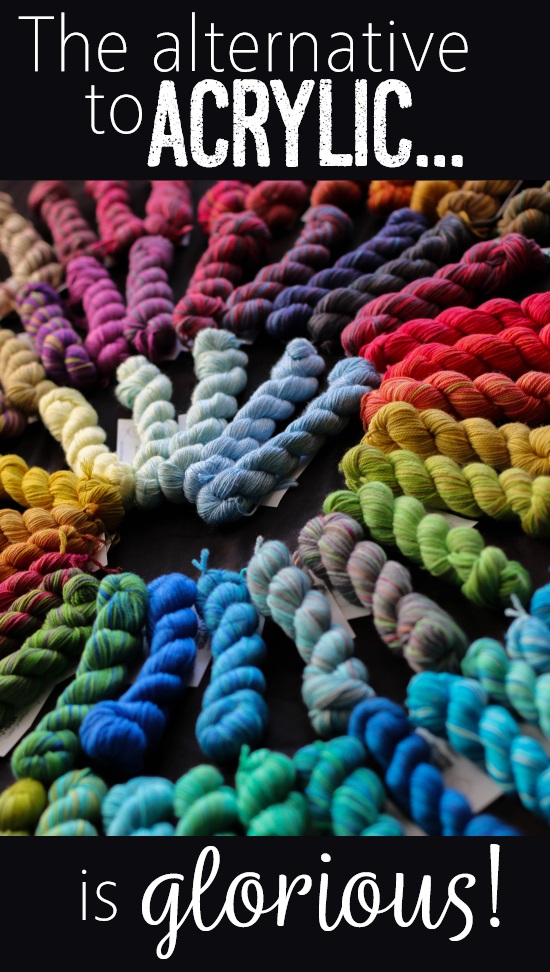 Opportunities like that don't seem to roll around often enough (most of the folks I talk to are hand-dyed aficionados).  How do we as a group bring more new knitters and crocheters on this wonderful journey?  It's something I want to think about more …and hear your experiences of it too.  Who taught you to knit or crochet?  What was your first experience with higher quality yarn and what made you take that step up?  And who have you brought along on that journey as well?  Hit "reply" and tell me — I'd love to hear your story!

• I don't know if my friend is a left-handed crocheter but, if she were, I'd want her to see this article entitled, "10 Must-Know Tricks for Left-Handed Crocheters."  In fact, most of it applies to knitters too, so it's well worth sharing.
• This week, while I was working in the studio, I listened to the Power Purls Podcast (from Kara Gott-Warner, former editor of Creative Knitting magazine) and really enjoyed her 7 Tips to Become an Intuitive Knitter (click here jump to the right point in the recording).  I've just cast on a shawl that I'm going to make up as I go along, so the timing couldn't be more perfect.
• It's no secret I get excited about colour, so I found fascinating Ann Weaver's article on using complentary colours in knit design.
• I was ridiculously excited to find SpaceCadet had made Knitty's TNNA round-up: Amy Singer really loved our Sweater Sets!  I do too and they go so fast.  We've got only a few in stock right now but they include two colourways that make my mouth water: Perilous and Turpitude.

So listening to the Power Purls Podcast (mentioned above) got me thinking about being intuitive in our knitting and crochet, and inspired today's Pop Quiz.  I know I'm at the extreme end of the intuitive scale (meaning I always want to make up my projects on the needles but then always regret it!).  Where are you?
Are You an Intuitive Knitter/Crocheter?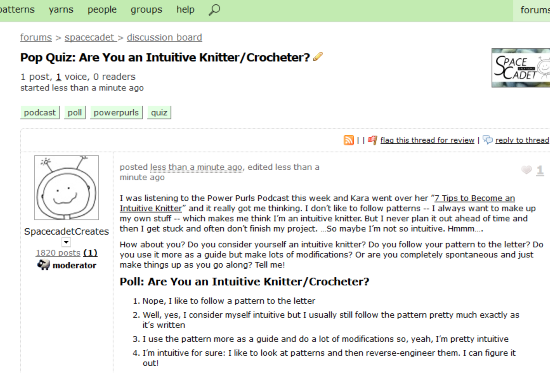 Click the link and let me know!

The SpaceMonster Club Closes on Friday
Spaces in the SpaceMonster Club went super fast and it's been amazing to see all the new members joining!  I'm so glad to have you guys aboard.  Now, there are only a handful of spaces left, so click here for all the details before the subscription period closes on Friday.

July One-of-a-Kinds
I was putting some new One-of-a-Kinds away in the stock room and they were just blowing me away!  In fact, you can see my reaction and a sneak peek at them here.  I'm not sure when we'll get them in the shop, but I think it might be time for mid-summer One-of-a-Kind shop update.  Keep an eye on your inbox for the date and more news as we closer!

Aurora Borealis by Svetlana Gordon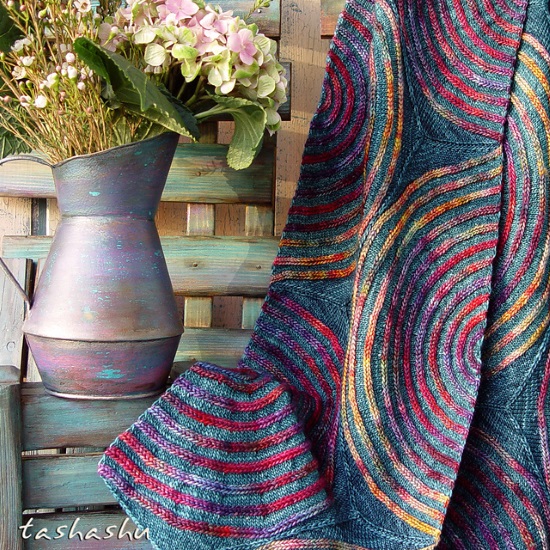 Oh, this design just slays me — look at that gorgeousness!  Svetlana does the most innovative with simple knitted stitches and this one is no exception.  I love the combination of a neutral background (try SpaceCadet Drizzle or Dark Skies) with a variegated colourway for accents.  Or, if you're in our Mini-Skein Club (you are, right?), go through your stash and find a gradient that will really pop.  The results will be amazing!
greenhouse knits #7 by atelier alfa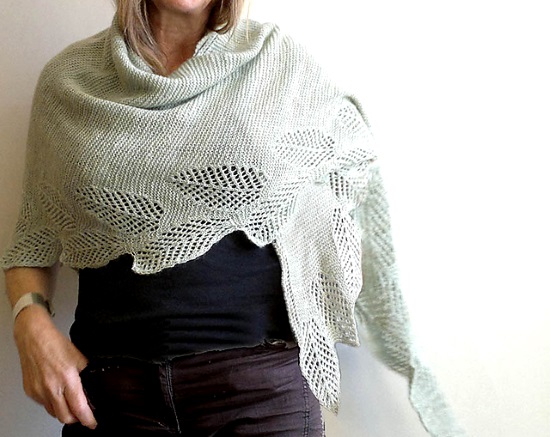 I have a friend who is crazy for leaf motifs, and I thought of her as soon as I saw this, but I can't imagine how anyone could resist those big, beautiful leaves in the border of this simple garter shawl.   The seventh pattern from the greenhouse knits e-book, it would look perfect in Sage, Longing, or Stroppy in either Maia (for beautiful sheen and drape) or Lucina (for a subtle halo of sparkles).  Both are in stock now.
All images © the respective designers and used with permission

One of the things I enjoy most about my job is showing folks the different ways yarn takes colour.  I find fascinating all the different elements that play into it and I love sharing that with the customers I meet at shows and the classes I (occasionally) teach at shops.  Last week on the blog, I went over Three (Basic) Things That Impact How Different Yarn Bases Takes Colour (spoiler: it's way more interesting than just fiber content!).  If you've ever picked up two different yarns, even made out of the same fiber, and been puzzled by how different they looked, click here and read up!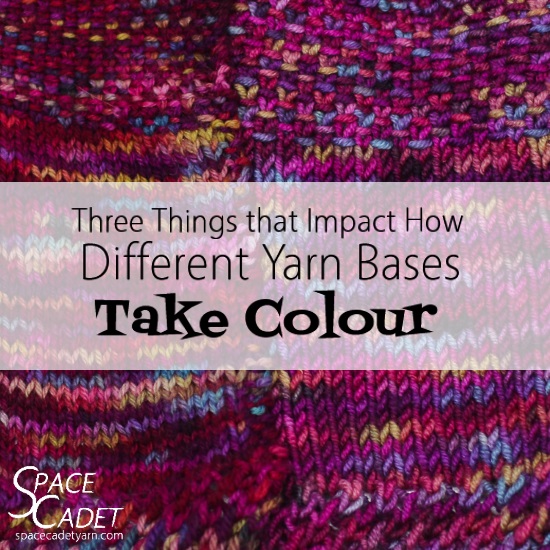 Ok, it's time for me to head to the studio — I've got a busy day ahead of me (today will be a lot of summer greens and maybe I'll get to play with some autumn rusts too).  Thank you so much for letting me start the morning with you, and I hope you have a wonderful (and fiber-y) rest of the day.
Until next time, all my best!