I've got exciting news!  A couple of weeks ago, two things came together that, in hindsight, were so obviously meant to be together that I nearly slapped myself on the forehead.  You know that feeling where sometimes it takes forever for you to see something right in front of your eyes?  Yep, that.  But the result is so cool: we are starting a new club and it's going to be awesome!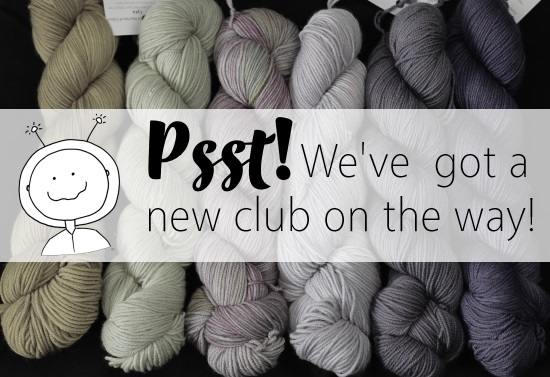 So, let me tell you about the two things that came together.  The first was that we were doing one of the things I enjoy most: planning out the colours for the Ombre & Gradient mix for the Mini-Skein Club.  We decide them about six months in advance and I love seeing how the colour story is going to progress across the next half-year of the Never Ending Gradient.  Then, just a about an hour later, I was dyeing some gradient sweater sets for a shop and I remarked to my assistant how hard it is to keep them in stock — they're so beautiful that it feels like they disappear from the shop as soon as we dye them.
And then it came to me, just as clear as a bell: we should create a Never Ending gradient, just as we do for our Mini-Skeins, but for full-sized skeins so they build up into sweater sets!  How cool is that?  Just like the Gradient Mini-Skeins, each month's colours will flow into the next but in larger skeins to create bigger colour blocks and more gradual shifts that are perfect for sweaters.  And we've got some amazing ideas to coordinate them with our regular colourways so they'll work with your stash and to add some exciting club-exclusive variegateds too! (But more on that when we open the club on next Friday)
Now, part of what makes this so exciting is that it's as much of an adventure for us as it is for you — I can't wait to start playing with these colours! — but, because it is an adventure and we're still working out the details, I'm going to keep it very small and just for our most intrepid yarn explorers: only 25 spots will be available in that first month.   So if this sounds as exciting to you as it does to me, keep your eyes on your inbox on Friday July 28 so you can get one of those spots to start your gradient collection right from the very first skein!
Ok, now that I've shared the news that had me bubbling over, let's get the rest of the day off to a fibery good start.  I've got a jam-packed newsletter in store for you, so here we go…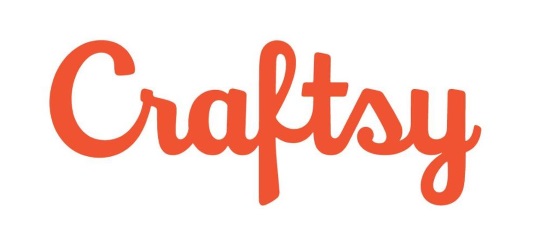 If you've ever wanted to take a class on Craftsy, the online craft learning site, but have been stumped by which one to choose, you'll be interested to know that the site has announced that it will begin offering a subscription payment model next year in addition to its current a la carte classes.  Members will be able to watch any class in the entire Craftsy catalogue for a monthly fee as well as the option to purchase a class to "Own Forever" for an additional cost.
As much as our own fiber-related hobbies are filled with all the good feels that come with being creative and making stuff, we all know that the textile industry's history is a lot darker.  I found this article fascinating (if macabre) on the "Kiss of Death" in New England textile mills, which resulted in the spread of tuberculosis causing 36% of all deaths among female textile workers.
Non-fiber related but awesome nonetheless: the BBC has announced that the 13th Doctor will be a woman! (see the trailer here) Big grins in my household.  Yours too?
This made me very happy to see: when a woman took a couple of days off work for her mental health, her CEO publicly supported her decision.  As I wrote recently on the blog, I'm a firm believer in workplaces recognising and supporting their employees' realities (if you haven't read my philosophy, you'll find it here), and reading this was hugely encouraging.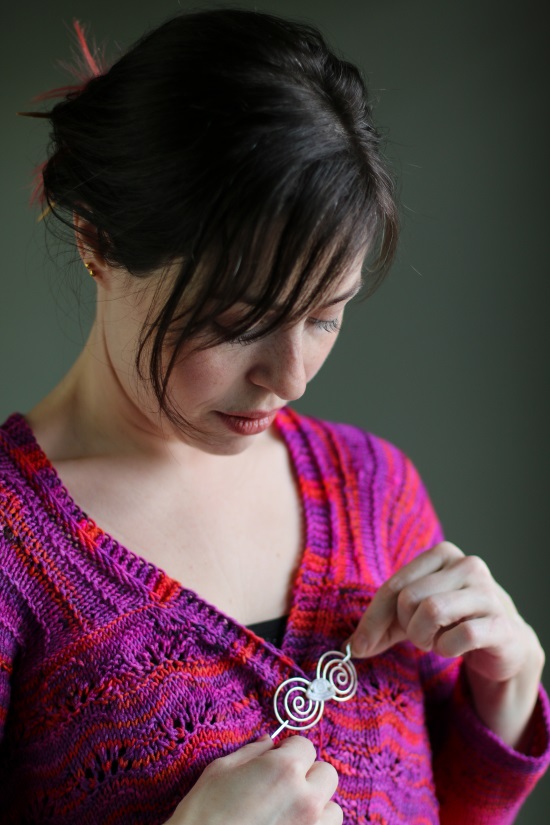 (shawl pin from Michelle's Assortment)
When it comes to taking finished object photos, I think one of the hardest things is know what to do with your hands.  I've found we get the best shots when my model is adjusting her shawl pin — seems odd, I know, but it's natural movement, it takes away all the tension of "posing", and it gives her something to do with her hands.  Need more ideas?  This quick guide is aimed at wedding photography but the principles are the same for getting shots of your FOs in action.

One-of-a-Kind Shop Update: This Friday at Noon!
(this is kind of long, so make sure you scroll to the bottom to see this week's pattern picks — they're worth it!)
If you follow me on Instagram, you'll know I got so excited about some of the One-of-a-Kinds we've dyed lately that I was nearly bursting!  So I decided to do a quick shop update this Friday at noon (eastern).  We've got single skeins and sweater sets (some of which match and some of which coordinate) and, being One-of-a-Kinds, it is absolutely first-come first-served, so look through the pictures below to decide which one(s) you love most so you don't miss out on anything when they go live on Friday (my favourite by far is number 33).
(Also, I made a crab! He pops up a couple of times…  Check out him out!)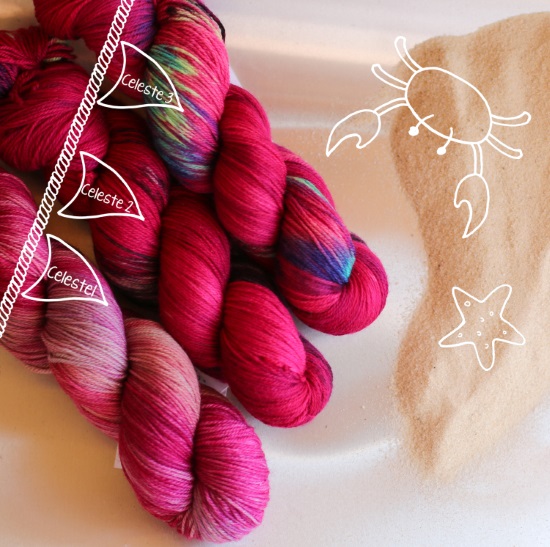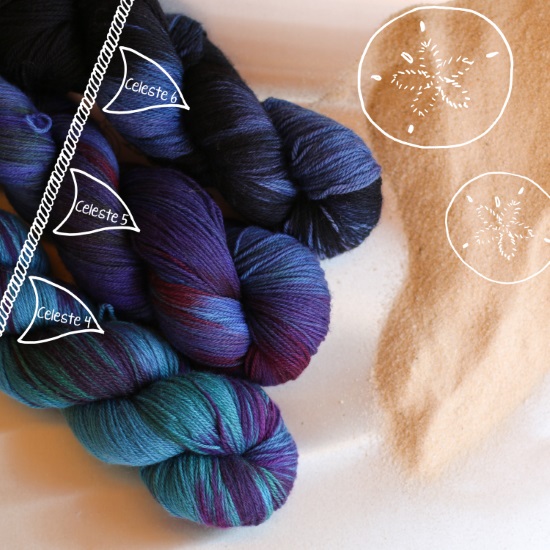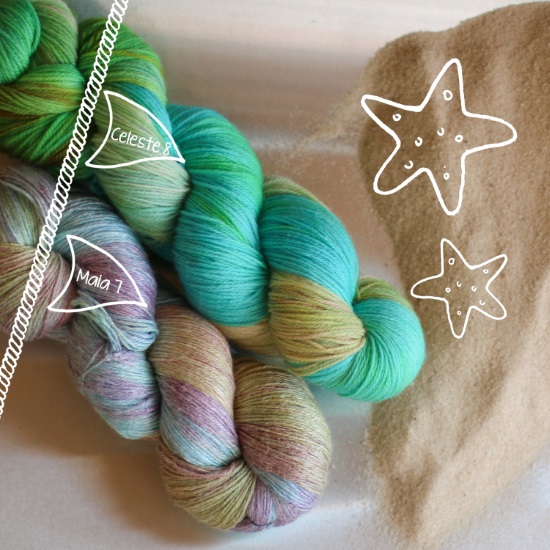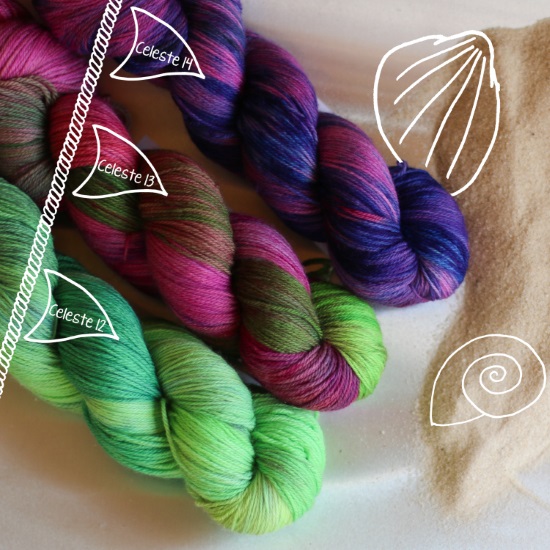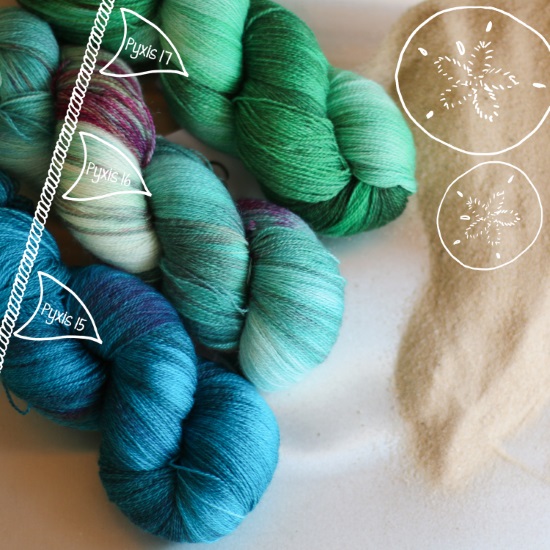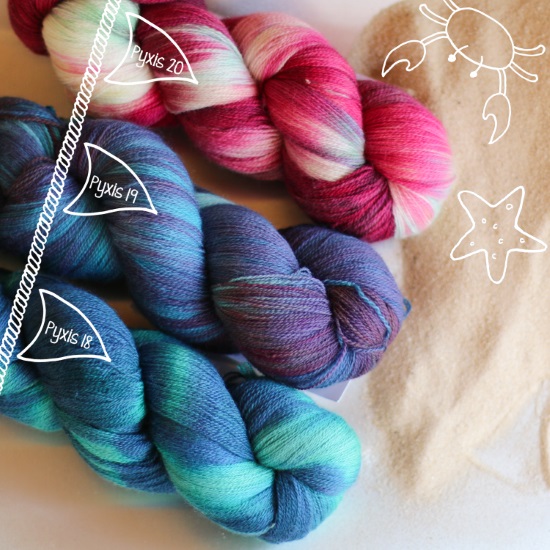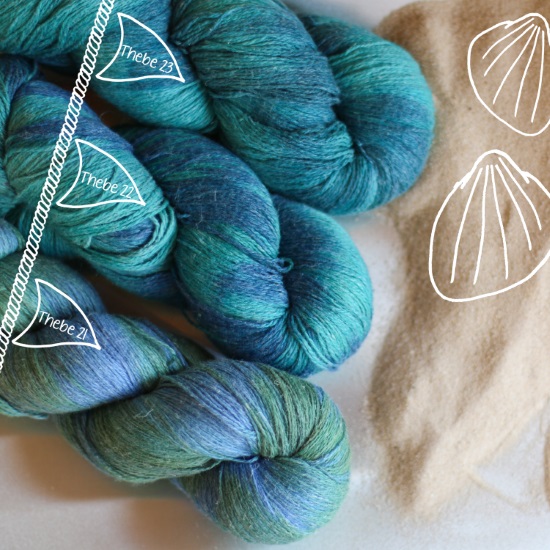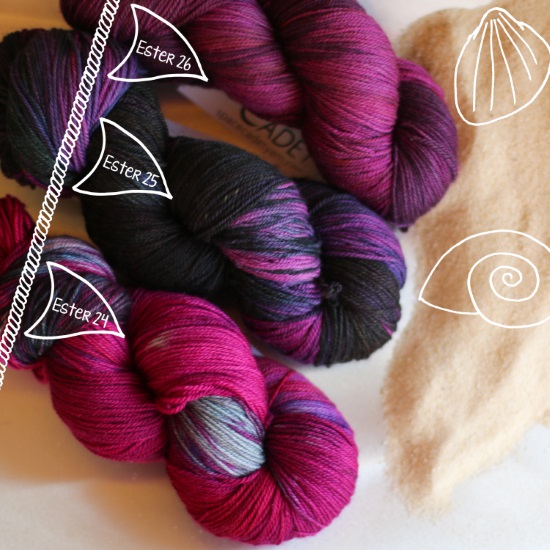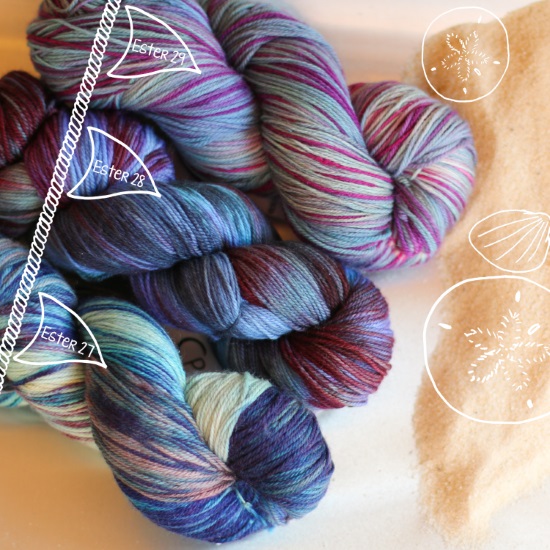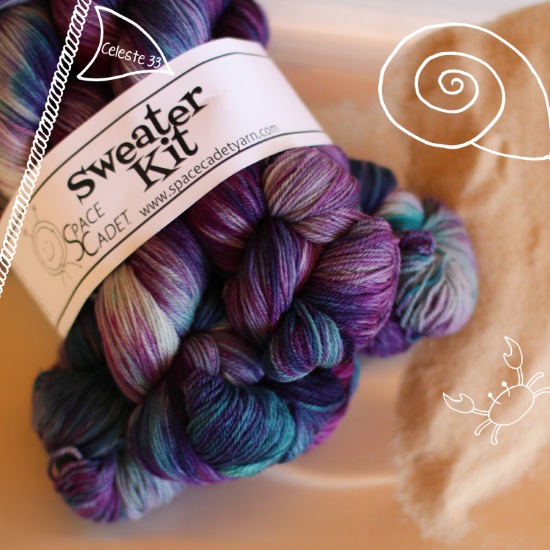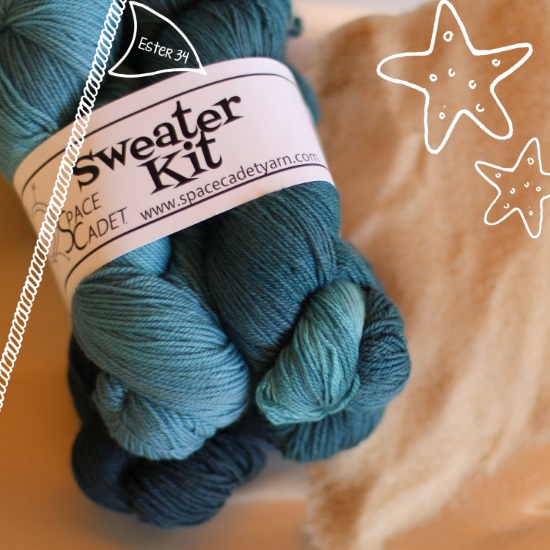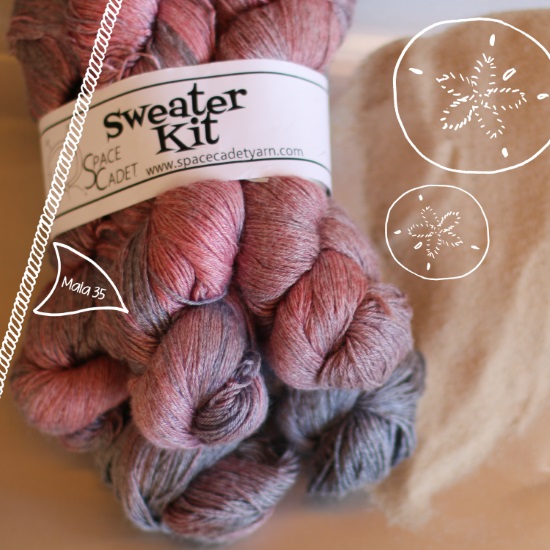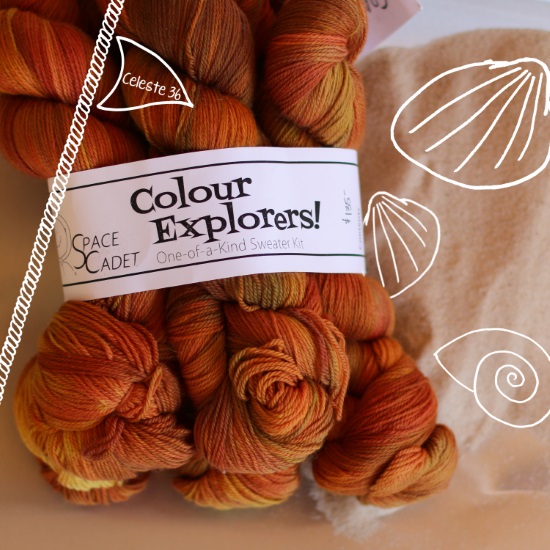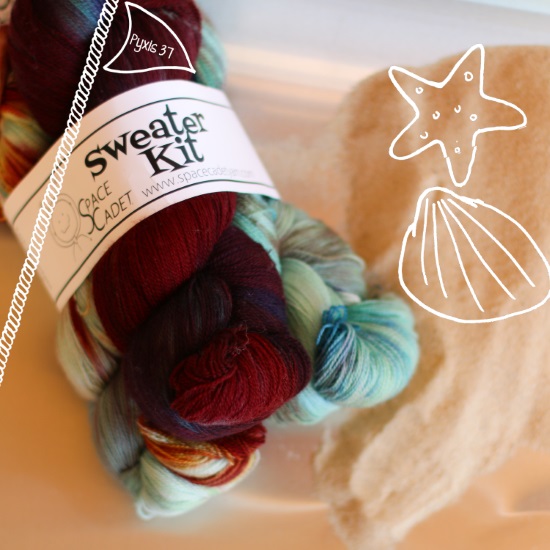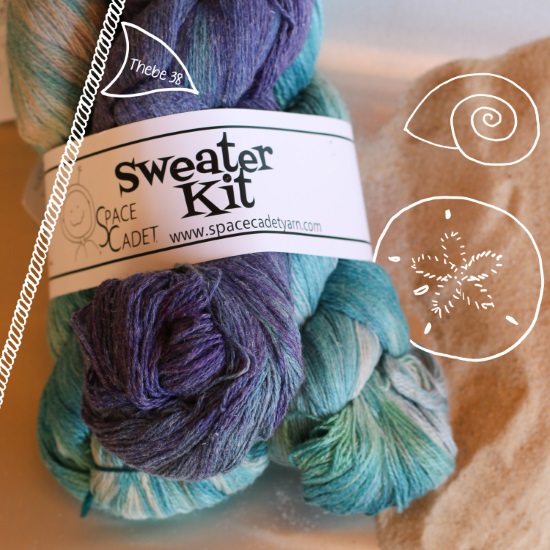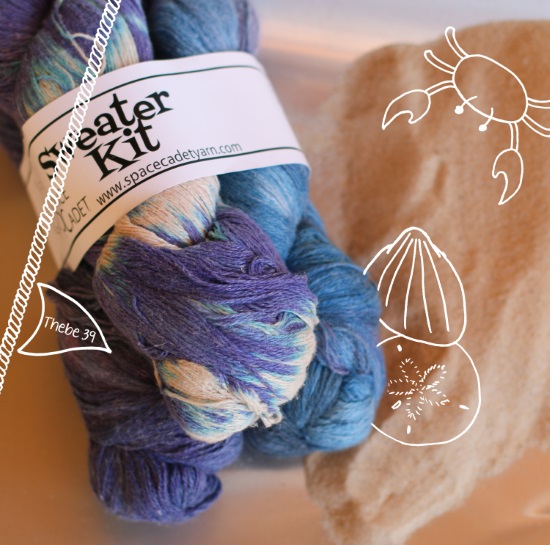 The Combining Yarns KCAL Giveaway
I'm so chuffed with all the amazing projects folks are doing for our Combining Yarns KCAL.  And this week, we're going to run a fab giveaway all about choosing which project we admire the most.  If you're in the KCAL, keep your eyes the SpaceCadet Ravelry group for all the details on how to enter as soon as I post them!

Mariana by Kathi Snodgrass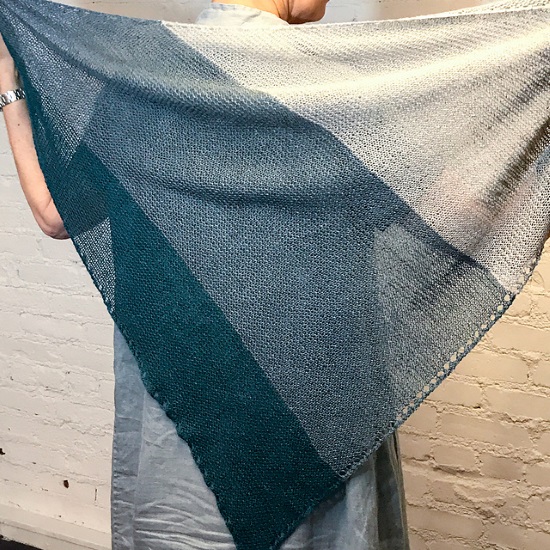 Three reasons this caught my eye:  1) Sometimes simple is the most beautiful — I love these clean lines and simple shape more than I can say. 2) Designed in linen, it would be amazing in our silk-linen Thebe and the beautiful sea-coloured 3-skein kits (above) in Friday's OOAK shop update would be perfect. 3) The pattern is a free download on Ravelry — I guess sometimes the best things in life really are free!
Tegna by Caitlin Hunter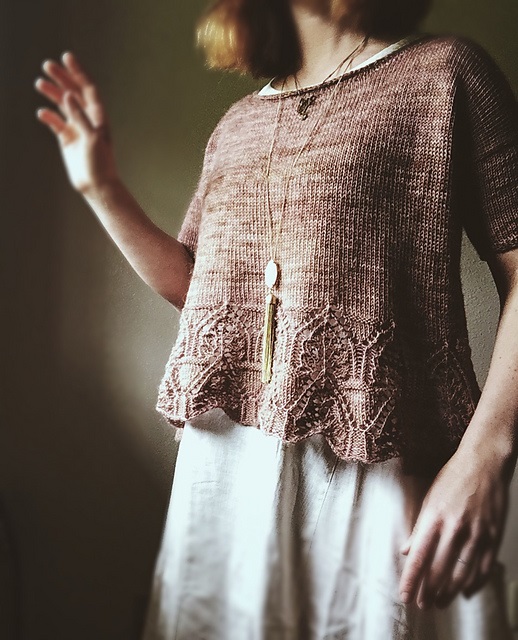 I think this pattern is just about the most perfect summer tee!  I adore the light look, the simple edging around the collar, the easy dropped shoulders, and the gorgeous lace edging.  It'd be wonderfully light and comfortable in either our bamboo yarn, Maia, or our super light merino, Celeste.  Choose from either in one of our standard colours ("So Life Gave You Lemons" would be my choice) or one of the fabulous sweater sets (above) in Friday's OOAK shop update.
Ok, it's time I finished my tea and headed down to the studio.  We've got the last few skeins to dye for orders going out to a couple of awesome shops, and then I think I might do some experimentation to get ready for the new club.  I hope you've got a great day planned too so, until next time, all my best!