What a delightful week it's been!  The weather has cooled off nicely (what a relief — I start to melt in anything over 80F!), we sent every one of our One-of-a-Kinds off to their new homes (can't wait for you to get them!), and there was a ton of interesting stuff in the fiber world that I wanted to share with you.
So I am going to grab a cup of tea and go sit on the porch, and I hope you have something relaxing to drink too, and let's dive into this week's fibery goodness!…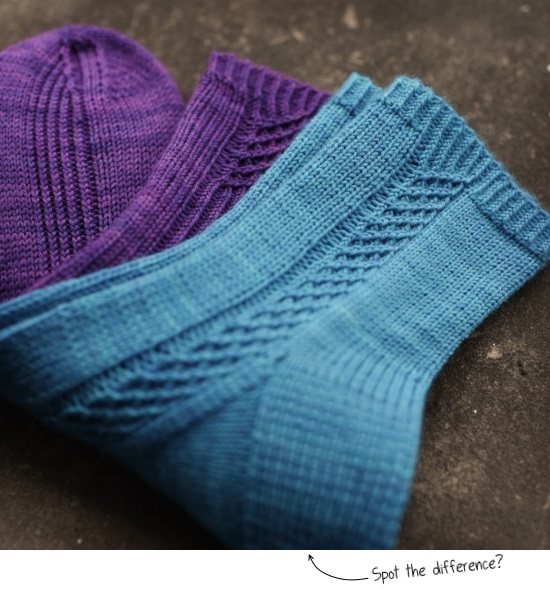 Image ©Hunter Hammersen, used with permission
I am always excited when Hunter Hammersen designs a new pattern in our yarn because 1) her designs are beautiful and always filled with delightful little details and 2) her patterns often come with multiple options.  Here newest design (above)  is no exception   …and it's releasing next week   …and it's designed in SpaceCadet Oriana   …and we're doing an Oriana Shop Update to go along with the pattern release.  So much good stuff!   If you're on her mailing list, you'll get a coupon for the new pattern (and it's a different and bigger coupon than the one she puts on her blog/instagram/twitter).  And if you're on our mailing list, you'll hear first when the shop update goes live so you get your favourite colour.  Bingo!
Speaking of Hunter, I am super excited to hear that she's updated her Curls 2 book to include stitch maps for all of the patterns.  If you don't know what that means, stitch maps are a little bit like knitting charts reworked to resemble crochet charts (which I find much more intuitive to read) but Hunter explains it much better than I do (and with pictures!) so head over to her blog and read all about it.  And if you already own the electronic versions Curls or Curls 2, check your Ravelry library for the update!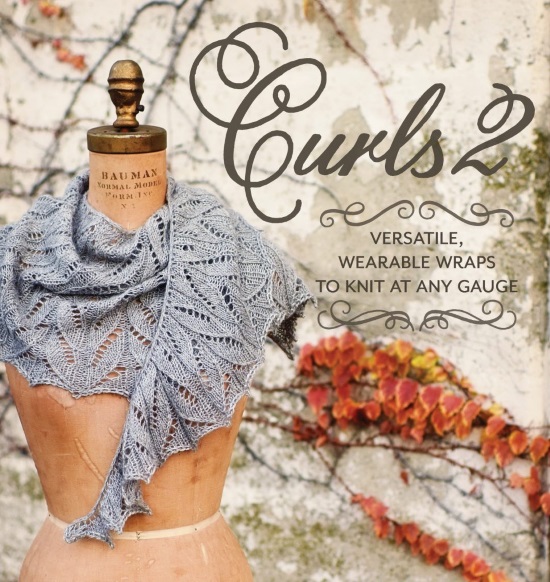 Image ©Hunter Hammersen, used with permission
I am in awe of Laura Bireck who designed and knit her own lace wedding dress.  Not only because she started the actual design process in only January and her wedding was in May, and not only because that also included an online crash course in lace design, and not only because of the fabulously McGuyver way she blocked it (using a tripod and upholstery foam — whaaat?!?) but because the result was absolutely stunning!  I am so very inspired now.
This is not at all knitting related but watching it absolutely made go all warm and fuzzy inside.  When strangers act like friends, does it change how they feel about each other?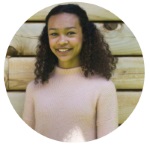 This week I received an email from Sacia Ashe (left), a 15-year-old avid knitter who has just launched A Purl Stitch, to provide "modern knitting patterns and a fresh look at the knitting community."  She asked if I would be her first interview for the new site and of course I said yes.  Click here to give her some love…  and see who the next generation of knitters is going to be following!

The SpaceCadet's Gradient Explorers Opens on Friday!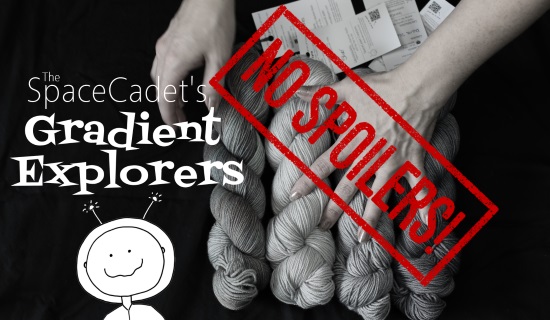 In last week's newsletter, I told you about our exciting new club where we create a Never Ending gradient, just as we do for our Mini-Skeins, but for full-sized skeins so they build up into sweater sets!  How cool is that?  Just like the Gradient Mini-Skeins, each month's colours will flow into the next but in larger skeins to create bigger colour blocks and more gradual shifts that are perfect for sweaters.  You choose the yarn you want to receive each month: Vega (merino worsted), Lyra (merino sport), Aurora (fingering with cashmere), or Celeste (light merino fingering).  And then we start dyeing, all in colours that coordinate them with our regular colourways so they'll work with your stash, plus we'll  add some exciting club-exclusive variegateds too!
Only 25 Spots Available and Only Via the Mailing List!
Because this club is truly an adventure for our most intrepid yarn explorers, we're keeping it very small: only 25 spots will be available in that first month.   Those spaces will be going live on Friday at 12noon (eastern) and the link will be available first only in an email we send out to our mailing list so make sure you are on our list, set an reminder on your phone for noon on Friday July 28 and keep your eyes on your inbox so you can get one of those spots to start your gradient collection right from the very first skein!
Combining Yarn Giveaway: Which Project Do You Most Admire?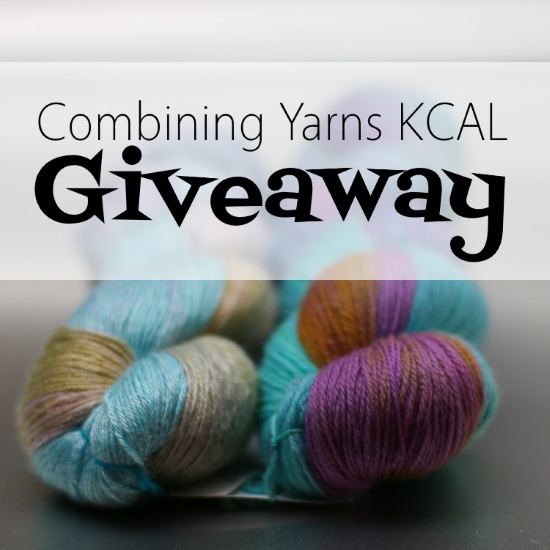 If you're part of our Combining Yarns KCAL, you'll want to get in on this giveaway and share your thoughts of the most worthy project in the KCAL!  We've gathered photos of everyone's projects and posted them together in a thread so you can vote on your favourite and then leave a comment sharing what it is you most admire about that particular project.  It's a great way to show support to your fellow KCALers and, when you leave your comment, you're in with a chance for a $25 gift certificate!  Click here to join the fun!

Now you know that I usually pick three different designers for this section but when one of these patterns first caught my eye and I clicked through to Ursa Major Knits pattern page…  well, honestly, the whole page just made me smile.  Chris's designs are happy, intriguing, innovative, and so very colourful.  (I have a thing colour…  did you know?)
Without a doubt, these designs are made for Mini-Skeins, not just because of the colour changes across the project but also because Minis give you control over where the changes happen, so you can make sure the contrasts are sharp where you want them to be sharp and flowing where you want them to flow.
Many a Mickle Makes a Muckle by Ursa Major Knits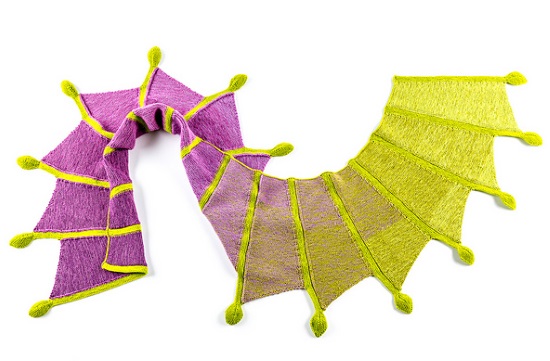 This is such a happy design!  A little silly, a little funky…  and undeniably happy.  Even the name makes me smile!
Hmmm…. go for subtle colour changes or for high contrast?  Or what about alternating blocks of a coordinating semi-solid and variegated?  I'm thinking maybe Troublemaker and Molten Cool — saturated and dramatic!
Lights of Polaris by Ursa Major Knits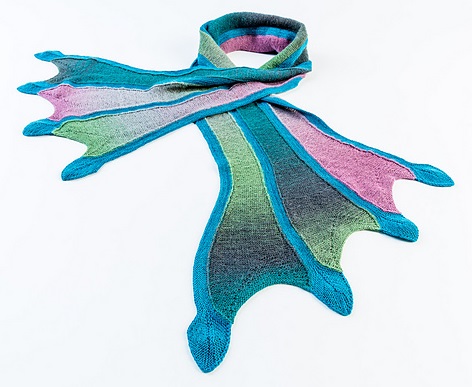 Knit in skinny panels broken up by contrasting leaf-stripes, this innovative design forces variegated and gradient yarns to pool in surprising ways.  Organic and funky, it will work equally well in either natural shades or wild colours — perfect for stash-diving!
All images ©Ursa Major Knits, used with permission
Ok, well, we have a busy day of packing orders today so I'd better get a move on.  I think it's going to be far too nice a day to work inside…  maybe we'll pack on the porch?  Either way, I hope you've enjoyed our time together (I have!) and, until next time, all my best!