It's a beautiful summer day here in Pittsburgh (with the threat of a thunderstorm — and I do love a good summer storm, don't you?).  I'm going to start it with a cup of tea and lots of wonderful fiber-y news to share with you: everything from clever home-made blocking solutions to gorgeous gradient designs to discounts on two lovely patterns!  Sound good?  So grab yourself a cuppa and let's dig in…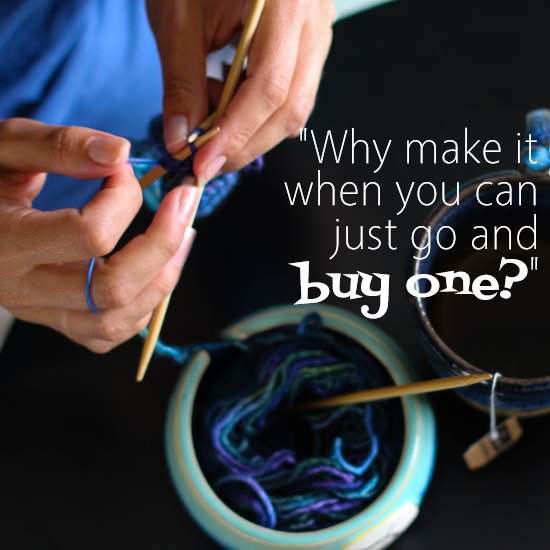 "Why would you make that when you can just go buy one?"  We've all heard that (right?) and we all know that it's not about the hat/socks/sweater you have at the end of all your work.  But sometimes, knitting and crochet go much, much deeper.  Sometimes, that quiet meditation of sticks and string are what get us through the hardest points in our lives.   I think this sums it up perfectly.
I thoroughly enjoyed this article exploring knitting as a feminist issue.  Now, there's nothing new in that concept but I was really taken with the author's exploration of the fact that, while most knitters from the 1950s-1990s were women, most knitting leaders (and knit-world stars) were men.   And also that many of the (British dales) female knitters interviewed in studies of the times said they were taught to knit by their grandfathers.  An interesting read.
SpaceCadet is proud to be a sponsor of Jessie At Home and Royal Rabbit Vineyards' Yarn and Wine Tasting 2017.  Taking place on Saturday Sept 2nd in Parkton MD, the event gives attendees the opportunity to try a variety of yarns and notions as well as an array of wines.  Sounds perfect!  Click here to learn more.
Blocking can be a pain but I love this ingenious solution for super-quick blocking of crocheted triangles.  I have a thing for granny squares and I totally might have to adapt it!

Oriana Shop Update: This Friday Aug 4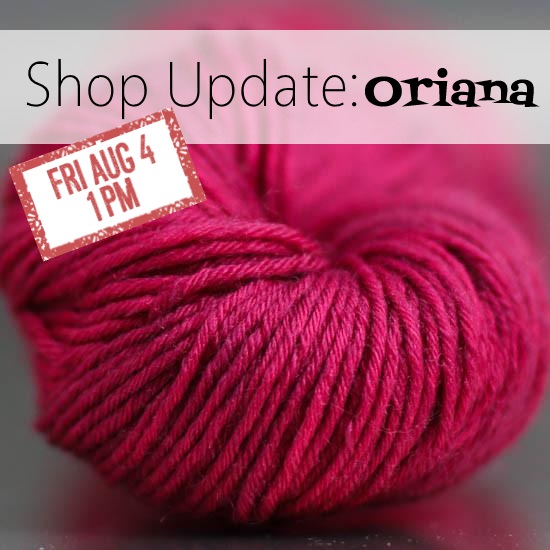 Yesterday, Hunter Hammersen released Tantamount, her gorgeous new sock pattern designed in SpaceCadet Oriana.  And, to celebrate, we've dyed a bunch of Oriana for a shop update on Friday!  All the yarns will go live at 1pm (eastern) so, first, check out the pattern (in the next section below) and then click here to decide which colours you're going to go for so you're all ready when the new yarns hit the shop!
Oh, and did I mention there's a special Limited Edition colourway too?  There is!  And it's sweet and fresh and gorgeous.  You won't want to miss it!
Winner of our Combining Yarns KCAL Most Admired Project Giveaway
It was so inspiring seeing everyone's projects but, more than that, it was just wonderful to see all the lovely and supportive comments about each other's projects in the giveaway thread! And so many wonderful possibilities, it's no wonder we all had trouble choosing!
I gathered up the names of 34 qualified entrants and plug them into the Random Number Generator. And our winner is….
jujubee
Congratulations, Joy! Please send an email to missioncontrol (at) spacecadetyarn (dot) com to claim your gift card.
Pittsburgh's Steel Valley Yarn Crawl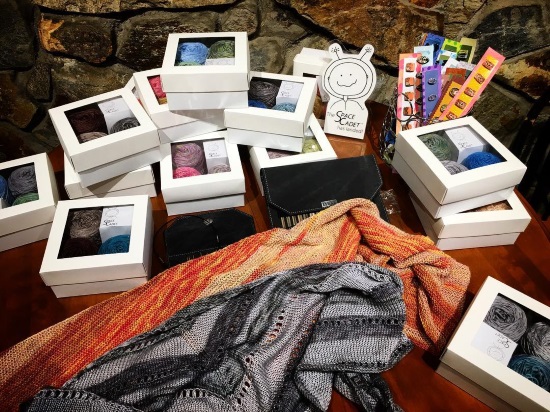 Pittsburgh folks: I just have to share with you these adorable little kits that Sewickley Yarns created with SpaceCadet yarn for the Steel Valley Yarn Crawl.  My favourite is the one in the lower right-hand corner.  Which is yours?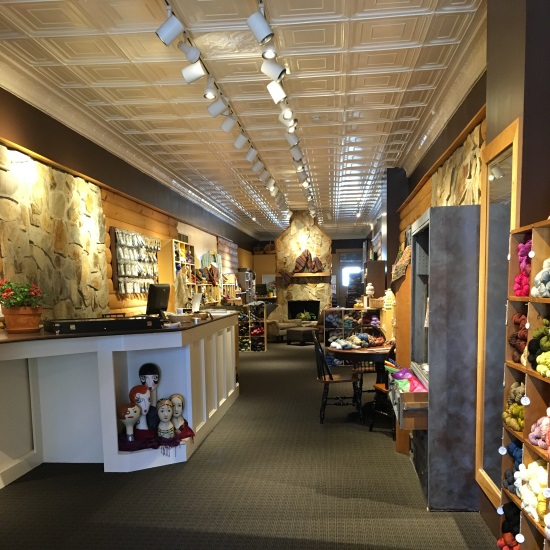 The Steel Valley Yarn Crawl is going on right now so click here to check out Sewickley Yarns' hours and then do pop over to see them.  If you haven't been, it's hands-down one of the prettiest yarn shops I've ever seen and a lovely spot to hang out in for a while!

Shape your shades by ChrisBerlin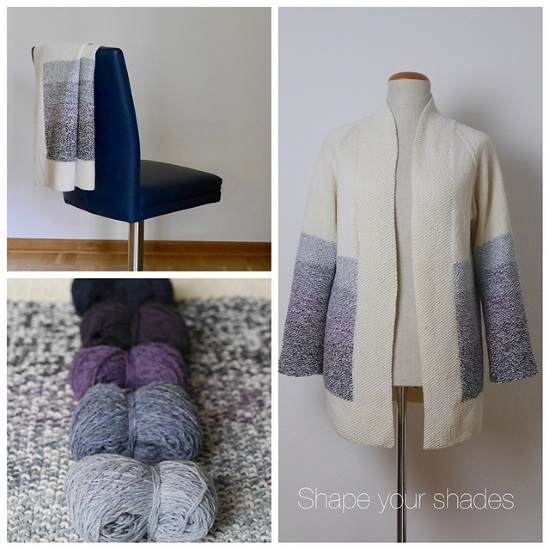 If you were lucky enough to get a space in our new Gradient Explorers, then this beautiful design is for you!  What I love it about it is that it not only rocking the gradient but the yarn is held double to create a stunning marled effect.  I just know it's one of those cardigans I'd reach for again and again and again!
(But hey, if you didn't get a spot in the Gradient Explorers, I think this could be adapted for our Mini-Skeins too.  The gradient would change more rapidly, but the marling softens that and makes it work.  Either way, it's too beautiful to pass up!)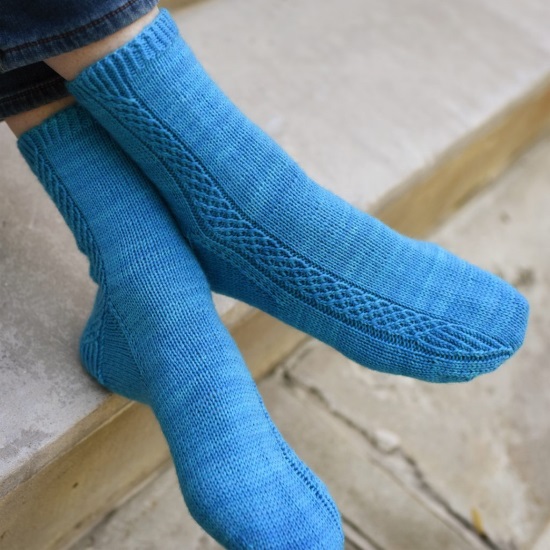 I know I gave you a sneak peek of these last week, and now Hunter has released these beautiful socks — with not just one but two eye-catching design options!  Knit in SpaceCadet Oriana, of which Hunter says, "…[it] has just the best stitch definition ever.  It's absolutely meant for tiny twisty cables like this, it shows off your stitches perfectly (seriously, I am helpless to resist its charms) and is a delight to work with."  What I love most about these socks?  The design works equally well for men or women, so it makes a great pattern for holiday gifts.
Hunter is offering 10% off  the pattern (between now and Friday) and giving away a skein of SpaceCadet Oriana (click here to get the discount code and read how to enter).  Plus, we're doing a shop update of Oriana on Friday (see the section above for more details), so click here to grab your favourite colour in the shop update on Friday!
Velvet Sky Socks by Valya Boutenko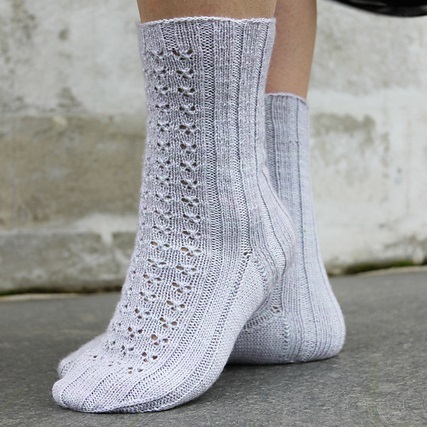 And if you like your socks a little lacier, this pattern designed in SpaceCadet Lucina is a beautiful choice!  When I asked Valya about featuring her design, she responded with such warm praise for Lucina. "I have to say it was truly, (no joke) the best yarn I have ever knit with!"
And then she generously offered 50% off the pattern exclusively for readers of the SpaceCadet newsletter!  Use the code LuckyFoxKnits between now and the end of the month (or click here to have the discount applied automatically) and you'll be able to add a little bit lacy loveliness to your wardrobe for half off!
All images ©the respective designers, used with permission
 Ok, it's time we got the day started, don't you think?  Today I'm prepping the last of our yarns for Friday's shop update and dyeing skeins for a couple of wonderful LYSs.  I hope your day is just as lovely (and your weather too!).  So, until next time, all my best.