If you read this week's newsletter, you'll know that I was so sick that Black Friday weekend was a disaster for us.  So what do you do when you just totally miss the biggest small business weekend of the year?  You do a Black Friday Weekend Do-Over!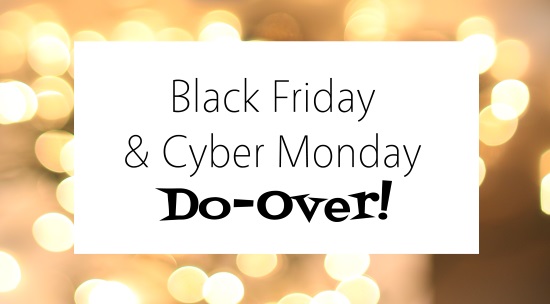 So while the rest of the country went a little crazy last weekend, this is the SpaceCadet Black Friday weekend.  And what I love is that it gives us all a chance to slow down a bit and do some holiday shopping in a much more relaxed way.  Sounds good, right? I think so!
So, are you ready to see what we've put together for Black Friday?  I've been twisting these up and the colours are so divine, I just can't wait to show you!  We were able to dye only twelve sets for each collection, so I've chosen  to put them up today at 12noon (eastern) because it's the best time to give everyone in different timezones a chance a set.  Until then, they're marked as "sold out", so you can take your time scrolling down to choose the colour family you like most, and then set a timer on your phone for noon (eastern) so you're all ready to click here when they go live.
The SpaceCadet Holiday Mini-Skeins Collections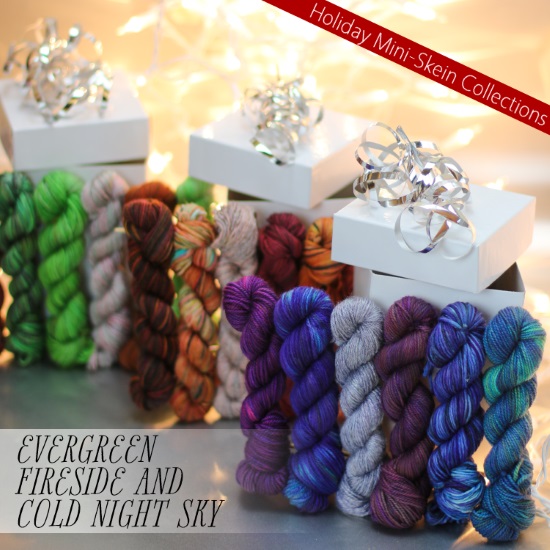 There is something about Mini-Skeins that just feels like such a treat — they're sweet, adorable, and soooo full of colour.  So we dyed some special, never-to-be-repeated colourways and put them together by the half-dozen for a perfect holiday gift!
Presented in a lovely gift box, each Holiday Mini-Skein is tucked into a sweet velveteen pouch and all wrapped in tissue. The perfect introduction to Mini-Skeins or to Spacecadet's beautiful colours, these little collections make a wonderful holiday gift.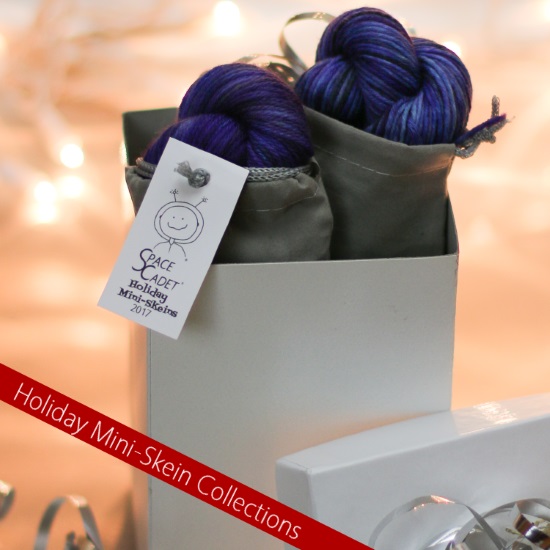 Each set of Mini-Skeins is dyed in one of three colour families:
Each set is unique and will vary from the samples pictured here, but each is beautifully coordinated within those three colour families.
Can I be honest with you? While I was able to convince those Mini-Skeins to stand up on their ends like that (how? I'm not tellin'!), I just couldn't get my camera to really do the colours justice.  They are deep and rich and beautiful (and I wish I could show you!).  But most of all, I am looking forward to seeing them knit and crocheted up, because they're just gorgeous.
Ok, now that I've been able to share these with you for our Black Friday Do-Over, have you set a timer on your phone?  And then you can pop back here at noon to click this link for our beautiful, adorable Holiday Mini-Skein Collections.  See you then!