Last week, we finally had a break in the deep freeze that had had such a tight grip on us, and my assistant Jade and I got a chance to get out and take some photos of the fabulous messenger bag that I'd had custom screenprinted as the gift in the December SpaceMonsters parcel.  It felt so good to be outside (even if it was still only 12F!), good to be well enough to do a photoshoot, and so good to finally capture some pictures of that awesome bag.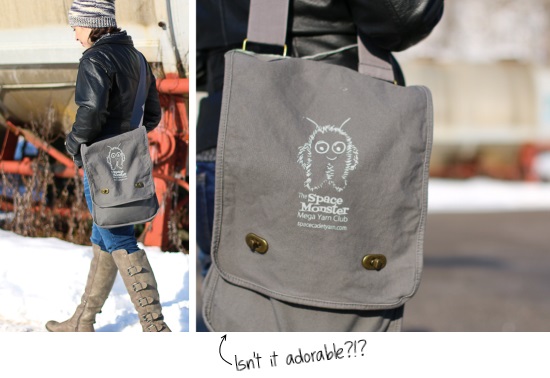 Then I made a little mistake …and I'll tell you about it tomorrow!  (In the meantime, just a quick heads up to the SpaceMonsters members who received the December parcel: if you wanted to order any extra skeins or another of those bags, you've got only a couple of days before they close.  Check your emails for the club-only link to place your order).
But right now I'm not outside in snow and 12F weather!  I'm happily tucked up in a comfortable chair with a nice cup of tea, a notebook (always), my knitting (ditto), and lots of fun fibery news to share with you.  So, if you'll grab a cup of tea or coffee too, let's sit down and jump right in…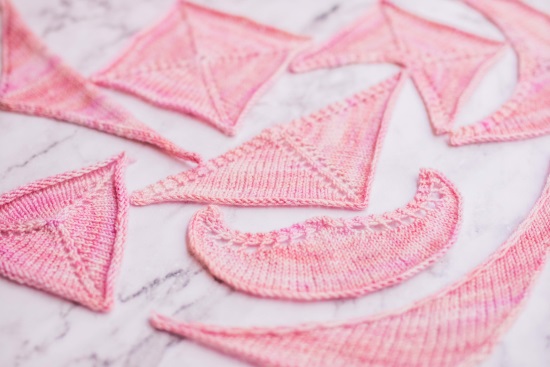 If you spotted photos of a bunch of itty-bitty shawls all over your social media feeds last year (like the one above), that was part of the 5 Shawls 5 Days Challenge.  The idea is that Frenchie of Aroha Knits takes you through the basics of shawl shaping super succinctly by guiding you through the creation of five mini-shawl prototypes in five days.  And it was such a huge hit that Frenchie is doing it again!  The 2018 5 Shawls 5 Days Challenge  starts Jan 29.  Click here to sign up and then cake up your Mini-Skeins!  (I signed up last year, got busy and didn't get my mini-skeins caked up, and then missed it.  This year, I'm trying again and getting my minis caked up early.  Will you join me?)
I know you have yarn weights down (if you don't, here's a primer — I won't tell) but sewing fabrics might be less familiar.  I found this article on Demystifying Fabric Weights really informative.
Picking just the right increase or decrease for your project can be the difference between something that looks amazing and something that looks remarkably homemade (and not in a good way).  I love YarnSub's fabulous tutorial walking us through the K2tog-L stitch.  So good to know!
If you didn't see this wonderful video about Aspen and her knitting, it is well worth it.  She's blind, on the autism spectrum, and knits in class (yes!) to better her community.  You go, Aspen.

The Gradient Explorers: New Spaces Open Tomorrow!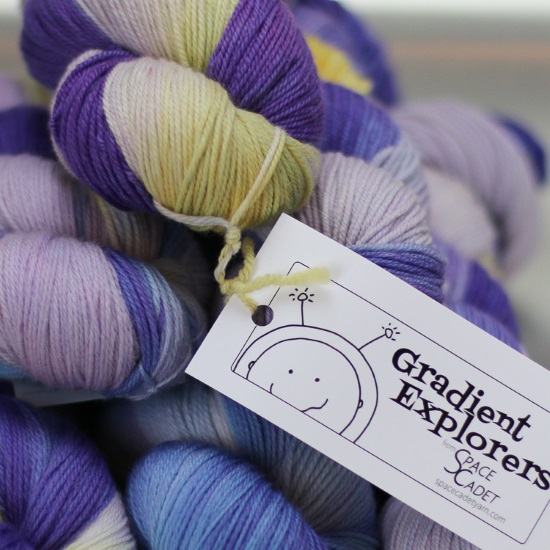 You've seen the latest colourway for the Gradient Explorers and it takes the ever-growing gradient in a whole new direction that the whole team is just swooning over.  We open spaces to the Gradient Explorers only when they become available and we have a few spots that will open tomorrow, Friday Jan 26, at noon. Set a reminder on your phone so you don't miss it!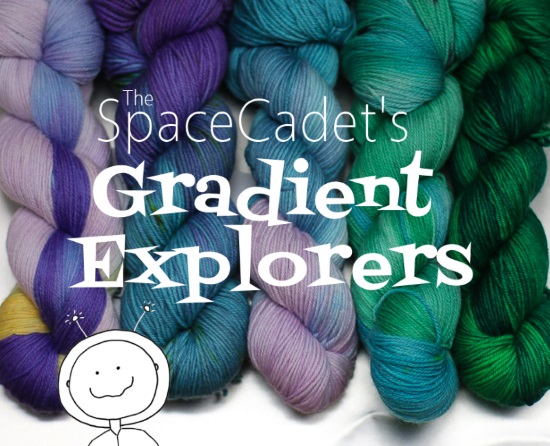 Sweater Sets Shop Update: Next Friday Feb 2
It's sweater weather time!  And we do some seriously gorgeous Sweater Sets in gradients that link from one of our regular colourways to another (so it's dead easy to add extra skeins if you need them!).  But we're low on stock so we are dyeing more  for a shop update next Friday, Feb 2.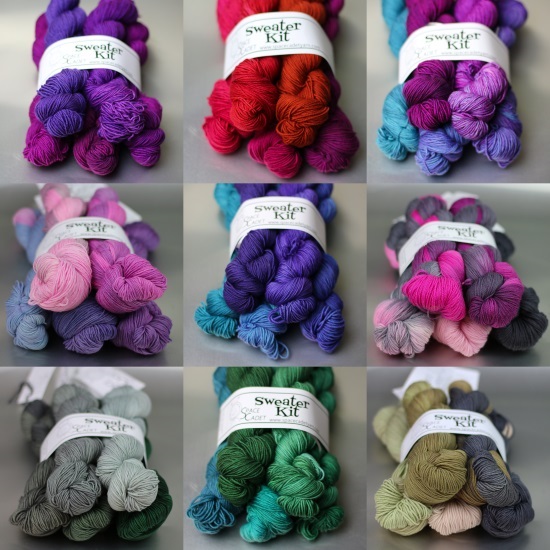 Plus, we're creating a few sets of an amazing one-of-a-kind gradient that I am just crazy excited about.  Can't wait for you to see it, so mark next Friday on your calendar!

Woman Must Make Her Own Arrows by Larissa Brown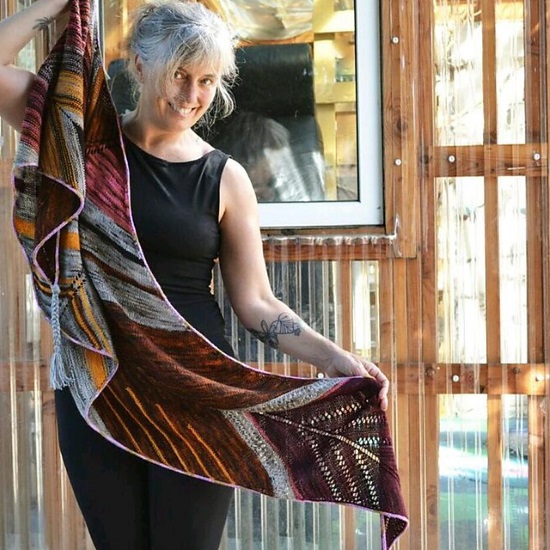 For knitters with a sense of adventure, this gorgeous pattern contains steps to lead you through creating this unusual shawl shape, plus ideas for customising it…  and then the rest is up to you!  Knit in fingering weight yarn, it's an opportunity to grab some amazing colours from your stash (of either full skeins or minis) and create a one-of-a-kind combo.  (Hint: if you choose a bunch of colours from one side of the colour wheel, grab one more from the other side and watch how it brings the all the others to life!)
A-dress by Lacelegance
Oh sit down, knitter, sit down!  Because this has to be one of the most heart-stopping patterns I've ever seen.  Created in light fingering, its stunning lace is knit into a gentle A-line shape that drops from the shoulders in a way that you can just tell is going to be all lovely and swishy around your ankles.  Lace like this is not for the faint of heart but… mmmm-mmmm… beautiful!
images © the respective designers,  used with permission

This has nothing to do with knitting or crocheting, but I really want your thoughts.  The other night, I was up late doing some tax stuff and flipping through the channels…  and I came across a new property show set right here in Pittsburgh called Restored By The Fords.  And while I was initially intrigued because all the properties are right around our local area, I am not so sure how I feel about the "restorations".  At all. (In fact, this was the first property show that ever made think, "What does the producer do if the homeowners suddenly decide they really hate it?!?"  That thought occured when the designer painted the clients' walls black and white, and then also painted their piano in the same colours so it camouflaged into the wall.  Hmmmm…)
Anyway, I really want to know if anyone else has watched this show and what your thoughts are. Please click here to come tell me on Ravelry (and here for more info about the show).  I'd be really grateful!
Ok, that's it.  I've got a busy day in the studio ahead of me, dyeing a new colourway I've just come up with and I'm SO excited!  I'll show you soon and, in the meantime, I hope you have a wonderful day and all my best!