Ok, so creating club colourways is hands-down one of the best parts of my job (because it's really like dyeing for a bunch of friends) but probably just as much fun is putting together our club gifts.  And when I worked with Commonwealth Press here in Pittsburgh and we came up with this adorable messenger bag for the December SpaceMonsters parcel, well, I was just crazy with excitement!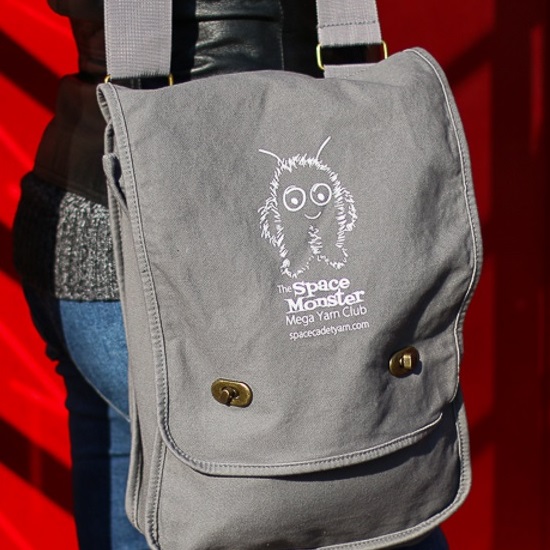 It's awesome, right?  Big enough to hold anything from a whole sweater project to a stack of books to my 15″ laptop to your smaller project plus everything you need for your day, it's a fantastically versatile bag.  And with our SpaceMonster grinning away, it's super cute too.  And I couldn't wait to show it off!
A bag like that is made for moving and going and carrying so my assistant Jade and I decided to photograph it outside doing just that.  But as you know, I ended up spending most of December recovering from pneumonia — no way could I take those photos!  And then, as we turned the calendar for the new year, a deep freeze set into Pittsburgh that had temperatures so cold we could feel our faces freezing as soon as we stepped outside.  So the December SpaceMonster parcels went out, yarn and gift nestled inside, but I was so sad to have never gotten to share how awesome the bag is…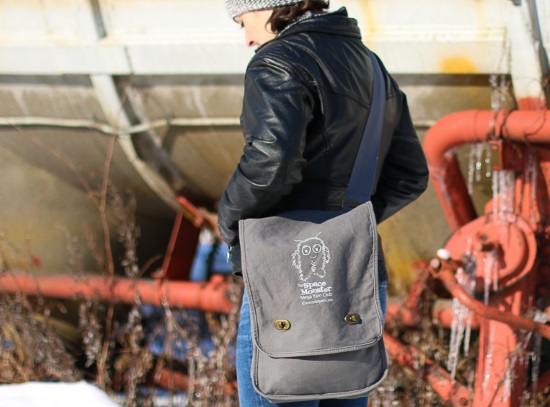 And then last week, the weather turned.  Jade grabbed a SpaceMonster bag and I grabbed my camera and we found a great spot to take some shots.  At last!  The scene was cool and industrial — so Pittsburgh — and I loved the play of old metal against the crisp snow as Jade walked past an old tanker truck.
But what's a knitting bag without a bit of knitting, right?  We her standing against the truck, leaning on the truck, adjusting this way or that… but it just wasn't working.  Ok, I asked, what if you hop up onto the ledge and sit there to knit?  It was a good suggestion — as soon as Jade scampered up onto the metal ledge running along the tanker, everything fell into place and I got lots of great shots.  She knit, the bag posed, and my camera clicked away.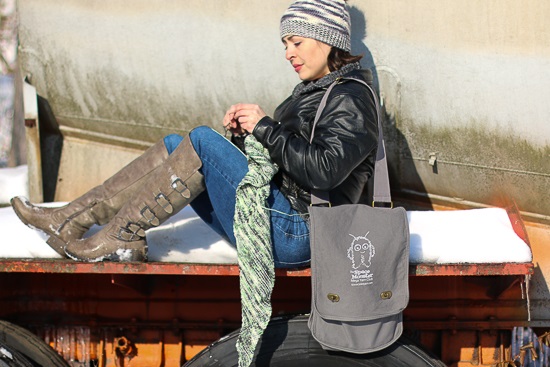 Walking back, it was cold, still only about 12F and I was keen to get back into the warm studio.  But I suddenly realised I'd never taken a good close up shot and asked her to turn around for one last snap.  And as I focused the camera on the bag, I realised to my horror that the back of her jeans were soaking wet.  And not a little either — that poor girl was soaking wet.
"Yeahhhh..  Did you know I was actually sitting right in the snow?"  I honestly hadn't realised…  I thought she'd say!  But sitting there on a metal ledge in the snow, in freezing temperatures, she just kept knitting serenely until I got the shot.  I was blown away — what a good egg she is!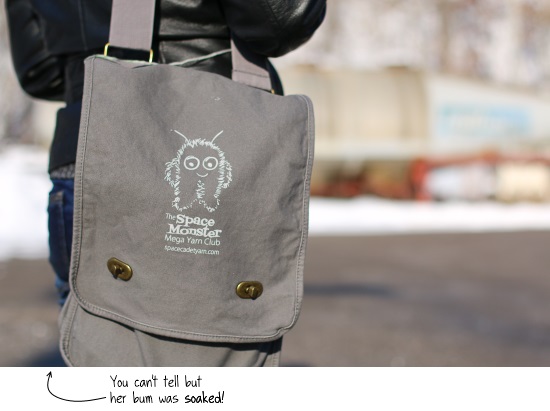 We have tea at the studio (of course) and a hot cuppa cures a lot of ills as far as I'm concerned  …but it didn't fix this.  She told me later that she actually  didn't feel warm again until seven o'clock that night.  Oh my stars!
So, it's a cute bag, eh?  I'm so thrilled to have been able to put together such a cool gift for our SpaceMonsters.  And the model?  Seriously, she's awesome.  Just awesome.
(And, I am happy to report, she's also warm again at last)
(PS — if you're a member of the SpaceMonsters and received the December parcel, there's just a few days left to get extra skeins or an extra bag if you'd like.  I've sent you an email with the link this morning, so check your inbox)
The Gradient Explorers: Spaces Open Today at Noon!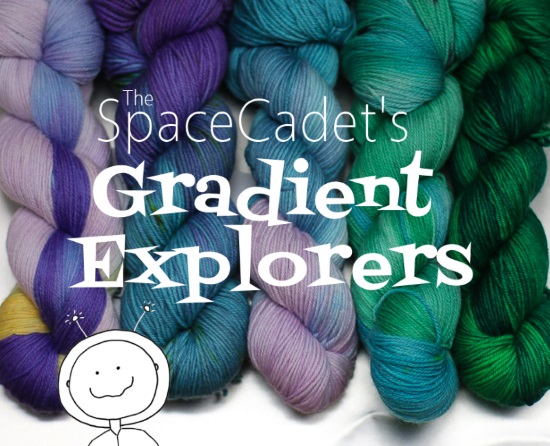 In the Gradient Explorers we create a gorgeous Never Ending gradient, just as we do for our Mini-Skeins, but for full-sized skeins so they build up into sweater sets!  How cool is that?  Just like the Gradient Mini-Skeins, each month's colours flow into the next but in larger skeins to create bigger colour blocks and more gradual shifts that are perfect for sweaters and larger projects.  You choose the yarn you want to receive each month: Vega (merino worsted), Lyra (merino sport), Aurora (fingering with cashmere), or Celeste (light merino fingering).  And we start dyeing, all in colours that coordinate with our regular colourways so they'll work with your stash too!
We open spaces to the Gradient Explorers only when they become available and we have a few spots opening today at noon (eastern). So quick, grab your phone and set a reminder, and then click here at noon to grab your spot!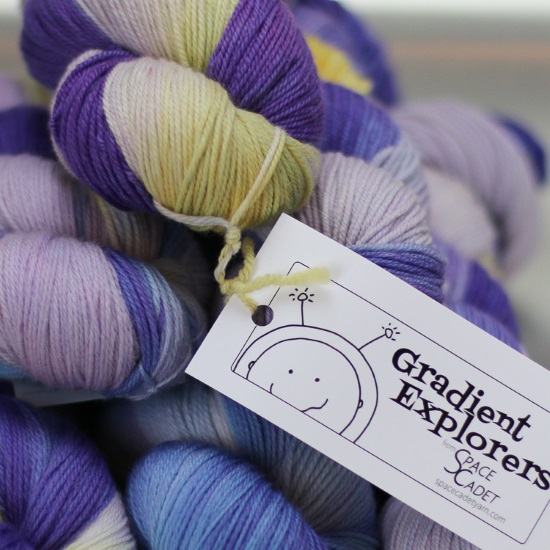 That's it, I've gotta go.  But I couldn't resist sharing that story with you.  Have a great (warm, dry) weekend!