Oh my stars, you know how some weeks just feel so crazy you don't know if you're coming or going?  This has been one of those weeks for me.  I have no idea why but I keep getting the day wrong (is it Tuesday? Thursday? Friday already?) and it feels simultaneously like the week only just began and also like we must be at the weekend by now!  And though that's been a little bit crazy-making, I'm fine with it, because it means there's lots going on and lots of fun to be had doing it all.
But before jumping feet first into another non-stop day, it is good to start things off with a quiet moment or two.  And a cup of tea (always a cup of tea!).  And maybe a fun fiber-news round-up.  Doesn't that sound good?  Then grab your cup of tea or coffee, and your project bag, and let's spend a little time getting the day off to the best sort of start…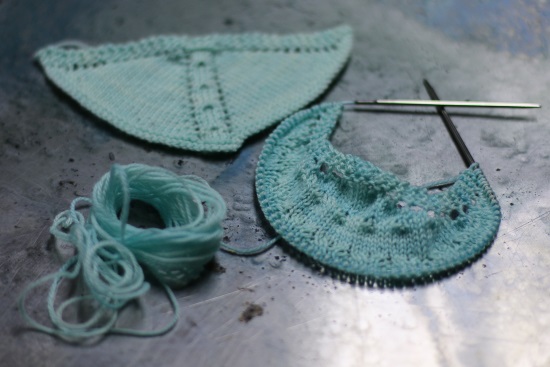 (the colourway is Frigia and the background is our dye table which, it seems, is in need of a good clean)
Did you join the 5 Shawls 5 Days Challenge that I mentioned last week?  Well, I'm running behind on it but Jade has started a thread on Ravelry to show off her tiny shawlettes.  If you're knitting some too, please share your pictures with us on the thread .  I'm going to catch up and post mine soon!
How do you knit in the round?  On double points?  Magic Loop?  On two circs?  I always used to use dpns but, these days, I find I'm really starting to prefer Magic Loop.  And, to be honest, I've never even tried working on two circs (usually because I can't find another set of needles in the same size that aren't taken up by another project).  When I do find a matching pair and give it a go, this tutorial on knitting in the round with two circular needles looks handy.
Speaking of things I've never tried, I've never even heard of the Chinese Waitress Cast On (have you? is it just me?) but I am definitely intrigued.  This set of tutorials walks you through it (plus two other cast ons: provisional and Jeny's stretchy).  If you've used the Chinese Waitress Cast On, let me know what you think of it.  What application is it best used for?
Attention Princess Bride geeks: have you seen this Culligan Water ad?  Even thirty years later (and combined with a serious dad-sweater), that line is still iconic.  Also, unrelated, but I found out this week that no one on the SpaceCadet crew had seen this, one of my most favourite ads ever.

Sweater Sets Shop Update: Tomorrow at Noon (eastern)

This time of year just makes you want to cast on a beautiful new sweater, doesn't it?  (Especially with the Olympics coming up!)  But our Sweater Sets are currently all sold out (what?!?) so we've been dyeing up a storm for a shop update tomorrow (Fri Feb 2) at noon eastern.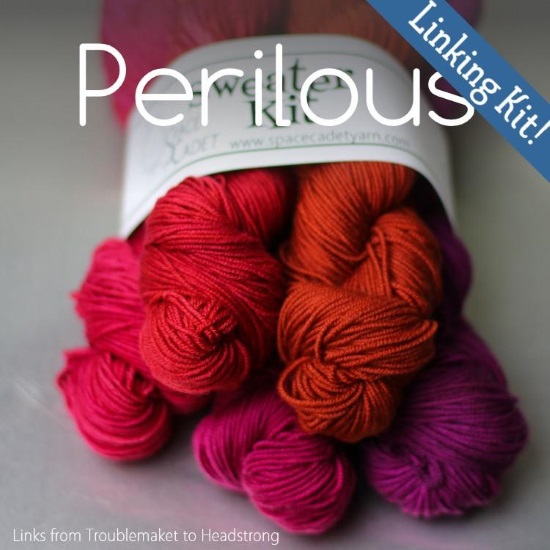 What makes these sweater sets special?  They're so much more than just a sweater's quantity of yarn.  We create  our gorgeous Sweater Sets in gradients that flow from one of our regular colourways to another.  That means you can use them in a fade or gradient pattern and, no matter what your size, it's dead easy to add extra skeins if you need them!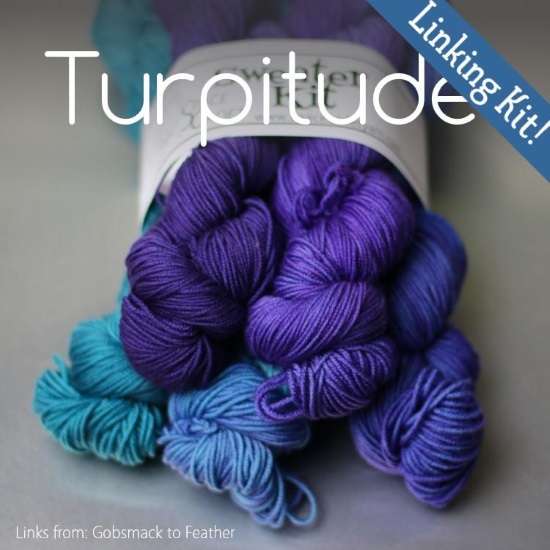 Now, we've created some new colourways (including an amazing one-of-a-kind gradient that I am just crazy excited about!) and I was supposed to have the photos done for today but ran out time (so guess what I'll be doing this morning?).  But I can show you this picture we snapped as we laid the newest colouways out on the packing table.  There are four sweater sets in this photo — see how beautifully they flow into one another?  That's the magic of our Linking Sets!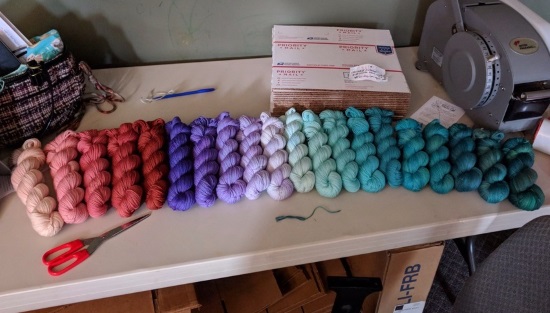 New Sweater Set colourways from l-r: Audacity, Infatuation, Transcendence, and Tranquility
So if you're as excited as I am, set a reminder on your phone and then click here tomorrow at noon!

Gamma by Larissa Brown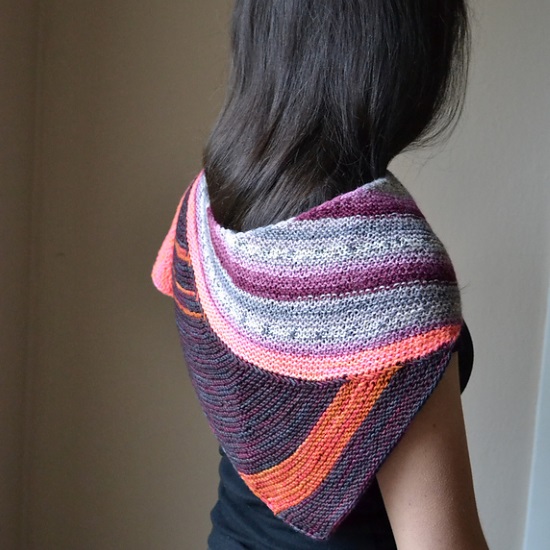 This time of year, you'll rarely find me without something warm wrapped around my shoulders, indoors or out.  And this triangle shawl would be a perfect choice not just for beating the chill but also because it has a really interesting construction: started as a parallelagram and then turned 90 degrees and picked up to create the curl.  Click the picture to see how that construction looks laid out flat.
Scarf braided bicolor by Svetlana Gordon
Svetlana is a master of short rows and shaping whose designs never cease to amaze me.  I'm deeply intrigued by this beautiful shawl because, even though it looks like entrelac, it's knitted without turns.  And I think it's a wonderful candidate for using one of those wildly variegated yarns that maybe makes you a little nervous.  The way the stitches move around might do wonderful things with the colours!
images © the respective designers, used with permission

One of my New Year's resolutions (and so far, the only one that's really sticking) is to read more books.  I'm doing it by making breakfast and lunch into my book-reading time instead of my news-app-scrolling time, and it's remarkable how much happier it makes me.  I'm a non-fiction kind of girl and, this week I'm reading When: The Scientific Secrets of Perfect Timing by Daniel H. Pink.  I heard the author interviewed on NPR and got the book from the library immediately.  And can I tell you?  It is fascinating!  I can't recommend it highly enough.  In fact, I'll go over and share it on our SpaceCadet Book Club thread in a bit.
And with that, I'd better get to the studio and start taking the photos of the new Sweater Set colourways (because you're not going to be impressed if the shop update tomorrow is photo-less, are you? Heh heh!).  I have to admit, photographing yarn is really a ridiculous amount of fun, so I'm keen to get started.  I hope your day is filled with fun stuff too and, until next time, all my best!