Ok, really quickly…  I just want to show you what our Linking Sweater Sets do.  Because you know how it is when you know a thing about something, but nobody else knows it, and it feels like it should be totally obvious because you know it, but then you realise it's not?  That's kind of how it is with our Linking Sets.  We dreamed them up so they make total sense to us, but if you weren't there for the dreaming…  well, maybe it's not so obvious.  So I should probably explain.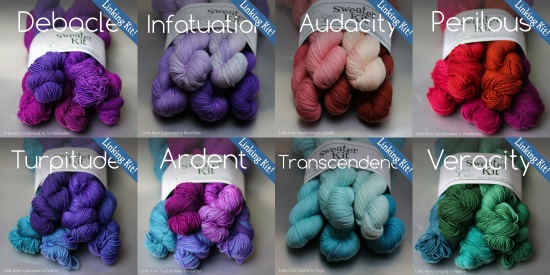 In a nutshell, our Linking Sets are sweater quantities of our sport-weight Lyra in gradient colours that flow from one of our standard colourways to another of our standard colourways.  Why is this important?  Two reasons:
First, it makes adding extra skeins for larger sizes super-easy.  There's no trying to match in an extra colour, no calculating extra stripe sizes.  Because both ends of the Linking Set are one of our regular colourways, you just grab an extra skein from our stock, knit a little further in the pattern, and that's it!  Here, let me show you… the first image below shows a Linking Set in Veracity, just on its own, on the left but if you need a six or seven skein set, the skeins on the right are  that same set of Veracity with an extra skein of Longing and Feather at each end.   And below that, the exact same thing with a set of Transcendence.  See how easy that is?
Second, it means two sets can link together for a real showstopper of a project.  Take for instance Veracity, which flows from the colourway Longing to Feather, and Transcendence, which goes from Feather to Frigia.  Put them together and the flow looks just stunning, and you've got an amazing gradient big enough for a truly epic project.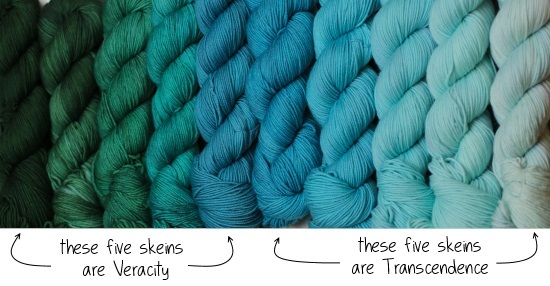 Or pair Veracity with Turpitude. Or Ardent.  And then Ardent flows into Perilous.  Or Debacle.  Which then goes into Infatuation.  You see how this works? So fun!
(Oh, and there's third reason too: when the colourways you start with are this rich and gorgeous, then the new colours they create as they blend into each other are just mouthwatering.  Honestly, I cannot get enough of these Linking Sets!)
What can you make with them?  There are tons of amazing designs.  Of course there's the Comfort Fade Cardi by Andrea Mowry, but try Santa Rose Plum by Carol Feller, the BlueSand Cardigan by La Maison Rililie, or Cross Country Skiing by Carol Sunday.  And if you've got something even better, I'd love to know!
There, you can see why we're so excited about these sets, right?  And now you know that thing that I thought was so obvious (they link together like puzzle pieces) and just how cool it really is.
And once you start linking them together…  it's kind of hard to stop.  Even when they're just lying in the studio on the packing table…!