Did you notice that no newsletter arrived last week?  I kept trying to sit down and write it but it turned out that the week had different plans for me…
A few months ago, a tree came down on the hill behind our studio and, while it was moved and made safe, what no one realised at the time is that the branches had actually reached down and pierced the waterproof seal of our roof.  After that, we did have rain and some snow but nothing seemed amiss in the studio.  But then about two weeks ago, a series of huge storms brought Pittsburgh some incredible, torrential rains and…  the holes in the roof suddenly made themselves known and the studio began to act like a giant sponge!
Here's how the studio ceiling looked when we walked in.  What you can't see from the photos is just soft the ceiling and walls were.  If you pressed your fingers against them, they actually sank a little into the drywall.  Yeeeeeahhhhh….   that's not good.  We all backed up slowly.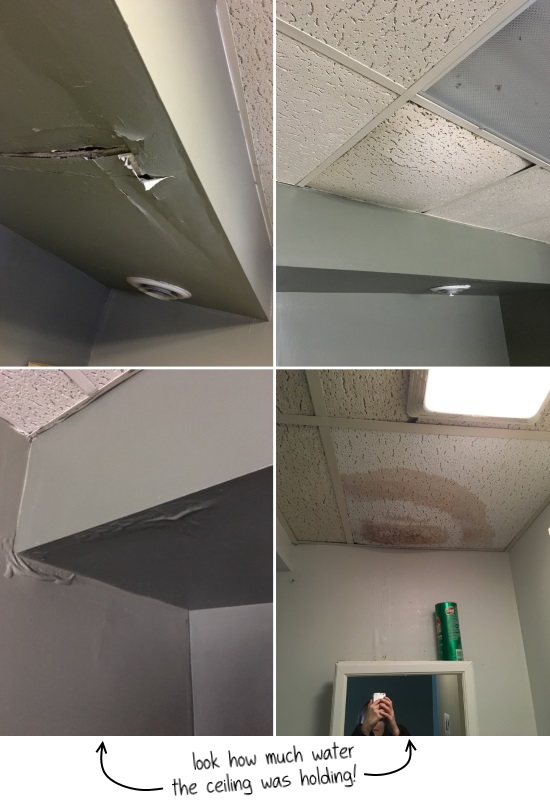 Fortunately, we have a great landlord whose first concern was keeping us safe, and quickly got to work putting the roof  right.  Now that that is all done (yay for no more leaks!), there will be a contractor coming in to replace the ceiling panels, remove the damaged drywall and carpeting, look for mold, and then replace it all again with better (moisture resistant) materials.  I'm excited to get the studio back in shape again!
The contractor says that the work will take a week and we should be able to keep using the studio during that time (but you and I both know that things rarely go that smoothly!).  We are working hard right now to get as much dyed as possible before the repair work begins and then I'm hoping to be able to leave the contractors to do their work in peace.  This might be mean some delays to club parcels in the coming weeks and, if it does, I will let you know.  But if you would kindly keep your fingers crossed for us, we're going to knock as much of that dyeing out as fast as we can before the studio gets pulled apart!
Ok, enough about our adventures in studio spongedom(!), it's time to dive into all the fun fiber news in this week's newsletter.  Grab your cup of tea or coffee, find a comfortable stop, and let's go…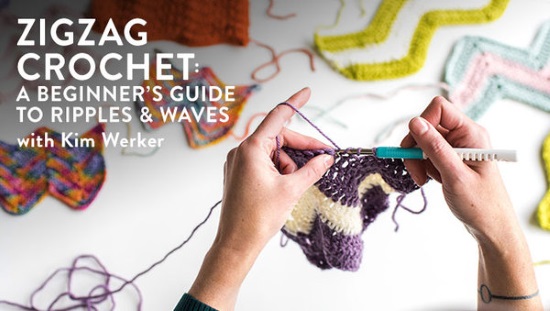 Crochet can be daunting if you think of yourself primarily as a knitter but, really, it's like riding a bike — not in that you never forget but in that there's a moment when it clicks and then it's awesome and fast and so much fun!  If you'd like to improve your crochet skills with a great instructor to cheer you on, check out Kim Werker's new class, Zigzag Crochet: A Beginner's Guide to Ripples & Waves.  And click here to find out how you can win one of three free spaces in the class!
If you use Pinterest for knitting and crochet inspiration, they came out with a bunch of cool new features that let you reorder your pins how you like, organise your boards alphabetically, and archive old ones.  Click here to see all the new stuff you can do.  (And hey, while you're at it, click here to follow me on Pinterest and get lots and lots of awesome pattern inspiration!)
Did you see this?!? Last week on the Late Show with Stephen Colbert, "Jessica Jones" star Krysten Ritter brought needles and yarn on to the show and taught Stephen to knit — on air!  Well, she tried anyway.  He went into the stitch the wrong way, wrapped his yarn around backwards, and didn't successfully complete one stitch, but it was seriously cool and highly entertaining nonetheless.  I was both cheering and chuckling at the same time!
My sewing skills are poor at best but I have a much-loved pair of jeans that really really want me to read this and this in great detail and repair them with all the skill demonstrated.  Seriously, I don't think I've ever seen such invisible mending!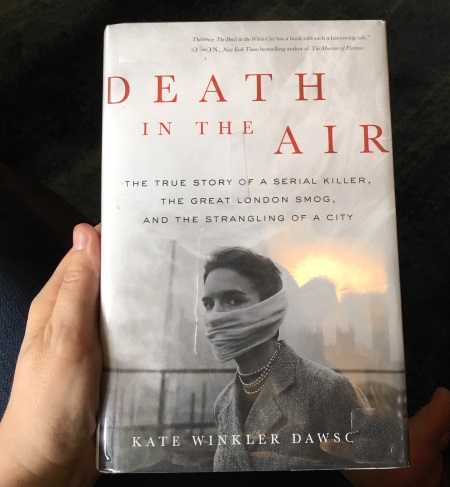 Non-fiber arts, but still:  I just finished reading Death in the Air, by Kate Winkler Dawson.  While the writing didn't blow me away, the subject matter was fascinating — and did me no good whatsoever (I'm prone to nightmares: click here to read exactly how it did me in).  Next up I'm taking a break from the macabre and reading Internal Time : Chronotypes, Social Jet Lag, and Why You're So Tired by Till Roenneberg, and 168 Hours: You Have More Time Than You Think by Laura Vanderkam.  Serious question: I've never really found a satisfactory way to hold my pages open so I can knit while I read.  What do you do?

The Yarn Alliance Opens on March 15!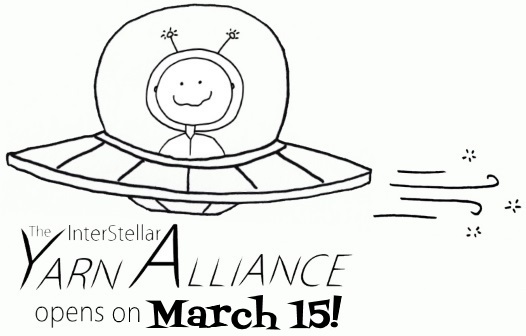 Being part of the Yarn Alliance club is all about coming on a colour exploration — in gorgeous yarns dyed in exclusive colourways (that you can't get enough of!), and shared with a wonderful community of fellow club members who are all part of the adventure too.  Plus we create beautiful coordinating skeins to double the fun.  And each parcel contains a wonderful club gifts created exclusively for the club by our community of amazing handmakers.  Oh, and a 15% coupon!

The Yarn Alliance is available for subscriptions only twice a year, and we always give early access to folks on the club mailing list. There's not much time, so click here and make sure you're on it.  You'll get an email a few days before subscriptions go live so you can nab yours before anyone else!
In the meantime, please feel free to drool a little over some past yarns..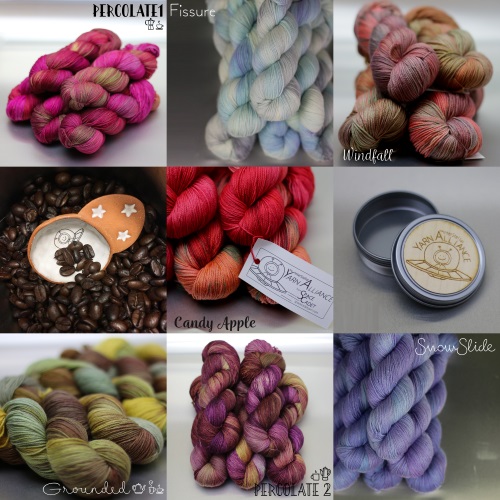 Upcoming Shows
HomeSpun Yarn Party
Sunday, March 18
Historic Savage Mill
8600 Foundry Street, Savage, MD 20763
Just off I-95, plenty of parking!
Admission is FREE!
Indie Knit & Spin
Saturday, March 24
NEW COOL LOCATION: Ace Hotel
120 S Whitfield St, Pittsburgh, PA 5206
Admission is FREE!
Pittsburgh Creative Arts Festival
Fri-Sun, April 6-8
David L Lawrence Convention Center
Downtown Pittsburgh PA
Featuring books by double-knitting master Alasdair Post-Quinn!
(Live in the Pgh area? Watch your inbox for a special discount on a class with Alasdair!)

Illusion, Squared Cowl by Marianne McKinnon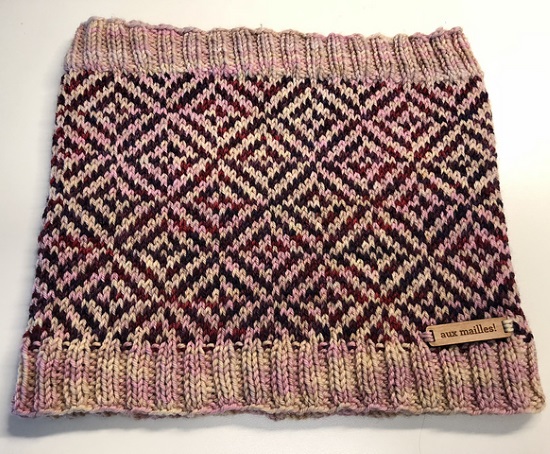 Here's what caught my eye about this cowl… First, it's so eye-catchingly graphic. Second, it's the kind of stranded colourwork that I like best: simple, easy to memorise, and with delightfully short floats.  And third (and most important), if you look closely, the sample is knit in two variegateds, which sounds counter intuitive but they work so well together.   A great option when you're looking for a pattern for a wildly-variegated yarn from your stash: find a contrasting gently-variegated yarn and cast on a swatch.  You might be surprised how well they work together!
Sidereal by Hunter Hammersen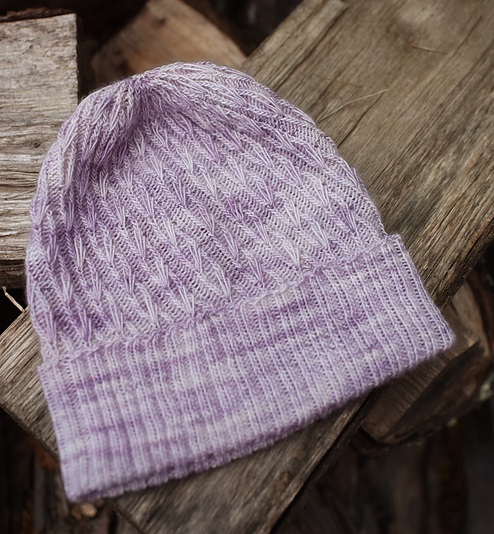 Its the stitchwork I noticed first about this hat…  intriguing, innovative, and so delicately beautiful.  And then I loved the sweet way it spirals to the left and creates movement across the body and, of course, a perfectly formed crown.  But the thing I love most about this hat?  The name!  Sidereal (adj) – of or relating to distant stars or constellations.  I mean really, how could I not?
12 Pains Scarf by Corrine Walcher
I love this scarf (and hat and mitts) for busting right through your Mini-Skein collection!  Here, it's a riot of colour, so imitate it with your Multicolour minis but imagine it in our Ombre & Gradient minis, either with a semi-solid as the coordinating colour or even with a second set of contrasting minis flowing through in the opposite direction.
all images © the respective designers and used with permission

Just want to share this quickly: over on Ravelry, Samantha is in search of a few yards of Lucina in the colour Breathless to finish a project, and Michelle is hoping someone has a spare skein of the Yarn Alliance colourway Grounded so she can increase the width of her scarf.  If you have either of these in your stash and could help them out, please hop over to the ISO thread on Ravelry and help them out.
Ok, it's time I got myself down to the studio.  There's lots of dyeing on the schedule for today  and I'm working on two new colourways that I'm super excited about, so I'm ready get started.  I hope you have an exciting day planned as well and, until next time, all my best!