Here's something you might not know unless you've done a lot of dyeing: when the weather does crazy things the way it did this week in Pittsburgh, it completely changes the way our yarns take our dyes.  In the last seven days, we've had below freezing temperatures and some beautiful snow, then a thunderstorm and torrential rain, a wee bit of flooding, and finally two days in the 70s and summer-like humidity!
And how does that impact our dyeing?  Two ways: first, all the snowmelt and rain changes the chemical composition of our water, and the rapid change of temperature affects the speed with which the dye adheres to the yarn.  The result is that even our most reliable recipes can come out all wrong — and that makes for some pretty ridiculous results and some pretty frustrating dyeing sessions.
But it also makes for some amazing and unexpected colour combos!  Whenever this happens — whenever the weather goes crazy and seems bound and determined to drive us nuts — there's always something that comes out of the dyepots that takes our breath away.  Then I try to replicate it later when the weather has calmed down and sometimes I'm lucky, but often I'm not.
I can't change the weather.  And it's no good getting frustrated.  So I think perhaps the key is to step back and relax, accept the weather, accept the results, and just embrace whatever beauty the dyepots decide to create.  …And maybe to not try to dye really specific colourways when the weather is not cooperating!
Regardless of the temperatures, there's always good fiber news to share.  So grab a cup of tea or your coffee, and let's dive in!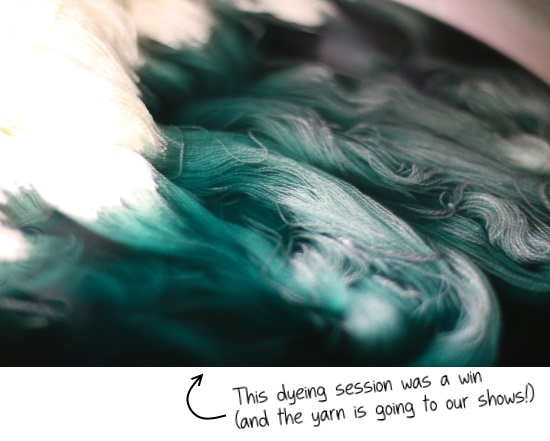 Some days you win and some days you…  fail.  This week I had a studio day in which all my creativity left me and everything I tried seemed to come out wrong (see below).  So when I spotted this article on 6 Ways To Get Your Brain In Create Mode, I knew I ought to share it.  Number 4 (embracing boredom and single-tasking) is especially clever!
(Speaking of failing, sometimes I miss the FailWhale.  It made me smile even as  tech let us down.  Do you miss it too?)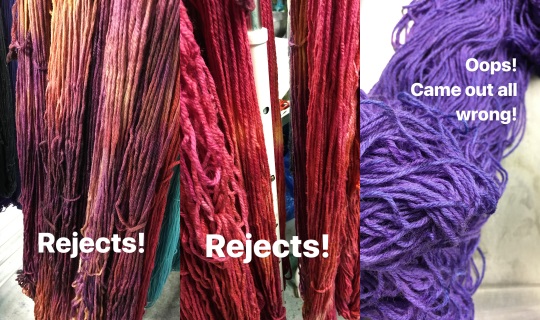 You may have seen tutorials for making pom-poms or made a few of your own.  But I've heard that the very best pom-poms are from Germany, grown on trees in the world-famous Hanover pom-pom orchards.
Remember last week when I told you that I'd just learned that Claire Danes knits on set?  A reader got in touch to let me know that Amanda Seyfried knits too.  But my question is, does she weave in her ends?!?  (…which I say with no judgement, as I am currently using this pretty tea cosy which was knit in November with the two ends just wrapped around the handle instead of woven in.  Ahem!)
There is a yarn emoji coming to an iPhone near you in late 2018!  Along with a whole bunch of others (which you'll use a lot less often than yarn, right?).  Click here to see them all, but skip forward to 1:41 if all you care about is yarn.
Even though the idea of male knitters is nothing new, I enjoyed this article nonetheless (although really…  "the new yoga" again?).  I know a ton of male knitters and crocheters, and I'm all for increasing their numbers!  Speaking of male knitters, have you heard of the Knitting Monk?  I really enjoy his Instagram posts (cables galore!).

There's a Giveaway in the Works!
A couple of weeks ago, I mentioned on Instagram that we had one extra Sweater Set in our Limited Edition colourway (the topmost set in the photo below) that hadn't gone into the shop updated, and mused that perhaps I should do a giveaway with it.  The response was overwhelmingly positive, so that's what I'm going do!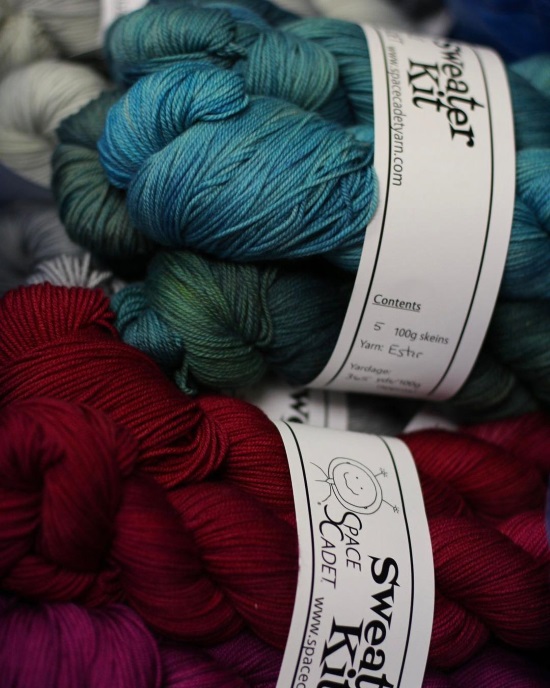 I'll be announcing the giveaway early next week so, if you'd like to enter, make sure you're keeping an eye on my Instagram posts to get yourself entered!
The Yarn Alliance Opens on March 15!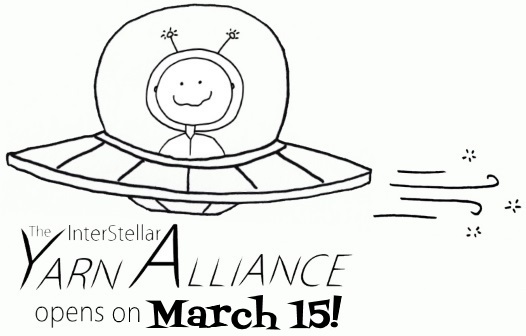 Being part of the Yarn Alliance club is all about coming on a colour exploration — in gorgeous yarns dyed in exclusive colourways (that you can't get enough of!), and shared with a wonderful community of fellow club members who are all part of the adventure too.  Plus we create beautiful coordinating skeins to double the fun.  And each parcel contains a wonderful club gifts created exclusively for the club by our community of amazing handmakers.  Oh, and a 15% coupon!

The Yarn Alliance is available for subscriptions only twice a year, and we always give early access to folks on the club mailing list. There's not much time, so click here and make sure you're on it.  You'll get an email a few days before subscriptions go live so you can nab yours before anyone else!
In the meantime, please feel free to drool a little over some past yarns..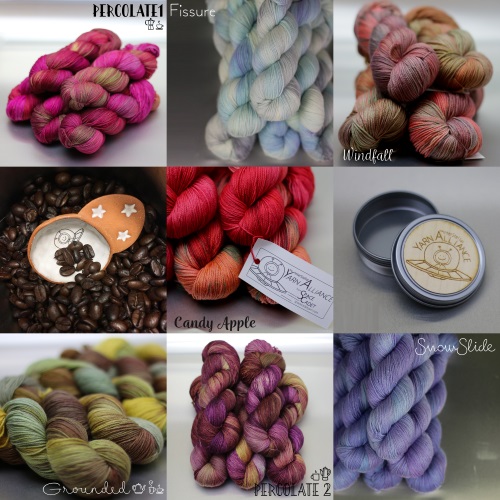 Upcoming Shows
HomeSpun Yarn Party
Sunday, March 18
Historic Savage Mill 8600 Foundry Street, Savage, MD 20763 Just off I-95, plenty of parking!
Admission is FREE!
Indie Knit & Spin
Saturday, March 24
NEW COOL LOCATION: Ace Hotel, 120 S Whitfield St, Pittsburgh, PA 15206
Admission is FREE!

Pittsburgh Creative Arts Festival
Fri-Sun, April 6-8
David L Lawrence Convention Center, Downtown Pittsburgh PA
Featuring book signings by double-knitting master Alasdair Post-Quinn!

Grid Toque by Jenise Hope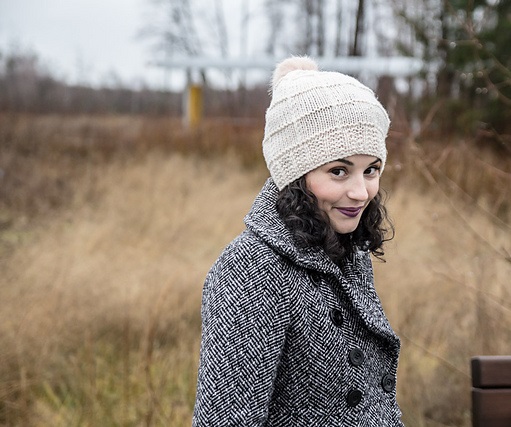 Did your mother always tell you that you lose most of your heat out of your head?  Y'know, I never believed it but, if you live in an area where winter is doing its worst, I'm loving this gorgeous, simple toque from Jenise Hope.  It might be the pom-pom (strictly for the extra insulation, of course) or it might be the simplicity of the grid stitchwork.  Either way, a super-quick, super-cute knit.
Così Fan Tutte by Valentina Cosciani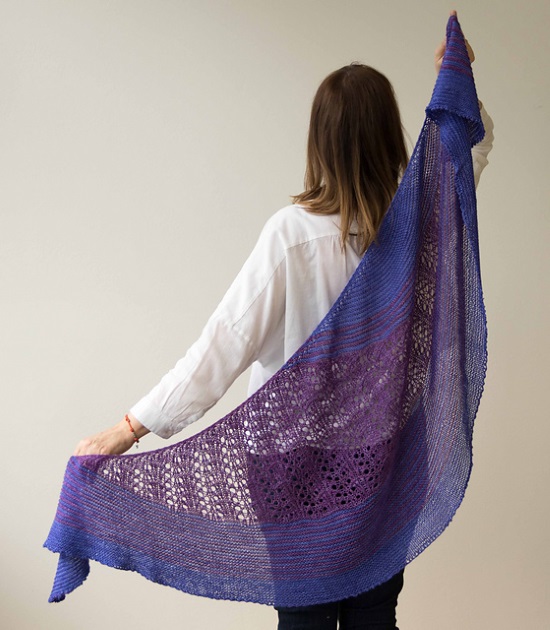 Valentina Cosciani's Così Fan Tutte shawl didn't catch my eye just because I love opera (really, it didn't) — it jumped out at me because it's a wonderful design for combining yarns.  Look closely and you'll see it's actually worked in two yarns to create a subtle colourplay and draw distinction to the changes in stitchwork.   If you live in a place where winter is warm, try it in SpaceCadet Celeste and Maia, two different fingering yarns that work beautifully together and create gorgeously contrasting textures (click here to see what I mean)
all images © the respective designers and used with permission
Ok, today is forecast to be in the 40s — not too hot and not too cold! — and pretty steady all day, so I'm going to head down to the studio and see what I can conjure up.  I hope your weather is just as steady and your day just as colourful!  And until next time, all my best.