Even though I rarely get to meet them (you!), I always feel an intrinsic connection with the knitters and crocheters who use our yarn.  I absolutely love the creative process of standing in front of the dyepots and bringing some abstract colour-idea come to life but, to me, the story of the yarn never seems complete until I get to see the project that it eventually becomes.  Because there lies the continuation of my work as it flows into our customers's projects, our creativity merged with yours.  When I hear from our customers and can close that circle, it's such a satisfying feeling.
And I mention this because the past week has been just wonderful in that way.   This week, I received some emails that have just made my heart so happy: I've heard from members of the Yarn Alliance renewing  their subscriptions and customers who are coming to see us at our shows, and the things they've said have been absolutely lovely to read…
"Can't wait to see you and your crew… Selecting which of my fabulous SpaceCadet yarn garments to wear is my biggest challenge"
"I can't tell you how much your weekly newsletter brightens up my life… Do know that you have a number of fans out here."
"Woohoo! I'm SO happy to sign up for another year! Thanks to you all!!"
"I love the yarn I've received. I often interrupt a project to start a new one with SC yarn!"
So first, I wanted to thank everyone who has taken the time to write in and say hi — it completely changes the way the workday feels!  And I want to pre-thank (is that a thing?) everyone who will be coming to see us at our shows — can't wait to see you.  And I especially want to thank everyone who is part of our clubs, because dyeing for you guys is the most fun (and interactive) of all.  Standing at the dyepots is a pretty great way to spend your days, I'll admit, but when it's because you're dyeing for customers who feel like friends, it's downright fantastic.
Please stay in touch, won't you? By email, Facebook, our Rav group, and (best of all for photos) Instagram.  And of course, another way we stay in touch is through these newsletters — I love getting the chance to share all the great fiber news I've come across with you!  So grab a cup of tea or coffee (after the clock-change this week, mine is definitely coffee) and let's dive in.

This week, I'm changing it up and starting with SpaceCadet news because there's exciting stuff!  The InterStellar Yarn Alliance opens to new subscriberss today!  This is our premiere yarn club, all in fingering yarn and all about bold adventures in colour.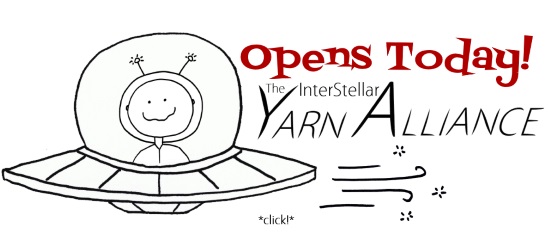 Because exploring great new colourways is tons of fun… and even better when you do it with friends!  The InterStellar Yarn Alliance is your a chance to dive into amazing exclusive SpaceCadet colourways and share it with a fabulous community of folks who are just as excited as you are! 

(Ooh, two other quick things about the Yarn Alliance.  First, lots of folks have asked if they can use a credit card instead of PayPal and the answer is… yes, I've been able to make that change! Woot!  And the other great thing is that, because of the wonderful success of this club, I've actually been able to lower the price a little — not by much, but a bit and I'm delighted to be able to pass that savings on to you.  Because, honestly, that just feels right)
So, doesn't the Yarn Alliance sound like fun?  (It is SO much fun!)  Click here and join in now!
Upcoming Shows
HomeSpun Yarn Party
THIS WEEKEND! Sunday, March 18
Historic Savage Mill
8600 Foundry Street, Savage, MD 20763
Just off I-95, plenty of parking!
Admission is FREE!
Indie Knit & Spin
Saturday, March 24
NEW COOL LOCATION: Ace Hotel
120 S Whitfield St, Pittsburgh, PA 5206
Admission is FREE!
Pittsburgh Creative Arts Festival
Fri-Sun, April 6-8
David L Lawrence Convention Center
Downtown Pittsburgh PA
Featuring books by double-knitting master Alasdair Post-Quinn!
(Live in the Pgh area? Watch your inbox for a special discount on a class with Alasdair!)


Next month sees the first annual Local Yarn Store Day, a chance for knitters and crocheters to show their support for the shops (and shopkeepers!) who foster and grow the love of fiber crafts in each local community, and a chance for those LYSs to celebrate the customers who make it all possible.  Here's a list of shops participating, or check with your LYS to see what they've got planned.  And then stop by your LYS on April 21 to have some fiber fun!
(And if your LYS doesn't carry SpaceCadet, I'd be so grateful if you'd recommend us to them!  As I always mention at the end of my newsletters, we've met some of our favourite shops because our customers asked them to carry our yarn. If you recommend us to your local yarn shop, please do email and tell meI'd love to get in touch with them to follow up!)
This made me laugh out loud: right there in the Guggenheim, right under everyone's noses, a toilet is yarn-bombed.  And not just decoratively, but in a way that makes a real artistic statement.  It's pretty awesome.
We all know that the field of machine learning is moving forward at an incredible pace, but it appears there are limits.  When a neural network was trained to create knitting patterns and they were then test knit by members of Ravelry, the results were perplexing, intriguing and hilarious!  Click here to read the rest (and, even better, see the swatches).

Winter Romance by Elise Dupont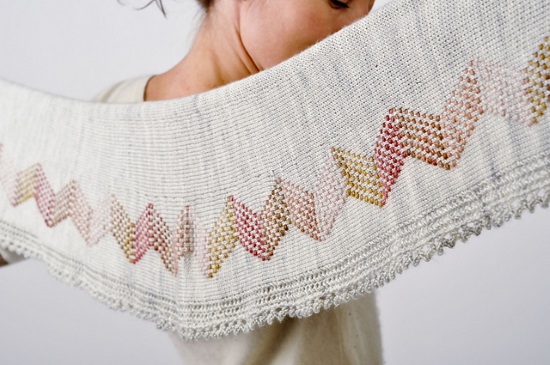 Sometimes pattern names leave you scratching your head and sometimes they are just perfect.  This beautiful shawl, with its oh-so-delicate edging and sweet, sweet embroidery-style colour (it's actually "woven" in while you knit) is absolutely the latter.  A perfect use for your Mini-Skein collection (choose the softest, sweetest shades) and a beautiful neutral such as Sliver, Drizzle, or Gentle, the result is a project as delicate as springtime.
Agamenticus Cowl by Beatrice Perron Dahlen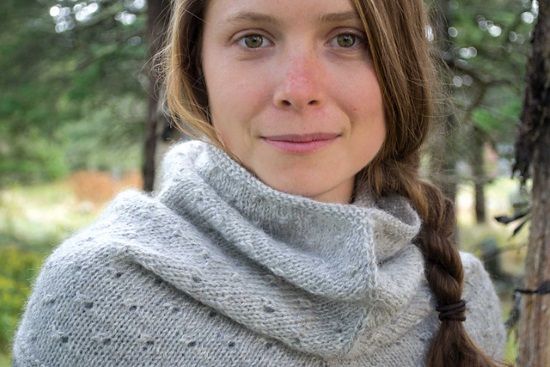 I don't know what it is about this shawlesque cowl, but I want to wrap myself up in it forever.  Is it the eyelets?  Maybe.  Or the way it falls over the shoulders so cosily?  Perhaps.  Or it might be the grey — always a perfect choice.  Work it up in SpaceCadet Sliver, Drizzle, or Dark Skies for that same sublime feel.
Cables are Cool by Barbara Benson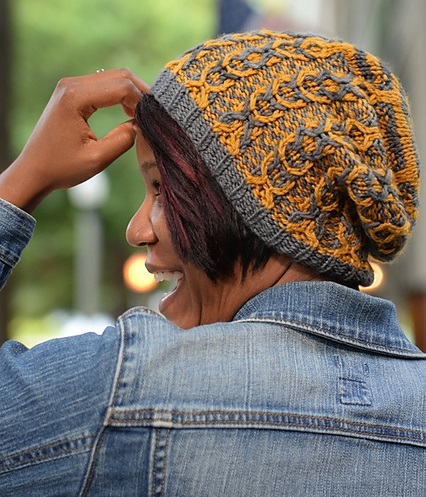 I have one assistant who adores cables and another who has recently fallen in love with colourwork.  …Might this be the perfect project for the two of them?  Even better, the colourwork in this pattern does not involve stranding yarn. Knitting stripes with strategically slipping stitches creates the illusion of two separate cables weaving in and out of each other.  Sound intriguing?  I think so too!
all images © the respective designers and used with permission
Aren't those great patterns?  Each one of them just jumped out at me this week and I had to share!  But now I've got to run — we've got a busy day of packing for Homespun Yarn Party this weekend (I'm always so worried I'll forget something important!) and then I've got some fun dyeing to do this afternoon.  I hope your day is just as exciting (but without the worry about forgetting things) and, until next time, all my best!