Oh my stars, are you having as crazy a week as I am?!?  Not only are we right in the middle of three back-to-(almost)-back shows (so fun but also, so hectic!), but we're also dyeing like mad before the contractors come in next week to rip out and replace our water-soaked ceiling and dry walls in the studio.  And then, just for fun, winter made a remarkable return (on the first day of Spring, no less!) and dumped 7″ of snow on us yesterday!
(I'll be honest with you — even though the snowstorm did a number on everyone's schedules, I absolutely loved being in a snow-globe world again.  The flurries were swirling around and around in circles as I looked out the window and, in the morning, I realised that the accumulated snow actually mimicked the spirals of a candy-cane.  Here, take a look at what I posted on my IG story yesterday…)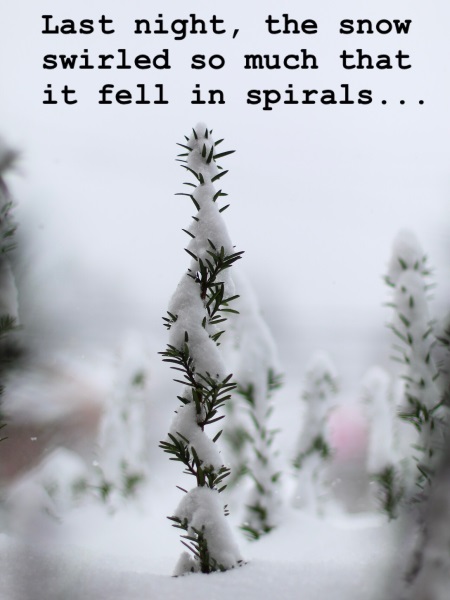 (how cool is that?!?)
Ok, it's time to get to this week's fiber news but, before we do, I just want to share something that means so much to me…  The InterStellar Yarn Alliance opened last week and we've had a bunch of new members join (so awesome, so glad to have you aboard!).  But here's what really got to me:  we've also had a whole bunch of our existing members renew and looking down their names, I suddenly realised, most of them had renewed for the full twelve months!  Whoa!  Do you know what that means?  It tells me that we are doing something right, and they are really enjoying being part of the club!  And, seriously, that means the world to me.  Thank you all for being on this colour adventure with us!
Ok, ready for your weekly fiber update?  Snow or not, grab a nice hot cuppa and here we go!

Whether you knit, crochet, or spin, this quick post called "Why Plying with a Center Pull Ball Doesn't Work for Me" is well worth reading.  I'll be honest, I've never been able to work from the center of a cake (it always falls into a big tangled mess on me!) and I've felt like that somehow made me less skilled.  But reading this gives me a legit reason to work from the outside. Awesome!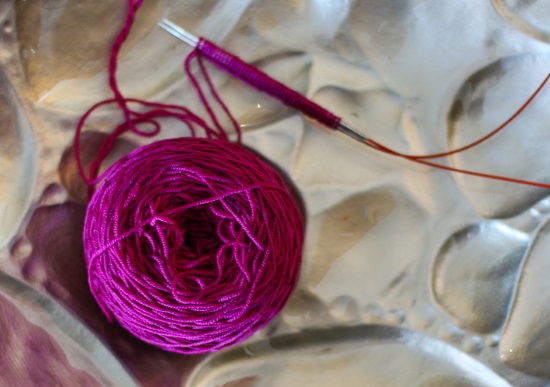 (that's Lyra in Troublemaker)
Pom-poms are so popular right now, but multicolour pom-poms that mimic spring flowers?  Yep, I'm on board for that.  This easy tutorial gives you a wrap-by-wrap recipe to make yours come out perfect!
You know those little silica packs that come in new shoes and handbags?  I've always thrown them out but, after I read this article with a ton of ideas for reusing them, I changed that old habit.  The one idea they didn't come up with is using silica packets to help keep yarn and finished objects moisture free in humid climates.  I think I'll be throwing a few in amongst my stash once the summer temperatures hit!
Photographic knitting tutorials are all well and good but I do love a well drawn illustration so I can see things really clearly.  This article on different types of increases is a perfect example — it's so easy to tell what the stitches are doing.  I've book marked it for future reference.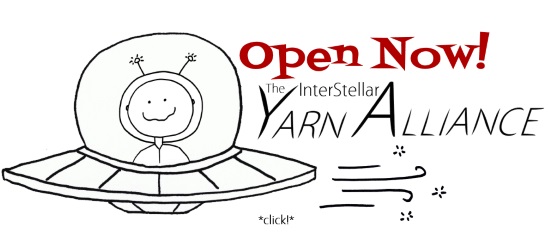 The InterStellar Yarn Alliance is open to new subscribers right now!  This is our premiere yarn club, all in fingering yarn and all about bold adventures in colour.
Because exploring great new colourways is tons of fun… and even better when you do it with friends!  The InterStellar Yarn Alliance is your a chance to dive into amazing exclusive SpaceCadet colourways and share it with a fabulous community of folks who are just as excited as you are! 

(Ooh, two other quick things about the Yarn Alliance.  First, lots of folks have asked if they can use a credit card instead of PayPal and the answer is… yes, I've been able to make that change! Woot!  And the other great thing is that, because of the wonderful success of this club, I've actually been able to lower the price a little — not by much, but a bit and I'm delighted to be able to pass that savings on to you.  Because, honestly, that just feels right)
So, doesn't the Yarn Alliance sound like fun?  (It is SO much fun!)  Click here and join in now!
Upcoming Shows
Indie Knit & Spin
Saturday, March 24
NEW COOL LOCATION: Ace Hotel
120 S Whitfield St, Pittsburgh, PA 5206
Admission is FREE!
Pittsburgh Creative Arts Festival
Fri-Sun, April 6-8
David L Lawrence Convention Center
Downtown Pittsburgh PA
Featuring books by double-knitting master Alasdair Post-Quinn!
(Live in the Pgh area? Check your inbox for a special discount on a class with Alasdair!)

When the weather is as crazy as it's been lately — from early Spring's chill to Winter's cold and back again — a cowl is suddenly my best friend.  Here are three I'd love to wear this week…
Consilience by Hunter Hammersen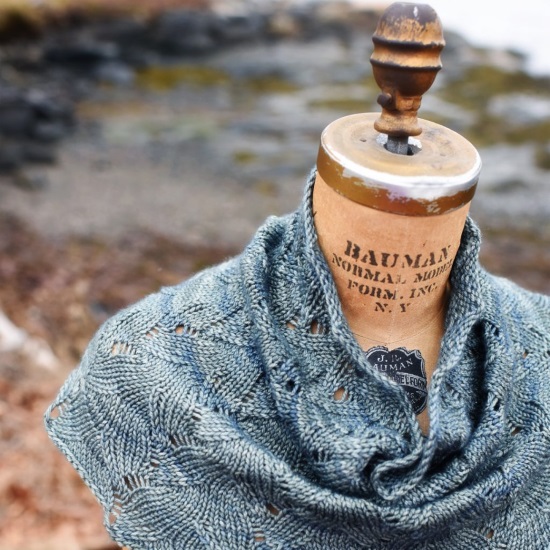 Hunter Hammersen's intricate and subtle stitchwork makes for a cowl that is perfect for spring.  And the shaping creates piece that softly hugs your shoulders as well as draping around your neck.  And what's more, to celebrate her (excellent) blog's ninth birthday, you can download this pattern for free when you join her mailing list!
Trelliswork by handmade by SMINÉ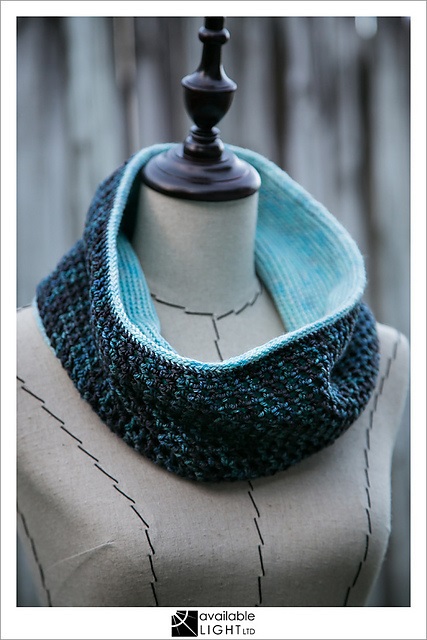 This beautiful crocheted cowl caught my eye for two reasons.  First, I love what the the openwork trellis stitches do with a variegated yarn, moving the hues around and creating stunning colour-texture.  And second, it's got that amazing contrast colour lining, meaning its doubly warm and can be worn two ways.  Wonderful!
vesica piscis cowl by Jenny F
And if the ground where you are is still as snowy as it is here, this might be the perfect cowl for you.  Stranded colourwork makes it extra warm and a modern motif brings it right up the minute.  Just the thing to help you hold out until Winter finally (finally…) loosens its grip!
all image © the respective designers and used with permission
Oh, one quick thing before I go — we had a ton of folks come up and introduce themselves at Homespun Yarn Party last week and it was just lovely!  To all of you who did, thank you so much — it was so nice to see you!
Ok, that's it for this week.  We are dyeing yarn for one of our favourite yarn shops today and then packing for Indie Knit & Spin this weekend, so I'd better get going.  I hope Spring is in the air for you at least a little (and maybe for us here in Pittsburgh too!) and, until next time, all my best!