You remember a couple of weeks ago when I showed you photos of our studio ceiling doing some very scary things after the rain made its way through the roof?  Well, this week, it's all getting fixed!  The contractors are in, ripping out the ceiling and the walls and the studio looks… well, it looks like nothing I've seen before!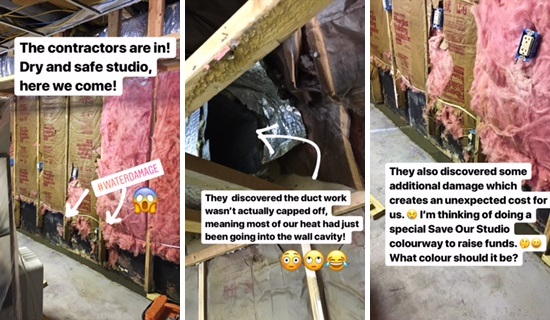 The good news is they're replacing everything with new, mildew-resistant materials that are going to make the studio even better than it was before.  The interesting news is that they discovered a whole bunch of weird things about the studio that I'm really glad they're going to fix (including the fact that our HVAC duct work actually didn't have an end cap and so the furnace has been just pumping most of our heat out into the ceiling and wall cavities!).  And the bad news is that some of this weird stuff means we've run into some additional expense. *sigh*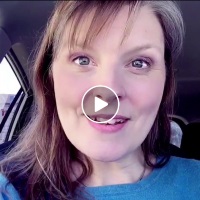 Unexpected costs are never nice so I was trying to think of a way to bring some good out of this bad — perhaps by creating a beautiful new colourway to inspired by the studio damage and repair, that could raise the funds to cover this extra expense!  What do you think?  I talked about it this week in a video on my Instagram Story and on Facebook — if you haven't see it, click here to check it out.  And then please do jump into the conversation and help me decide what colours to dye! After seeing the studio all ripped apart like that, I'm really looking forward to getting it back up and running, and getting some yarn in the dyepots to create this new colourway.
(Oh, and lots of folks got in touch to ask how they could help — thank you so much, that's just lovely of you!  Honestly, the best way to help is by buying yarn or joining the Mini-Skein Club or the Yarn Alliance  — so we raise the funds by earning them and by sending you wonderful yarn)
But before anything else, it's time to do what you and I do every week: grab a nice hot cuppa and relax with a bit of fibery goodness.  So get curled up in a comfortable spot and let's dive in!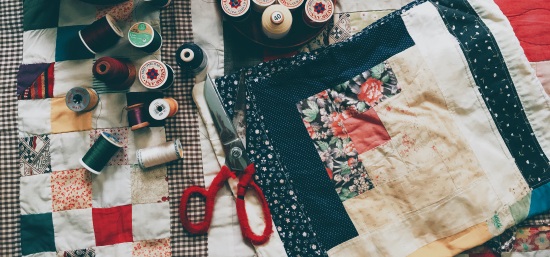 I thought this was really interesting: Heather at Closet Case Files spots a runway trend for quilting and patchwork motifs during the fashion week shows and speculates that we'll be seeing the same inspiration hitting ready-to-wear in the coming year.  And so I'm wondering how that will translate into knit design…  will we see more patterns for modular knitting? (I hope so — I do love me some mitred squares!)
Quick: what's the difference between "pick up 5 stitches" and "pick up and knit 5 stitches"?  If you don't know the answer immediately, this excellent and exhaustive tutorial from the wonderful Kate Atherley is exactly what you need to feel completely confident the next time your pattern calls for either one.
I came across this video of a highly incompetent sheepdog getting schooled by a flock of sheep the other day and it had me in stitches (ok, it's not actually a sheepdog, but still).
There are so many patterns these days that move through colour changes knit in the round and I love this tutorial on how to use Helical Stripes to blend two skeins without a join at the change.
The latest issue of 6 Bit Storybooks, Remain, is out (I highlight a beautiful pattern from it below) aaaaand… it contains an article I wrote about the way crocheting a blanket for my sister's new baby connected me to my own grandmother.  It was a joy to write — I hope you enjoy reading it.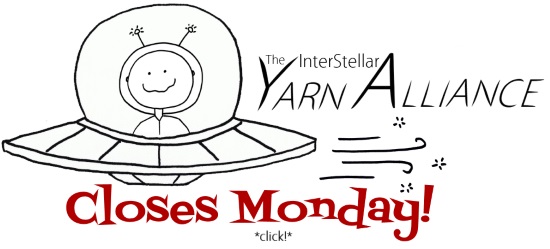 It's been awesome welcoming so many new and renewing members to the Yarn Alliance, and I am so looking forward to the upcoming season!  If you've been meaning to join in the fun, this weekend is your last chance to grab a spot.
So first let me share with you a quick look at the yarn from the last parcel of the current season (just to whet your appetite…  *wink*) and then click the flying saucer to learn more and join in…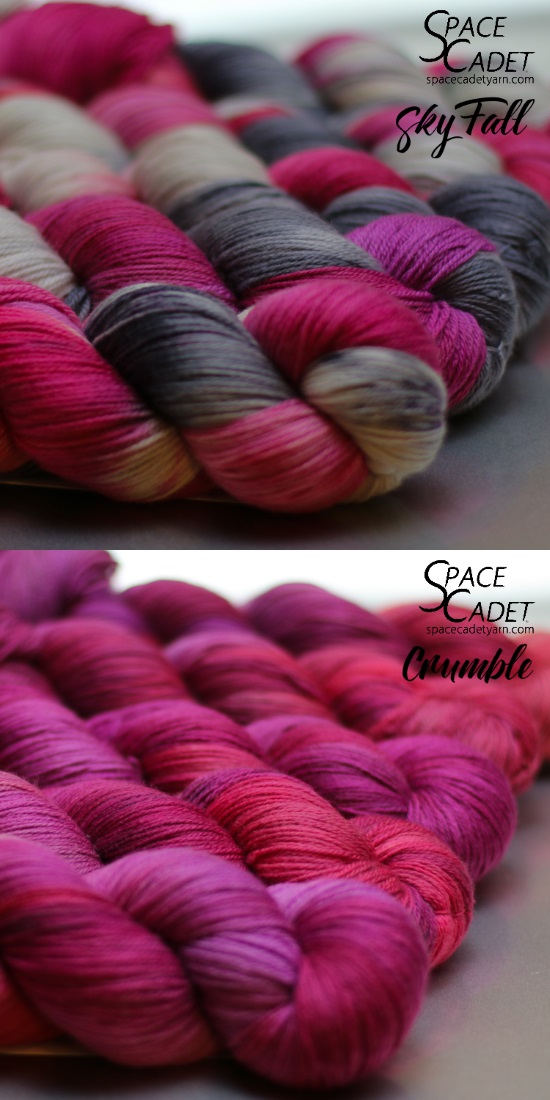 The InterStellar Yarn Alliance is our premiere yarn club, all in fingering yarn and all about bold adventures in colour.  Exploring great new colourways is tons of fun… and even better when you do it with friends! The InterStellar Yarn Alliance is your a chance to dive into amazing exclusive SpaceCadet colourways and share it with a fabulous community of folks who are just as excited as you are!
Upcoming
Pittsburgh Creative Arts Festival
Fri-Sun, April 6-8
David L Lawrence Convention Center
Downtown Pittsburgh PA
Featuring books by double-knitting master Alasdair Post-Quinn!

Dot Matrix by Corrine Walcher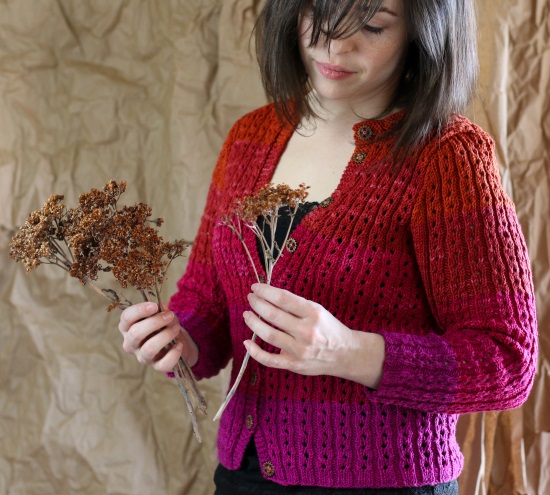 image: © Stephanie Alford
I am so excited about this design, I can hardly tell you.  When I sent one of our linking Sweater Sets to Corrine earlier this year, I had no idea what she would do with it: a sweater? a shawl? something crazy? something wild?  Instead, she chose to let the colour change speak for itself and picked a beautiful but intriguing overall eyelet pattern to create visual interest.  The result is simple but stunning, a cardigan to be worn time and again… and again… and again.
Two things you need to know about this pattern… First, she's discounted it by $1 off until 03/30, no code needed.  And second, because this is designed specifically for our linking sets, there's no worry if you need an additional skein to make a larger size: every linking set starts and finishes with one of our standard colourways so, even though the set works through a complicated colour progression, it's easy to add an extra skein or two to the set!
Dignity by Mel Ski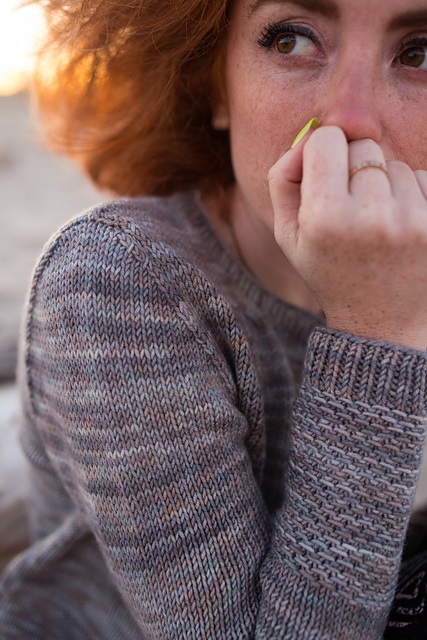 © 6Bits Storybooks, image used with permission
They say it's all in the details and this sweater raises the stakes from simple stockinette to something far more intriguing through a beautiful colour choice and amazing stitch details.  Designed in SpaceCadet Lyra in Nine Stones, the subtle colourplay is shown to full effect in the main body but it really comes into its own in the slipped stitches along the textured cuffs and hem.  Part of 6 Bits Storybooks latest issue, Remain, it's available as a standalone pattern but, when purchased as part of the ebook, it comes as part of a full magazine of filled patterns and wonderful articles.  Well worth reading!
Cooperish Cowl by Katy H. Carroll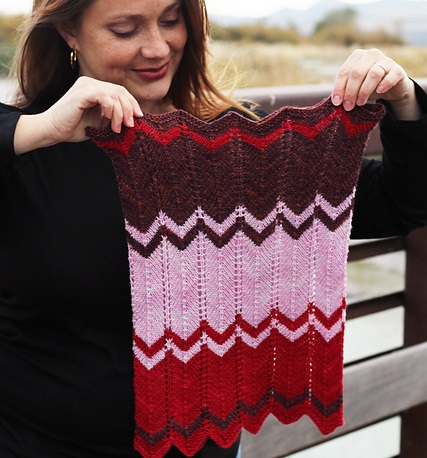 © Katy Carroll, used with permission
Chevrons always make me happy!  So do patterns that can be cast on and memorised quickly so I can just kick back and enjoy the knitting.  But most of all, patterns that are perfect for stash-busting SpaceCadet Mini-Skeins make me very very happy.  This charming cowl fits the bill perfectly and can be customized to any number of colour changes, hues, and striping combinations.  Click through and check out the different versions Katy created!
Ok, that's it.  I'm heading down to the studio shortly to check the progress.  And then, because I can't dye, I think I might sit down  and just enjoy the opportunity to knit for a while (…or I could finish my taxes…  hmmm… knit or taxes? knit or taxes…?).  I hope you get a chance to pull out your project bag and knit or crochet today.  And, until next time, all my best!