This week, we packed up the last parcel in the current season of the Yarn Alliance and, to be honest, it was bittersweet.  Why?  Well, maybe because this season is coming to an end or…  maaaaaybe because we all love the colourway so much. So much.  It's beautiful and, without giving anything away, it's exactly the favourite colours of a couple of members of the SpaceCadet crew…  who just may have threatened to sabotage packing day so that the parcels couldn't go out and they could keep all the skeins to themselves.  I'm not kidding.
(Don't worry — they got themselves under control and didn't sabotage it and all the parcels went out in the end.  Though it was close there for a minute!  And I can't wait for our current members to open their boxes and see this colourway because it is rich and layered and nuanced and gorgeous!!!)
Now, I can't share a photo of it here because it would spoil the surprise (but look for it on my Instagram feed over the weekend) so I'll share a few from our previous parcels instead.  And really, they're pretty darned nice too, don't you think?
The Yarn Alliance is open for subscriptions through this weekend only, so if you've been thinking about joining, this weekend is your last chance!  Click here or scroll down to the SpaceCadet News section for all the details.
Today looks like it's going to be a beautiful day and I'm not sure how many of these lovely mornings we'll have before the weather turns, so I'm heading out to the porch with my coffee to watch the world wake up.  In the meantime, I've got a bunch of fun fiber news to share with you so grab yourself a cuppa too and let's start this day right!

This just blew me away: fiber artist Andrea Hunter creates felt artwork out of wool that is simply breathtaking and I'm amazed by the effects.  Some of her pieces look like oil paintings, some like watercolours, some like chalks.  Check them out here.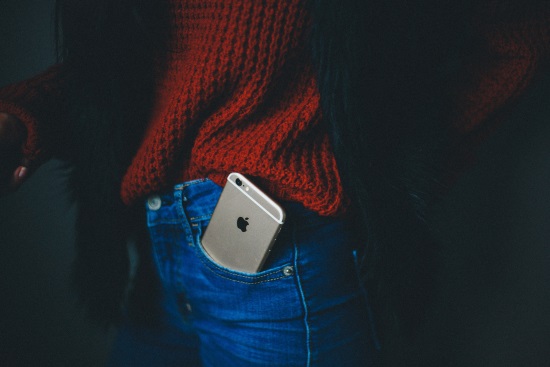 Photo by Mikaela Shannon
You've heard the battle cry for pocket-equality, right?  Clothing manufacturers have long refused to include pockets in women's clothing designs or, where they have added them, made them so small as to be nearly useless.  This (visually fascinating) article illustrates the problem perfectly and lends impartial evidence to something we all know to be infuriatingly true.  (Bonus: here's a cute "coatigan" pattern that features integrated pockets!)
I think knitters and crocheters can all relate to the need to keep our hands busy, right? When security stopped a woman  from bringing her knitting needles into the court room of the Paul Manafort trial, she turned to finger knitting instead.  "My hands always have to be busy. I hate to waste time, I have to be productive," she said.  I can relate! (But I have to admit, the way the article uses the terms "knitting", "crochet", and "sewing" interchangeably made the story a wee bit confusing for me)
After I linked to an article about yarn bombing, a reader named Lisa emailed to share her thoughts on the impact of yarn bombing on the natural environment and wildlife, and particularly on the impact of acrylic and synthetic yarn.  I found her points persuasive.  "How do I feel about yarn bombing? Although it is pretty to look at, I now view it as litter and a form of vandalism. Wildlife can easily become entangled… Acrylic yarns are much worse than natural fibers, but even wool with a high twist is dangerous."  And, she asked, what becomes of old yarn bombings? Who is responsible for maintaining them or  removing them when they become shabby?  Interesting questions — if you have thoughts on it too, I'd love to hear them!
Also interesting is the whole concept of synthetic fibers: acrylic, polyester, nylon, and the like.  Even though they are everywhere and we rarely give them a second thought, Lisa points out, "Polyester is plastic…   how long does [it] take to break down?"   Looking at the alternatives, I was fascinated by this article about new "biodegradable textiles grown from living organisms" such as bacteria, algae, yeast, and fungi.  And while these exciting new possibilities solve some practical problems, I have to admit I'm partial to one of the original (and best!) biodegradable textiles from a living organism: wool!

Our Upcoming Shows & Events
The Yarn Alliance Open Only Through Sunday!
Being part of the Yarn Alliance club is all about coming on a colour exploration — in gorgeous yarns dyed in exclusive colourways and shared with a wonderful community of fellow club members who are all part of the adventure too.  Plus we create beautiful coordinating skeins to double the fun.  And each parcel contains a wonderful club gifts created exclusively for the club by our community of amazing handmakers.  Oh, and a nifty 15% coupon!

So if you want to join our Yarn Alliance community, click here to get your spot.  I can't wait for you to come aboard!

Syncope Shawl by Veera Välimäki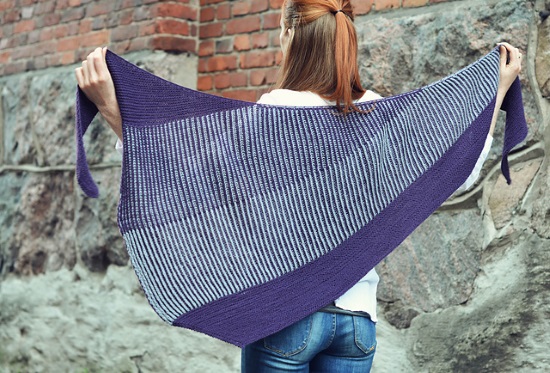 I don't know what it is about this shawl but I am just crazy about it!  It's so simple — just two colours — and yet so high impact.  Garter stitch blended with syncopated brioche creates and amazing contrast that is downright mesmerising.  I'd go for Gobsmack with Sliver, Frigia with Dark Skies, or for a really bold option, Fizz and Look Up!
Mindfulness by Elena Fedotova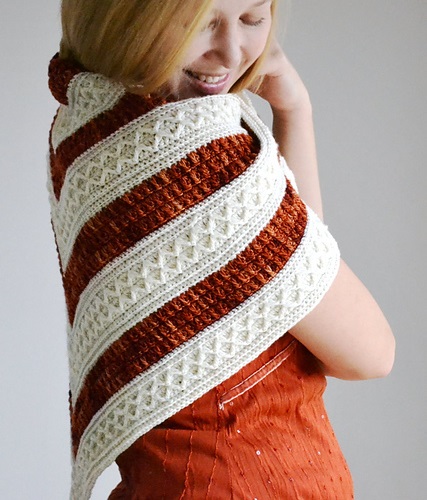 There are several key elements that can make a design instantly compelling and this one has two of the best: great texture and the chance to combine colours beautifully.  Designed in fingering weight, its thick stripes give plenty of space for the stitchwork to shine without being lost in the colour changes.    Here its shown with a strong colour contrast but I think I'd be inclined to try it in colours more closely related, such as Headstrong with Blood Moon, Breathless and Frigia, or Wilt and Thrive.
Dragonfly Bandana Cowl by Maria Bittner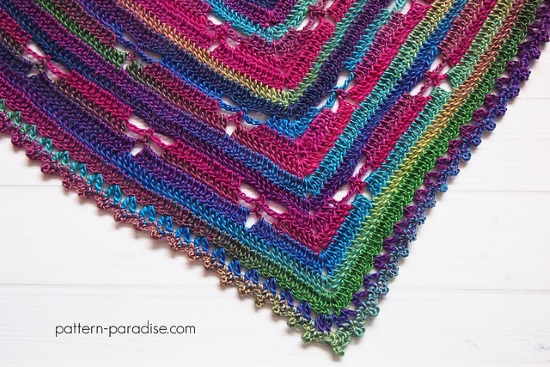 Every day this summer, I've watched dragonflies dancing in the sun spot right in front of my porch, as many as ten at a time, and so I couldn't resist the sweet dragonfly motif on this lovely crocheted cowl.  Designed in these bright and happy stripes, it looks just as adorable (maybe more so?) in a semi-solid.   I'd try it in Stroppy, Feather, or Thrive.
all images © the respective designers, used with permission
Alright, today I'm headed down to the studio to check out the yarn we've been dyeing for SVFF and our other upcoming shows, so I'd better finish up and get going.  I hope you've enjoyed starting your day with me and, until next time, all my best!