This past weekend, we vended at the Shenandoah Valley Fiber Festival (SVFF) in Berryville VA and it was awesome!!!  What a wonderful festival!  I'm being perfectly honest when I say that I have never worked a show with such a lovely atmosphere, such friendly and happy customers, and so many absolutely lovely fellow vendors.  The trees were shady, the weather was perfect, and the whole weekend was an absolute delight.  Thank you to everyone who told me to apply for SVFF — you were so right!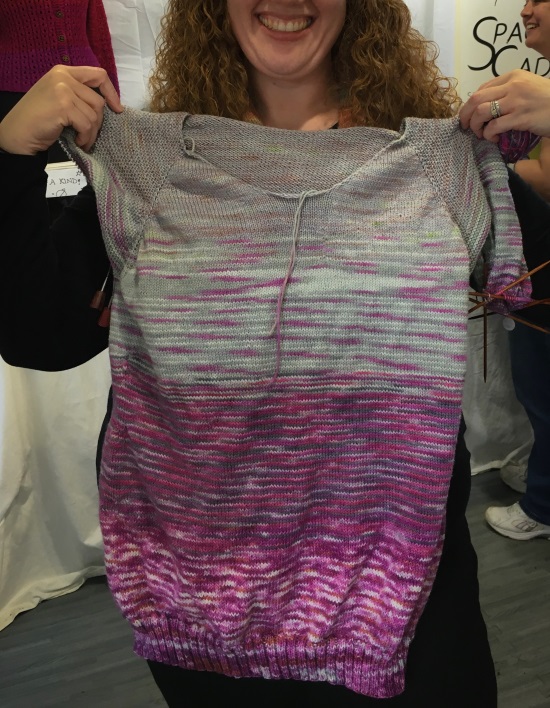 What made it especially fun was the number of customers and newsletter readers who came out to see us.  I loved chatting with you all and seeing your projects!  And I especially want to share this project: Jaimie brought her WIP to show off how she's combined four past Yarn Alliance colourways to create this beautiful So Faded.  I think she did an amazing job!  And the coolest thing about it?  The four skeins she used in it are not only all completely unrelated (that is, they're from different years and months and weren't purposed designed to fade) but they're also four different SpaceCadet yarn bases — and yet they work together perfectly!  From top to bottom, they're Winter Fade Spring Rise (Aurora, Mar 2015), Sugar Plums (Oriana, Nov 2017), Skyfall (Celeste, Mar 2018) and Burst (Ester, May 2017).
Proof positive you should never ever be afraid to mix your yarns.  Something magical could happen!

As much as I love colourwork, I rarely talk about intarsia because it just doesn't seem so popular these days (unlike the 80s, right?).  And I think that's because, these days, folks don't like the idea of working with a bunch of balls or bobbins attached to their work (for the record, my first attempt at intarsia was a baby sweater in a geometric stitch pattern I designed myself and which had no fewer than eighteen bobbins at once!).  But Heidi at Hands Occupied makes the case for not managing your intarsia ends at all and, instead, letting them hang free.  Scroll to the second video here to see what she means, though I'm not sure her "pull through" method would have worked so well with a tangle of eighteen ends!
If you're ready to start thinking about Halloween (and every store I've been in for the last three weeks thinks we should be!), you might get a kick out of this spider web poncho.  It's kind of awesome.  (And, with a bit of tulle underneath, I think it'd make a seriously cool circle skirt, don't you?)
I've been a big fan of Woolly Wormhead's designs for a long time and was lucky enough to chat with her at TNNA a few years back, so I was excited to read that she is coming to Rhinebeck this year and will be stopping in at Indie Untangled, where we will be vending.  If you're also a fan and will be at Rhinebeck, she's arranging a meet up that you won't want to miss.  Click here for the details (and check out the new hat she's designing for the weekend too!)
In the category of Things I Shouldn't Laugh At (but ohhhh I did!): a sheep got itself stuck in a tire swing and the result is exactly as hysterical as you'd expect.

Our Upcoming Shows & Events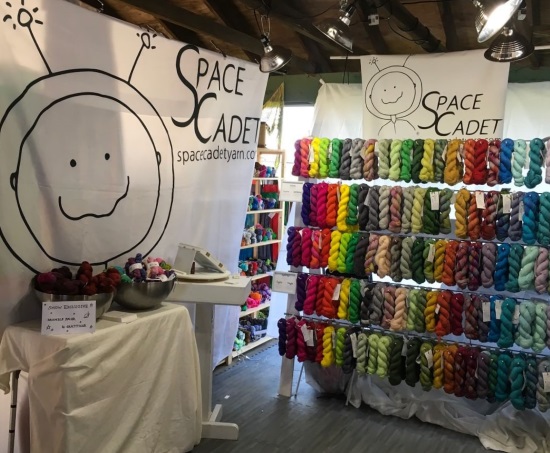 Additional Indie Untangled Tickets Available!
The Indie Untangled Rhinebeck Trunk Show is open to ticket holders only and I can't tell you how many people have mentioned that they couldn't get their hands on one before they sold out.  Well, I have exciting news: a very small number of tickets have become available for the 3-5pm, 5-7pm, and 7-8pm shopping sessions. They go on sale Sunday, October 7 at 1pm (eastern) and they're sure to go fast, so if you'd like to join us at the Indie Untangled Rhinebeck Trunk Show, set a reminder on your phone now and then click this link on Sunday to get your tickets!

Umi Nami by Angela Tong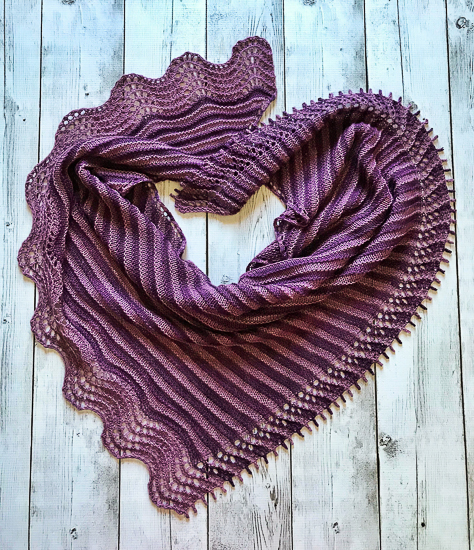 Proving that lace shawls don't have to be fussy, this eye-catching design from Angela Tong incorporates just enough lacework to look delicate while its stockinette ridge body adds simple colour contrast.  And I love how the picot edge on one side plays against the feather-and-fan on the other!  Designed in fingering, I'd love it in Oriana in Sliver and Dark Skies, Longing and Wilt, or Feather and Frigia
Imagine – Utopia Project 1st Edition pattern by Luisa M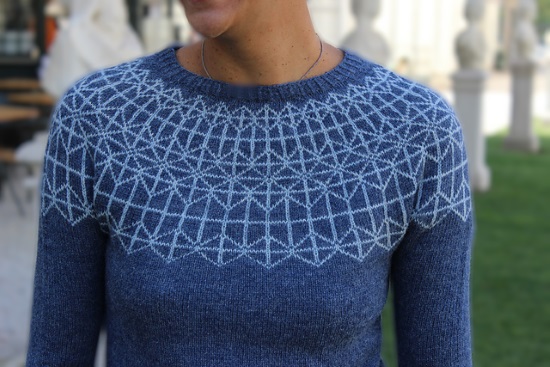 Yoked sweaters with amazing colourwork are all the rage at the moment but the angular, graphic nature of Luisa's design really sets this sweater out from the rest!  And I love how the motif repeats slightly differently on each wrist — click through to see what I mean.  Worked in fingering weight yarn, it's not too bulky and perfect for those chilly-but-not-really-cold days to come.
Harvested Tee pattern by Rebecca Velasquez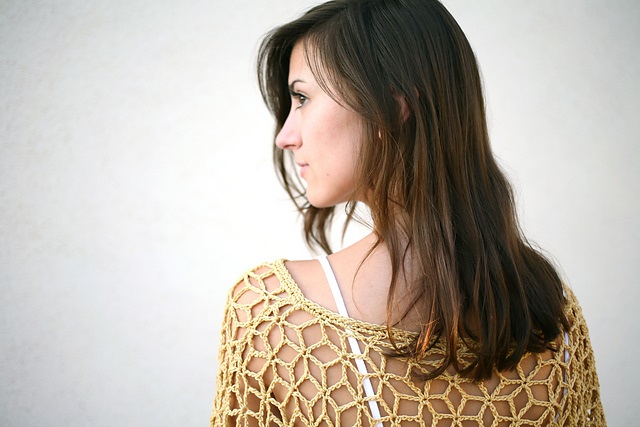 We may be gearing up for cooler temperatures here in Pittsburgh but if you live someplace warmer (or just head there in the winter), check out this gorgeous crocheted tee by the lovely Rebecca Velasquez.  I love that it almost looks like tracery around a stained glass window or the detail in an ornate medieval ceiling.  But in reality, it's a light and airy top that creates serious impact!
images © the respective designers, used with permission
Ok, there's still lots to be done to get ready for our upcoming shows so I'd better get down to the studio and start dyeing!  (It's a hard life, I tell ya…)  I hope you have a great day ahead you  too so, until next time, all my best!