This is such a funny time of year.  This morning, it's nearly 70F already and I get to sit on my front porch, gazing over rolling hills covered in trees that are still green, and enjoying the weather as if it's mid-summer.   But tomorrow, the temperature is going to drop twenty degrees and it will feel like autumn (literally) overnight.
And as sad as I am to see the warm weather disappear, I doubt there's a knitter or crocheter on the planet who doesn't secretly thrill at those first cool mornings.  With tomorrow's temperatures, it will be time for hats and mitts and cowls and all the lovely knits that colder weather brings.  And I'll be watching to see if the trees change right on cue too.  Welcome sweater weather!
But for now, here I am, dressed in summer clothes and drinking my coffee in perfect comfort.  And I've got a ton of fun fibery stuff to share with you so why don't you go grab something to drink and find a spot to curl up…  and here we go!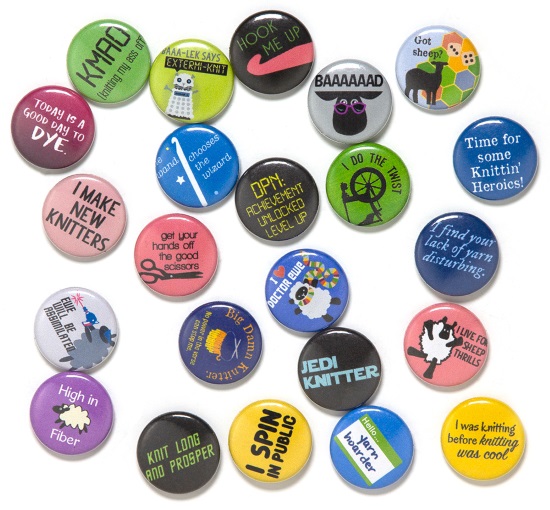 image © Becka Rahn, used with permission
I came across Becka Rahn's hilariously witty knitting and crochet themed pins this week and, oh my stars, they are perfect.  There is not. one. pin that didn't make me chuckle and I keep trying to figure out which is my favourite but, really, I just want them alllllllll.  Becka tells me that the "High in Fiber" sheep was the first one she ever designed and folks are still buying it twelve years later!  If they make you laugh as well, you can find them in her shop here.
(Serious question: which one is your favourite?  I honestly can't decide)
If you were planning to crochet a Halloween costume for a child in your life, please do not make this one. Just don't. Ok?
F+W (the company that now runs Interweave) is closing down four of their magazine titles, including the fashion-forward Knit.Wear.  There's an excellent analysis here of the company's changing direction over the past few years (including the shuttering of Love of Knitting and Love of Crochet magazines).
Remember that last week I shared that video of a sheep stuck in a tire swing?  This week, the SpaceCadet crew has been laughing at fainting goats (and maybe we shouldn't laugh at them, but we have).   And if your 1980s featured the drum fill from Phil Collin's "In The Air Tonight", you need to see this video.  I have watched it at least 20 times over and am in tears every time.

Our Upcoming Shows & Events
Coming Soon — a Special Holiday Offer with Designer Lisa Ross!
This is all still super-secret so I can't say much about it yet but we've got something wonderful cooking up with one of my favourite designers, Lisa Ross of Paper Daisy Designs.  She does amazing colourwork (see what I mean here) and we've poured our hearts — and our dyes! — into some very special kits (see the sneak peeks below), so be sure to keep your eyes on future newsletters for all the details.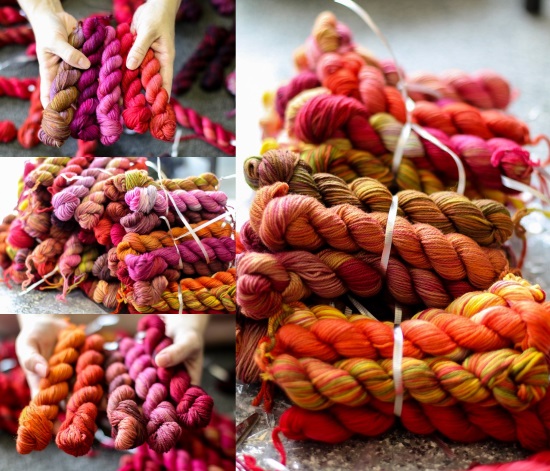 Are You Coming to the Indie Untangled Rhinebeck Trunk Show?
We are doing last minute dyeing and prepping the booth set up…  and getting super excited!  The trunk show is a fabulous collection of 31 indie fiber-arts vendors all gathering on Friday Oct 19 at the Saugerties Performing Arts Factory (169 Ulster Ave., Saugerties, NY  Click here to get driving directions).  Tickets have been sold out for months but if you've got one, we are so looking forward to seeing you! We'll be booth 18 — make sure you say hi!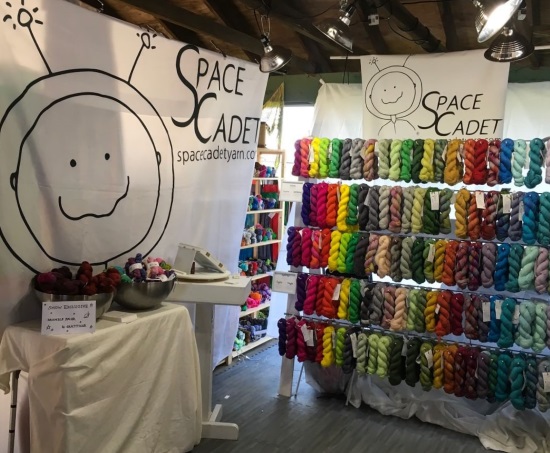 Damejakka Loppa / Flea – A Lady's Cardigan pattern by Pinneguri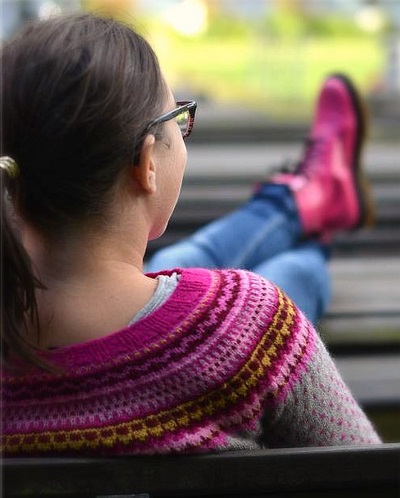 Last week I shared a sweater with a super-modern colourwork yoke and, this week, I found myself drawn to this beautifully traditional version.  I love how the tiniest, most delicate stitch motifs are juxtaposed against such bold colour combinations.  And, because it's designed in fingering, the pattern is a perfect way to show off the colours of your Mini-Skein collection — just make sure you go BOLD with your colour choices!
Akame pattern by Angela Tong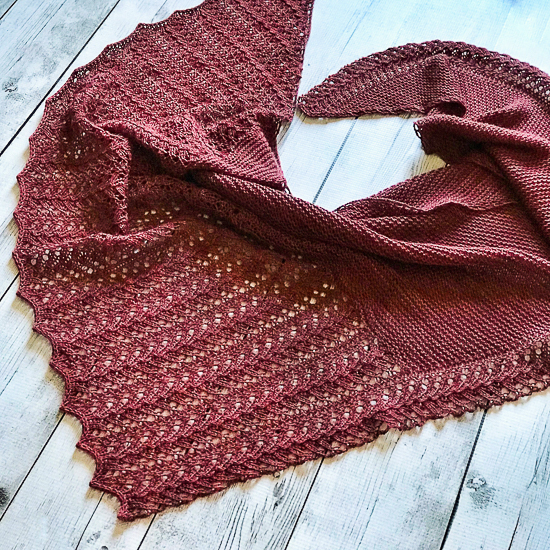 Sometimes you just want to let texture take center stage and I absolutely love the way this beautiful shawl does exactly that.  Starting with a garter stitch body with a beautiful lace edging, it is worked sideways from one end to the other until the lace edging is expanded across the bottom of the shawl.  Try it in Celeste in Faded Dreams, Faded Promises, Troublemaker, or Headstrong.

Winter is Coming by Kathryn Senior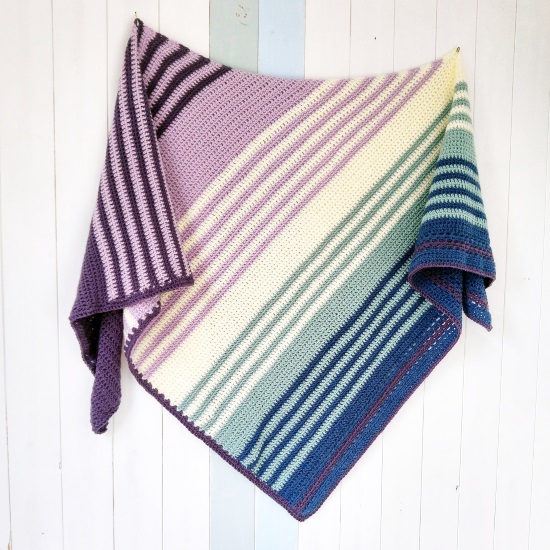 If winter is coming, this colourful crocheted shawl may just be one of the happiest ways to welcome it.   Using a simple but uncommon crochet stitch, the edc (esc), it creates a squishy shawl that can be customised by changing the number of stripes, widening the stripes, or just doing five colour blocks.  I'd love to see it in Lyra in Feather, Frigia, Crisp, Wilt, and Honey (such a pretty combo, right?).  And bonus: the pattern is 50% off through the end of today!
images © the respective designers, used with permission
Ok, there's still so much to be done(!) to get ready for our upcoming shows, so I'd better finish my coffee and get down to the studio.  Today we'll be dyeing sweater sets and maybe even creating a show exclusive colourway — it's going to be fun!  I hope this email has got your day off to a colourful start and, until next time, all my best!