Last week I mentioned that I had a funny story to share: it's about a question my sister put to me, and I'm hoping you can help me answer her…
My assistant Jade and I were driving across Pennsylvania to go to Indie Untangled when my phone rang.   I answered and told my sister that she was on speaker with the two of us.  "Oh good!" she replied, "My question is for both of you…"
Now, I should start by telling you that my sister is a non-knitter — she managed a garter scarf once, with bursts of inadvertent lace in random placements along its length, and then knit until she had so little yarn left that I don't think she ever took it off the needle.  But she is very supportive of SpaceCadet and me and, by extension, of the whole knitting and crocheting community.  And from that, she is supportive of the entire wool industry at large.  But that's not to say that she really knows much about it.
"…So my question is, where do you buy wool?"
I was confused.  Did she mean where do I get the yarn we dye at SpaceCadet?  Or where does the mill get the wool it spins?  Or where does wool come from…?  I stumbled a bit and then asked her to clarify.
"No, no, I mean, when wool is manufactured…"  (Jade and I started to chuckle) "…I mean, when they make wool, where does it go? Who makes clothes with it?"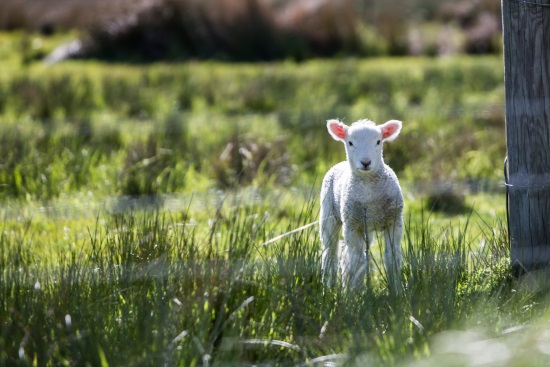 Wait, when they what?!? I stopped her, trying not let her hear me laugh.  "You know that they don't manufacture wool, right?  You know it's a natural fiber… grown on sheep on a farm, right?"  She did, but there was a definite haziness about how the whole process works that had me and Jade stifling giggles.  No, they don't kill the sheep to get the wool.  Yes, it's a renewable resource. Yes, wool is an excellent fiber: warm and wicking and fire-retardant and all kinds of good things.
"So, ok, who makes clothes with it?"  Ummm… knitters do!
"No, I mean, if you're not a knitter and you want to buy wool clothing, where do you find it?  I've been looking and all I can find are cotton and polyester and acrylic.  All the wool clothing seems to be for hiking, but I want wool clothes for the office.  If it's such a great fiber, why can't I find any wool clothing for work?"
I'll admit, I was stumped.  I spend most of my days in a messy dye studio…  I haven't shopped for office clothes in years.  And to my shock, I realised I couldn't answer her question!  I certainly could teach her how to make her own lovely woolen clothing, but I had no idea where to tell her to find quality, wool office wear.
"Shouldn't it be everywhere?" she asked.  "I mean, it's a really good fiber.  Shouldn't everyone be making clothes with wool?!?"
Yes, I think they should.  And I suddenly felt so bad for all the non-knitters and non-crocheters out there, in a sea of mass-produced cotton and acrylic and polyester clothing, who never really experienced the wonderfulness of high-quality wool the way all of us do every time we pick up our projects.
But I still didn't know the answer to her question, so I'm hoping you can help.  Where can someone buy good office wear made with wool?  Whether that's individual brands or the stores that carry them, we'd both be really grateful for your suggestions.  Where would you go to buy wool clothing?  Let me know!
But first, I've got a bumper crop of interesting fiber news to share with you this morning.  So grab a cuppa and get comfortable and let's dive right in…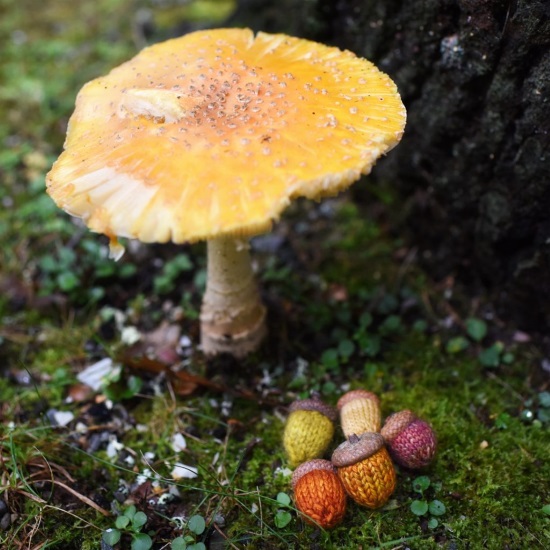 Image © Hunter Hammersen, used with permission
• I adore Hunter Hammersen's sweet knitted acorns (above), the perfect way to use up those teeny-tiny leftovers from other projects.
• You remember that, last week, I shared the links to a new app called Making Things, which offers a subscription service to "unlimited access" to thousands of knitting patterns in their library?  Well, since then, there has been an explosion of heated discussions about the app, with some very strong feelings flying around both Ravelry and Instagram.  This thread on Ravelry grew to 120+ pages in just a week(!), and Casey (one of the creators of Ravelry) shares his thoughts here and here.   There's also an interesting thread in the designers' forum, quite a few posts on designers' blogs (such as Kristen Jancuk's thoughtful post), tons of comments left on Making Things Instagram posts, and the Making Things team updated their own About page with more information to answer some of the recent questions.   All in all, it has developed into quite a controversy and the conversations around it are both fascinating and exhaustive, so I leave you to dive in (or not!) and draw your own conclusions.
• Off topic but the Ace Hotel in Pittsburgh, where we'll be vending this weekend at Indie Knit & Spin (see SpaceCadet News, below), is located on the same block as the world headquarters of Duolingo (a most excellent language learning app that is well loved in my family), so this news item caught my eye yesterday: Duolingo is adding Navajo (Diné) to its collection of lessons, to help preserve this endangered language.  Very cool!
• This made me chortle (despite the typo).  If you've ever wondered where steel wool comes from, now you know!
• The Craft Yarn Council has created a wonderful campaign called Humans That Yarn to encourage new knitters and crocheters.  There's a bunch of tutorials and free patterns to get folks started, but the thing I like most their video introducing the (wonderfully) wide array of people who incorporate the fiber arts into their lives.  Watch it!  (And then, forward the webpage to that friend who has always wanted to join us but never quite jumped aboard.)
• My friend Sarah Jordan designed this kippah/yarmulke in response to the shooting at the Tree of Life synagogue in Pittsburgh.  Sarah grew up at Tree of Life and knew several of the victims, and will be donating all proceeds from the sales of this pattern to Tree of Life to aid in its rebuilding efforts.  What a wonderful way to support a devastated community.

New Colourways: We've Got One Name… (that's progress!)

We had some amazing name suggestions for this trio of new colourways that I shared with you last week!  And I wrote on Instagram that I think I'm settled on the name for the variegated colourway in the center (click here to read the story behind it), but I still haven't decided on a name for the purple on the left.  Lots of great suggestions have been coming in on Facebook and Instagram — if you've got one, let me know!
We are test dyeing these again this week to check repeatability (so important!) and then they will be going in the shop as quickly as possible.  So many of folks have replied with responses of "I want these colours!" that I just can't wait to share them with you.  Watch this space!
Upcoming Shows:
This Sunday, Nov 11 — Indie Knit & Spin, Pittsburgh PA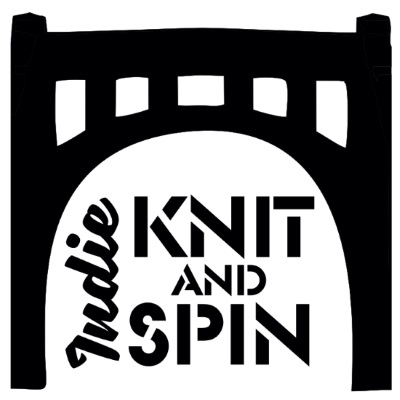 Indie Knit & Spin is always one of my favourite shows to do (because it's local and all indie), it's even better now that it's at the amazing Ace Hotel.  Tons of yarn, plus a great place for lunch, and hipster-made coffee.  What's not to love?
Saturday, Dec 1 — Holiday StitchEscape 2018, Columbus OH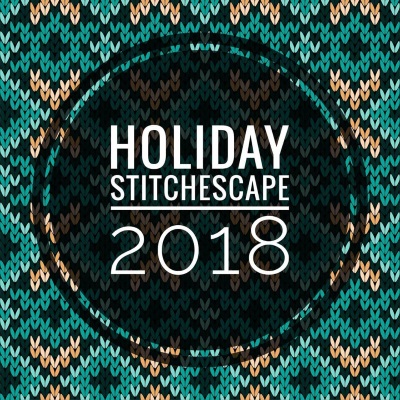 The Holiday StitchEscape is a day filled with beautiful yarns and classes by outstanding instructors, surrounded by others who also love the craft.  The daytime activities include classes, a marketplace, and sit-n-stitch; evening events are designed for a ton of fun.  Find out more and get tickets here.

True Colors by Melanie Berg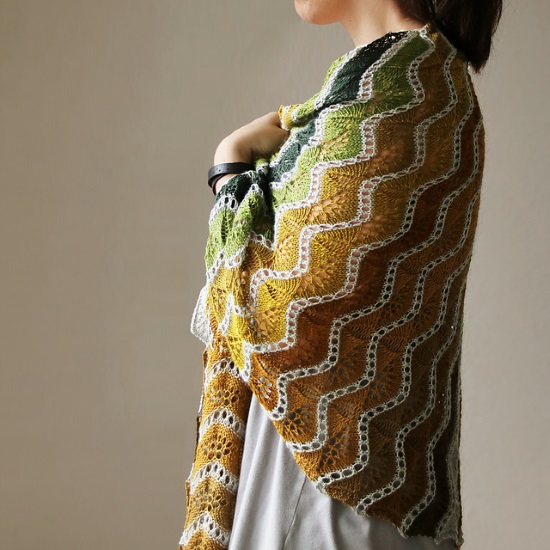 I was looking through Ravelry this week and this beautiful pattern popped up in my feed somehow…  I don't even remember where or what I was looking at, but I clicked on it immediately.  It's a fairly straight-forward design but what an impact it has!  If you've got a stash of our Ombre & Gradient Mini-Skeins, cast this on quick!  And if you're not, hop aboard — we planned out the next few month's colours and I am super excited about the colour direction we're about to take!
Simple mittens pattern by Anna Radchenko | WoollyWood Design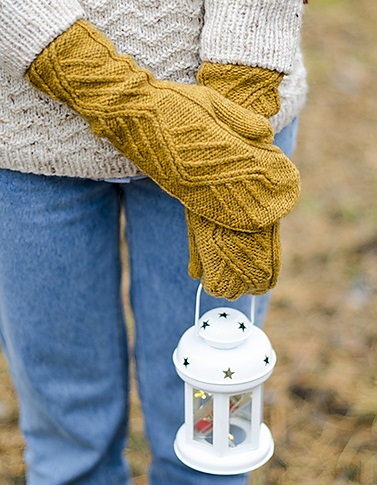 Interesting texture is the making of so many great knits and I absolutely love the way the stitchwork in these mittens create a modern and yet thoroughly timeless motif.  Designed for DK, they'll keep you interested while you make them and toasty warm once they're done!
Lyta by Simone Kereit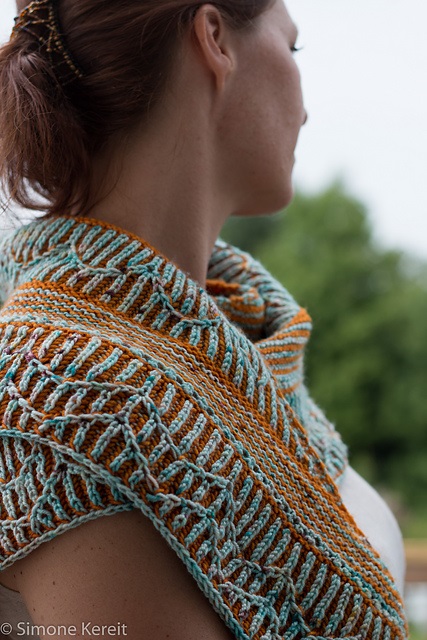 When it's cold outside (and it's cold now here in Pittsburgh!), I find myself reaching for something warm to keep wrapped around my shoulders.  Brioche, with its squishy-thick texture is exactly what I need, so this beautiful wrap jumped out at me right away.  I love the play of the colours here: warm vs cool, rich vs soft.  To create something similar, try our "Frigia" (currently in stock on these bases) and "Honey" (in stock on these).
images © the respective designers, used with permission
Ok, I'd better get my day started and I'm guessing you'd better as well.  Today, I have a meeting with the SpaceCadet crew to go over this weekend's show and all the fun stuff we have planned for the upcoming holidays (so festive and fibery!).  I hope you've got a fun and busy day planned too.  And, until next time, all my best!