I have a funny story to tell you about my sister and then I have a really good question that she raised, but I'm going to share that with you next week.  This week…  well, it's been a little tough.  The horrific shootings here in Pittsburgh and the funerals that followed have cast a pall over the whole city.  Plus I had a family funeral to attend the other day (not related at all the shootings and not a very close family member, but still quite sad).  To be honest, I don't know that I could really do justice to my sister's humourous story this week, so look for it in the next newsletter instead.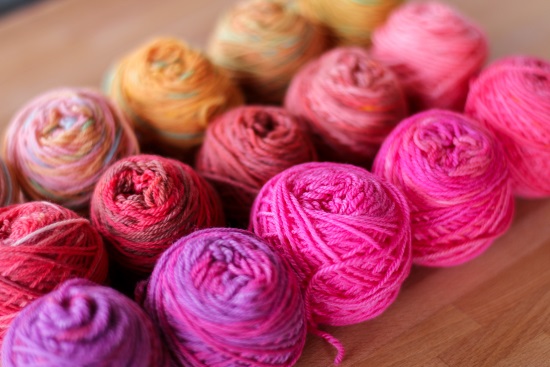 Mini-Skeins from June, July, and August's parcels
But I found something interesting: when this week's events had me falling into a bit of a funk, I found myself taking solace in my stash. Not in knitting or crocheting necessarily, but just with the yarn itself.  It may be silly or even trivial, but I found that just looking at lovely yarn actually helped me feel grounded and cheered me up.  And though in more peaceful times I might have gravitated to natural shades, this week I really wanted something particularly bright and cheerful.  Would you believe, I actually found myself arranging and re-arranging this set of bright Mini-Skein cakes over and over?  And not even with any intention to cast them on but just for the tactile pleasure of holding them in my hands and arranging them in different configurations.  Trivial as that may seem, it softened the sadness, lifted me when I felt myself going into a funk.  I don't think anyone but a fellow knitter or crocheter would really get that.   But you do, don't you?  I think we all do.
So while it hasn't been the best of weeks, I know that yarn (and knitting and crocheting and spinning) are really quite soothing.  So it stands to reason that all the sorts of lovely yarn-y news I usually share would be equally uplifting, and I've gathered a lot for this morning.  Let's share a nice cup of tea and dig in.  It doesn't fix the world's problems, but I think it's still good for the soul.

First, I just want to share this with you…  We had an amazing time at the Indie Untangled Rhinebeck Trunk Show two weeks ago and I got to see two awesome projects from that weekend: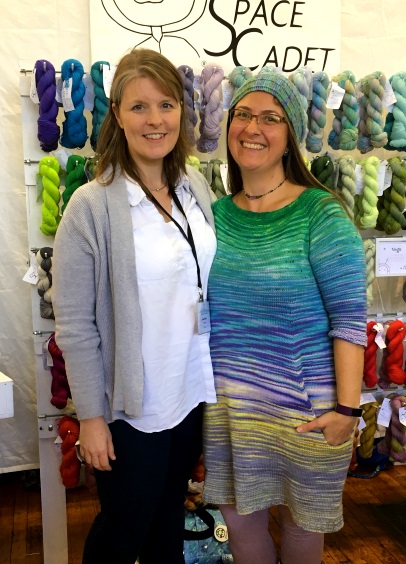 A longtime SpaceCadet customer and friend, Clara, came to see us and it was such a delight to meet her!  She created this fabulous dress out of her collection of Gradient Explorers colourways and I was so excited to see the way the colours flow through such an epic project.  Aaaaaand it has pockets — so. much. awesome!!!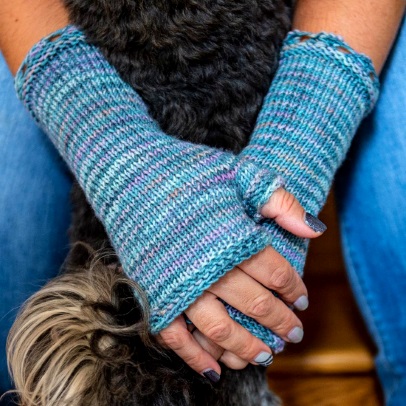 And a couple of days after the weekend ended, Carolina tagged me in this post showing the mitts she wore to Rhinebeck on the Sunday… out of yarn she bought from us on Friday!  This is one of our new colourways this year, Faded Dreams, and I just love how it knits up.  So pretty!  (The pattern is Wood Violet by Jaala Spiro)
(I love it when folks tag me @spacecadetyarn on their projects or come to see us at shows.  Please keep it up!)

Netflix disrupted the movie rental industry and Uber disrupted the taxi industry…  and now Making Things aims to disrupt the way we buy knitting patterns.  For $11.99 a month, you get unlimited access to a library of over 1,000 patterns, including lots from today's hottest designers.   I haven't explored it fully and it raises a lot of questions I want to ponder (…does this model support independent designers? …will a subscriber have access to the latest designs?  …how will it change the fiber arts world as we know it now?).  But if you're keen to find out more, click here to read the FAQs and here to browse the pattern library.
All good things come to an end and Yarn Pop, makers of those sweet project bags with the little grommets for your yarn to flow through, are closing up shop.  The silver lining, though, is their liquidation sale — click here to grab the last of their bags before they're gone.
This was a really though-provoking read: Julia Farwell-Clay reflects on her Rhinebeck experience and, more interestingly, on whether Instagram is replacing Ravelry as the place where knitters and crocheters connect.  She notes that Ravelry is created by a small team who are really dedicated to our community and Instragram is controlled by Facebook, the behemoth of our times, and asks where we would rather put our support.  The discussion in her accompanying Instragram post is (ironically enough) well worth reading.
Pittsburgh has been in the news for some really awful reasons lately, but I'd like to share something wonderful about my city: the Pittsburgh Parks Conservancy has employed ten goats (and one guard donkey) to clear out invasive plants from city parks before staff go in and plant native trees and shrubs.  Environmentally friendly, natural (I bet the goats leave a little fertilizer in their wake too), and an all-around awesome idea!  Click here to see the goats (and donkey!) in action.  How about sheep next?

New Colourways: Need Names!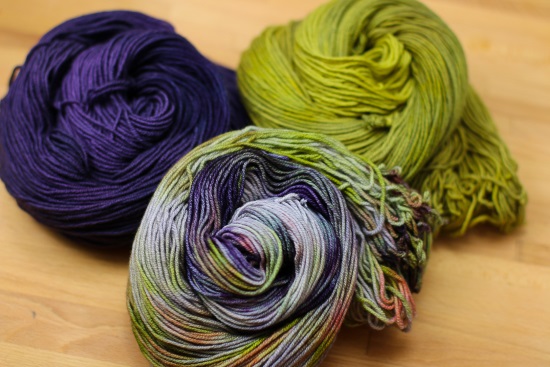 With the turn in the weather, I find myself wanting to create a palette of soft, muted colourways like these three that I dyed the other week.  Personally, I am just loving them right now.  The one of the right  is called "Yes Dear" (because it coordinates with our colourway "Honey"), but the ones left and middle don't have names yet.  Watch for them to go in the shop in the next week or two and, in the meantime, got any name suggestions?  Let me know!
Bound for Home: Sold Out Fast, But More Drying Now!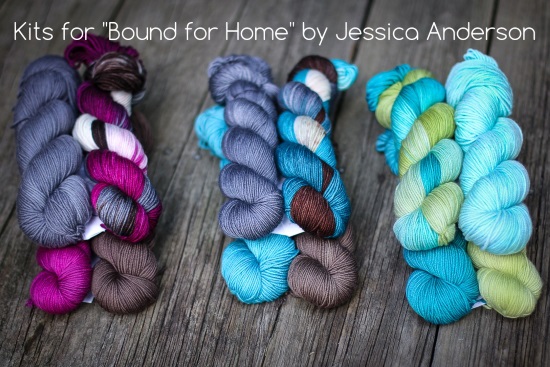 While we were at Indie Untangled, we released these beautiful kits for Bound for Home by Jessica Anderson. They sold out super-quick, but we've got more all dyed up and drying in the studio now.  Watch for them to go in the shop in the next week or so (or just go ahead and order it as "dyed to order" and you'll be first in line!).
Oh, and we'll be bringing them to Indie Knit & Spin too!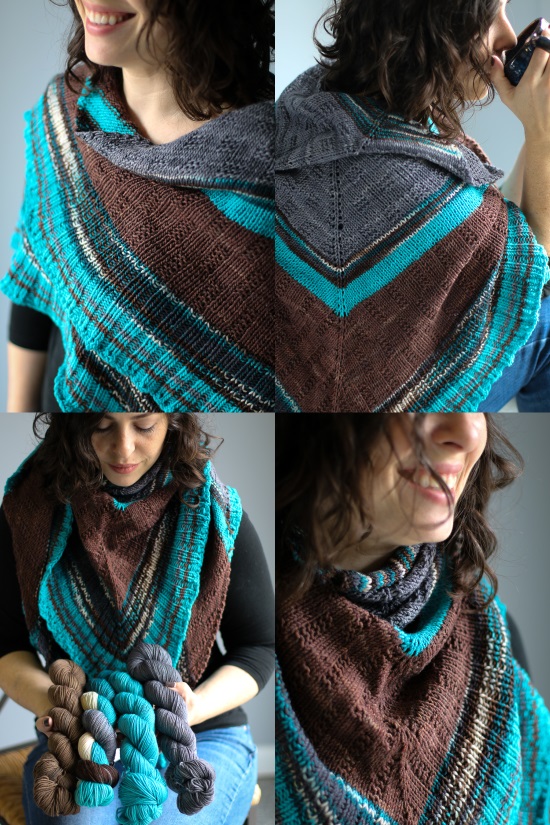 Upcoming Show: Sun, Nov 11 — Indie Knit & Spin, Pittsburgh PA
Indie Knit & Spin is always one of my favourite shows to do (because it's local and all indie), it's even better now that it's at the amazing Ace Hotel.  Tons of yarn, plus a great place for lunch, and hipster-made coffee.  What's not to love?

Huskadoo pattern by Joan Forgione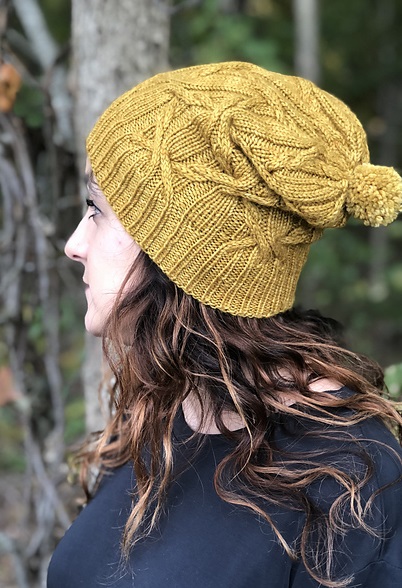 For me, knitting is all about texture and colour, and this beautiful design has texture in spades!  With cables that twist around each other as they criss-cross the whole hat, the effect is almost three dimensional — and deeply intriguing.  Try it in either Lyra or Astrid in the colourway "Honey" to mimic the sample, or go for "Longing" or "Feather" for a cooler look.
Lines and triangles by Jenny F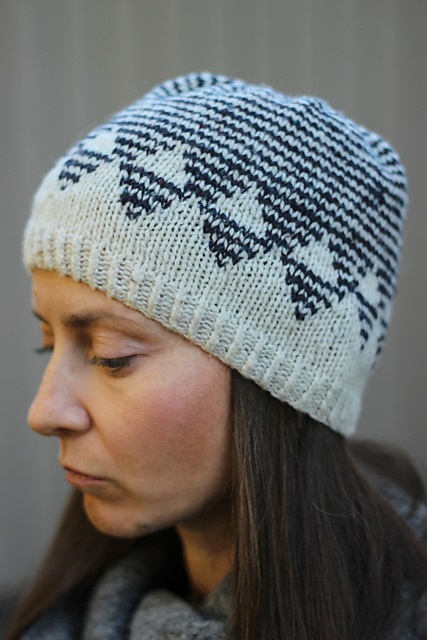 And here's a wonderful example of the magic of colour — such a simple design that's still incredibly intriguing!  If you've never tried colourwork, this could be the perfect little project to dip your toes in.  And if you've got a collection of Mini-Skeins, it's a wonderful opportunity to mix and match to create a truly stunning combination!
Fair Winds and Following Seas pattern by Melissa Kemmerer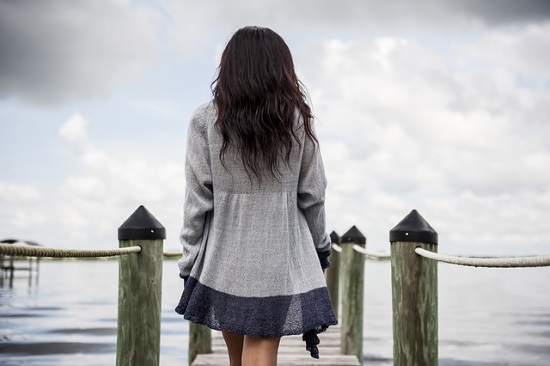 But wait, what if you're not in an area that's cold enough for hats? (or hat hair…!)  If you live somewhere balmy, then I'm loving this beautiful laceweight cardigan that lets the light (and the breeze) flow right through.  Knit top-down in one piece, with no seaming or picking up stitches, it'd work beautifully in SpaceCadet Pyxis.
all images © the respective designers, used with permission
Ok, I've got a super-busy day ahead of me.  Last week, I was under the weather after our show and, this week, it's my assistant's turn to come down with something, so I'll be trying to catch up for both of us!  I hope you've got a lovely day ahead of you and, until next time, all my best!