This is such an exciting day!  We are packing my car with every single SpaceCadet colourway to go to TNNA, the knitting & crochet industry's tradeshow, where we will be showing off our yarns and kits to local yarn stores (LYS) from around the country.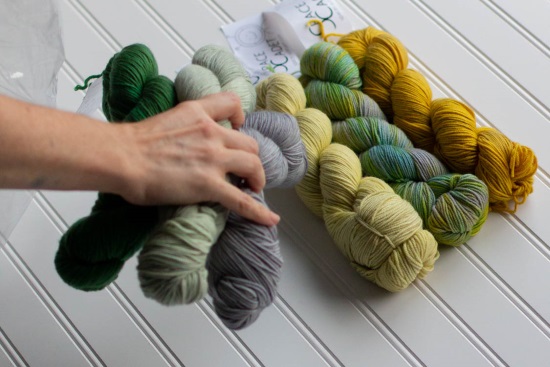 One of our wholesale colour combos, which of course you can buy too! (l-r): Longing, Sage, Drizzle, Wilt, Time Traveller, and Honey
And the most exciting part is that, since asking for LYS referrals in my last newsletter, our TNNA appointment calendar has filled right up — Friday is now completely booked and there's only limited spots available on Saturday and Sunday.  And I know that is down to everyone who so kindly reached out to their LYSs over the last couple of weeks and recommended SpaceCadet to them.  Wow, what a difference that makes!  Thank you so much!!!  I absolutely cannot wait to meet the owners and buyers of your local shops and get SpaceCadet yarn into them so you can smoosh see it person!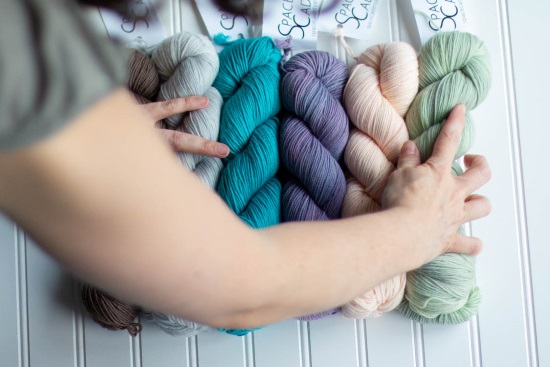 Another colour combo: Fat-Free Chocolate, Sliver, Feather, Plume, Gentle, Sage
So, I'd better get back to packing (we're at the stage where it's only the tiny things to remember but it feels like a million of them and I'm so scared I'm going to forget something really important — you know that feeling?).  But before I do, I'd love to take five minutes and share a little fiber news (and a cup of tea) with you.  So go get something nice to drink too and let's dive in…
---

While we prepped kits for TNNA, the SpaceCadet crew were discussing circular needle length (I prefer long for magic loop, but hmmmm…  I am now thinking of stocking up on 12″ circs for swatching, designing, and smaller projects worked flat).  So it was timely that I also came across this handy checklist on how to pick the right circular needle length.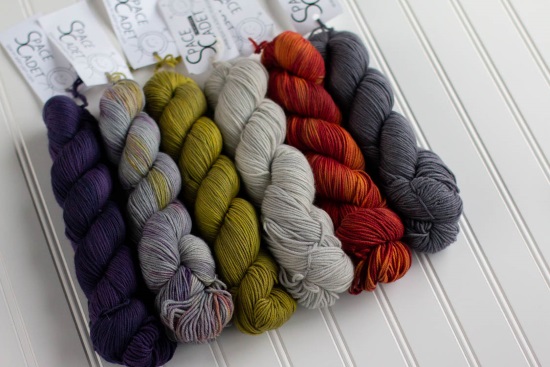 (l-r): That's What She Said, Fred While You're Up, Yes Dear, Sliver, Blood Moon, Dark Skies
Ever look at a hammock and think, "I should be able to knit that"? Well, Erin Kate did!  And there's a pattern and some hilarious photos of her making it on the biggest "needles" you'd ever want to work with.
It goes without saying that I'd rather stay home and knit than go to a bar or club (or, I'm perfectly happy to knit in a bar, if it comes to it.  You too?).  This article about the intersection of the knitting, clubbing/bar, and gay scenes in New York City was a really interesting read.  But I have to admit my favourite bit was the corrections at the very end — you know a bunch of folks emailed the NYT to tell them they'd mixed up knitting and crochet! Ha!
Sometimes it's the simplest things that stump you, isn't it?  So I loved this video tutorial about how to make an adjustable ring for crocheting the round.  It's so simple that it's almost too simple, so being able to watch it done makes all the difference.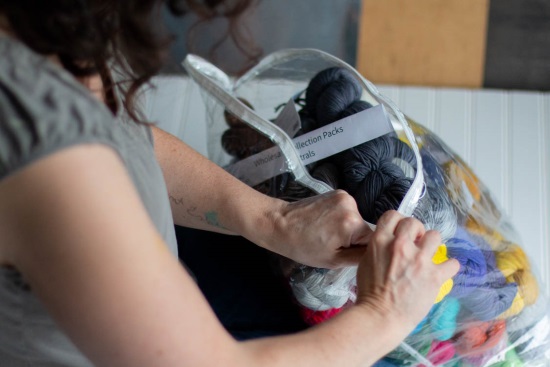 Into the bags and off to TNNA they go!
---

Opening June 28: The SpaceMonsters Mega Yarn Club
So get on the waiting list now!
The SpaceMonster Club, our worsted and bulky weight club, opens to subscriptions only twice a year and your next opportunity to join in will be on Fri June 28, when we will open the doors for two weeks only!  Spaces start going early but if you click here and put your name on the waiting list, I'll make sure you get first dibs.  Nice, huh?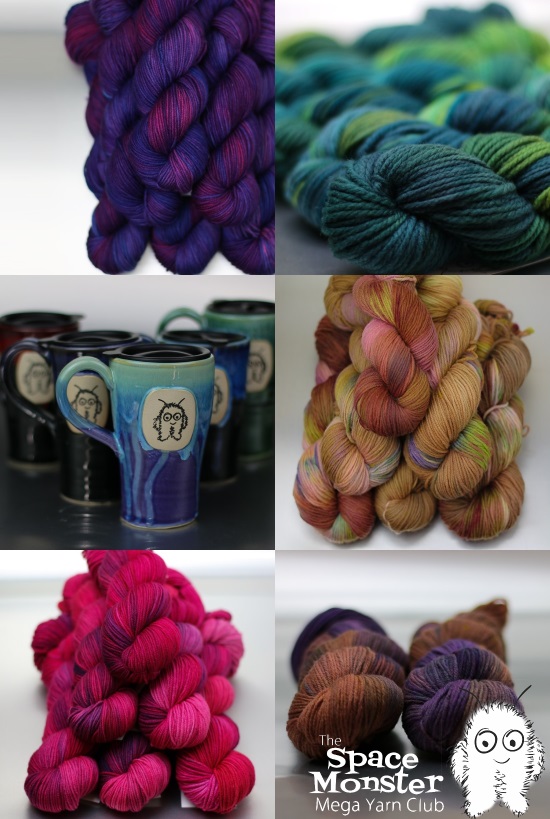 The SpaceMonsters is a great club, full of fun smooshy yarn that offer an exciting colour challenge but work up quickly for (almost) instant-project gratification. Plus we include a super-cute (and exclusive) gift at the end of each season to make it extra fun!   So get on the waiting list now!
---

Adaly by Corrina Ferguson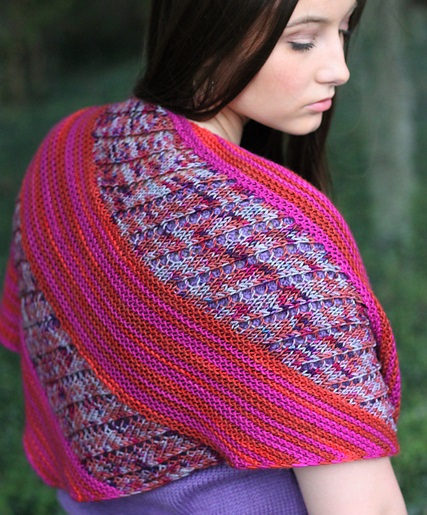 When Corrina Ferguson asked me for three skeins of SpaceCadet Vega (in Troublemaker, Headstrong, and Windswept), I knew she was designing something really special.  Two of those are colours that maybe maybe shouldn't work together (the cool dark magenta of Troublemaker and the spicy warm rust of Headstrong…) but when they're paired with the variegated Windswept, everything suddenly comes together!  The two semi-solids play off one another beautifully in those big garter stripe sections and I love how the eyelets force the colour of the variegated yarn to shift and change.  If warm colours aren't your thing, you could go for cools in Stroppy, Feather, and Flow; or neutrals in Fat-Free Chocolate, Drizzle, and Nine Stones.
Myristica by Marie Amelie Designs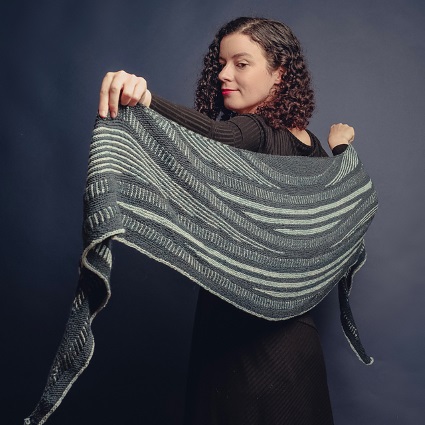 The crescent shape caught my eye and then I spied that this beautiful shawl incorporates stripes going both horizontally and vertically.  And of course, I imagined it knit in either our Ombre&Gradient Mini-Skeins or the beautifully changing colours of the Gradient Explorers.  Paired with a contrasting semi-solid, the colours would slowly change and morph as the shawl grows — the kind of knitting that's impossible to put down!  Just one more row…
Join the Mini-Skein Club here, or get on the waiting list for the Gradient Explorers here.
Thia Tunic by LeRoo Crochet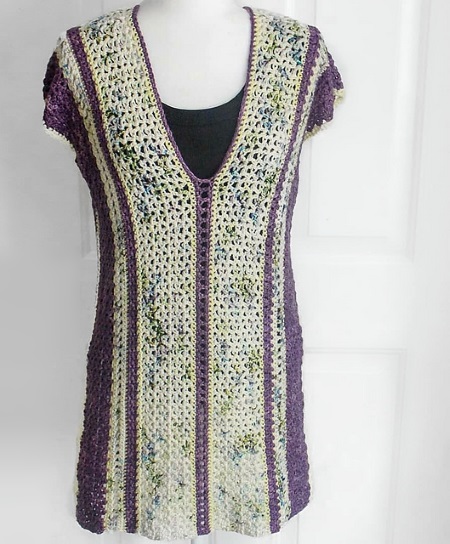 Summer time is all about cool coverups and I absolutely love this one, crocheted as a simple rectangle with the neck hole left in the middle, then seamed up the sides.  The vertical panels are slimming and add visual interest, but I think I'd like it just as much worked in a single colour to bring attention to the loose and airy stitches.
images © the respective designers, used with permission
Ok, it's going to be big day and there's a ridiculous amount to do, so I'd better write a (loooooong) list so I don't forget anything, and then get my day started.  I hope you've got a great day planned with lots of fun stuff (but maybe a shorter to-do list than me) and, until next time, all my best!