At this time of year, I always feel like I've been launched from a slingshot.  It starts in May as we finish our spring shows and turn our focus to prepping for the TNNA tradeshow in June — and then suddenly, the show is upon us (too soon! every year!) and it's a wonderfully exhilarating/exciting/exhausting weekend and so much fun and so much work and so little rest.  As soon as we get home, we take a few days off for some much needed sleep (zzzzzzzzz….) before we get busy dyeing alllll those orders for the LYSs that we met at the show.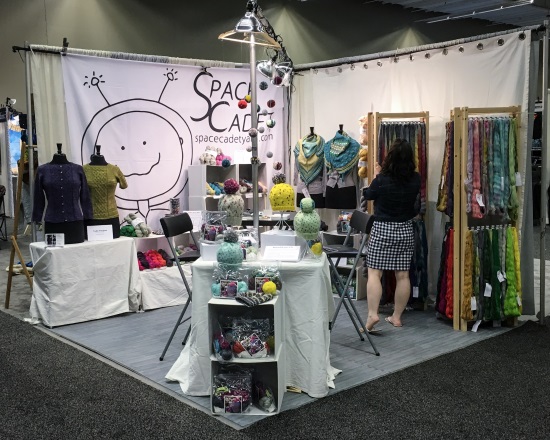 Everything else practically comes to a halt: the newsletter goes on a little break, social media comes to a stop (my social life comes to a stop), and everything that isn't necessary slows right down while we focus on making sure our customers get their yarn.  And then all of a sudden, I look up and it's the middle of July.  How did that happen?!?
This year's TNNA was amazing — our best ever — and I put that down to how many of our customers reached out to their LYSs and asked them to stop by and see us!  So many yarn shop owners told us they had come to see us because of a customer recommendation.  Thank you so very much for making that happen — I cannot tell you how grateful I am.  Or how excited I am to send lovely SpaceCadet smooshiness to an LYS near you! Woot!
But while we've had our noses to the grindstone at the studio, lots of interesting stuff has been happening in the world of yarn and fiber.  So grab a nice cuppa and a comfy place to sit, and let's dive in…

Just in case you've been living under a rock (as I have!), Ravelry recently introduced a new policy banning posts in support of the Trump administration. The news made the national and international papers, and late night talk shows.  You can read the policy in full here, and Ravelry's Mary-Heather further clarified their position in a July 1st post on the front page.  There have been a lot of strong feelings and discussion about the situation on social media — most of which, to be honest, I missed completely but, after I caught up a bit, I shared SpaceCadet's position here.
Yarn overs are probably the simplest of increases, so I didn't think there would be all that much to say about them.  Boy, did this article prove me wrong.  All you ever (ever ever) wanted to know about YOs  …and then some!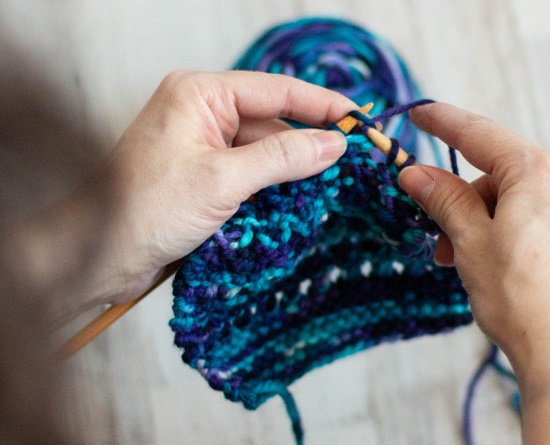 Knitting yarnovers into April's SpaceMonster colourway
This cracked me up: reading a random article (that popped up on a feed somewhere)about behind-the-scenes secrets of airline pilots, I wasn't surprised that they are not allowed to read on long flights… but it made me laugh that the article also specified that they aren't allowed to knit.  Is that just the author being funny, or has that really been an issue?  I'm seriously hoping for the latter!
This doesn't surprise me in the least: research from New Zealand shows that wearing wool is better for your skin's health — including eczema — than wearing synthetics (and better for the environment, but you knew that already).  To test it, the researchers "created special garments that had the upper back portion split in two, with one half made from wool and the other polyester," which volunteers then wore for weeks.  Interesting reading!
I've followed Brother Aidan (the knitting monk) on Instagram for a long time and so was really interested when I came across this article profiling him (and others) as part of the slow fashion movement within religious communities.

Open Now: The SpaceMonsters Mega Yarn Club!
We recently sent out the last parcel of last season's SpaceMonster Club and I was reminded just how much I love creating colourways for our club members.  This latest colourway and its coordinate, Refresh and Renew, had the whole SpaceCadet crew swooning and the SpaceMonster members snapped up the extra skeins superfast (and we're dyeing even more for them right now!).  You can see why we love it so much, right?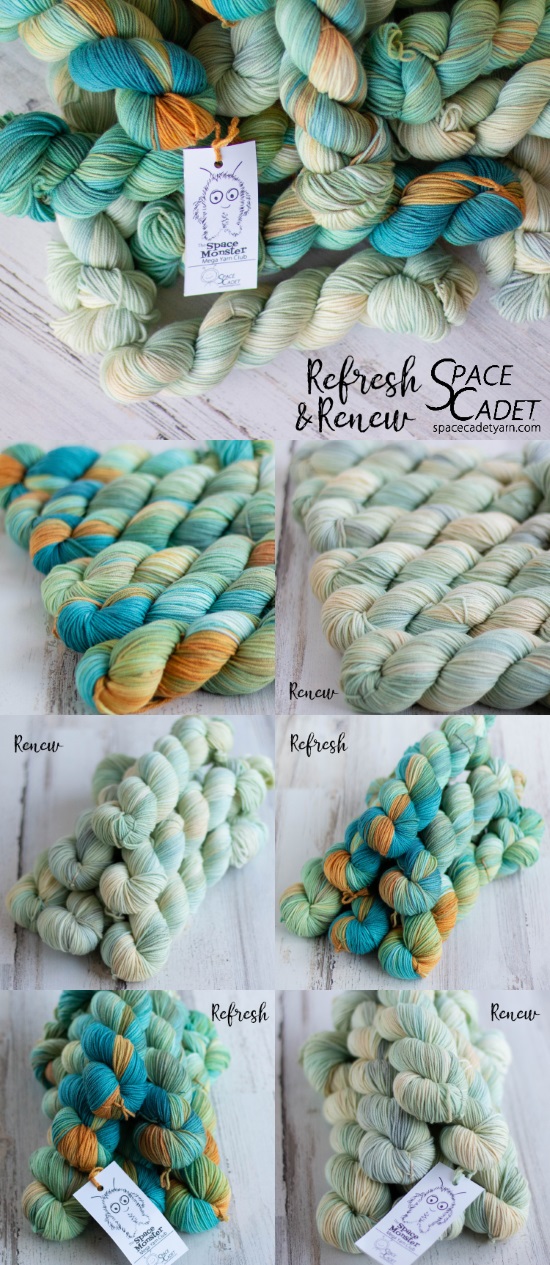 And the SpaceMonsters members get a gift each season and, this time, it was this absolutely fantastic backpack, custom screenprinted for us by the awesome folks at Commonwealth Press here in Pittsburgh.  Perfect for carrying a project (and a ton of other stuff) on summertime adventures!
Subscriptions for the new season of the SpaceMonster Mega Yarn Club are open for only a few more days (closing on Mon July 15th at midnight).  The SpaceMonster Club is an awesome way to explore fabulous colour on our smooshy worsted and bulky yarns in gorgeous club-exclusive colourways. Subscriptions are available only twice a year, so click here now to join in on the fun! ⁠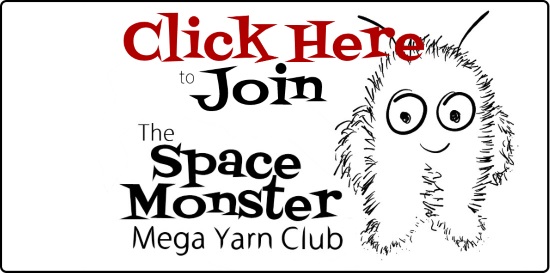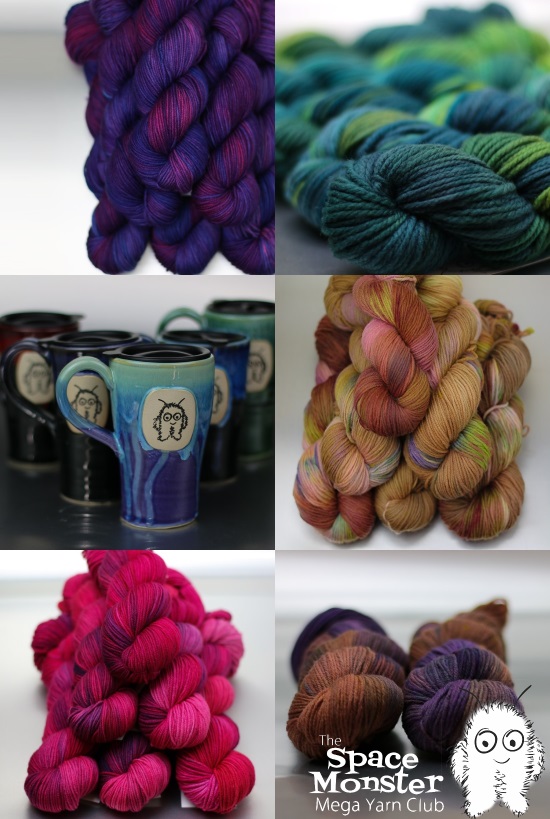 All images shown here are of past colourways and are for illustrative purposes only. Yarns, colourways, and gifts for new subscriptions will be different (but still awesome!).

Spring Quartet by Anna Johanna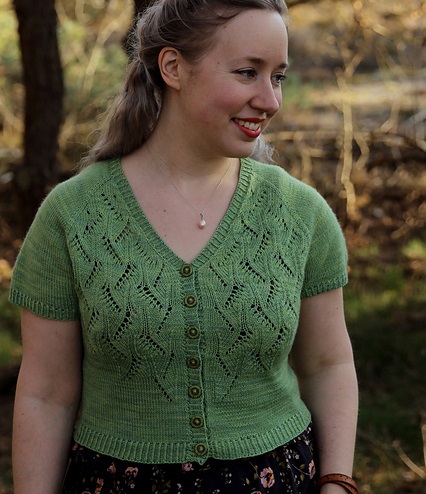 Warm days call for simple practical designs that are fun to knit but not too heavy — on either your body or your brain capacity(!).  I love this super-cute cardigan with its sweet eyelet motif and easy shaping.  I'd make it in either our lightest merino fingering, Celeste (with a whopping 490 yards/100g!) or our bamboo-rich Maia, that drapes like a dream and is so light it practically floats.
cancun boxy lace top by erin kate archer
When a design combines super simple shaping with fun stitchwork, the result is perfect for summer, and this top is a great example.  I love that even though it's nothing more than two rectangles joined together, the constantly changing lacelike stitchwork keeps it interesting and creates enough "air conditioning" to keep things cool.  Designed in DK, I think I'd actually be inclined to hold two strands of fingering together, maybe (again) Celeste and Maia, but this time in the same colourway because the two yarns together create a matte/sheen effect that play off one-another gorgeously (see three examples below).

Maia & Celeste paired in the same colourway
One Skein Shrug by LeRoo Crochet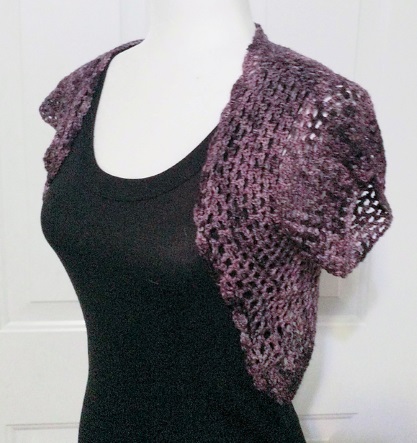 I love shrugs because they hit that summertime sweet spot of just-enough-and-not-too-much, whether you need a little warmth in an overly air-conditioned office or something to throw over your shoulders when the temperature drops as the sun goes down.  What makes this design nicer than most shrugs is that it comes in four sizes for a better fit.  And a lovely mesh texture to keep things light and airy.  Designed in fingering, I'd crochet it in SpaceCadet Oriana for a cotton-like drape.
images © the respective designers, used with permission
Ok, I've got another busy day planned today — we've got orders to fill and club colourways to dye — so I'd better get the day started.  I hope you have a few fun things planned for your day too.  And until next time, all my best!