I am now going to tell you a story you are not going to believe…  a horror story…  Prepare yourself.
You may remember I've mentioned before my sister-who-doesn't-knit…?  Well, to be honest, she has knitted in the past but it's never really stuck and the only thing she ever created was a scarf with a cast on edge that was so tight it was half the width of the rows that followed it, with random inadvertent lace sections, and which she knit until there wasn't enough yarn to bind off and so, instead, hung it up on the wall, still on the needle, as a sort-of garter-stitch wall-hanging.  As far as I knew, she never picked up the needles again.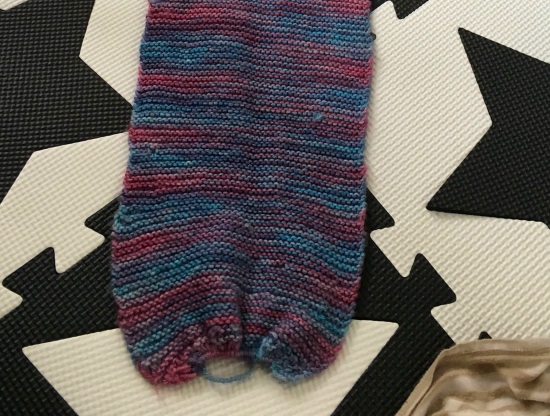 Then a few months ago, out of the blue, an order came through for a skein of Thebe, our silk and linen laceweight, and when I looked at it, I realised the customer was my sister.  I phoned her straight away: why was she ordering yarn…?  why was she ordering laceweight…?
She said had been thinking of taking up knitting again for stress relief (yes, it's very good for that, I assured her) and she thought silk and linen sounded nice (yes, indeed it is, but laceweight is not going to be an aid in stress reduction).  So I cancelled her order and refunded her money (bless her but, I mean, she's my sister!) and caked up a lovely skein of Astrid, which a nice newbie-friendly DK, and sent her that instead.
Fast forward to this past month, when I went to visit her for a few days.  We had a lovely time, drinking tea and chatting and watching movies.  And when I pulled out my knitting, she went and got hers as well.  What could be more perfect than two sisters knitting together?  And then she casually asked if I could please do that stitch for her that knitters do when they cut their knitting…?
**sound of a record scratching**
When they… what?!?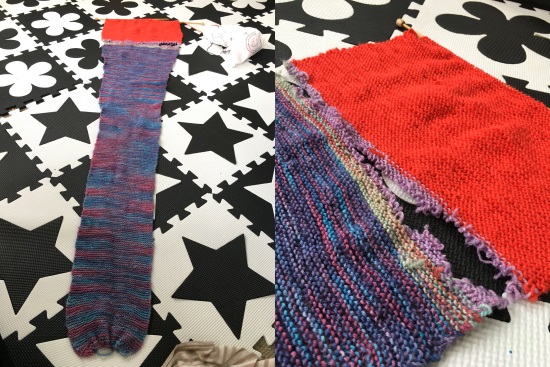 She held up her project.  It was that original fingering weight scarf, now with the new DK skein added on where the original yarn had run out.  But she was holding it in two pieces, one in either hand, and each piece with a nasty, jagged edge of loose yarn and live stitches.  "I wanted to take my knitting with me on our last trip, but it was too bulky.  You know I like to pack light.  So I cut it in half.  Could you please do that stitch that you guys do to put it back together when you cut your knitting?"
I was speechless.  Utterly lost for words.  She had literally taken a pair of scissors and cut through her knitting — roughly and across rows — in the full confidence that this was normal and there was some stitch that could easily put it back together again.  When I finally began to laugh, it started with a whooshing noise because I'd actually stopped breathing, and then became so out of control I sounded almost hysterical.  The more I looked, the more I laughed, and I just couldn't stop.
"When knitters cut their projects…?" I repeated.  "When they cut them?"  Like, when burn down their own houses?!? Or they murder their own children?!?  I was crying with laughter now. "I… I… I can't put it back together.  There is no such stitch!"
She was totally chill in the face of my incredulity.  "That's ok. If you can't fix it, I'm ok with it as it is. I just like to knit."  Ladies and gentlemen, this is process knitting leveled up.  But there was no way I could leave my sister knitting on a project with live stitches untangling along a jagged edge, no matter how relaxed she was about it.  So I picked up stitches on the original scarf and ripped back until I had enough yarn to bind off properly.  And then I unwound the new yarn she'd joined to it and cast it on afresh.  "Here you go," I said as I handed it back to her, "you're all set now."  She thanked me and turned it over in her hands.  It looked so lovely and tidy now.  And then I said words I never, ever thought I'd utter…
"Please, please, don't cut your knitting again."

I may be just a wee bit head-over-heels about these new knitting needles from Furls Crochet.  They are just soooo pretty!
Ever wanted to live on a remote Scottish island and look after sheep all day?  Boy oh boy, today is your lucky day!  The North Ronaldsay Trust has a vacancy for your dream job as a Sheep Dyke Warden.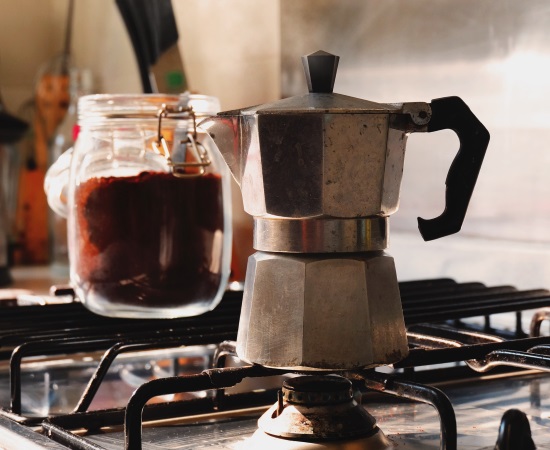 You know how I love curling up with a nice cuppa when I knit?  And I have lovely memories of visiting my Italian friend Valeria and drinking coffee she made in her moka pot, so reading that the original Italian moka pot manufacturer is struggling for business — even as the market for coffee has exploded — has made me so sad.  And makes me want one of my own!
So many readers shared with me the Heavy Metal World Knitting Championships that I'm thinking you might have already heard about but, just in case you didn't, here's their website and here is a summary of what might be the weirdest mash-up of interests every conceived.  Then again, it takes place in Finland, where their cold weather, long winter nights, and famous love of heavy metal does make this an oddly logical combo.  Ah Finland…  ever since Lordi won Eurovision, I've had a special place in my heart for you!
And in another story that a couple of readers shared (thank you, Fatima and Susan!), this father knit his newborn son's sleep patterns into a baby blanket.  I am impressed with this on so many levels: not only that he managed to keep such good records during that year of sleep deprivation(!) but that he formatted the data and translated it into stitches, and then double-knit the whole thing.  What an incredible keepsake for his son!

Welcome to our New Gradient Explorers Members
The Gradient Explorers opened to new members last Friday.  There were only a handful of spaces and they went quickly (as they always do!), so I just wanted to take a moment and welcome our new members.  I'm so excited to have you aboard!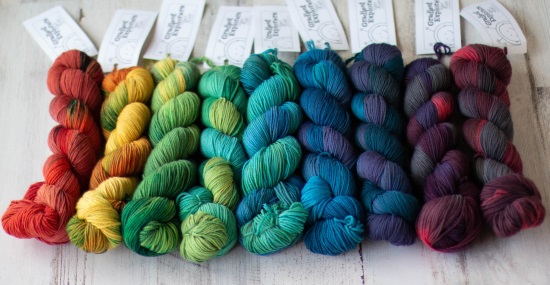 Gradient Explorers colourways from Oct 2018 to June 2019
Here's a look at the fade created by the Gradient Explorers colourways over the last few months.  Where do you think the colour adventure will be taking us next?
The Mini-Skein Club Goes Sun-Bleached
As we headed into summer, the Mini-Skein Club's colours have taken a turn toward the kind of beachy, sun-bleached colours that feel so right this time of year.  This is my assistant Jade's Northeasterly that she's been knitting with all of 2019's Ombre&Gradient Mini-Skeins, and I think it looks so amazing to see the colour progression through the whole year, don't you?

The Mini-Skein Club 2019 colourways up to June
The Mini-Skein Club is so easy and flexible: join anytime you like and leave whenever you have enough Mini-Skeins for your project.  And it's open now!  Click here to learn more.

A Good Scarf by Barbara Benson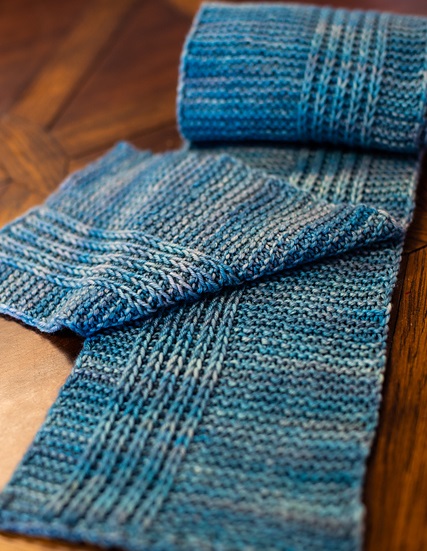 I love it when a simple but clever design creates an outsized result — and this pattern is a great example!  Barbara told me, "I was trying to see how completely simple I could make a pattern while still maintaining interest and style. The end result is A Good Scarf (named so after the store I work at)…  It is completely reversible and unisex and I think would make a great gift for just about anyone who needs a scarf."  Designed in two skeins of DK weight yarn, it would work well in either SpaceCadet Astrid or Lyra.  Or for added colour play, try holding two differently coloured fingering weights together.  Beautiful!
(And if A Good Yarn is your local yarn shop, get ready to get excited because we'll be sending a ton of yarn their way this autumn!)
Shalane by Corrina Ferguson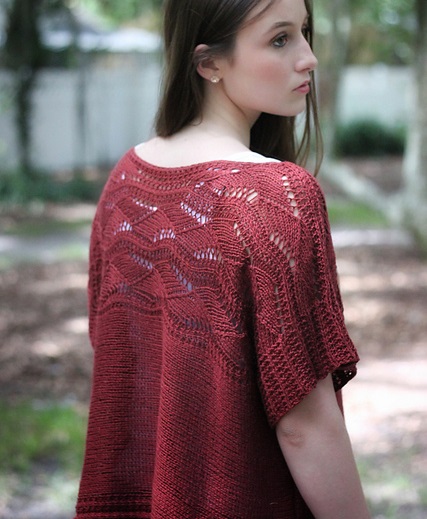 I've always been a sucker for stitchwork that looks like flowing water so this beautiful pattern jumped out at me immediately!  And the generous silhoutte and simple tee shaping makes it perfect for summer.  Designed in DK, I think I'd knit it in two strands of Maia held together for amazing sheen and drape — and I know I'd go for a blue and green (maybe Frigia and Stroppy?) to really play up that watery feel.  What colours would you choose?
Sleepover by Melissa Kemmerer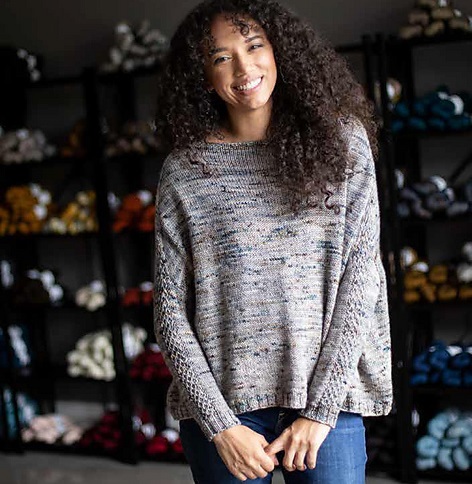 Boxy sweaters are really having a moment, aren't they?  And I kind of love that because they've got such nice simple shaping that you can work on them anywhere: at knit night, at a baseball game, during the scary parts of a movie(…!).  This lovely design is made more interesting with some beautiful detailed stitchwork that runs from the shoulders down each sleeve.  Designed in DK, I'd knit it in SpaceCadet Astrid, in either Nine Stones (a soft, heathered grey) or Headstrong (a beautiful heathered rust).
images © the respective designers, used with permission
Ok, I've got a bunch of orders to prep today, so I'd better get moving.  I hope you have a lovely, yarny day planned and, until next time, remember you…  don't cut your knitting!