First, I have an announcement, and then I have a very special treat that I can't wait to share with you!
The announcment is that my lovely assistant Jade (that's her in the photos) is releasing tomorrow two beautiful new patterns for SpaceCadet.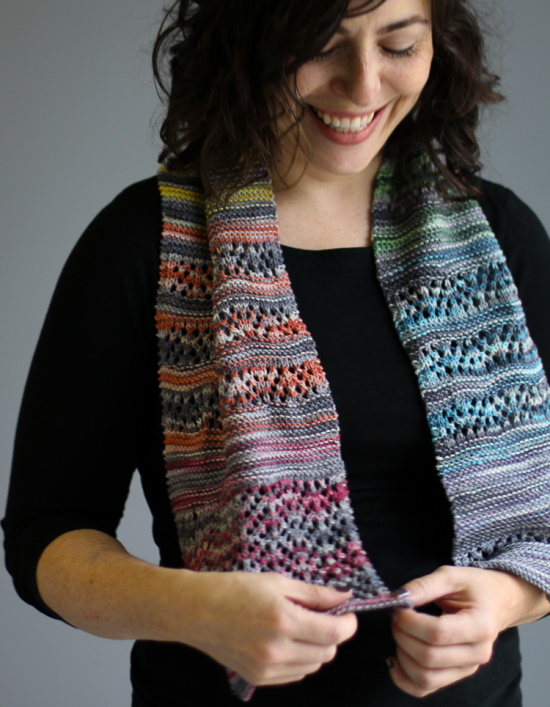 Trajectory (for SpaceCadet Prism Break sets)
Circulate is a long cowl designed especially for SpaceCadet Ombre&Gradient Mini-Skeins to make the most of the their gentle colour changes.  And the Trajectory scarflette is its sister pattern, designed to show off the Prism Break Minis that are available through our LYS partners.  They're both beautiful and simple and…
…And they release tomorrow!  If you're on the SpaceCadet mailing list, I'll be sending you a super-quick reminder tomorrow morning when they go live …and I'm  really hoping you guys will show Jade your support by hitting that heart to favourite them on Ravelry.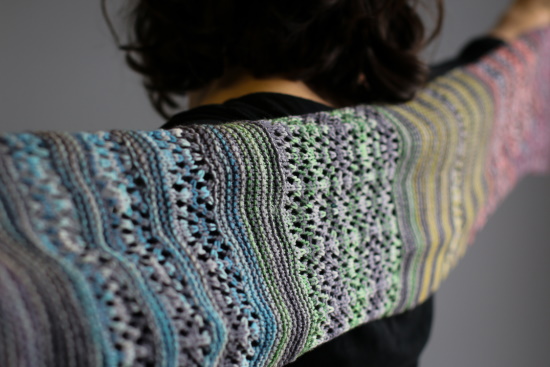 Trajectory (for SpaceCadet Prism Break sets)
The Special Treat
I'm thrilled about this: Jade is so excited about the release of these two patterns that she is generously giving a copy of Circulate to all of the current members of the Mini-Skein Club and a copy of Trajectory to everyone who bought a set of Prism Break Minis during our Black Friday special last year!  Isn't that lovely of her?!? So if that's you, keep an eye on your inbox tomorrow for a special download code.
Plus, a Free Copy of Circulate to All New Mini-Skein Club Joiners!
Just to get in on the fun, I've decided to give a free copy of Circulate to everyone who joins our Mini-Skein Club anytime between now and October 1.  It's just my way of saying welcome and giving you something to make your new membership all the more exciting!  (Which is kinda crazy, because the Mini-Skein Club is so much fun anyway…  I mean, a gradient that flows from month to month to month…?  Yeah, it's pretty awesome!)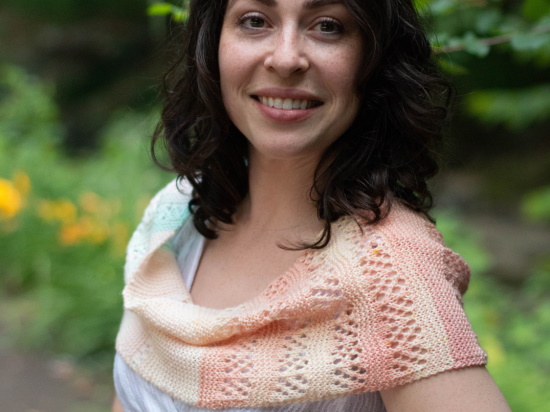 Circulate for SpaceCadet Mini-Skein Club minis
Oh, but before those patterns release, I have lots of interesting fiber news to share with you!  So go grab a nice cuppa and let's dive in…!

When it comes to the environment and fiber-related things, personally, I am very much in the pro-wool camp (as you know!), but I found this video from the BBC interesting, where an ethical vegan and a Welsh sheep farmer met to discuss their different viewpoints.  It has the potential to get explosive (of course) but — spoiler — I'm happy to report it all ends with cake (because…  shouldn't everything end with cake?).
While we're on the subject, click here and then on the circle marked "Forage Tech" to see Joanne Devaney's Instragram stories fact-checking some common myths about wool production and shearing (note: this is also from an Irish point of view where, like in Britain, the bottom has completely fallen out of the wool market, so it makes the point that Irish/British farmers rarely turn a profit on their shorn fleeces — a fact that isn't true elsewhere in the world).  It makes for interesting watching…  and the rest of her Instagram feed is pretty lovely as well!
As you know, F+W Media (the company that owned Interweave Press) has recently filed for bankruptcy and the future of its craft magazines remains in question.  But three fiber arts industry veterens have come together to form a new company, Long Thread Media, and have bought the rights to Spin Off, PieceWork, and Handwoven.  Click here to read more details.
The issue of free vs paid patterns is one that can get heated quickly.  I recently came across this thread in which celebrated designer Woolly Wormhead talks honestly about the impact that copy-cat patterns and unauthorised pattern sharing has on her business… and her life.  And Danielle Holke makes the link to the larger issue of how we value activities usually seen as "women's work".  Interestingly, I came across this debate via a post from the editor of Knitty, a magazine that publishes patterns for free… but here is the catch: their being free is the designer's decision — and I think that makes all the difference.
Vogue Knitting is having a book sale!  Get 40% off on over 100 titles between now and Sept 8.
---

Yarn Alliance Opens on Fri Sept 13!
Remember last week I said we do our best dyeing for our clubs?  This is a great example: Apothecary and Remedy, the colours for January's Yarn Alliance parcel.  Combining shimmering gold with a soft lavendar shouldn't work (they should turn muddy where the two colours meet) but we really wanted to create something special for our Yarn Alliance members, so we worked and worked until we werre able to make this colourway turn out right.  …And I think it really did, don't you?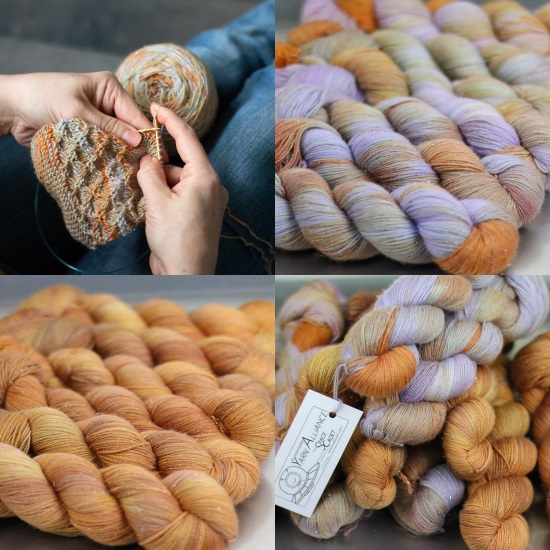 The next season of the Yarn Alliance will be opening to new members on September 13, so mark your calendar now so you don't miss out!  And I'm super excited about what we've got planned — lots of intriguing colourways and new adventures.  If you'd like to join us, click here to get on the club mailing list for a heads up and early access when the club opens.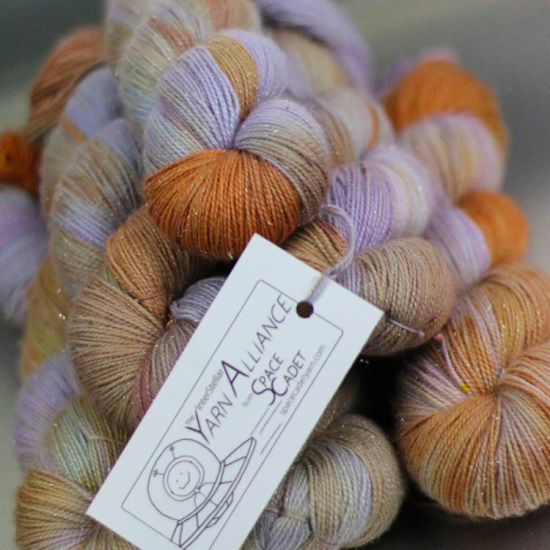 Shenandoah Valley Fiber Festival (SVFF)
Sept 28-29, Berryville VA
We're so excited to be coming back to SVFF!  And at our most recent team meeting, we came up with something awesome that we're going to premiere at the show.  So if you'll be there too, please send us a quick email and let us know to look out for you!
---

Confundo by Barbara Benson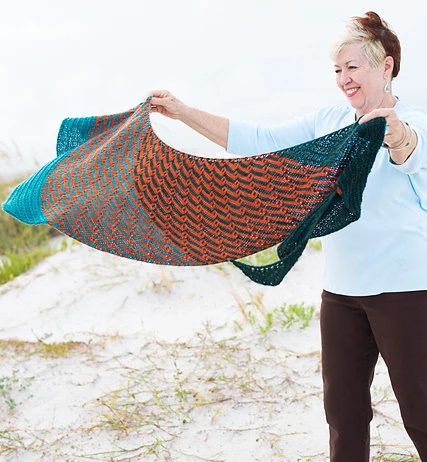 I love the cleverness that comes out of Barbara Benson's head, and this beautiful shawl is no exception.  It combines her signature slipped stitch mosaic with gradually changing colours to create a stunning effect that completely masks the simplicity of its construction (in mosaic colourwork, you are never working with more than one yarn on a row, and simply knitting stripes that use slipped stitches to create the illusion of more complex colourwork).  Designed in DK, I think it'd be an excellent candidate for SpaceCadet Minis held double, which would have the added bonus of making the colour changes doubly intriguing!
Frontier Shawl by Samantha Casale
There's something about filet crochet's wonderfully graphic nature that always intrigues me, so this lovely light shawl caught my eye straight away (and it's still delightfully warm enough in Pittsburgh so I'm still loving lacey shawls!).  Worked in sport, it's just enough weight to give it a bit of substance, while still letting all the lovely openwork shine.
For Granny by Jenny F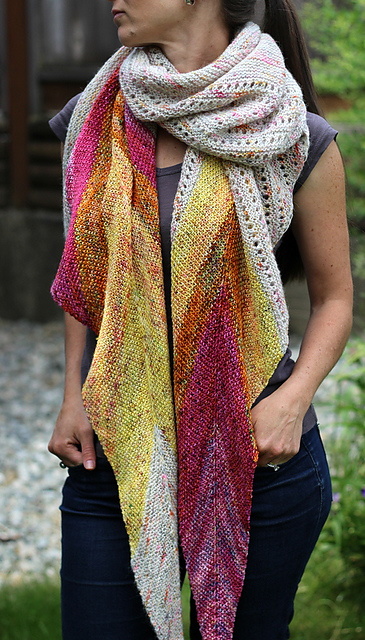 Don't look now, but there's cooler weather on the horizon!  If you live in a place where throwing something warm and cozy around your shoulders makes the autumn chill so much more welcome, then I think this may be the perfect project for you.  And if you've go a stash of gorgeous SpaceCadet Mini-Skeins, this is an amazing option to really show them off!  Knit on the bias, it has an interesting shape and intriguing construction that make it fun all the way from cast on to bind off.
images © the respective designers, used with permission
Ok, my cup is empty so I guess that means its time to get my day started!  I hope you've got a lovely fiber-filled day planned (or, if not, at least a few yarny breaks).  And, until next time, all my best!