One of the things I love most about running SpaceCadet is that it allows me to interact with our customers and club members in a way that I think would simply not be possible in another type of business.  I love looking over the colour combos that our customers come up with(!) and writing a little thank you on each order.  Or drawing a smiley face and a quick "Hi!" whenever I see a familiar name on a shipping label.  And most of all, I love the conversations that come back in emails and messages.  Sometimes, when it's super busy, I don't get the chance to reply personally, but I am so appreciative of every one.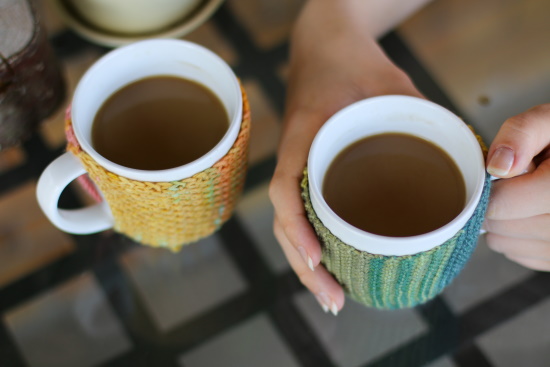 This week I got three that especially made me feel all warm and fuzzy:
From a SpaceMonster member, "Your colors make even my non-crafty husband say 'Wow'" (which makes me think he must be a keeper… I mean, who doesn't love a man who loves beautiful yarn?!?)
From a member of the Mini-Skein Club, "I do love mixing and matching them and have made some of my favorite projects with your minis." (I loved hearing that!)
And from a member of the Yarn Alliance, "I'm in again. Love your Yarn Alliance."
That last one might just mean the most to me, because when one of our club members renews their subscription, it means we've done something right.  So right that they want to come back and sign up again — and I honestly can't think of any better feedback than that!  I am absolutely, completely thrilled every time a club member renews.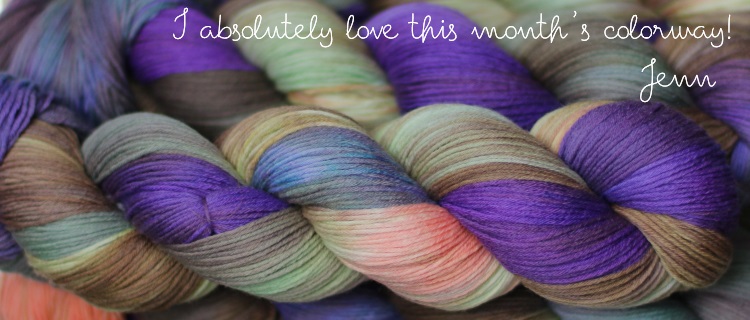 So you'll know how excited I was yesterday, when I opened the secret link that lets Yarn Alliance renewers and folks on the waiting list get their spots early before the club opens on Friday…  and almost everyone who joined signed up for a full year.  One after another after another, all grabbing those 12-month subscriptions (and some even going for a double or a triple subscription! Wow!).  The fact that our renewing members are coming back like that (and coming back for the whole year) fills me with so much joy   …and gets me super excited for the upcoming seasons!
So, if you're a renewing member or are on the club waiting list and you haven't got your spot yet, check your inbox for an email from me yesterday.  And if you're not, just sit tight — the Yarn Alliance will open to the public on Friday at noon (eastern).  Set an alarm on your phone now and then click here to get your spot and join us on our colour adventure!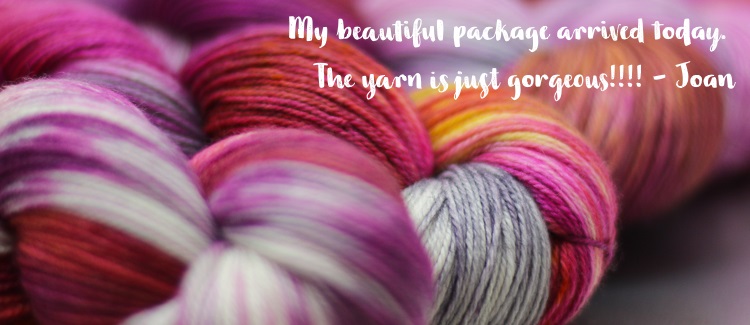 ---
But enough about all that… there's been a lot going on in the world of knitting and crochet that I want to share with you!  So grab your cuppa and find a comfy place to sit and let's take a look!…

You may use terminology such as "yoke", "purl", and "swatch" all the time, but have you ever wondered how these knitting words originated?  Merriam-Webster has your back!  I loved this fascinating article detailing the etymology of a ton knitting-related words…  even "frogging" made the list.
How does Ravelry make money?  In 2012, Ravelry co-founder Cassidy (formerly Casey) Forbes wrote this post detailing where their revenue comes from and, in this recent Twitter post, she updated that same info using numbers from 2018.  And the short answer to the question is more than half comes from the ads you see.
(If you found confusing that reference to Ravelry co-founder Casey Forbes as Cassidy, you may have missed the news that Casey recently came out as transgender and is now called Cassidy, and uses the pronouns she/her.  You can read her announcement here.)
I am in love (as in, in looooooove…) with this knitting- and crochet-related jewelry line.  The designs are so beautifully subtle that perhaps only another crafter would spot their significance, but isn't that part of the charm? Want!
"There's something inherently agitating, even subconsciously, when you're pinging around through social media as opposed to kind of having a singular focus and the relaxation benefits that come with slowing down, learning about something, and then making with your hands."  I completely agree with this statement from an article about a study that showed 77% of Americans would rather give up their Netflix subscription than their creative hobbies.  Now, the study was done by Bluprint (formerly Craftsy), so the results may not be very surprising, but it certainly matches my experience  (…what does confuse me, however, is the photo they used to illustrate the article — it's art, I get that, but art is really weird sometimes!).
BIPOC in Fiber is a website dedicated to highlighting Black, Indigenous and People of Colour working the fiber industry, with the goals of enabling BIPOC working in the fiber industry to find and see one another, enabling event planners and publications to be more intentional, featuring a directory of BIPOC working with fiber, and pooling resources and articles designed to improve access to opportunities for BIPOC working with fiber. They are currently 80% of the way to their £20,000 crowdfunding goal.  Click here to help them raise that last 20%.
---

Join the Mini-Skein Club in Sept and Get a Free Copy of Circulate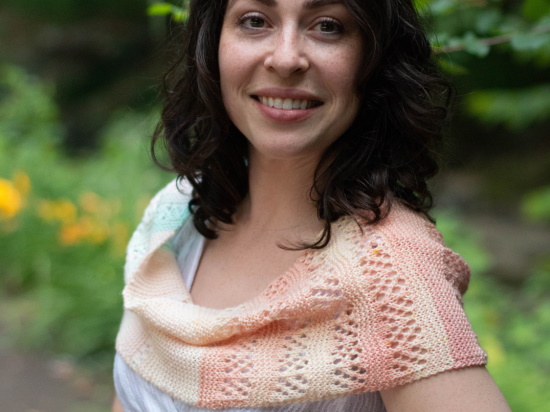 You remember last week I told you about my assistant Jade's two beautiful new patterns, Trajectory and Circulate?  Circulate (above) is a long cowl designed especially for SpaceCadet Ombre&Gradient Mini-Skeins to make the most of the their gentle colour changes.  And I'm so excited for its release that I'm gifting a copy of Circulate to  everyone who joins the Mini-Skein Club in September!
Click here to find out what makes our Mini-Skein Club so special and then be sure to join this month to get your copy of the pattern.
The Yarn Alliance Opens Tomorrow!
You already know it  …but I'm still going to tell you again! (grin)  Now, set that alarm on your phone for Friday at noon (eastern) and then click here to get your spot!  Also, let me tempt you with a little scrollcandy on your way down to the next item…
Shenandoah Valley Fiber Festival (SVFF)
Sept 28-29, Berryville VA
We're so excited to be coming back to SVFF!  And at our most recent team meeting, we came up with something awesome that we're going to premiere at the show.  So if you'll be there too, please send us a quick email and let us know to look out for you!
---

Bayeux by Mindy Brown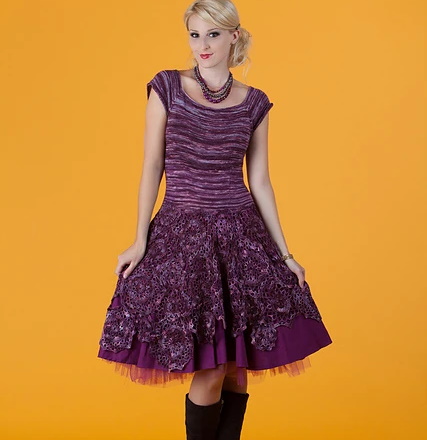 This is not a new pattern — it came out years ago and it's been on my website before — so I was quite surprised when I saw it suddenly climbing Ravelry's Hot Right Now list.  Then I realised…  it was recently featured on the front page of Ravelry as Peppersock's Wedding Dress (and what an amaaaazing wedding dress it makes!).  Designed in SpaceCadet Celeste, it's a remarkably quick project, given that's a full dress and would make a fabulous option for any event.  I'd love to see it as a holiday party dress in Mars or Troublemaker (with a black underskirt, just to make the point?) or a prom dress in Feather (perhaps with a Fizz-green underskirt, to make the yarn pop?)
Ritchie by Jenny F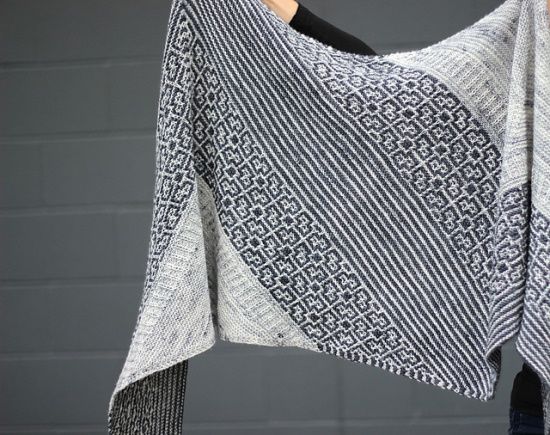 Beautiful colourwork and texture are an easy way to my heart and so this gorgeous shawl caught my eye straight away.  Incorporating mosaic slipped stitches, a little texture, and relaxing garter stitch, it's a great pattern too work on as the nights get longer.  Try it in cashmere-rich Aurora for a truly luxurious option (I like Longing and Sage for a wonderfully wintery green colour pairing).
Taroko Sweater by Nomad Stitches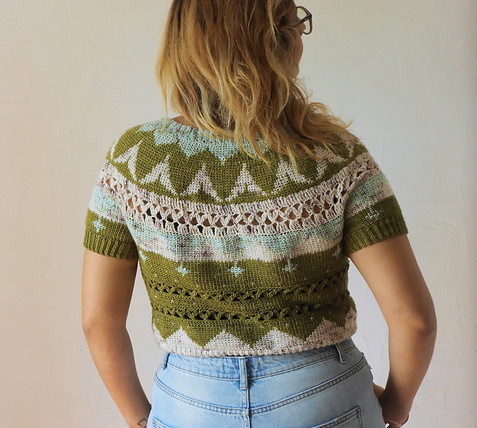 Colourwork yoke sweaters have been wildly popular for a while now but I've yet to see a crocheted version as lovely as this one.  Incorporating lace sections for extra interest, it can be worked as a cropped sweater or longer, whichever you prefer.  It would work beautifully in SpaceCadet Oriana or, if you're confident playing with gauge a little, I'd try Celeste to go a little lighter and give it a softer feel.  Mimic these colours with Yes Dear, Frigia, and Sliver, or give it an autumnal feel with Oxblood, Honey, and Fat-Free Chocolate.
images © the respective designers, used with permission
---
Ok, I've got a super-exciting day ahead.  We've got something really special planned for our LYS customers and today we're planning out twelve months of new colourways for it!  I'm actually bursting to tell you but can't say any more than that (if you're an LYS owner, get in touch and I'll make sure you're one of the first to hear about it).  I hope your day is just as exciting and, until next time, all my best!