I recently read a book called The Almost Nearly Perfect People by Michael Booth, about the reality of living in the Nordic countries.  It was a fascinating book (I highly recommend it) and my favourite part was about one of the most popular television shows ever broadcast on NKR (Norway's public broadcaster).  Apparently, the Norwegian television event of the century was created by simply strapping a camera onto the front of a train travelling from Bergen to Oslo and then broadcasting the entire journey — uninterrupted and in real time — over the course of seven hours (inspiring Booth to write my favourite line in the whole book: "The tunnels must have been especially riveting.").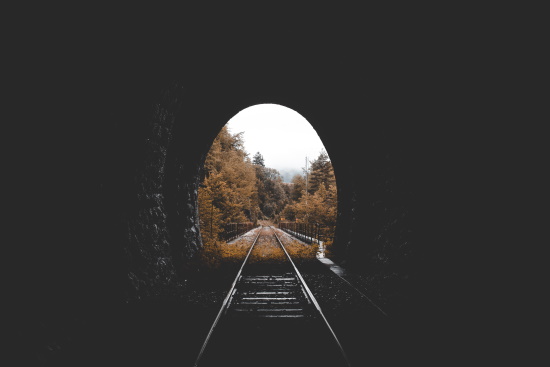 It's called Slow Television, and it's a real thing.  In fact, it's really taking off (insomuch as something with "slow" right in the title can take off).  Right now, Ikea Australia is broadcasting their own slow televison programme, documenting the entire journey of a shipment of their bedding products from the factory in China to their store in Sydney — all in very slow, very real time.  And the accompanying soundtrack is the hypnotic sound of two of their employees soothingly reading aloud the product names of the entire bedding and bath section from the Ikea cataloge.
Friend, I have been utterly unable to turn it off.  It's oddly beautiful, incredibly soothing, and just so sloooow.  And as I watched the sun rise over the Pacific the other day (at about 2pm eastern, if you want to tune in too), I realised that the thing that I find appealing about watching the endless sea rolling slowly by is the same thing I love about knitting.  It's quiet.  It's got a gentle rhythm.  And there's something really fulfilling about spending some time just slowing down.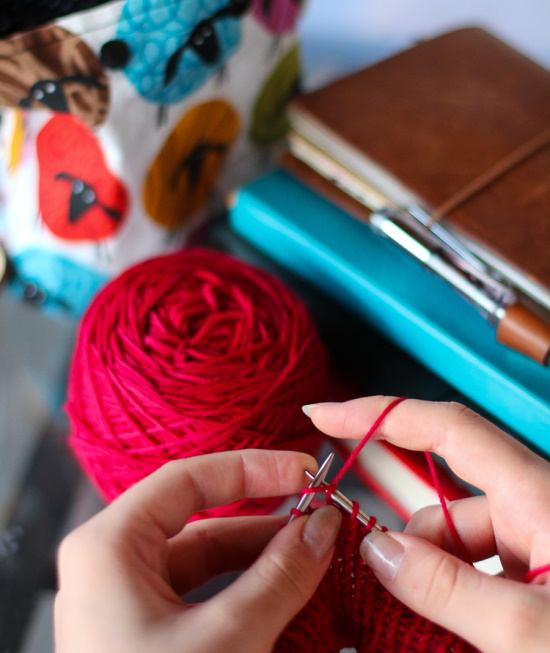 You and I knew about that before Ikea's boat set sail, and before "slow television" ever took off.  There's real value in slowing down, breathing deeply, being quiet.  And we do it everytime we knit or crochet, everytime we wind a ball or cake a skein, everytime we start the day quietly with a cup of tea and a project… and even everytime we get together to read this newsletter.
I am determined to bring a little bit more slowness into my days.  I think it does good things for the soul.  And while I think the best source of slowness is yarn and tea, I'm kinda ok if it comes by way of an Ikea catalogue read aloud.
---

I recently shared a beautiful pattern in filet crochet, which gives a lovely graphic look that I love.  If you like it too, this article has some really handy tips and tricks for perfect filet crochet, including how to make sure your stitches are truly square.  Worth reading!
One of the things I love most about this community is how generous knitters and crocheters are — there is a long tradition of giving and gifting that is inherent to the fiber arts that comes out when we make things for people in need.  In that vein, Clara Parkes recently put out a call for knitted and crocheted items to help keep warm Maine's newest asylum seekers as they face their first New England winter.  Click here to read more and help out.
I was super excited to see this post by designer Angela Tong, about filming the pilot of SWATCHED, a new show about the art of knit and crochet. No word yet on how or when it will be available to view but watch this space!
If you've seen Xandy Peters amazing Fox Paws and been intrugued/confused/flummoxed as to how it's constructed (cough… like me… cough), this video is a revelation.  A 9-in-1 increase? Called [KYOK SB2]?  Ahhh yes, that old gem…  I, erm… I do it all the time!
---

Come Join The Yarn Alliance!
Open until Sept 30

It's been so much fun seeing all the new and returning members joining the Yarn Alliance and I'm seriously excited about the upcoming season!  The Yarn Alliance is our premiere yarn club, all about gorgeous dyeing on fingering weight yarns.  Plus coordinating colourways, great gifts, and a ton of fun.  It's open for two weeks only, so click here to get your spot!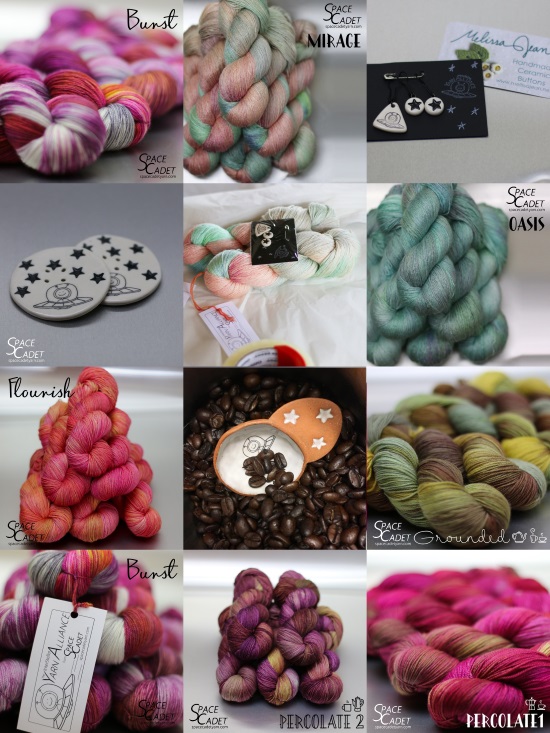 Shenandoah Valley Fiber Festival (SVFF)
Sept 28-29, Berryville VA
We've been planning our booth and we're so excited to be coming back to SVFF!  We've got some awesome kits in brand-new colourways that we've dyed especially for the show so, if you'll be there too, please come and see us in the Lion Pavillion (it's a bit of a walk but totally worth it, I promise!)
Join the Mini-Skein Club in Sept and Get a Copy of Circulate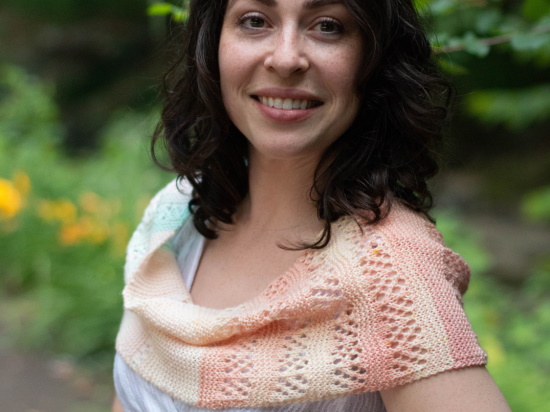 You remember last week I told you about my assistant Jade's two beautiful new patterns, Trajectory and Circulate?  Circulate (above) is a long cowl designed especially for SpaceCadet Ombre&Gradient Mini-Skeins to make the most of the their gentle colour changes.  And I'm so excited for its release that I'm gifting a copy of Circulate to  everyone who joins the Mini-Skein Club in September!
Click here to find out what makes our Mini-Skein Club so special and then be sure to join this month to get your copy of the pattern.
---

Prague Top by Nataliya Polyakov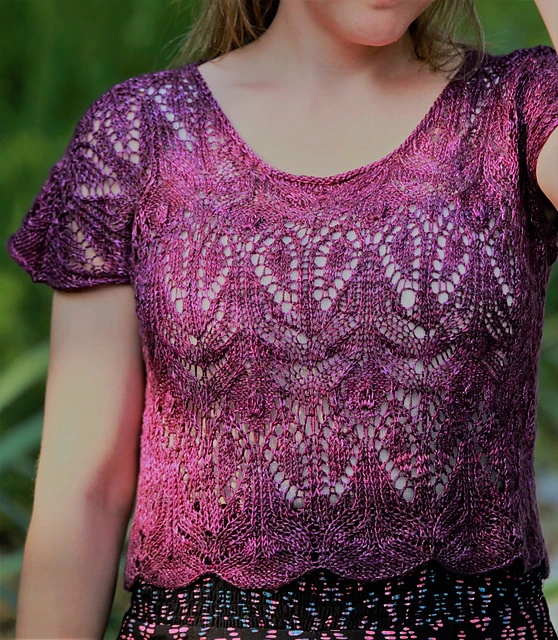 One thing I love about this time of year is that you can wear a sweater to keep a bit warmer but still go for something pretty and lacy.  This beautiful pattern is a perfect example and one that made me click on it the second I spotted it.  Designed in fingering, it's knit from the bottom up and worked seamlessly.  I'd love it in SpaceCadet Celeste (a lovely light fingering) in Plume, Blood Moon, or Drizzle.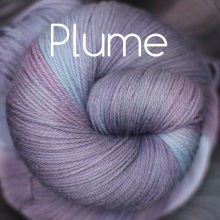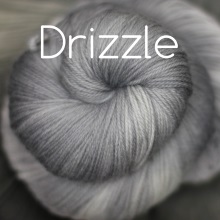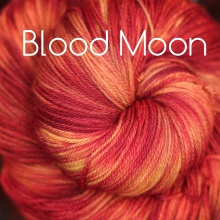 The Rose That Grew From Concrete by Mara Licole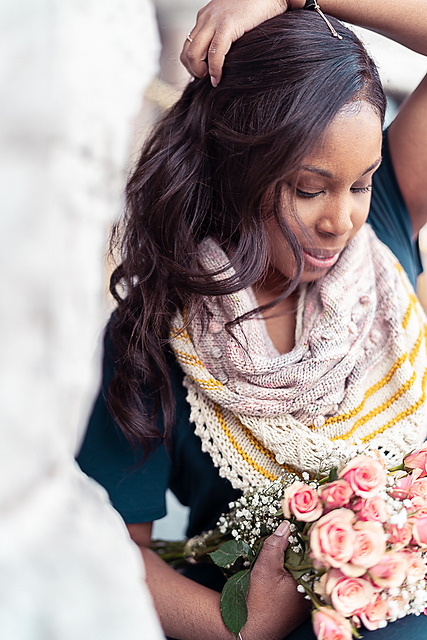 It was the texture of this lovely shawl that caught my eye first.  It's got lace and textured colour and bobbles and picot, although all of that together has the potential to be just too much, it's all so well balanced in this design that it looks beautiful.  Worked in DK to keep things quick, it's also going to be beautifully cosy as the nights draw in.  I'd knit it in SpaceCadet Astrid in the colourways Drizzle, Frigia, or Honey.
Maia Tunic by Nomad Stitches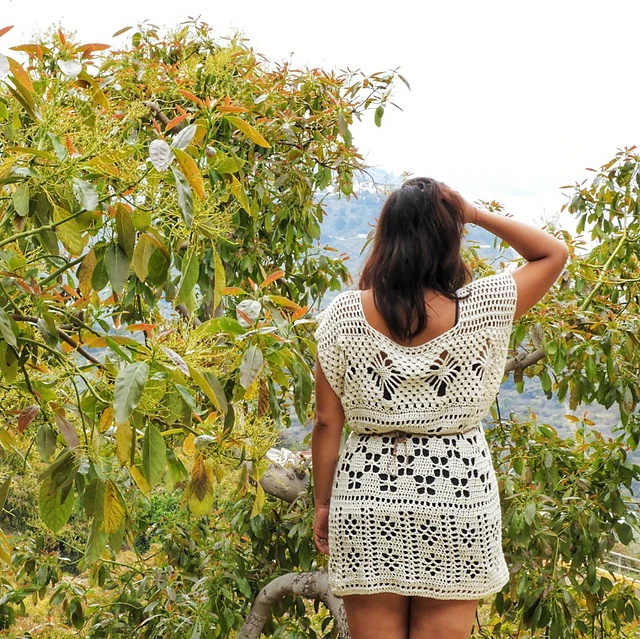 Ok, I know this looks all summery and that might not make the most sense this time of year but I have my reasons!  First, this is darned cute and I just like it.  Second, I am 100% not ready to give up on summer yet.  And third, I'd totally throw this over a pair of leggings and a tank and pair it with a little jacket and wear it well into the coming months.  Designed in DK, it will work up quick and feel delicious.  I think it would look awesome in Tickled for a crazy neon pop, Mars for a bold look, or Thrive for a much softer and more organic look.
images © the respective designers, used with permission
This newsletter has been sponsored by the SpaceCadet Pinterest board "Knitting Inspiration: Shawls and Wraps", where (nearly) every pin links to the pattern.  Go find something gorgeous to make!
Ok, as lovely as it's been sitting here with my tea and being slow, it's time get my day started.  The Mini-Skein Club parcels went out yesterday and I can't wait to hear from folks as they received their yarn (tag me!).  But we've got lots of other stuff to get shipped out before we head to SVFF next week, so I'd better get moving.  I hope you've had a lovely slow start and have good things planned for the day and, until next time, all my best!