My house is filled with pine and twinkling lights and, though our tree is bare right now, on Christmas Eve we will honour our familty tradition by baking gingerbread and saltdough ornaments to decorate it as the night draws in.  I know it's not the way most people do their  decorating, but it is such an cosy way to welcome the holiday — turning the whole house from quiet anticipation to joyful celebration, all in one bustling, boisterous, family-filled day.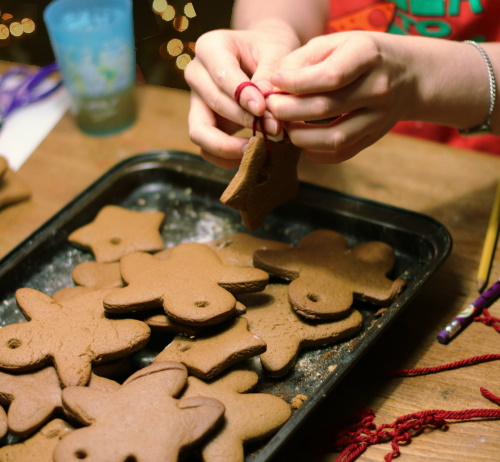 And just before that, we have the solstice, a celestial event that I always take time to quietly savour because it means we are at deepest midwinter — the longest night of the year and the turning point as the Earth slowly, slowly tilts back to the light and towards summer.  On the 21st of December, I will light a few candles, pour a cup of tea, wrap up in nice warm blanket, and gaze out the ice-frosted window at the deep darkness and the winter stars — and wait to see if I can feel the moment the Earth shifts.
And maybe I'll cast on a little something with Luminary, our special solstice colourway — yes, I grabbed a skein for myself before they sold out (which they did in just a few hours!).  We got all the Luminary orders shipped out super-quickly so, if you were one of the lucky ones who got a skein too, I hope you'll cast something on tomorrow along with me.  I'm thinking maybe a hat or mitts, with the yarn held double to be extra quick and super warm.  What will you be casting on?
And even if you didn't manage to get any of that special colourway, I hope you'll get the chance to take a moment in the hustle and bustle of this busy season to slow down and to quietly savour all that is wonderful about this time of year.  A little time to sit with the people you love most, to knit or crochet, and to hold the cold and the dark night at bay as we all tilt gently back toward the light.
I want you to know how much all our customers and club members mean to me, and how grateful I am for your support throughout the year.  And from the bottom of my heart, I wish you and yours all the best of the season.
---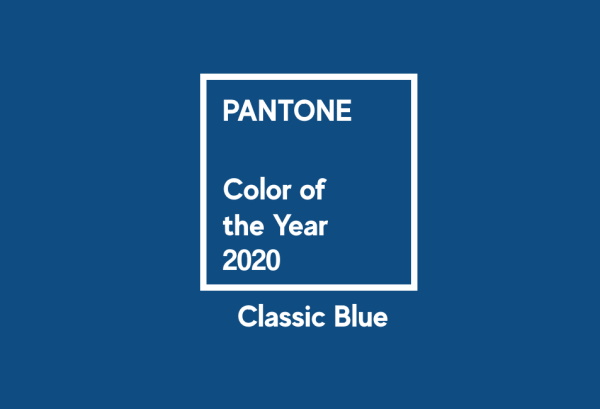 Have you seen the announcement of Pantone's Color of the Year for 2020?  It's Classic Blue, chosen because it instills "calm, confidence, and connection…  re-centers our thoughts… brings a sense of peace and tranquility to the human spirit…"  I have to say, I like those sentiments as we head into a new decade.  And I'm personally pretty chuffed because, without knowing about Pantone's decision, we'd already developed a whole range of gorgeous new blues to ring in 2020!  (Aren't they beautiful?  Now they just need names…)  Look for them to release in January…
all these lovely new blues coming next month (doesn't the one on the right look just like the Color of the Year?)
There's been a lot of heated discussion on social media lately around size-inclusivity and value in pattern publishing, with strong opinions on all sides.  Many in the crafting community have been urgently calling for designers to widen their patterns' size ranges while some designers have been making the point that it's a more complicated request than it might first seem, especially when combined with demands for tech-editting, test knitting, in-pattern tutorials, etc.  This post from designer Kristen Jancuk raised some compelling points, and I was particularly interested in Knitty editor Amy Singer's response.  Serious question: what do you think is a fair price for a quality, tech-editted and tested sweater pattern in a wide range of sizes?
Speaking of online controversies, did you hear the saga of the Baby Yoda?  Designer Allison Hoffman had begun selling an amazing baby Yoda crochet pattern, called The Child, when it went viral on the internet and caught the attention of Disney.  After receiving a cease-and-desist notification, Allison removed the pattern entirely from Ravelry and all of her social media, causing a near-stampede amongst her fans who hadn't had a chance to buy a copy.  But there's much more to the story than that: issues around copyright and pattern sharing, and the possible future re-emergence of the pattern.  This article gives a great insight to whole situation.
This cracked me up: if you've run out of time to knit or crochet gifts for the holidays (ahem…  I'm raising my hand) and are giving gift cards instead, Vicky Howell shows you how to use scrap yarn to knit tiny sweaters for the gift cards themselves.  Which is kind of the same thing as a handmade gift, right?  …right?!?
You may need to see this this week (it's kinda game-changing… you can thank me later).
---

Join Us to Create a Year-Long Mini-Skein Project
Did you see my assistant Jade's stunning Northeasterly stole she made from the Mini-Skein Club's 2019 colours? She cast on in January and has worked patiently through each month as they come along. And even though we both knew (of course) that each month flowed into the next, there was something absolutely magical about seeing the whole year's gradient flow come together on her needles, right before our eyes…
documenting Jade's Northeasterly, from January to November 2019
As the year draws to close, she's planning which pattern to cast on for her 2020 Mini-Skein project.  Would you like to join her? Whether you join the Club and work with each new bundle as they arrive in the new year, or you work from stash, I know both she and I would love to see you cast on an epic project alongside her!
It's super casual and simple to get started: all you have to do is say you're in.  Click here for details.
The 12 Days of Yarnmas
My friend Michelle at Craftyflutterby is running a super-fun giveaway during the twelve days of Christmas (from Dec 25th to Jan 5th — did you know that's the real "twelve days"?), to celebrate our shared love of yarn crafts.  And in that holiday tradition of sharing, she's asked SpaceCadet to be part of it too!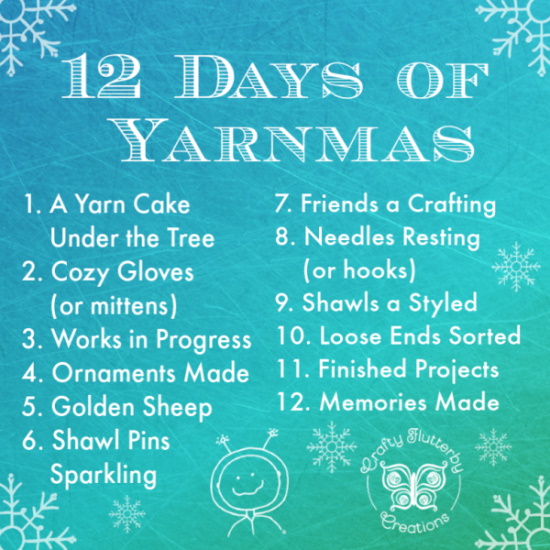 There will be a fun photo prompt game and a prize box that includes a Shawl Pin and End Minder Set from Crafty Flutterby Creations and some beautiful yarn from SpaceCadet.  I can't wait to see what you guys come up with!  Click here for details.
---

Fox Hat | Revelue by Eva Norum Olsen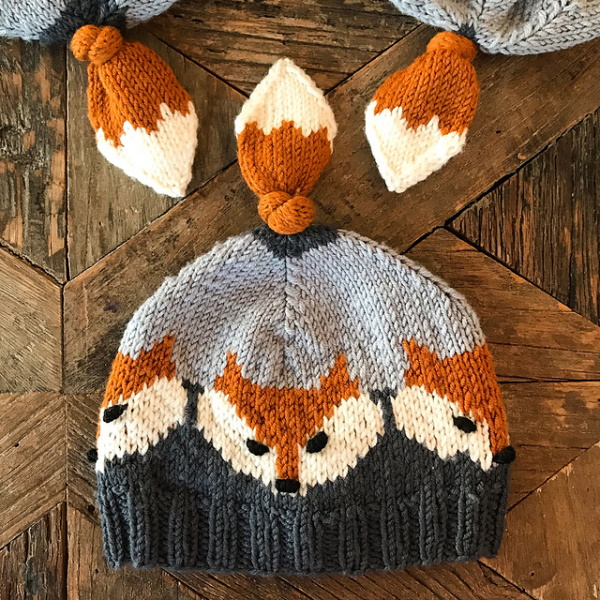 It's not that often that a pattern makes you gasp but, for me, this one certainly did!  The sweet little fox faces are what caught my eye first, of course, but I think what absolutely makes the pattern is the adorable fox tail at the crown.  Even better, it's part of a coordinating set: there's a hat pattern for kids and adults, plus mittens, a pullover, and baby leggings.  When I showed it to a friend, she immediately replied, "I need yarn for that, stat!"  I sent her Lyra in Dark Skies, Drizzle, Headstrong, and a skein of natural (undyed) — and I can't wait to see the result! Would you like some too?
Mountain Vector by Makenzie Alvarez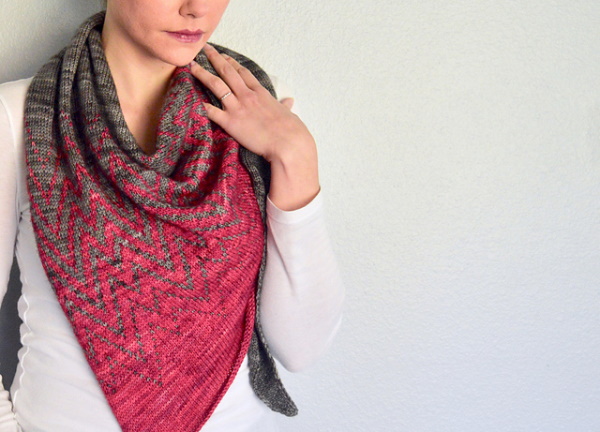 This time of year, I am never without a shawl around my shoulders and the cosier the better.  This lovely wrap is knit in DK for an almost-blanket-like warmth, and it's intriguing colourplay offers myriad possibilities.  Go for two semi-solids as in the original design for a simple and graphic look, but I like the idea of contrasting a semi-solid against a variegated for some real colour punch.  SpaceCadet Lyra or Astrid are great yarn choices or, for a beautiful heathered effect, hold fingering yarn doubled (maybe some of our Mini-Skeins!) and you'll get a stunning result.
Cherry Bobble by AbbyeKnits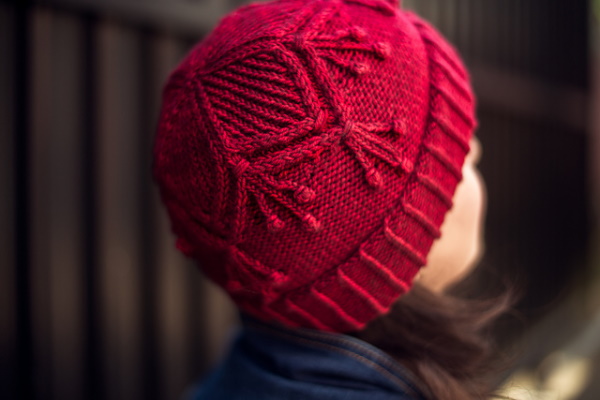 Last week I shared a hat with a stunning crown and this week comes this equally gorgeous design from the same designer.  With beautiful texture, it features cables and bobbles that seem to mimic tassels and a crown that's almost a flower.  Cast on now in SpaceCadet Lyra or Astrid and you'll be able to start the new year in a style that's sure to turn heads!
image © the respective designers, used with permission
---
The weather forecast tells me that Pittsburgh will finally claw its way above freezing today, for the first time in days!  But right now it's still bone-chillingly cold, so I'm going to pour another cup of tea to warm myself up a little more before heading out and getting the day started.  I hope your day is filled with wintery delights and holiday joy (and plenty of tea and handknits) and, until next time, all my best!