I've always felt there's a positive side to nearly everything in life.  Not always, of course, but most things can have a positive aspect, if you look hard enough. I have to admit, however, that I was always stumped by stocktake — that odd, annual ritual that every retail business has to conduct.  I simply couldn't see the positive side of having to stop work in order to perform the exceedingly tedious job of counting and recording every single item in the building.  I'm remembering especially the year that I worked for a company whose stock consisted mainly of thousands of tiny screws…
shudder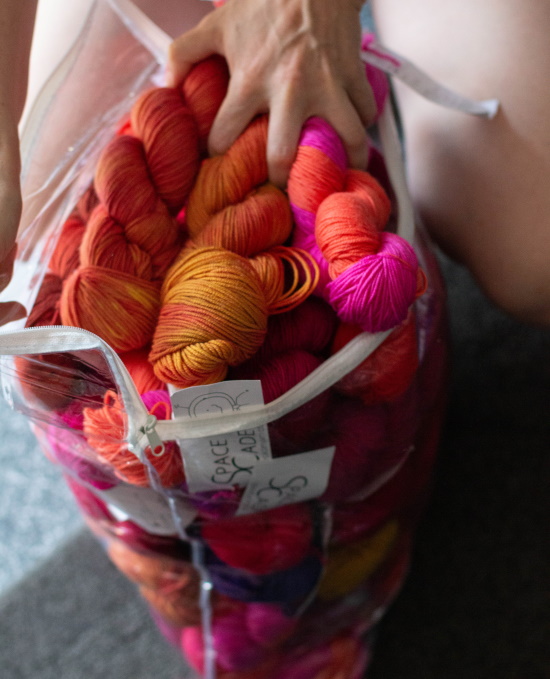 But I have to tell you that stocktake feels a little different when what you're counting is hundreds of skeins of beautiful yarn!  All in glorious colours that you've created yourselves.  This week started with the SpaceCadet crew stopping all our other work to slowly through every single skein the building, carefully counting and recording each one before packing it gently back in its bag.  And even though the work was technically just as tedious as other stocktake, it didn't feel like it at all.  It was joyful, it was fun…  we've even stopped calling it stocktake and started calling it "Pet All the Skeins Day"!
See? There really is a positive side to nearly everything…!
Ok, I've got a lot of great fiber news to share this morning, so go grab yourself a cuppa and let's get started…
---

How do you join a new yarn in your knitting?  There are a bunch of different methods and, to be honest, I've never really known which one is best.  But this incredibly comprehensive analysis of every style I've ever heard of (plus a few more!), complete with test swatches and lists of pros & cons, certainly makes it much easier to decide.  There are a few that I think I'm going try.  What about you?
The other day I came across this article about Ikea's move to using responsibly sourced wool for their rugs.  As a dyer, the parts I found most fascinating were watching the video and seeing how their yarn is dyed (at minute 3:53) and the acres and acres of skeins drying in the sun (minute 4:02).  It makes our little hand-dyeing studio look like a doll's house in comparison!  Genuine question: can anyone tell me what breed of sheep that is in the video being shorn?  I don't know, but I'd like to.
I am always delighted when the textiles in animated movies are portrayed in a technically correct way (and a little twitchy whenever they're not) but, after reading this article about the effort it took to create the costumes for Frozen 2, I realise it's almost (…almost) as hard as making them by hand in real life.  I have a renewed appreciation for what I'm seeing on the screen!
It's so cold outside at the moment that only the cosiest handknits will do for me.  I love that Vicki Howell did this little round up of the warmest stitches in both knitting and crochet.  Light a fire, pour a cup of tea, and cast these on!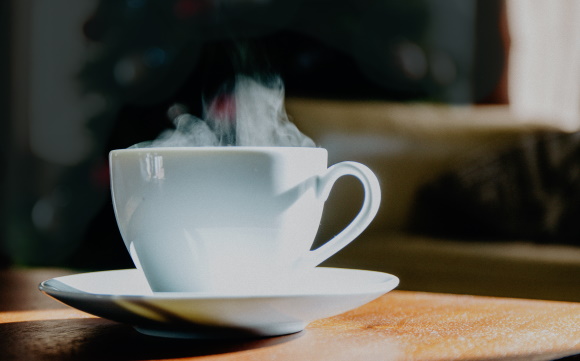 Speaking pouring a cuppa, I came across this article and I cannot tell you how perfect it felt.  It is completely spot on both in terms of how often the British make tea (almost every time they turn around — I once counted up how many cups I typically drink in a day and it was 8-10!) and also how very socially important it is to make tea for others.  It is imperative to make tea for everyone around you whenever you get up to make tea for yourself, and you'd almost never ever allow anyone to step foot in your house for more than a few minutes without offering them a cuppa (including contractors, workmen… perhaps even burglars?).  The article nailed how this small act forms so much of the social cohesion of an entire nation.
Oh, did you hear that?  It's the clock running out on about half of the New Year's resolutions that were so earnestly declared just a week ago.  And usually, I'm amongst that number but, this year, I'm trying something different.  A friend gave me a Commit30 planner and the idea is that you make a resolution commitment for each month, and stick to it for just 30 days, before moving on to the next one.  I mean, a whole year feels pretty overwhelming but… a month? I can do that!  What are your favourite planning tools?  I'd love to hear so please click here and let me know!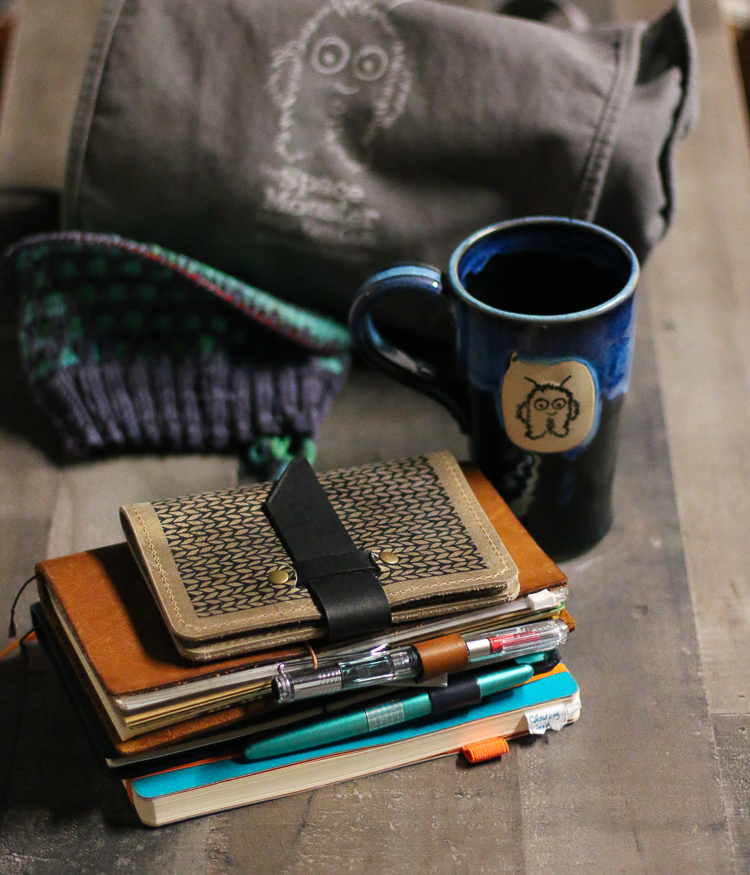 ---

The SpaceMonsters Club Opens on Tuesday
I love designing colourways for the SpaceMonster Club, because the big, smooshy, worsted and bulky yarns we dye for it take colour in completely different ways than thinner yarns.  The dye hits them and soaks in sloooowly and has a lot more time for the colours to mix and blend and produce all kinds of amazing effects.  Want to see what I mean?  Here's December's colourway, "Nature's Planetarium"…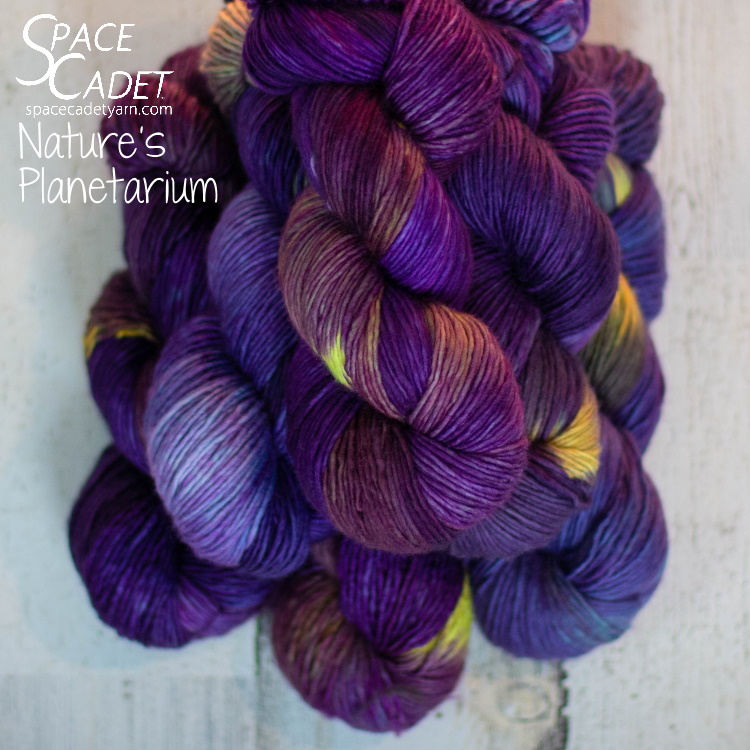 Just look at all that depth of shade, all those amazing layers of colour popping out from underneath other layers!  And add to that the fact that these lovely thick yarns are going to knit and crochet up super-quick, and you can see why I love them so much.
The SpaceMonster Mega Yarn Club focuses on exactly those kinds of yarns: big, smooshy wosted and bulky weights in gorgeous colours.  Plus we create an optional coordinating colourway and there's a fabulous gift every season (those are so much fun to come up with!).  The doors will open on Tuesday but, if you'd like first dibs, click here and get on the club mailing list to get an early-bird link!
Are You Joining our Epic 2020 Mini-Skein Project?
Did you see my assistant Jade's stunning Northeasterly wrap she made from the Mini-Skein Club's 2019 colours? She cast on in January and worked patiently through each month as they come along. And even though we both knew (of course) that each month flowed into the next, there was something absolutely magical about seeing the whole year's gradient flow come together on her needles, right before our eyes…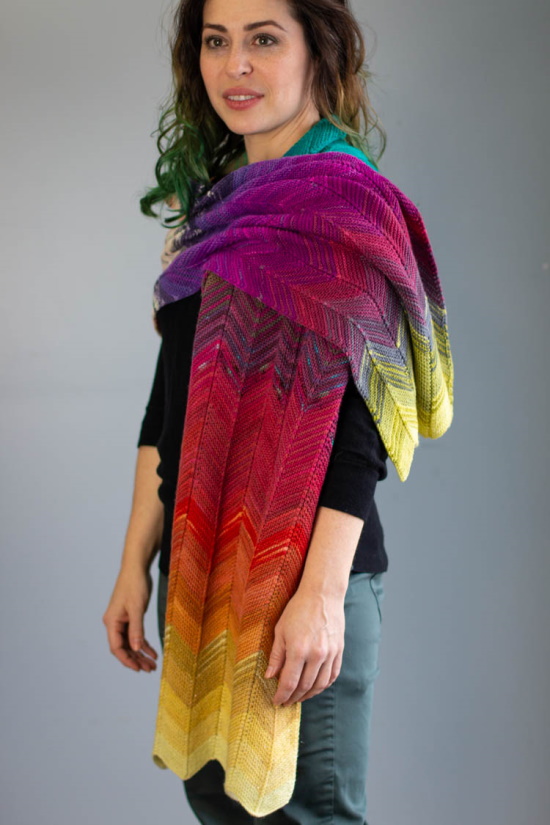 Isn't it amazing?!?
And now, she's prepping to cast on for her 2020 Mini-Skein project.  Would you like to join her? Whether you join the Club and work with each new bundle as they arrive in the new year, or you work from stash, I know both she and I would love to see you cast on an epic project alongside her!  It's super casual and simple to get started: all you have to do is say you're in.  Click here for details.
(It's too late to sign up for January's bundle but you are more than welcome to hop in with February's colours instead.  And I honestly feel like having a little variety in the cast-on colours will just make seeing everyone's projects all the more interesting!)
documenting Jade's Northeasterly, from January to November 2019
---

Stepaside by Jennifer Beale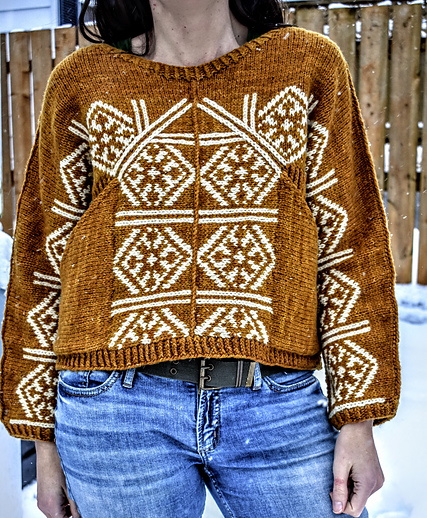 It was not the pockets on this sweater that I spotted first.  It was those lovely colourwork panels — I mean, they're so eye-catching, aren't they? And the way they actually turn a corner to run from the hem up to the shoulder and then down to the sleeve.  But then, as I looked closer, I realised I was also looking at pockets.  Pockets!  So, that's it… I'm sold!  Even if there is steeking, and that's a bit scary — it is, I get it — but I say that pocket-love beats steeking-fear every time.  The best news is that there's a six-month KAL starting right now and running through July, so you'll have lots of friends to hold your hand when it's time pull out the scissors!
Pühalepa Hat by Raina K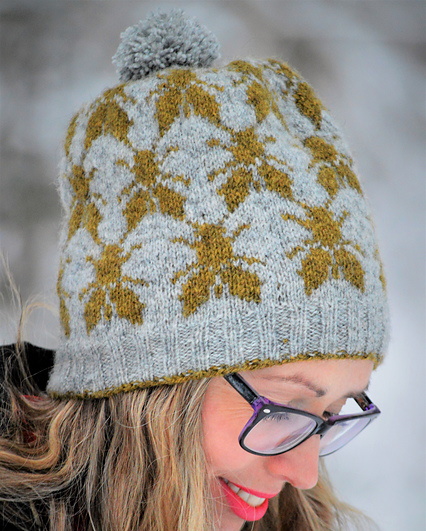 When I first spotted this hat, it almost looked like argyle but, on closer inspection, I realised it's actually a beautiful nature motif: Pühalepa flies from the Island of Hiiumaa in Estonia.  I love the little pop of colour along the cast on edge and, underneath that pom-pom, the crown is absolutely stunning (click through and scroll down the pattern photos to see it).  Even better, there's a beautiful matching yoked sweater. I'd love to see this knit in Drizzle with Honey, Fat-Free Chocolate with Gentle, or Feather with Wilt.
Bifrost Top by Rebecca Velasquez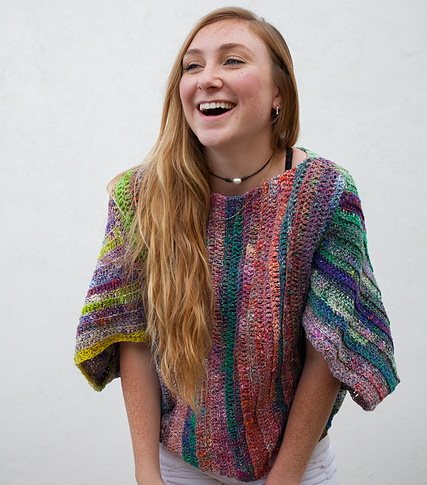 This gorgeous top is all about the colour and, when I looked at it, I immediately thought what a wonderful pattern it would be for showing off either your Gradient Explorers or Mini-Skein Club yarns!  The intriguing construction is worked sideways in two pieces, then seamed at shoulder and back folded at front edge and seamed to create sleeves.  Designed in DK, you could use SpaceCadet Lyra (sport/dk) or hold a fingering weight double (try any of our Mini-Skeins) to create a similar effect and amazing colour.
images © the respective designers, used with permission
---
Ok, that's it for now.  I've got a meeting coming up shortly and then I have to get to the studio to check how a few colourways came out.  I hope your day is filled with fibery goodness too (and lots cosy finished objects — stay warm!).  And so, until next time, all my best!